Waymo looks to expand its self-driving reach with Chrysler deal and Uber talks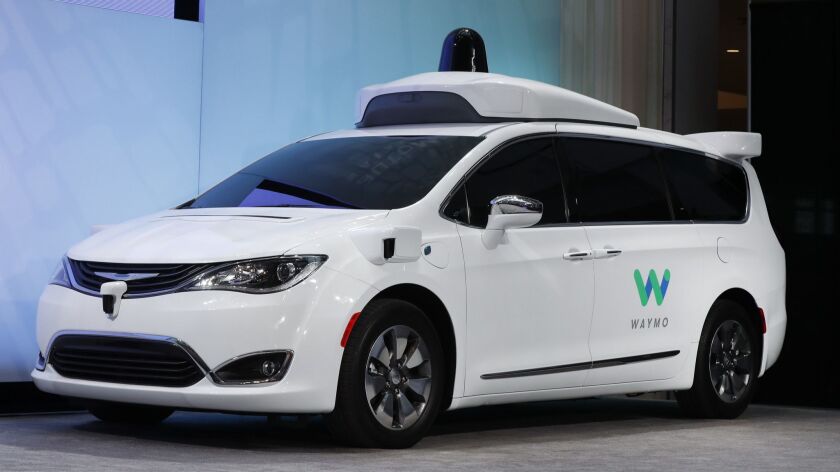 Reporting from San Francisco —
It's one thing to successfully build self-driving cars. It's another to get people to ride them.
Waymo, the Alphabet-owned self-driving car company, is making progress on the former, announcing Thursday that it is buying and equipping 62,000 Chrysler Pacifica minivans with its self-driving technology, effectively increasing its fleet 100-fold.
Uber — until recently a Waymo foe whose self-driving future remains uncertain — thinks it can help with the latter.
Speaking at the Code Conference in Rancho Palos Verdes on Wednesday, Uber Chief Executive Dara Khosrowshahi said that he believes that Uber could help Waymo reach a large number of customers and that the two companies are currently in talks for Waymo to add its vehicles to Uber's network.
"They're an incredible technology provider out there. They're building and are serious about autonomous, and to the extent that that technology could show up on the network could be a good thing," Khosrowshahi said. "Now it's up to them whether they want to do it or not."
A Waymo spokesman declined to comment on Khosrowshahi's remarks.
When asked why he thought Waymo would want to partner with Uber, considering that Waymo sued Uber over allegations it stole and used trade secrets before recently accepting a $245-million settlement, Khosrowshahi simply said: "Economics."
He then argued that self-driving cars ultimately will be shared, so if a maker of autonomous car technology wants to maximize usage, it's in that company's interest to work with a ride-hailing network that can get as many riders in seats as possible.
But Uber might now need Waymo more than Waymo needs Uber. Waymo has been working on self-driving technology since 2009, and even before its most recent order of Chrysler hybrid minivans, the company already had a functioning fleet of fully autonomous vehicles. It entered into a partnership with Lyft — Uber's archrival in the United States — earlier this year. The deal will see the companies work together to make autonomous vehicle technology mainstream.
Waymo also plans to roll out its own autonomous ride-hailing service in the U.S. later this year, starting in Phoenix. When the service launches, passengers will be able to book a self-driving car via the Waymo app.
The 62,000 new minivans from Fiat Chrysler — all equipped with Waymo's self-driving technology — will join the 600 Pacifica Hybrid minivans that Fiat Chrysler delivered to Waymo after the launch of their partnership in 2016.
In further attempts to cement its position as a leading provider for self-driving technology, Waymo also has partnered with Jaguar Land Rover, which will equip 20,000 all-electric Jaguar I-Pace SUVs with Waymo's autonomous vehicle capabilities, and reportedly is working on a deal with Honda Motor Co.
Other technology companies and automakers also are jostling for a spot in the self-driving car industry. Apple is developing its own autonomous vehicle technology. Tesla is attempting to build both self-driving car software and hardware. Most auto manufacturers have dedicated resources to developing self-driving tech. And Japanese conglomerate Softbank on Thursday said it will invest $2.25 billion in GM's self-driving car unit, Cruise. Softbank is also a major shareholder in Uber.
Uber, meanwhile, recently closed its autonomous vehicle development facility in Phoenix after one of its self-driving cars hit and killed a pedestrian in March. Khosrowshahi said the company plans to have its autonomous vehicles back on the road, "but we have to be satisfied that we're getting back on the road in the safest manner possible," he said. "That's my biggest focus right now."
He also described Uber as "neutral" when it comes to working with autonomous vehicle makers, acknowledging that the company is not going to "own" the technology and is thus open to working with multiple players.
"If GM builds autonomous technology," he started, implying that Uber would work with an automaker that already has made a significant investment in Lyft. "I welcome Waymo cars into our network as well."
Twitter: @traceylien
---