Yahoo Mail down multiple days, users vent frustration on Twitter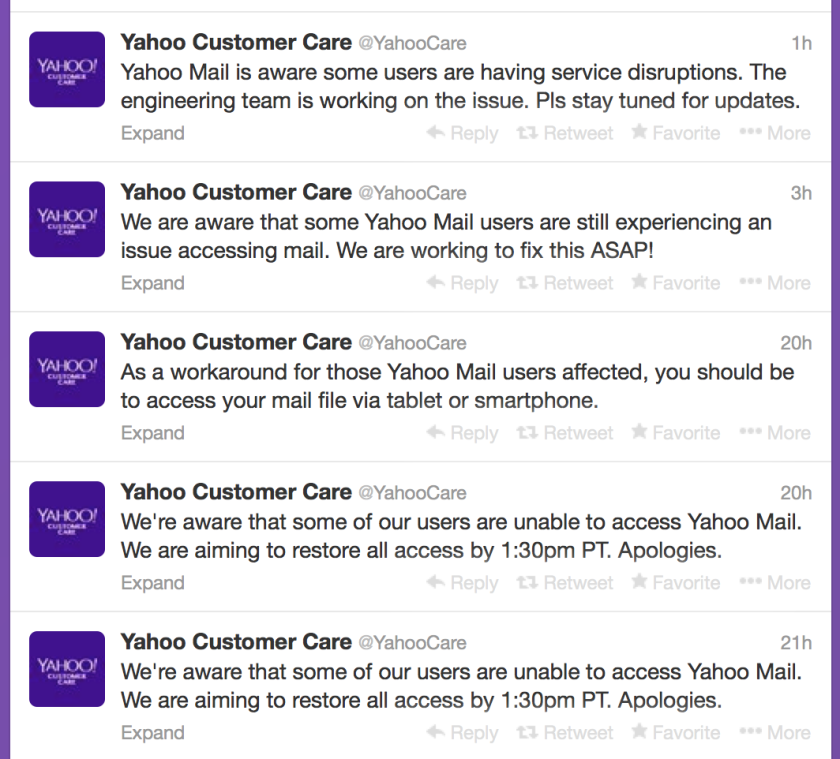 <i>This post has been updated, as indicated below.</i>
Yahoo Mail users are complaining on Twitter that they've been unable to access their emails for multiple days, and it's unclear what is causing the issue or when it will be resolved.
In response to the complaints, Yahoo has also sent out a few tweets letting users know that it's aware of the issue and is working to resolve it.
"We're aware that some of our users are unable to access Yahoo Mail. We are aiming to restore all access by 1:30pm PT. Apologies," the company tweeted Tuesday afternoon. Yahoo has sent out more tweets since then saying it is still working on the problem.
PHOTOS: Top 4 digital ways to interact with Santa Claus
Some users have complained that they've been unable to access their messages for as long as three days.
"My email has been unavailable for the past 30 hours and is still down," said one Yahoo Mail user in an email to The Times. "Please, do you perhaps know what is going on???"
Other users have said similar things on Twitter.
@marissamayer Marissa, have all your good engineers left the co., so thats why you can't seem to get Yahoo mail to work? This is ridiculous— thefly1311 (@thefly1311) December 11, 2013
#yahoomail Out for 3 days and I'm a paying user for Plus. CEO should resign, hasn't been right since CEO took over. Costing me money @Yahoo— Dave Bozman (@davebozman) December 11, 2013
@yahoomail @YahooCare Very frustrated!!! My account has been down since Monday. Apparently due to "maintenance", with no heads up. Terrible!— Wendy Larson (@wonder_wendy) December 11, 2013
My friend just died of cancer and his wife can't get into her #yahoomail to respond to funeral plans.This is a HUGE epic #yahoomailfail fail— Jason McGowan (@jasonmcgowan) December 11, 2013
At one point, Yahoo tweeted that users should be able to access their emails by using the Yahoo Mail smartphone app, but many users quickly refuted that claim.
@YahooCare - not true. Can't access email on either smartphone or tablet.— Jay Jay Nesheim (@JayJayN_ESPN) December 10, 2013
@yahoomail My email is still down. Down since Monday evening. No, I cannot access it with tablet, or mobile either. Please help.— Rockmantic Riff (@Rockmantic21) December 11, 2013
@YahooCare nope, nope and nope. I followed your instructions to delete yahoo and re -install on iphone, but it didn't work.— Jane (@azchronicler) December 10, 2013
Yahoo posted a blog on Tumblr apologizing for the issues. The company said it is working around the clock and expects the problem to be solved Wednesday by 3 p.m. PST.
[Updated 4:01 p.m. PST Dec. 11: Yahoo issued another update at 3:30 p.m. saying some users are still unable to access their email. The company said it is continuing to work hard and will update users again at 5 p.m. PST. Users can check for the update on the company's website.]
ALSO:
Why you should expect AT&T phone subsidies to go away
Twitter enables users to send photos through private messages
Grumpy Cat and feline friends debut new online cat video in Hollywood
---
Your guide to our new economic reality.
Get our free business newsletter for insights and tips for getting by.
You may occasionally receive promotional content from the Los Angeles Times.