Twitter stock plunges 20% after disappointing quarterly report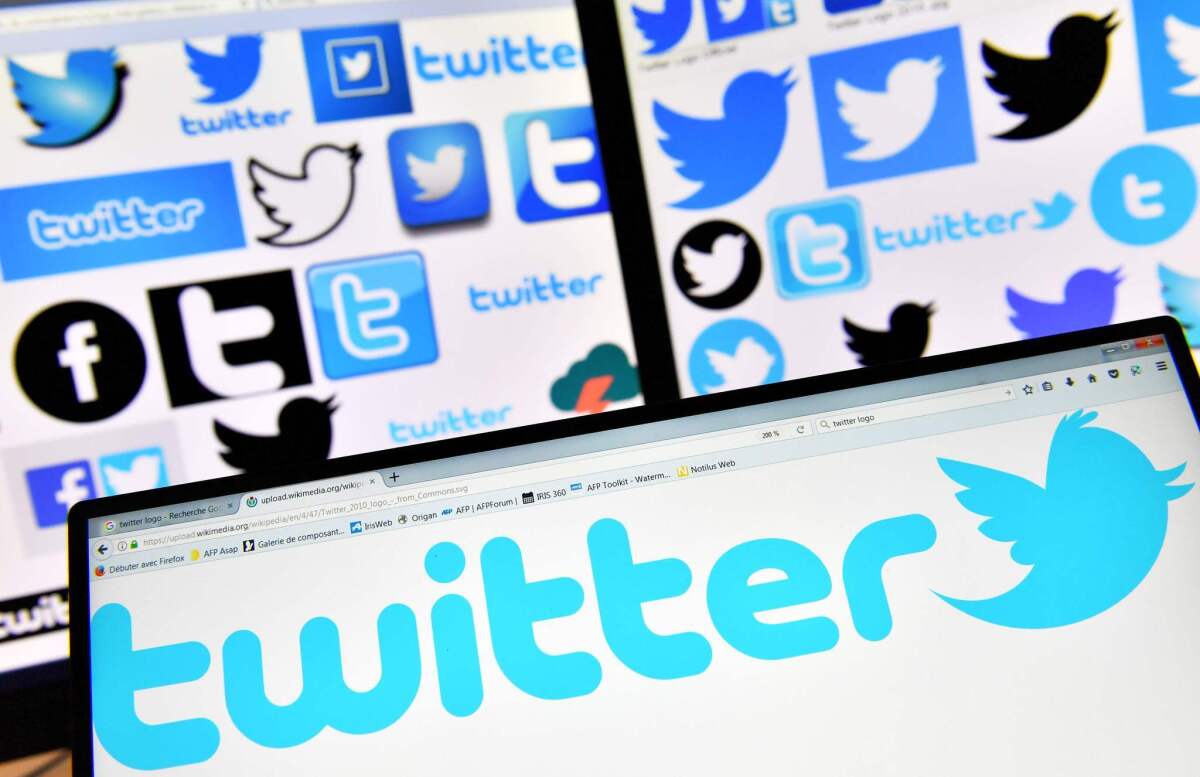 Twitter Inc. stock plunged more than 20% on Thursday, its biggest decline in more than a year, after the company reported quarterly results that fell far short of Wall Street's estimates and said privacy issues involving its advertising business will continue to weigh on performance.
Third-quarter sales increased 8.6% to $823.7 million, well short of the $876 million analysts had estimated. Sales in the current quarter, which ends in December, will be $940 million to $1.01 billion, the social media company said Thursday. Analysts had projected $1.06 billion.
In a letter to shareholders, San Francisco-based Twitter blamed "greater-than-expected advertising seasonality" in July and August for the third-quarter results, and also referenced "revenue product issues" that reduced sales by 3 or more percentage points.
Chief Financial Officer Ned Segal blamed the miss in part on what he referred to as "bugs" in the way Twitter targeted ads and shared personal user information.
In one instance, Twitter had previously been collecting device information from people and using it to target them with advertising without their permission.
Also, Twitter shared data about users' interactions with mobile apps with some advertisers without permission. Twitter did that as a way to help those advertisers measure weather their ads were working. When it stopped the practice in early August, it made Twitter's ad measurement weaker, and some advertisers pulled spending, Segal said.
Specifically, the changes affected Twitter's "Mobile App Promotion" ads, also known as app-install ads, which let developers promote their apps to Twitter users. The effect on Twitter's business will probably bleed into results in 2020, Segal added.
User growth, on the other hand, provided a positive note for Twitter, which has historically struggled to increase its audience despite widespread social and cultural awareness. The company's daily active user base grew by 6 million in the third quarter to 145 million, a 17% increase from a year earlier and a 4% gain from the previous quarter.
"Despite its challenges, this quarter validates our strategy of investing to drive long-term growth," Segal said in a statement. "More work remains to deliver improved revenue products. We'll continue to prioritize our ad products along with health and our investments to drive ongoing growth" in making money from daily active users.
The problems with mobile app promotion in the third quarter don't necessarily signal a broader weakness in the ad market, since user engagement remains strong, said Jitendra Waral, a Bloomberg Intelligence analyst. "U.S. presidential election traffic and the 2020 Olympics should reboot revenue growth as Twitter works through measurement bugs" this quarter, Waral said.
Twitter reported profit, excluding some items, of 17 cents a share, falling short of analysts' estimates of 20 cents. The company's costs and expenses rose 17% as it hired new workers.
Twitter's user growth has fueled an ascent in its stock price: The shares climbed 35% this year to $38.83 through Wednesday. But the shares plunged 20.8% on Thursday, the most intraday since July 2018.
The drop dragged down Snap Inc.'s stock as well Thursday morning, though that stock recovered and ended the day with a gain of 2.6%. The Snapchat parent reported a strong third quarter this week but gave a tepid forecast for the current period. Facebook Inc., the biggest of the social media companies, is set to report earnings next week.
Twitter Chief Executive Jack Dorsey has been making a concerted effort to clean up the service and make it easier for users to have conversations with one another. One of Twitter's top product initiatives is to help people find more content that they might find interesting, even if they don't know which specific users they should follow. The company started testing the ability for users to follow specific topics, such as sports or gaming, last quarter. It will continue that test, with plans to add more categories such as celebrities and television shows.
The effort is aimed at one of Twitter's biggest issues, which is helping new and existing users find new content outside of their existing network.
Dorsey was asked about Twitter's political ad policy, given the current interest in the topic after Facebook said it wouldn't fact-check ads from politicians. Political advertising is very small on Twitter — Segal said the company made just $3 million in revenue from ads around the 2018 midterm elections — but there has been a lot of discussion about Facebook's highly controversial policy. Dorsey said elections and the kinds of conversations surrounding them are the "first priority" within his company's efforts to improve Twitter's health.