Here's what California's experts say about all those flying objects, from asteroids to balloons
Good morning, and welcome to the Essential California newsletter. It's Thursday, Feb. 16. I'm Corinne Purtill, a science and medicine reporter here at the Times.
On April 13, 2029, a giant asteroid is not going to slam into Earth.
This is a big deal, because for a while there it wasn't clear whether this 340-meter wide space rock was going to harmlessly pass by.
Between asteroids and giant balloons over North America, you may be paying closer attention to our skies and thinking about the mysteries beyond them. But I have some good news to share: it's really, really, really hard for anything to sneak up on our planet without someone noticing, as Southern California's scientists recently told me.
In fact, the Solar Systems Dynamics Group at NASA's Jet Propulsion Laboratory in La Cañada-Flintridge is currently tracking some 1.2 million objects in Earth's immediate vicinity. While many of us in California were focused on the drama in North American airspace on Monday, an asteroid named Sar2667 came crashing through Earth's atmosphere. The European Space Agency and NASA's Center for Near-Earth Object Studies at JPL knew in advance how big it was (about 3 feet wide), where it would enter the atmosphere (over northern France) and what time it would get there (around 4 a.m. Central European Time). As expected, it burned up over the English Channel shortly after entry.
Big asteroids — like the one mentioned above — are usually spotted from even farther away. Astronomers discovered the Eiffel Tower-size space rock in 2004. After calculating its orbit, they noticed with a start that there was a small but very real chance the asteroid might strike Earth 25 years in the future.
While smaller than the asteroid that took out the dinosaurs 66 million years ago, the rock still had the potential to do some serious damage. Worried scientists named it Apophis, after an Egyptian god of chaos.
"We were shocked," said Paul Chodas, manager of NASA's Near-Earth Object Program Office at JPL . "That is very serious and, actually, a very unexpected and rare event."
Real asteroids don't zoom toward our planet from the far reaches of space the way they do in the movies. Astronomers usually have years if not decades of advance notice. Within a few months, astronomers ruled out the possibility of a 2029 strike. A few years later, they dismissed an even smaller chance of a hit in 2036. And in 2021, NASA confirmed we don't need to worry about Apophis for at least another century.
(Our safety assured, astronomers are instead using the 2029 flyby as a chance to science the heck out of it, to paraphrase "The Martian." I wrote about it in Tuesday's Column One.)
I thought about Apophis this week after seeing the news about unidentified objects shot down over North American airspace.
These flying things — whatever they are — are the textbook definition of unidentified anomalous phenomena, the current preferred term in scientific and military circles for what we used to call UFOs.
Both the U.S. Department of Defense and NASA have embraced and legitimized the study of UAPs in recent years. The Pentagon is at least as worried about the possibility of a new aerial weapon deployed by a foreign adversary as it is about aliens, and they want pilots to report unusual sights without fear of stigma.
"I haven't ruled out anything," Gen. Glen VanHerck, the head of NORAD and U.S. Northern Command, said when asked specifically about the possibility that the objects are extraterrestrial.
The general may be keeping an open mind. But scientists say the physics of space make it close to inconceivable that something could travel undetected across countless light-years only to get shot down over Lake Huron, as I wrote for the Times.
"The impracticalities of interstellar travel are substantial," said Jean-Luc Margot, a planetary astronomer who leads UCLA's SETI (Search for Extraterrestrial Intelligence) Group.
The scientists most invested in the search for other life in the universe are not easily swayed by arguments of flying saucers or alien abductions. ("If you're claiming aliens came, that's kind of a big ol' hairy deal . . . That should never be the first place your brain goes," astronomer Bruce Betts of the Planetary Society told me.)
Margot's telescope is collecting radio signals from the cosmos in search of one too narrow to have been generated by anything in nature.
His team has collected more than 64 million narrowband signals from 42,000 stars. The lab's algorithms can immediately conclude that roughly 99.5% are from human technology. That still leaves hundreds of thousands of signals the machines can't easily recognize.
That's where citizen scientists come in.
On Tuesday, Margot launched the "Are We Alone in the Universe?" project. No formal training or scientific background needed: if you're able to distinguish visual patterns, a few minutes' tutorial on the website is all you need to look at the pictures and flag those that don't fit any recognized patterns.
If you are truly interested in the compelling possibility that we're not alone in this vast universe, this is where you might want to look first: not at the skies above Michigan, but in remotest reaches of space.
And now, here's what's happening across California:
Note: Some of the sites we link to may limit the number of stories you can access without subscribing.
L.A. STORIES
A county deputy is charged with murder for a crash that killed a child. Prosecutors charge that off-duty sheriff's deputy Ricardo Castro, 28, was speeding when his pick-up truck T-boned a car in South Gate on Nov. 3, 2021, killing 12-year-old Isaiah Rodriguez and injuring the boy's 19-year-old sister. Castro's truck was clocked at speeds above 90 miles per hour shortly before hitting the car, which was traveling in a 25 miles per hour school zone. Los Angeles Times
California's population has dropped by more than half a million people since the start of the pandemic.The Golden State lost 700,000 people to net migration between April 2020 and July 2022, with many people citing the high cost of living and availability of housing as reasons for their departure. More than 273,000 people left Los Angeles County, the state's most populous, in the two years ending in July 2022. Los Angeles Times
Check out "The Times" podcast for essential news and more
These days, waking up to current events can be, well, daunting. If you're seeking a more balanced news diet, "The Times" podcast is for you. Gustavo Arellano, along with a diverse set of reporters from the award-winning L.A. Times newsroom, delivers the most interesting stories from the Los Angeles Times every Monday, Wednesday and Friday. Listen and subscribe wherever you get your podcasts.
POLITICS AND GOVERNMENT
The fight for a $25/hour minimum for healthcare workers goes statewide. Democratic state lawmakers introduced legislation Wednesday mandating a $25 minimum wage for health workers and support staffers across California, in a move that will likely see fierce pushback from hospitals, clinics and nursing homes. The cities of Los Angeles and Downey both approved $25 per hour minimum wages for healthcare workers last year. Los Angeles Times
L.A. city council will consider free attorneys for people facing eviction. Unlike defendants in criminal cases, people taken to eviction court aren't entitled to legal representation by law. After years of lobbying by housing advocates, six city councilmembers backed a proposal on Tuesday that would eventually guarantee renters' right to counsel. LAist
CRIME, COURTS AND POLICING
A Times investigation prompts calls for reform. Lawmakers in the U.S. and Mexico are demanding action after an Los Angeles Times investigation revealed that some pharmacies in Mexico are selling counterfeit medication laced with powerful narcotics including fentanyl and methamphetamine. "I urge the State Department to consider issuing an advisory to alert travelers to this potential threat, and I call on the DEA and FDA to immediately investigate these findings," said U.S. Sen. Ed Markey (D-Mass.), calling the report from the Times's Connor Sheets and Keri Blakinger "alarming." Los Angeles Times
A 75-year-old man has been arrested in a cold-case killing. The Siskiyou County Sheriff's Office arrested Philip William Frase this week in connection with the cold-case killing of a woman found in a rural Northern California river nearly 18 years ago. Patricia Joseph, 56, was reported missing July 15, 2005. Los Angeles Times
HEALTH AND THE ENVIRONMENT
Chilly this winter? Blame it on the rain. Atmospheric rivers dumped nearly 32 trillion gallons of rain and snow on California this winter. As that water evaporated, vapor spread out to the rest of the atmosphere, cooling the environment over California. The state is one of only a few places on the planet that experienced below-average temperatures in January. The cold hasn't left us yet — snow on the Grapevine briefly shut down the 5 Freeway late Tuesday night. San Francisco Chronicle
Tesla will open its charging network to other electric vehicles. Elon Musk, Tesla's chief executive, promised to provide 7,500 open-access chargers in the U.S. by the end of 2024, Biden administration officials said. The government will pay to convert existing Tesla chargers or build new ones to accommodate other carmakers' vehicles, Russ Mitchell reports. Tesla has said it will charge higher prices for non-Tesla cars. Los Angeles Times
CALIFORNIA CULTURE
Raquel Welch dies at 82. The San Diego-raised actor shot to fame after an iconic appearance in the 1966 film "One Million Years B.C." "In one fell swoop, everything in my life changed and everything about the real me was swept away," she wrote in her 2010 memoir. "All else would be eclipsed by this bigger than life sex symbol." Los Angeles Times
Medieval Times performers are on strike. Queens, knights, trumpeters, squires and other unionized cast members of the Medieval Times location in Buena Park have gone on strike for increased wages and better workplace conditions. Multiple picketers said Medieval Times LLC has flown in cast members from other castles to continue performances during the strike. Los Angeles Times
Southern California libraries now offer backpacks and park passes. Cardholders at many public libraries in Los Angeles, Orange, Riverside and San Bernardino counties can now check out backpacks equipped with compasses, binoculars and other outdoor essentials, in addition to visitor passes granting access to more than 200 state parks. Introduced last year, the California State Library Parks Pass program has been wildly popular. The program recently added thousands more passes to reduce long wait times. Orange County Register
Free online games
Get our free daily crossword puzzle, sudoku, word search and arcade games in our new game center at latimes.com/games.
AND FINALLY
Today's California landmark is Devil's Postpile, from Barbara Epstein of Redondo Beach.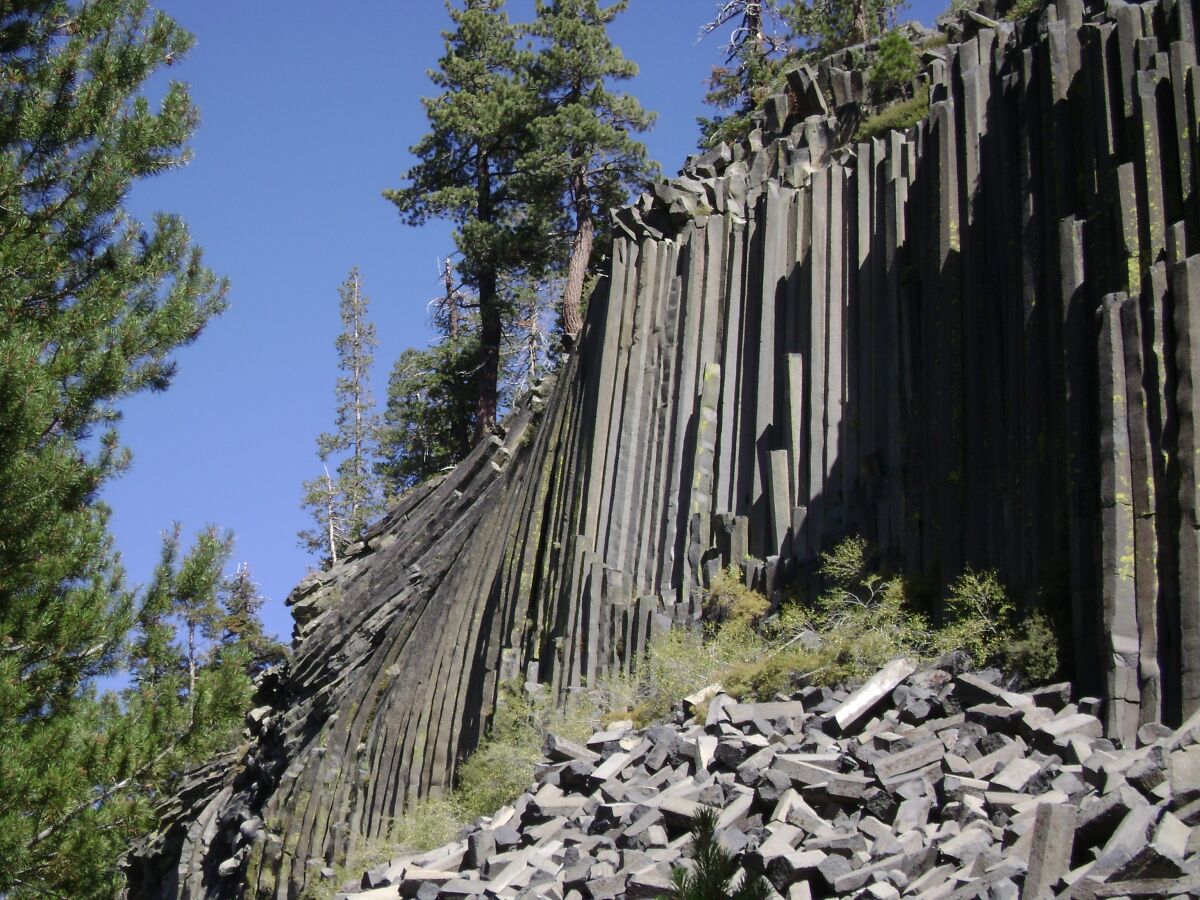 Barbara writes:
The Devils Postpile is one of the most special Californian landmarks because of its unique geological features. It is also special for being in the setting of the beautiful Sierra Nevada mountains. To me, it needs to be very high on the list of must-see California wonders.
What are California's essential landmarks? Fill out this form to send us your photos of a special spot in California — natural or human-made. Tell us why it's interesting and what makes it a symbol of life in the Golden State. Please be sure to include only photos taken directly by you. Your submission could be featured in a future edition of the newsletter.
For the Record: The Calentine we included in Monday's edition of the newsletter misspelled "pacific." Whoops! We'd like to extend a big thank you to Karen J. Kovacs for her submission and her attention to detail!
Please let us know what we can do to make this newsletter more useful to you. Send comments to essentialcalifornia@latimes.com.

The stories shaping California
Get up to speed with our Essential California newsletter, sent six days a week.
You may occasionally receive promotional content from the Los Angeles Times.