I went on a date ... with L.A. Here's my love letter, through photos
Good morning, and welcome to the Essential California newsletter. It's Tuesday, Feb. 21. I'm Angeline Woo, the food features photo editor at the Los Angeles Times.
One of my favorite ways to unfold the weekend is to explore Los Angeles, camera in hand, with dear friends. It feels like a date with my city, and the trove of photos is my love letter to L.A.
I did that this weekend, and I want to share them with you. I invited my Los Angeles Times features photo editor colleagues — Calvin Alagot, Liv Paggiarino and Brandon Choe — for the day. We began with an Arabic breakfast and housemade Earl Grey lattes at Saffy's.
Los Angeles consistently offers an intriguing trifecta of food, architecture and artful happenings, and it's one of the reasons why I stay in love. For this weekend, I focused on a few foundational L.A. spaces.
We meandered through Frank Lloyd Wright-designed Hollyhock House in Barnsdall Art Park, which opened to the public again in August. We also explored Amazonia, the exhibition of 200-plus images by Brazilian photojournalist Sebastiao Salgado at the California Science Center.
My friends and I parted ways, I went to my favorite postmodern building in downtown, the Bonaventure. I sat through the L.A. sunset glow at the revolving Bonavista Lounge with cocktails.
I climbed a flight of stairs and ate dinner on the topmost floor. Like the end of many great dates, I ordered an incredible dessert, to share.
Being in L.A. reminds me to live each day with renewed curiosity and intention. I hope the images below show that.
Here's my love letter.
And now, here's what's happening across California:
Note: Some of the sites we link to may limit the number of articles you can access without subscribing.
L.A. STORIES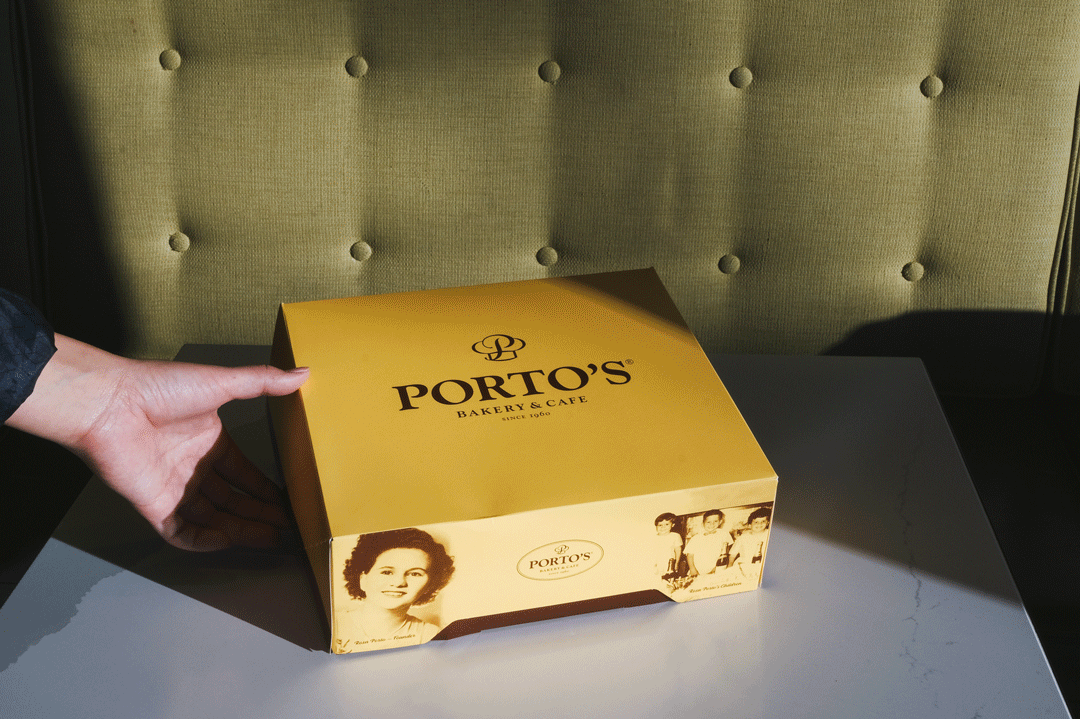 The power of Porto's: Why those yellow boxes of guava pastries will always say 'L.A.' The Cuban bakery chain Porto's has been a Los Angeles favorite for decades and is still going strong. Pro tip: You can order any cafe item from any line; pick the shorter one. Los Angeles Times
Hoot and Holler at Stud Country, L.A.'s lively queer line-dancing party. Stud Country subverts heteronormative ideas about country music by creating a queer-friendly dance space in Los Angeles built on line dancing. Los Angeles Times
Explaining Hollywood: How to get a job as a food stylist. As food has become a bigger part of the entertainment industry, there's more and more respect (and work) for food stylists in Hollywood. Los Angeles Times
Inside Super Nintendo World: A guide to every dish at so-cute-it-hurts Toadstool Cafe At Universal Studios Hollywood, Super Nintendo World is officially opening. Here's a rundown of every dish at the Super Mario Bros.-themed Toadstool Cafe. Los Angeles Times.
Check out "The Times" podcast for essential news and more
These days, waking up to current events can be, well, daunting. If you're seeking a more balanced news diet, "The Times" podcast is for you. Gustavo Arellano, along with a diverse set of reporters from the award-winning L.A. Times newsroom, delivers the most interesting stories from the Los Angeles Times every Monday, Wednesday and Friday. Listen and subscribe wherever you get your podcasts.
POLITICS AND GOVERNMENT
Assemblymember Mia Bonta, the wife of California's attorney general, recuses herself from overseeing his department's budget. California Atty. Gen. Rob Bonta's wife has recused herself from matters related to the state Department of Justice as part of her duties leading a legislative subcommittee that oversees his budget. Los Angeles Times
Mayor Bass calls for overhaul of LAPD discipline system, more detectives to work cases. In the clearest indication yet of her police priorities, Los Angeles Mayor Karen Bass said she wants the LAPD to hire more homicide detectives, overhaul its discipline system and root out far-right extremists within its ranks. Los Angeles Times
A year of war: Los Angeles Times photographers document the battle in Ukraine. Los Angeles Times photographers document the battle in Ukraine after Russian forces invaded nearly a year ago. Los Angeles Times
SCIENCE AND ENVIRONMENT
The sounds of science. Why just look at your data when you could listen? Scientists are turning their data into sound to gain new insights into things as small as DNA and as large as galaxies. Los Angeles Times
Brain-implant companies balk at moves to regulate their nascent tech. The nascent field of brain-computer interfaces is particularly sensitive to security concerns, making it a natural target for stringent oversight. But at a conference Thursday, several execs warned of overregulation. Los Angeles Times
Are Californians destroying the Amazon? A Sabastiao Salgado exhibit raises hard questions. The beauty of the Amazon rainforest and its peoples, and the threats facing them, emerge in a Sebastião Salgado photo show at the California Science Center. Los Angeles Times
CALIFORNIA CULTURE
She dreamed about mountains of mushrooms — and got what she wished for. Foraging is not the only way to bring freshly picked mushrooms to your kitchen table. You can easily grow varieties including oyster, shiitake and lion's mane in your home. Los Angeles Times
Art should not abstract human emotion. Ferrari Sheppard can show you how it's done. Honesty is why the L.A.-based artist is the talk of Frieze: "If I paint something and it makes me sad, it's f—ing sad. That is the barometer of the life of the piece, so to speak." Los Angeles Times
Angela Bassett: 'I did what I came to do. And I did it well.' "It's better to be underestimated and then deliver," says Angela Bassett, who makes Marvel history with her supporting actress Oscar nomination. Los Angeles Times
Allensworth, a one-time Black utopia, could rise again from the Central Valley dust. A California Historic Park commemorates life in Allensworth, a Central Valley town founded after the Civil War where Black residents could prosper. Los Angeles Times
Find comforting Syrian breakfast at this backyard pop-up near Dodger Stadium. Two brothers create a totally unique Syrian-Circassian culinary experience at Nawal, their weekend backyard pop-up. Los Angeles Times
Free online games
Get our free daily crossword puzzle, sudoku, word search and arcade games in our new game center at latimes.com/games.
AND FINALLY
Today's California landmark is the moving rocks in Death Valley national park, from Lawrence Westbury of Santa Barbara: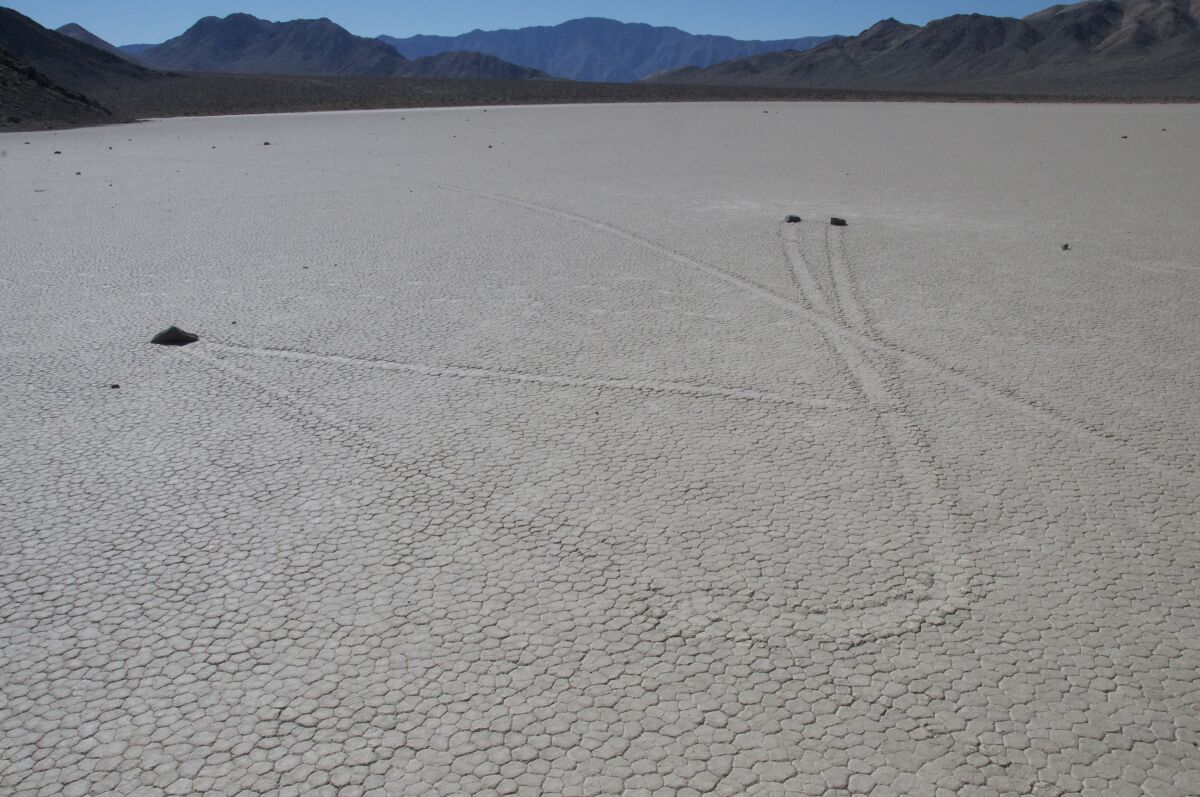 Westbury writes:
If you need it, this is the place for pure solitude.
What are California's essential landmarks? Fill out this form to send us your photos of a special spot in California — natural or human-made. Tell us why it's interesting and what makes it a symbol of life in the Golden State. Please be sure to include only photos taken directly by you. Your submission could be featured in a future edition of the newsletter.
Please let us know what we can do to make this newsletter more useful to you. Send comments to essentialcalifornia@latimes.com.
The stories shaping California
Get up to speed with our Essential California newsletter, sent six days a week.
You may occasionally receive promotional content from the Los Angeles Times.