California Politics: Newsom welcomes Biden and Xi to San Francisco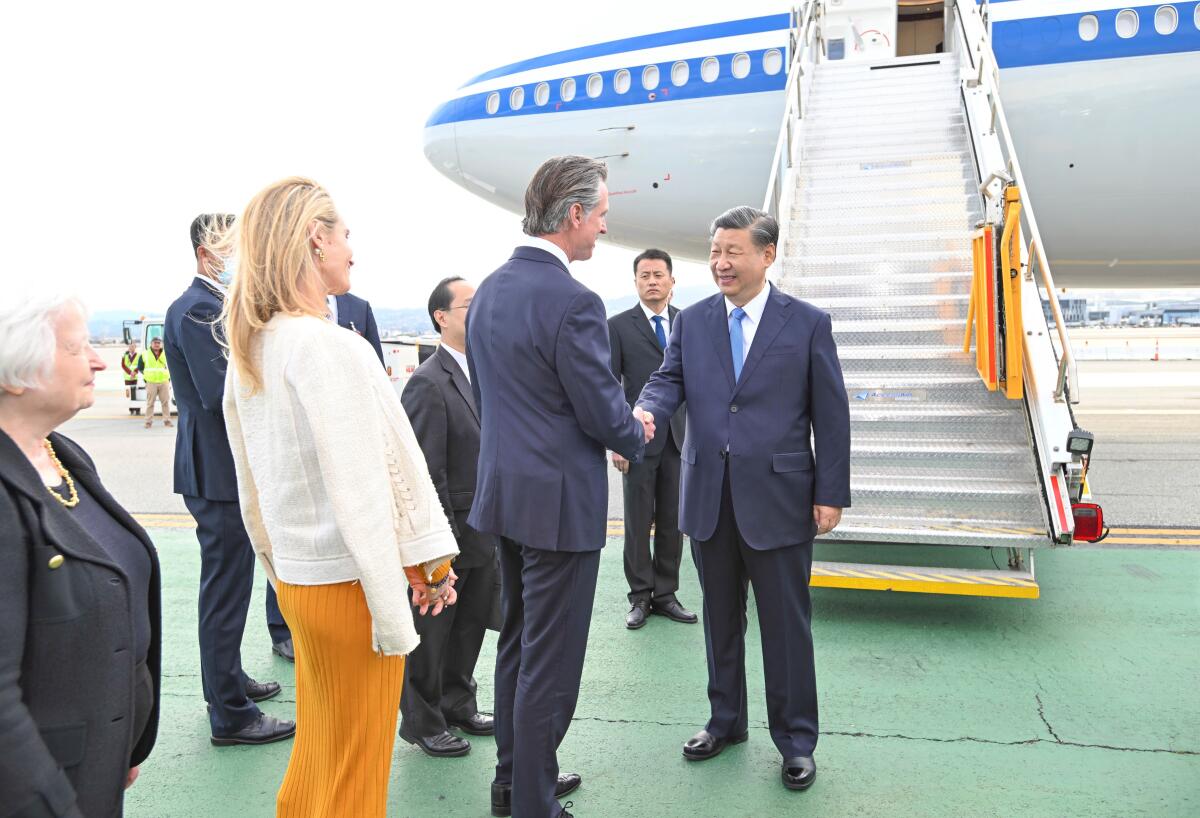 The San Francisco Bay Area has played host this week to an unusual dose of international diplomacy — as well as a very typical round of political fundraising.
President Biden and Chinese President Xi Jinping met Wednesday in Silicon Valley, vowing to reduce tensions between the world's two biggest superpowers. The leaders agreed to resume communications among the two nation's military leaders and crack down on exports of the chemicals used to make fentanyl.
Gov. Gavin Newsom did not have a role at the Biden-Xi confab, despite his own recent meeting with the Chinese president in Beijing. At a reception later that evening, though, Biden gave Newsom quite a toast: "He's been one hell of a governor, man. Matter of fact, he could be anything he wants. He could have the job I'm looking for."
The high-profile events are all tied to the Asia-Pacific Economic Cooperation summit, which has attracted leaders from more than a dozen nations and executives from a slew of major businesses to downtown San Francisco all week. The city spent days cleaning up for the big event — the largest gathering of world leaders in San Francisco since the UN charter was signed in 1945 — and reactions from locals ranged from pride to protest.
The night before meeting with Xi, Biden held a reelection fundraiser in San Francisco that included a who's-who of California politicos. Newsom and Vice President Kamala Harris attended the event that was hosted by Clint Reilly, a real estate developer and longtime political strategist. Also there: former San Francisco Mayor Willie Brown, current San Francisco Mayor London Breed and Jeffrey Katzenberg, the Hollywood mogul and Democratic megadonor who is a co-chair of Biden's reelection campaign.
The Bay Area is always a rich source of campaign funds for Democrats, but with Hollywood's strikes now over, political fundraising is expected to soon return to L.A. too. Get ready for California to resume the full power of its role as America's political ATM.
I'm Laurel Rosenhall, The Times' Sacramento bureau chief, bringing you the biggest news this week in California politics:
You are reading our California Politics newsletter
Sign up to get an inside guide to the movers, shakers and lawmakers who shape the Golden State.
You may occasionally receive promotional content from the Los Angeles Times.
Guilty verdict in Pelosi attack
David DePape was found guilty this morning on federal charges of attempting to kidnap former U.S. House Speaker Nancy Pelosi and assaulting her husband with a hammer after he broke into the couple's San Francisco home last year.
The jury spent a day deliberating the two federal charges before reaching their verdict, concluding a high-profile and, at times, bizarre trial that lasted only four days, Hannah Wiley reports from the San Francisco courtroom.
DePape sat quietly beside his attorneys as the verdict was read, but did not outwardly react to the decision. He faces up to a combined 50 years in prison.
The fascinating trial featured a surprising argument from defense attorneys. They never disputed that DePape "did horrible things" and "committed serious crimes," Wiley wrote. Instead, they focused on his motivation to argue that he is not guilty of the federal charges.
To land a conviction, prosecutors had to prove beyond a reasonable doubt that DePape's actions were motivated by Pelosi's official duties in Congress. His attorneys argued that instead, he was inspired by elaborate and baseless conspiracy theories that may have seemed "bogus" but were nonetheless his deeply held beliefs.
In closing arguments, a public defender said the case was not a "who done it," but a "why done it."
The prosecution argued that Pelosi's role as a public official was a central reason DePape tried to kidnap her and then attacked her husband with a hammer when he discovered she was not at home. Jurors heard portions of a recorded police interview in which DePape said he considered Pelosi Democrats' "leader of the pack," and claimed he would "break her kneecaps" if she didn't admit to corruption and other unfounded claims of human trafficking and child abuse by public figures.
"She was the speaker of the U.S. House of Representatives," a prosecutor said. "She was the head of the Democratic Party in the House. That was her job. And because of her job, the defendant targeted her."
These stories have more details on the trial's most compelling moments:

Rural Latino voters feel ignored
As California hurtles toward another monumental election, many Latino voters in a rural corner of the state feel overlooked, Times political reporter Benjamin Oreskes found on a recent trip to Salinas. He talked to a lettuce packing company employee who has voted since becoming a citizen in 1998 and knew that Sen. Dianne Feinstein had died. But he had no idea who was running to replace her — even though one of the candidates, Rep. Adam B. Schiff, had just swung through town.
Candidates need to show up, campaign in Spanish and hone a message that focuses on opportunity for people who came to this country seeking a better life, many people told The Times.
"Our communities often don't get a lot of focus and attention. A lot of the statewide candidates are focusing on large urban areas," said Luis Alejo, chair of Monterey County Board of Supervisors — who hasn't endorsed in the Senate race yet.
"Among all the top candidates, I have yet to see any of them have a direct message for Latino voters. None of them have come out with a strong message to cater to Latino voters to speak to what their needs are. Unlike some of the past elections, I think they need to come out with a really working class, economic plan."
Read more in this article: California's rural Latino voters feed the nation, but hunger for recognition by Senate candidates
Democrats divided over driverless cars
When I was in China last month covering Newsom's trip to develop clean energy partnerships, the governor made some interesting comments as he exited the Tesla factory in Shanghai. He began expressing real excitement about advancements in autonomous vehicle technology and told reporters he envisions a future in California where the "entire transportation system is completely reorganized" by driverless cars and flying taxis.
"I think it's going to come very fast," Newsom said. "With AI in particular aiding this advancement, I think it's just going to explode and you're going to start seeing driverless flying cars as well."
These comments struck me because in Newsom's hometown of San Francisco, the explosive growth of driverless cars has been a major political flashpoint — even before a Cruise robotaxi dragged a person down the street and the DMV suspended the company's permits. Since then, tension over the technology has also erupted in Los Angeles, where Mayor Karen Bass is pushing for the city to have more say in regulating driverless taxis.
You can read more about the governor's effusive comments on autonomous vehicles — and how his views put him in conflict with many fellow Democrats — in this article I wrote: Gavin Newsom is mesmerized by the growth of driverless cars. Other California Democrats, not so much
PS: In case "driverless flying cars" sounds like fake news to you, they were on display this week at the Asian Pacific Economic Cooperation conference in San Francisco.
Enjoying this newsletter? Consider subscribing to the Los Angeles Times
Your support helps us deliver the news that matters most. Become a subscriber.
Keeping up with California politics
Florida Democrats' lesson for California: Don't take anyone's support for granted
New polling in the 2024 presidential contest shows that Latino voters in particular are less enthusiastic about Biden than they were four years ago and are supporting Trump in larger numbers.
Inside the world's largest AIDS charity's troubled move into homeless housing
In 2018 and 2020, the AIDS Healthcare Foundation poured a combined $64 million into ballot measures to expand rent control across California, campaign finance records show. The foundation is now sponsoring a third initiative for the 2024 ballot. But a Times investigation has found that many of the 1,300 residents who reside in buildings owned and operated by the foundation live in squalid conditions, with dozens under the threat of eviction.
Why Hollywood political donations are due to spike
President Biden and Vice President Kamala Harris have been largely unable to raise campaign money from California's donor-rich entertainment industry this year due to strikes by writers and actors.
Freeway closure and snarled traffic pose a fresh political test for Mayor Bass
The closure of a vital piece of civic infrastructure presents a new, potentially thorny challenge for Mayor Karen Bass. Much of what happens next — repairs to a state-maintained freeway, possibly using federal dollars — will be out of her direct control. But that doesn't mean she won't be held responsible.
Kevin McCarthy foe accuses former speaker of 'sucker punch' elbow in Capitol hallway
Tennessee Rep. Tim Burchett accused former Speaker Kevin McCarthy (R-Bakersfield), whom he helped oust from the post last month, of elbowing him in a Capitol Hill hallway on Tuesday. McCarthy denied the charge, telling reporters that he "didn't shove or elbow him, it's a tight hallway." Burchett insisted that McCarthy hit him deliberately, telling reporters that he "can still feel it."
Column: It's about time California built the Sites Reservoir
California's state government began drawing up plans for Sites Reservoir in the Sacramento Valley 70 years ago. And it still only exists on paper. So, kudos to Gov. Gavin Newsom for deciding that it's finally time to put this tardy project on the fast track, writes columnist George Skelton.
Column: Newsom gets no California love for his political ambitions. Maybe he should try elsewhere
California's governor is not running for president. Take him at his word, writes columnist Mark Z. Barabak. Still, the gallivanting governor has acted very much like a presidential candidate, striding the global stage and trolling the GOP's White House contestants whenever he has the chance. Maybe he's positioning himself for a run after his term ends in January 2027. Either way, California voters are not pleased.
Stay in touch
Did someone forward you this? Sign up here to get California Politics in your inbox.

Until next time, send your comments, suggestions and news tips to capolitics@latimes.com.
Sign up for Essential California for news, features and recommendations from the L.A. Times and beyond in your inbox six days a week.
You may occasionally receive promotional content from the Los Angeles Times.