California vaccine bill with tougher school exemption rules heads to governor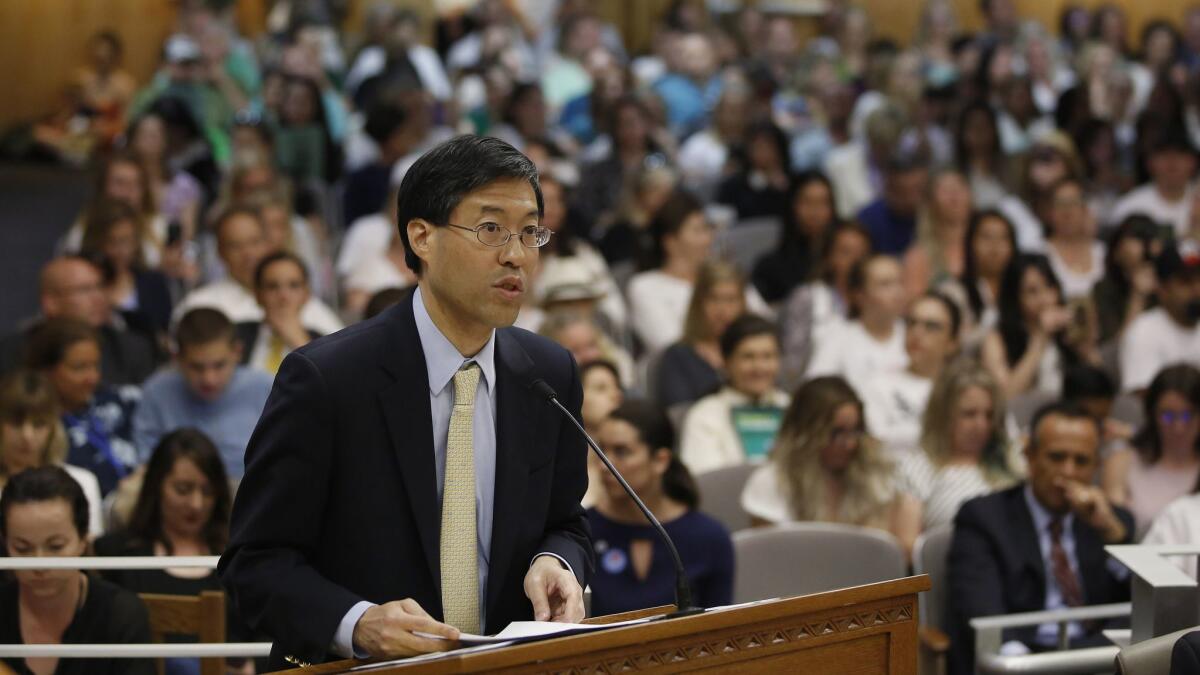 SACRAMENTO —
The state Senate gave final legislative approval to controversial vaccine legislation Wednesday, prompting a chaotic scene among protesters in the chamber as the bill was sent to Gov. Gavin Newsom for a signature.
The Senate's 28-11 vote came less than 24 hours after the Assembly approved the measure on Tuesday.
Though Newsom previously pledged to sign Senate Bill 276 by state Sen. Richard Pan (D-Sacramento), some uncertainty remains about the future of the legislation. On Tuesday, Newsom's office said in a tweet that the governor wants changes to the bill, which would tighten the state's school immunization law.
The governor's office provided a brief description of Newsom's proposed changes, which are fairly substantial but unlikely to appease the bill's opponents. The changes would be made in a separate bill that would have to be finalized before the Legislature's Sept. 13 deadline to pass bills.
Opponents of the bill have been a mainstay in the Capitol this year. On Wednesday, dozens of protesters regularly interrupted the Senate session by yelling at lawmakers as they spoke.
"This is really about science and about whether we believe in science or not," Sen. Scott Wiener (D-San Francisco) said. "There are people who dispute basic scientific facts."
"That's not true," a protester shouted in the gallery.
After the Senate approved the bill, protesters erupted into chants of "You are not representing California for all" — a nod to a slogan of Newsom's — before lawmakers called a recess and left the chamber.
"These people are fighting what they believe from the depths of their soul is a preventative detrimental harm to their children and that's why they are opposed to this bill and so am I," Senate Minority Leader Shannon Grove (R-Bakersfield) said.
SB 276 was introduced amid the worst measles outbreak in more than two decades, with more than 1,200 people diagnosed with the disease this year.
California already has some of the nation's strictest childhood immunization laws, which require students to be vaccinated to attend public or private schools or day care. A doctor can excuse a child, either temporarily or permanently, from some or all vaccinations if there is a medical reason to do so.
But the bill's supporters have alleged that some doctors are profiting off unneeded exemptions, prompting lawmakers to introduce legislation to create state oversight of the process.
Under SB 276, the California Department of Public Health would review and potentially reject medical exemptions written by doctors who have granted five or more in a year. Newsom is asking that the tally of how many medical exemptions a doctor writes apply only to those written after Jan. 1
The bill passed by the Legislature also calls for the Public Health Department to scrutinize the medical exemptions of children who attend a school or day care with an immunization rate of less than 95%. Newsom's office did not respond to several requests for comment on whether those medical exemptions would be affected under the governor's proposal.
SB 276 would also require doctors to certify, under penalty of perjury, that a medical exemption they sign is accurate. That provision would also be removed under Newsom's proposal, which adds language to ensure that individual medical information released to the state is not subject to disclosure under the Public Records Act.
In urging lawmakers to vote for his bill, Pan said he was willing to work with the governor's office on its concerns in the final days of the legislative session. Pan also noted that he accepted Newsom's previous amendments that narrowed the focus of the bill, which prompted the governor to say publicly that he would sign it.
"This bill is about being sure the children who really need the medical exemptions and therefore can't be vaccinated to protect themselves, they have the protection of others at the school," he said.
Sign up for Essential California for news, features and recommendations from the L.A. Times and beyond in your inbox six days a week.
You may occasionally receive promotional content from the Los Angeles Times.