Orange County inmate's death was not linked to coronavirus outbreak, officials say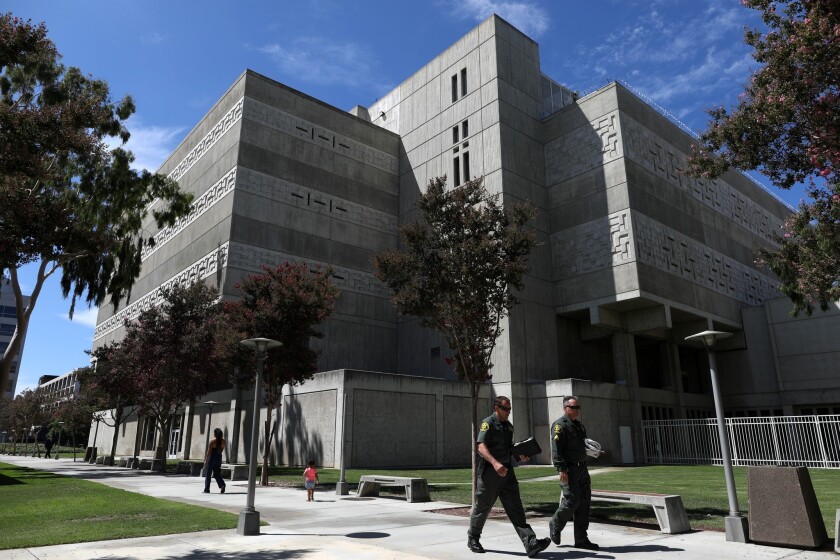 A 69-year-old man who spent roughly two months in the Orange County Jail in Santa Ana before he died at a hospital Sunday tested negative for the coronavirus, which causes the COVID-19 illness, sheriff's officials said Tuesday.
The man, who has not been identified publicly, was booked Jan. 24 on suspicion of a probation violation and possession of narcotics, said Carrie Braun, a spokeswoman for the Orange County Sheriff's Department.
The man, who officials say was suffering from a medical condition that affected his breathing, was taken from the jail to a hospital Friday where he was tested for the virus. He died two days later, Braun said.
The test results ultimately showed he was not infected, officials said.
The latest maps and charts on the spread of COVID-19 in California.
Orange County Public Defender Sharon Petrosino said her office had been working to get the inmate, a former combat Marine who had been a prisoner of war and suffered from post-traumatic stress disorder, released.
But Orange County Dist. Atty. Todd Spitzer, who said the inmate died of preexisting health problems, said his office did not oppose the man's release, noting that because he had already been sentenced, prosecutors did not have the authority to weigh in on the case.
Where have people tested positive for the coronavirus in Orange County? Here's the latest city-by-city breakdown of confirmed COVID-19 cases.
The news of the death comes as coronavirus infections continue to climb in Orange County.
The total number of cases in the county reached 502 on Tuesday. Seven people — three men and four women — have died of the virus. Four of those individuals were at least age 65, and one was between ages 45 and 64. One person who died was between 25 and 34 years old and another was between 35 and 44 years old, according to data from the Orange County Health Care Agency.
As of Monday, nine people who had symptoms consistent with COVID-19 were being isolated in the jail. Five inmates have tested positive, and roughly 150 are being quarantined under observation, Sheriff Don Barnes said.
Times staff writers Luke Money and Maura Dolan contributed to this report.
---
The stories shaping California
Get up to speed with our Essential California newsletter, sent six days a week.
You may occasionally receive promotional content from the Los Angeles Times.