Cal State to suspend SAT, ACT test requirement during coronavirus crisis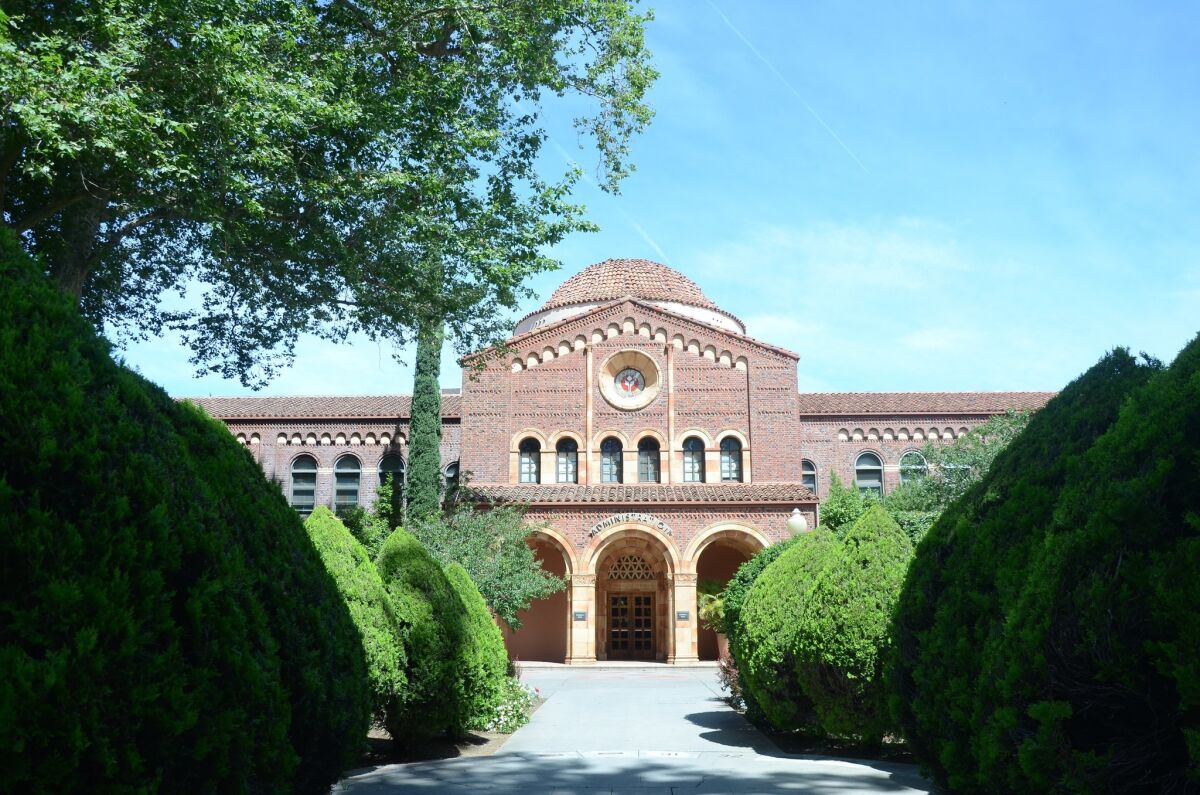 California State University, the largest public university system in the nation, announced Friday it would suspend its SAT and ACT testing requirement for students seeking admission in 2021-2022 amid continued uncertainty over the educational impacts of the coronavirus outbreak.
The admission adjustment represents a major shift for the CSU system, which educates nearly half a million students and currently relies almost exclusively on the combination of an SAT or ACT score and a student's GPA to determine acceptance eligibility.

For the record:
8:18 p.m. April 21, 2020This article states that Cal State Long Beach evaluates about 70,000 applicants for a first-time freshman class of just under 40,000. The campus reviews 70,000 applicants to enroll roughly 5,000 first-time freshmen.
The decision by the 23-campus system follows a similar one by the University of California earlier this month.
"The California State University has provided access to a high-quality education for millions of Californians from all walks of life, and we will continue to fulfill our academic mission even during these most trying of times," CSU Chancellor Timothy P. White said in a statement. "This temporary change will ensure equitable access to the university and should provide some measure of relief to prospective students and their families."
SAT tests for high school students may be taken online and at home if coronavirus forces schools to stay closed this fall, the College Board announced.
Under the new guidelines, first-time freshmen seeking admission for the terms of fall 2021, winter 2022 or spring 2022 must have earned a high school diploma or equivalent, completed the 15-course college preparatory sequence known as the "A-G" requirements and earned a GPA of 2.5 or better.
Any student with a GPA of 2.0 to 2.49 may be evaluated, based on supplemental factors such as additional coursework beyond the A-G requirements, extracurricular activities and household income. It will be up to each campus to determine those additional criteria and to communicate them to prospective students.
The standards laid out Friday would apply only to California residents and graduates of California high schools. Non-California residents may be eligible for admission if they earn a GPA of 3.0 or better and meet the additional criteria.
Cal State previously said it would accept marks of "pass" or "credit" instead of letter grades for classes taken in the winter, spring or summer of 2020. These would not be included in the calculation of a student's GPA.
The change in admission requirements will affect all campuses and programs in the CSU system, including those that have been deemed "impacted" — meaning unable to enroll everyone who is eligible. Those campuses and programs may require higher GPA thresholds and identify their own supplemental criteria and their relative weight.
Dhushy Sathianathan, vice provost for academic planning at Cal State Long Beach, said coming up with a new, fair admissions standard that doesn't penalize disadvantaged students will be "a monumental task," especially since applications for 2021 open in just six months.
"We don't have a lot of time to investigate other options," Sathianathan said. "The ideal would be to go to a holistic review completely, but that's very intensive and requires a lot of resources to put into place, and ... that's not easy to do quickly."
Cal State Long Beach, which evaluates about 70,000 applicants each year for a first-time freshman class of just under 40,000, has already begun looking at how it might reconfigure its "eligibility index," a composite score all CSU campuses use that takes into account GPA and SAT or ACT scores.
Sathianathan said one likely possibility is to give greater weight to student grades in high school math and English coursework. He said the university would run tests using student data from previous admissions cycles to make sure it yields a similar pool of admitted students and does not discriminate against students who are the first in their families to go to college, belong to underrepresented racial and ethnic minorities or come from low-income households.
Other campuses that already consider additional criteria may have an easier time making the adjustment. Cal Poly San Luis Obispo, which received more than 50,000 applicants for fewer than 5,000 seats in fall 2019, awards students bonus points for courses they take beyond the 15 required ones and for their work experience and extracurricular activities. Veterans, first-generation college students and local students also get priority.
James Maraviglia, vice provost for enrollment development at Cal Poly San Luis Obispo, said Friday's announcement would not pose a burden for his university, which could easily tweak its algorithm to give greater weight to other factors.
He said staff members had already run a simulation on this year's freshmen class and found that removing test scores would not significantly alter the academic profile of the pool of admitted students. However, the change would make it harder to place those students in the appropriate freshman math and English courses, Maraviglia said.
The Cal State systemwide academic senate supports the temporary suspension of the testing requirement, Chair Catherine Nelson said.
"A lot of students are not going to have access to the SAT or ACT," Nelson said. Even if the College Board offers the test digitally at home, as it this week indicated it may, "not everybody is going to have the technology available for that, nor will they necessarily have access to the internet or access to a quiet place in the home to take a three-hour test," she said.
Nelson said the academic senate recommended that after the temporary suspension is lifted, CSU review data from 2021-2022 to evaluate whether SAT and ACT scores are even needed to evaluate applicants — a subject that has been hotly debated, particularly in the context of equity for low-income, first-generation and minority students.
"We are well aware of the literature that says GPA is as good a predictor, if not a better predictor, than standardized tests of college success," she said. "The supplemental criteria are there to help establish potential for college success and for bringing in students that might not otherwise be able to come in."
Joaquin Gonzalez, a junior at Garfield High School, earned mostly Cs and below his first two years of high school. While his grades have improved this year, he said his hard work came "a little bit too late" to get to the GPA he wants.
The 16-year-old took the SAT earlier this year and scored 990. He was hoping to take it at least once more and earn a higher score. With the cancellation of the June test administration and the feasibility of other dates still unknown, that might not be possible.
"I'm relieved, but I really do want to take the SAT again," Gonzalez said. "I really want to show how well I could do."
---
Life is stressful. Our weekly mental wellness newsletter can help.
You may occasionally receive promotional content from the Los Angeles Times.