Crashing waves emitting a flash of neon blue have lit up darkened stretches of Southern California's coastline this month, most recently making an appearance in the South Bay.
The sporadic phenomenon — sometimes called sea sparkle — is something scientists have been studying for 120 years. It's associated with a red tide, or an algae bloom, made up of organisms called dinoflagellates.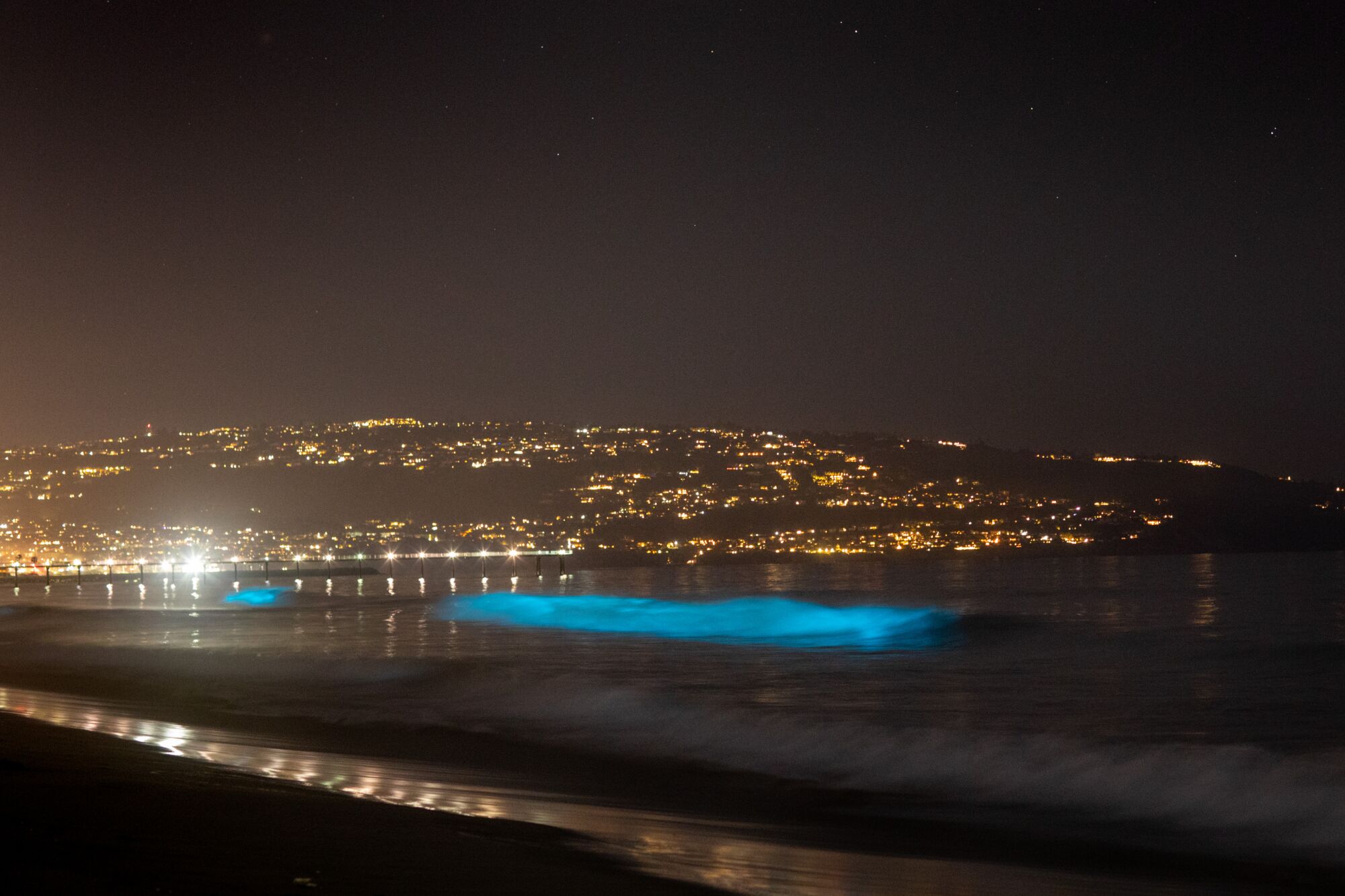 These tiny single-celled organisms are common members of the coastal plankton community that float on or near the ocean's surface and can emit bioluminescence, most commonly when they're grabbed by a predator. The light acts to startle their attacker, according to Michael Latz, a marine biologist with the Scripps Institution of Oceanography at UC San Diego.
Occasionally, the organisms are found in high concentrations, resulting in red tides and known for giving the ocean water a deep red, brown or orange hue during the day. At night, they can put on a truly spectacular show when jostled by a crashing wave or the wake of a boat.
Red tides are difficult to predict, and not all of them produce bioluminescence. Scientists still aren't sure about all the factors that lead to them, Latz said.
"This one is pretty spectacular [in] that it extends from Baja California all the way up into the Los Angeles region," he said.
The sea sparkle has put on a remarkable nighttime display, prompting ocean enthusiasts to head to the coastline despite stay-at-home restrictions due to the coronavirus outbreak.
On Saturday night, a handful of beachgoers made their way to the sand in Hermosa Beach to catch a glimpse of the phenomenon.
Earlier in the week, photographer Patrick Coyne set out with a friend on an inflatable boat to film sea creatures that they hoped would illuminate in the glowing sea water.
The pair had been out for a few hours in the dark off the coast of Orange County without success and were about to give up when two dolphins emerged near their boat. A few minutes later, more arrived.
The Torrance resident posted the video on social media, describing the experience as one of the most magical nights of his life.
"I'm not much of a crier, but as soon as the dolphins popped up, I definitely was shedding tears," Coyne told KABC-TV Channel 7 in a recent interview. "It's just such a magical moment. We definitely got lucky."
It's hard to pinpoint how long the red tide will last, experts say. Previous events have lingered along the coast anywhere from a few days to more than a month.
Los Angeles Times' visual coverage of the coronavirus crisis
These are some of the unusual new scenes across the Southland during the coronavirus outbreak.
Southern California had its first big heat wave over the weekend, but L.A. County beaches are closed due to the coronavirus pandemic. Beaches in nearby counties were open, however. Here are a few scenes from the weekend.
The stories shaping California
Get up to speed with our Essential California newsletter, sent six days a week.
You may occasionally receive promotional content from the Los Angeles Times.