Beverly Hills police arrest 44 in bust of unemployment fraud schemes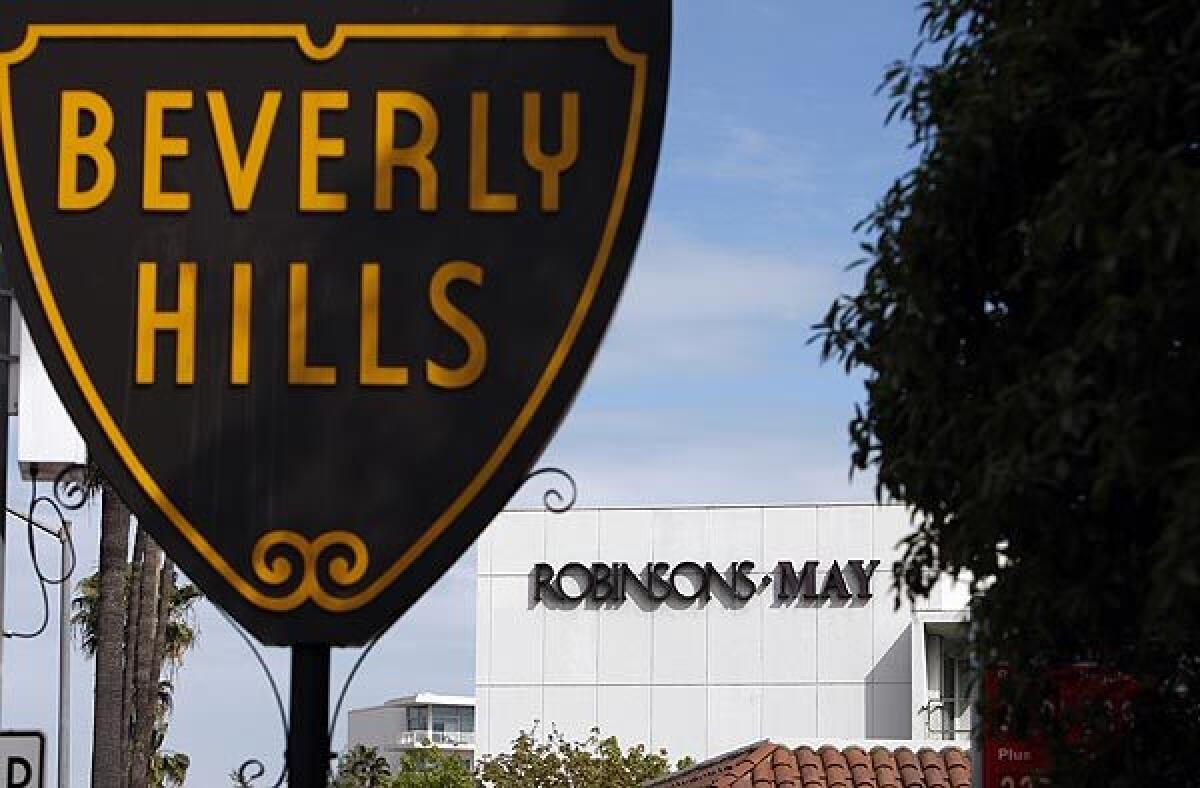 SACRAMENTO —
Citing an epidemic of fraud involving California's unemployment benefits system, the Beverly Hills Police Department said Wednesday that it has arrested 44 people and confiscated 129 fraudulently obtained debit cards potentially worth more than $2.5 million in benefits issued by the state Employment Development Department.
The arrests have been made since Sept. 3, after suspects with fraudulently obtained cards visited Beverly Hills stores, restaurants and other businesses to make purchases, according to a department statement.
More than $289,000 in U.S. currency and seven handguns have also been seized.
"There are millions of tax dollars being spent fraudulently as a result of this trend," Police Chief Dominick Rivetti said in a statement. "The Beverly Hills Police Department is also working closely with our business community to keep them well-informed of this trend in an effort to mitigate these crimes within our city."
The investigation began after police officers learned that people were using stolen identities to obtain EDD benefits loaded onto debit cards issued by the state agency. The alleged fraud was discovered when cards were found during arrests for other crimes and during stops for vehicle code violations.
Information posted on social media by suspects also helped investigators track down fraudulently obtained cards, but the arrests involve individuals and not a fraud ring, Lt. Max Subin said.
Each card seized can have up to $20,000 in unemployment benefits on it, although Beverly Hills investigators say they cannot access the cards to see how much the accounts contain.
"They will then use the cards to lease short-term rentals, rent luxury vehicles, dine at restaurants and purchase high-end merchandise," the department's statement said.
Some of those arrested or investigated were driving rental cars including a Bentley SUV, a BMW, a Mercedes-Benz and a Lamborghini, but the investigation is continuing to determine whether EDD funds were used to rent the vehicles.
Many of the suspects traveled from out of state to California to fraudulently obtain the EDD cards, officials said.
"It's an epidemic that is occurring in all of the communities around us," Subin said in an interview, adding that cases have also been found in West Hollywood.
On Wednesday, Beverly Hills police investigators met with counterparts from the Los Angeles Police Department, Los Angeles County Sheriff's Department, California Highway Patrol, United States Secret Service, U.S. Postal Inspection Service and U.S. Department of Labor to discuss a joint response.
The announcement of the arrests comes as dozens of people in California, Florida and elsewhere have reported receiving large numbers of EDD letters, many including debit cards, addressed to their home but in the names of people they do not know, while others have been notified they have been awarded benefits for which they did not apply.
Last month, authorities in San Mateo County alleged 21 people in Northern California were part of a fraud ring that stole $250,000 by submitting bogus claims on behalf of jail inmates.
The EDD said Thursday that it is making "aggressive efforts" to combat suspected fraud and that its investigators have contributed to the arrests of 34 people since the beginning of August, in addition to those busted in Beverly Hills.
"More arrests related to fraudulent benefits in the state are expected," the agency said in a statement.
EDD officials said suspicions were raised when, between mid-August and the first week of September, a program for gig workers, independent contractors and others had claims double to more than 524,000 — far surpassing levels when the new federal program first launched in April.
"The EDD took action to shut down automatic backdating in the PUA [Pandemic Unemployment Assistance] program to prevent suspected scammers from capitalizing on earlier months of additional stimulus payments," the agency said, adding that applications for that program dropped to 145,790 last week, a 72% decrease.
Since the pandemic shutdown began in March, the EDD has paid out more than $81.8 billion in unemployment benefits after processing some 12.6 million claims. Last week 5.1 million Californians were paid benefits.
The escalating issue with fraud has arisen as many unemployed Californians say they are legitimately entitled to benefits but have not been able to secure them because of computer glitches and red tape.
On Wednesday, Gov. Gavin Newsom said a report is due in a few days from a strike team he appointed to overhaul the EDD.
"That report is all but done," Newsom told reporters, adding that it will be released after he sees a "response from EDD, what they're going to do with these recommendations — the short-term, medium and long-term recommendations."
Sign up for Essential California for news, features and recommendations from the L.A. Times and beyond in your inbox six days a week.
You may occasionally receive promotional content from the Los Angeles Times.