Riverside County moves to dump state's plan and allow a quicker coronavirus reopening
Riverside County will set its own reopening agenda, apart from the state's timeline — although it still may not be fast enough for one county supervisor and his constituents.
The county Board of Supervisors on Tuesday approved draft language of Supervisor Jeff Hewitt's plan for Riverside-specific guidelines, but will wait two weeks instead of implementing it immediately.
The 3-2 vote came hours after California Health and Human Services Secretary Mark Ghaly announced Riverside would move from the state's most limiting purple tier to red.
The looser restrictions mean that some indoor services can resume with decreased capacity, including dine-in restaurants, gyms, hair salons and barbershops, retailers, shopping malls, tattoo parlors, places of worship, nail salons, museums, movie theaters and libraries.
"We want to be slow and stringent so as we move forward, we can be best prepared in case we see some increase in transmission, that it doesn't cause us to take some giant step backward," Ghaly said in a virtual briefing. As of Tuesday afternoon, the county had counted 57,482 confirmed positive cases and 1,172 deaths.
Hewitt's two-page proposal called for the immediate reopening of many in-person services, but did not account for Riverside's move Tuesday to the red tier. His fellow supervisors suggested delaying the plan until the board's Oct. 6 meeting, after a county economic recovery task force and staff could review it and iron out exactly which businesses could reopen. In the meantime, the state's red-tier restrictions for Riverside County stands.
"I would love to reopen everything up tomorrow. I'd love to do that," Hewitt said. "We've moved to red, things are all rosy. But we've seen this movie before, and we're still a long ways away."
Under Hewitt's original proposal, the county would reopen entirely by Nov. 3, with certain industries opening immediately, followed by a second phase on Oct. 13 for wedding receptions, group meetings and events. The final phase would allow indoor operations to resume at fitness centers, movie theaters and bars. Some of those industries, such as gyms and movie theaters, are now permitted under the red tier.
Blazing its own course could cost Riverside County $28 million to $656 million in state funding, cautioned County Executive Officer George Johnson. Gov. Gavin Newsom has threatened to cut funding to counties that don't comply with the state's COVID-19 guidelines for reopening. Hewitt scoffed at the warning, saying Riverside would "lose out on a whole lot of revenue based upon an economy that is crushed."
Board Chairman V. Manuel Perez, who voted against the measure, said he preferred to "stay the course." He pointed to the success of Orange County, Riverside's neighbor to the west, which recently moved from purple to red and is fast on its way to the orange tier with even fewer limitations.
The vote came after an hours-long meeting in which a passionate — and at times unruly — crowd of dozens of residents pleaded with supervisors to reopen Riverside. A few people cried behind the microphone. Others brought handmade signs saying, "churches are essential" and "open our schools." Some yelled at supervisors. One woman waved an American flag. All expressed desperation at the continued closures in the county.
"It is heartbreaking, because as a mother, I cannot explain to [my children] that a political pandemic has changed their lives," said one mother of two children with special needs. "This distance learning thing is so stressful for them. It's stressful on the parents. It is ridiculous that we are doing school through Zoom. Please, as a mother, I am begging you."
Growing cheers prompted Perez to ask the audience to wave their hands instead of making noise. Some grumbled loudly in response, and one person shouted, "You work for us!" Perez then called for a recess, which lasted an hour before the board resumed to discuss Hewitt's proposal.
Kira Boranian told supervisors that when her Corona salon Lather Studio closed in March, she cried every single day, wondering how to pay her bills. Just two years after putting "every penny in every [piggy] bank" into building her salon, Boranian said she was "ruined." So she reopened Lather Studio three weeks later — against state orders. She had deemed the livelihoods of her stylists "essential," she said.
"My salon is cleaner than a Target. Every single thing is sanitized. A comb doesn't get used on one client until it's cleaned again," Boranian said. "This has ruined small businesses. ... There is no reason that this pandemic should have shut down our entire lives."
Warnie Enochs, a former councilman in Murrieta, said his sons had to "pretty much" close their business because of the pandemic. "The poor, small businessman's doing terrible. He can't make it," Enochs said. "I can't believe you guys let it go this long. I can't believe anybody's let it go this long. It's totally ridiculous."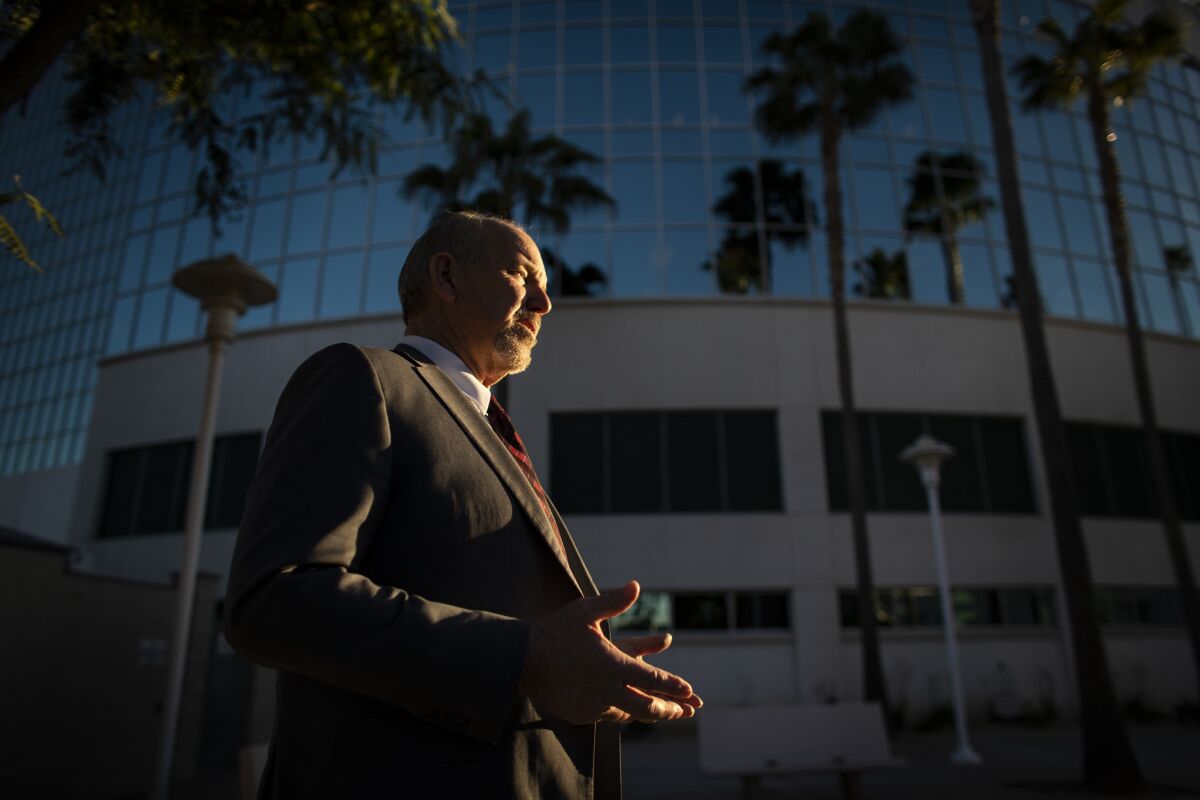 In a memo, Hewitt touted Riverside's welcome in January of diplomats from Wuhan, China, site of the first recorded coronavirus outbreak. Riverside made "bold and swift actions" early on, Hewitt wrote, and yet major aspects of the economy remain closed. He accused the state of shifting goalposts just as Riverside County had achieved standards for reopening.
"The state's lack of clear guidelines has left thousands of people uncertain about their abilities to pay bills and provide for their families," Hewitt wrote. "Today the economic impacts are clear, thousands of businesses and hundreds of thousands of jobs have been lost due to the shutdown of our economy. We will feel the burden of these economic impacts for years to come. It is time for Riverside County to take responsibility for our own wellbeing."
Hewitt's proposal came less than two years after his election to the Board of Supervisors — marking only the third time in the nation that a Libertarian won a district representing more than 50,000 residents. In an interview with The Times last year, Hewitt said he offers "true conservative values: smaller government and non-interventionism."
---
The stories shaping California
Get up to speed with our Essential California newsletter, sent six days a week.
You may occasionally receive promotional content from the Los Angeles Times.