Newsom says California will review FDA-approved COVID-19 vaccines before releasing them to public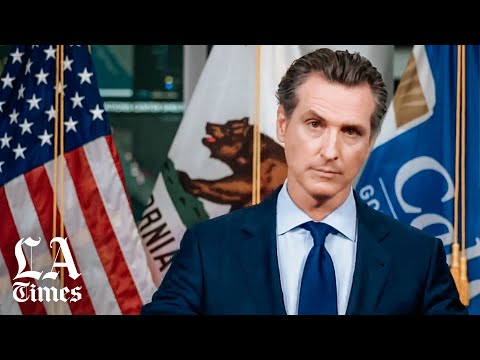 Gov. Gavin Newsom said California will review the safety of all COVID-19 vaccines approved by the Trump administration before allowing them to be released to the public.
SACRAMENTO —
Gov. Gavin Newsom said Monday that California will review the safety of all COVID-19 vaccines that receive federal approval before distributing them to the public, adding an extra safeguard amid concerns that the White House could rush the process.
The governor announced the creation of a new group of physicians and scientists working with the California Department of Public Health that will "independently review" all federal Food and Drug Administration-approved vaccines, he said.
"Of course, we don't take anyone's word for it," Newsom said at a news conference on Monday. "We will do our own independently reviewed process with our world-class experts that just happen to live here in the state of California."
Vaccines, like many other aspects of the nation's response to the pandemic, have become increasingly politicized. President Trump for months pushed for the speedy development of a vaccine, leading to clashes with public health officials who disagreed with his timeline. Now Newsom is insisting on a state review at a time when polls show declining confidence in future COVID-19 vaccines.
The governor's decision mirrors a September announcement from New York Gov. Andrew Cuomo, who said he would create a task force of health experts to review the federal government's COVID-19 vaccine approvals.
Newsom's announcement added to the uncertainty about COVID-19 vaccines just days after Dr. Anthony Fauci said he felt "strong confidence" in the safety of those approved by the Food and Drug Administration.
Fauci, the director of the National Institute of Allergy and Infectious Diseases, told "CBS Evening News" that he expects to know in November or December if some potential COVID-19 vaccines are safe and effective.
He said that if all six vaccine candidates currently undergoing clinical trials are proven to be safe and effective, they could be widely available by April.
But the governor on Monday said mid-2021 is a realistic projection for when a vaccine would be distributed to the public. Newsom acknowledged the "political polarization" around vaccines and said the state needs to monitor the safety, distribution and health effects.
"So, no matter who the next president is, we're going to maintain our vigilance," Newsom said. "We are going to do what California is well known to do and that is to make sure that we have a redundancy and that we maintain our vigilance to have a second set of eyes on the things that are being asserted and the information that's being provided."
LaVonna B. Lewis, a professor of public policy with an emphasis on healthcare at the USC Sol Price School, said it's too early to tell if Newsom's announcement will instill more faith in COVID-19 vaccines, or add legitimacy to the concerns.
"To assume that people will just automatically shake off all of the misinformation that has been part of this process and all the viciousness that has been part of this process and just stand in line and take the vaccine, I think is unrealistic," Lewis said. "And, so, trying to find ways to again restore some confidence in the process is necessary."
To those who are opposed to all vaccines, the governor's call for another layer of scrutiny may reaffirm their belief that vaccines are dangerous. But to other Californians, who may typically have confidence in vaccines but do not trust the federal government under Trump, the state's seal of approval could encourage them to get vaccinated, Lewis said.
"Trusted agents make a difference," Lewis said. "If I don't trust the messenger, then it's very difficult for me to believe the message."
Since taking office, Newsom's public position on vaccines hasn't always been clear.
Newsom initially raised concerns about a 2019 bill that tightened immunization rules for California schoolchildren. His office negotiated changes that narrowed the focus of the legislation and the governor told reporters that he would sign the bill.
Then shortly after the Assembly approved the bill and his changes, the governor backtracked on his support and asked for more changes. The back-and-forth energized anti-vaccine activists at the Capitol, giving them hope that Newsom might veto the legislation.
In the end, Newsom signed SB 276 and a second bill the Legislature approved with the extra amendments the governor wanted. The governor said repeatedly that his signature on the bills proved his support for vaccines, but his handling of the legislation created a feeling of distrust among lawmakers.
Sen. Richard Pan (D-Sacramento), who introduced the 2019 legislation, said this time Newsom's intervention will require the state to review the data the FDA used to approve the vaccines as a means to build more confidence in the science.
"If they don't provide the data, California is not the only one who's going to be raising a lot of questions," Pan said. "He's calling for scientists to review data so that people have confidence in the vaccine because unfortunately the president has politicized this and therefore has created a level of distrust."
Though the governor's announcement raised questions about whether the review would delay the distribution of the vaccine in California, Pan argued that it's more important for people to trust the vaccine and want to take it.
State public health officials last spring started having early discussions about how vaccines and therapeutic medicines to treat people with the coronavirus would be distributed in California once developed and approved.
Among the priorities would be to provide the vaccines to people considered most at risk from the virus, along with ensuring equitable distribution to people across the state, regardless of income or geography. In May, a top Newsom administration official said that this sort of planning is done whenever a new vaccine or medicine in great need to protect the public health is developed.
Those efforts came together in an 84-page draft proposal of a plan to distribute and administer vaccines that the California Department of Public Health submitted last week to the Centers for Disease Control and Prevention.
The broad outline, dated Friday, includes goals to prioritize vaccines while doses are limited for healthcare personnel at risk of contracting the virus, those at risk of severe illness or death from COVID-19, and essential workers. When vaccines become more widely available, the population of eligible recipients will grow to nonessential workers and the general public.
As states begin formalizing plans for vaccine distribution, governors are also calling for the federal government to provide more detailed guidelines and oversight.
Cuomo published a list of questions about vaccine distribution on Sunday that he said the National Governors Assn. sent to the Trump administration.
The association, which includes Republican and Democratic governors, asked the federal government about federal funding, insurance coverage, prioritization, monitoring health effects and other critical issues related to the distribution and implementation of future vaccines.
Times staff writer Phil Willon contributed to this report.
Sign up for Essential California for news, features and recommendations from the L.A. Times and beyond in your inbox six days a week.
You may occasionally receive promotional content from the Los Angeles Times.