Newsom kicks off plan to incentivize COVID-19 vaccinations as critics lash out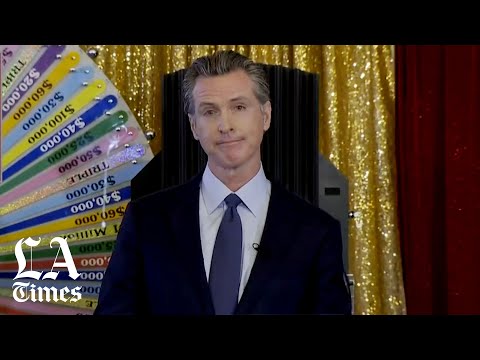 Gov. Gavin Newsom, facing a recall election, draws the names of the first winners of California's COVID-19 vaccine lottery in an upbeat event.
SACRAMENTO —
Gov. Gavin Newsom stood on a set designed to look like a game show on Friday and drew winners of the first cash prizes in California's COVID-19 vaccine lottery, part of an effort to boost immunizations that also gives the governor a chance to give away $116.5 million to potential voters before the recall election.
"Over the course of the last few weeks, as we saw that decline in those first doses, we realized we need to do a little bit more than just our traditional outreach efforts," Newsom said, acknowledging that some may question the use of cash giveaways to incentivize what he described as doing the right thing. "But we are where we are, and incentives have long worked, and incentives are indeed what we are advancing here today."
Positioned before crimson and gold curtains on a carefully crafted stage, Newsom plucked numbers from a lottery ball machine in the latest in a series of feel-good announcements from a governor in the middle of a battle to save his political career as he faces a recall election.
His political opponents called Friday's production another example of the governor using taxpayer dollars in an attempt to win over voters. Others viewed the display as smart political strategy from an incumbent looking to distance himself from the recall and deliver an upbeat message to Californians.
"He's leaving that in the dust and pushing forward with as much good news and progress as he can announce," said Gil Duran, a former press secretary for Gov. Jerry Brown and former opinion editor of the Sacramento Bee. "It can be frustrating for his critics, but when you're in charge of the rocket ship known as the state of California, you can hit the thrust at any time."
The governor's California Comeback Plan, the linchpin of his campaign against the recall, has been buoyed by record tax revenues and the ability to hand out $8 billion in stimulus checks to struggling Californians. The state's flush coffers have also allowed Newsom to craft a proposed budget that caters to many of the requests from labor unions and interest groups.
Newsom built on his upbeat messaging Thursday when he announced that restaurants and bars could continue to sell to-go alcoholic drinks after the state's June 15 reopening and followed Friday by giving out 15 cash prizes of $50,000 each to vaccinated Californians.
The governor has touted the mix of cash and gift cards as "the largest prizes of any state in America."
Orrin Heatlie, the main organizer of the campaign to recall Newsom, said the governor is wheeling and dealing in an attempt to survive the campaign to oust him. Giving out lottery prizes is just Newsom's latest gimmick, he said.
"He's gambling for people's votes with our taxpayer dollars," Heatlie said. "Look at his dramatic change in behavior ever since the realization that we qualified the recall."
Republican Caitlyn Jenner, who plans to run against Newsom in the recall election, described the incentives as "more bribes from Gavin Newsom trying to buy your votes" when the governor announced the pot of money last week.
"Gavin Newsom's only priority is self-preservation," said John Burke, communications director for former San Diego Mayor Kevin Faulconer, another Republican who will run against Newsom.
Newsom defended his decisions Friday and said he would "absolutely" be spending money on proposals in the same way if he weren't facing a recall.
"This year puts a smile on my face because so many of the things that I hoped to accomplish, maybe at the end of a term or in two terms, we're able to fast forward, and that's because of the incredible work of 40 million Californians and the incredible economic recovery the state is enjoying," he said.
Newsom has said the state designed the incentive program to increase vaccines before the expected June 15 reopening date. Over 70% of the adult population in California has received at least one dose. Though the state's vaccinated population is growing, vaccinations have slowed and total immunizations are still below levels that experts say are necessary to achieve herd immunity.
Rob Stutzman, former communications director to Gov. Arnold Schwarzenegger, said everything Newsom does leading up to the recall will be seen through a political lens, but called the vaccine lottery a creative way to entice Californians to get vaccinated.
Schwarzenegger was known for his theatrics while in office, and Stutzman applauded Newsom's use of a game show backdrop to improve vaccination rates.
"If you can get people to pay attention to this [who] don't normally pay attention to news, I think it's worth it," Stutzman said.
Stutzman noted that Republican Gov. Mike DeWine of Ohio was the first to announce his "Vax-a-Million" incentive prizes.
But Jessica Patterson, chairwoman of the California Republican Party, said Newsom's "Oprah-style" cash giveaway was part of the governor's strategy to deflect attention from his record as governor.
She criticized Newsom for his handling of the state Employment Development Department, which is still plagued with a massive backlog of unpaid unemployment insurance claims filed during the pandemic, and for enacting COVID-19 restrictions that shut down public schools and caused small businesses to go under.
"I don't think Californians are going to forget that. I think he knows that," Patterson said. "That's why he is out there pulling all of these stunts."
Newsom, who did not name the winners Friday in order to protect their privacy, plans to draw another 15 names next Friday for $50,000 prizes.
The state will increase the prize amount on June 15 with 10 cash awards of $1.5 million each. California is also still giving out $50 gift cards to the first 2 million people to get vaccinated since Newsom announced the vaccine incentives on May 27.
It's unclear if Newsom's vaccine lottery has made a difference as the governor has asserted.
The governor's office said providers have administered 1 million vaccine doses since he announced the incentive program. State data show higher levels of vaccinations in prior weeks, but the most recent data are probably incomplete because of reporting delays.
Duran said there's no question the lottery is a gimmick, but that doesn't really matter if it proves effective in getting more Californians vaccinated.
He said he doesn't expect Newsom to let up anytime soon given that the governor is likely to face a recall election a few months from now. Newsom not only wants to defeat the recall effort but needs to crush it, Duran said.
"I think Newsom is going to fly right through the recall into reelection," Duran said. "The question is whether he can keep the momentum and the discipline, and leave this office showing that he did carry through on some of his big promises."
Sign up for Essential California for news, features and recommendations from the L.A. Times and beyond in your inbox six days a week.
You may occasionally receive promotional content from the Los Angeles Times.