Two dead after plane crashes into homes near high school in San Diego County
SANTEE, Calif. —
A pilot and a UPS delivery driver died and two homes and a box truck were destroyed when a small plane crashed near Santana High School in Santee early Monday afternoon, sparking fires in the residential area, authorities said.
Neighbors pulled a couple in their 70s from one of the homes, both of which were engulfed in fire. The pair was taken to a hospital in serious condition, officials said.
The twin-engine plane went down near Greencastle and Jeremy streets in the San Diego County city, less than two-tenths of a mile east of Santana High School's football field, on the eastern edge of the campus. It struck the delivery truck and both homes, a Santee fire official said.
The Cessna C340 crashed about 12:15 p.m., according to the Federal Aviation Administration. As of about 2 p.m., FAA officials said they did not know how many people were on board.
The plane was headed from Yuma, Ariz., to Montgomery-Gibbs Executive Field — commonly called Montgomery Field — in San Diego's Kearny Mesa neighborhood, Santee Deputy Fire Chief Justin Matsushita said. Montgomery Field is roughly 11 miles west of the East County crash site.
The FAA and National Transportation Safety Board will investigate the crash. They had not yet determined whether gusty onshore winds whipping the region were a factor.
No one in the homes died in the crash. Matsushita said authorities were sending support for the fire crews who responded.
"The scene was pretty graphic," he said.
The crash shook homes and shattered windows. Matsushita said debris from the plane was found at 12 houses, including the two that burned.
UPS officials confirmed a delivery driver was killed. "We are heartbroken by the loss of our employee, and extend our deepest condolences to his family and friends." The company also said it is cooperating with authorities in their investigation and deferring questions to investigators.
A family member of the injured victims said his 70-year-old mother and 75-year-old stepfather "are in shock, but doing OK." Both had been pulled from the home where they had lived for about 25 years.
"There is just a pile of rubble. There's nothing there," the son, Jim Slaff, said as he looked at the home.
Slaff said he thinks his mother's dog Roxy — her "constant companion" — probably didn't get out of the home.
"But they are out and that is one of the best things — they're out, they're OK," Slaff said.
He said a neighbor called to alert him of what happened at his mother's house .
"Our neighbors are amazing. They came and saved people," Slaff said. "They put their own lives in danger to do it."
Several residents said they heard what sounded like a low-flying plane and then felt a boom.
"The whole house shook," said resident Amanda Nelson, who lives near the crash site.
Neighbor Michael Keeley was on a work-related phone call when he heard a boom and felt his house shake. He ran out to find the front of the corner home engulfed in flames. He and others — including Nelson and neighbor Allison Rea — pulled a woman through a window on the side of the home.
"I'm just proud of my neighborhood, that we all came together and helped out," Keeley said.
Shawn Purvis, who also lives in the area, said he heard a man screaming from the burning home on the corner of Jeremy and Greencastle. He and another neighbor broke down a backyard fence and carried the man to the street.
Neighbor Andrew Pelloth was working in his office when he heard a blast. "It was like a bomb," he said.
Pelloth ran out and saw the UPS truck and corner house in flames. Black smoke filled the air. "You couldn't see anything," he said.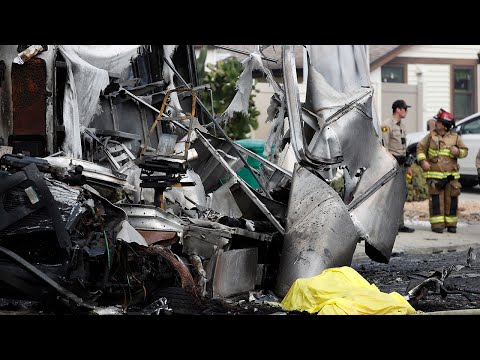 The Cessna C340 crashed around 12:15 p.m., according to the Federal Aviation Administration.
Santee Mayor John Minto issued a statement to extend sympathy for "the families and friends of those who tragically lost their lives."
"On behalf of our City Council, we want you to know we are extending whatever support we can for those who were injured, lost homes, or suffered property damage in this incident," he said.
Minto said the "dreadful tragedy showed the great nature and caliber" of those Santee residents who rushed to help. "This was an absolute example of neighbors helping neighbors, and community members helping in the immediate aftermath of the crash. Thank you."
The mayor also thanked the firefighters, sheriff's deputies and other emergency personnel who responded to the scene.
San Diego County Sheriff's Department officials asked the public to avoid the area. They also closed two streets: Jeremy Street and North Magnolia Avenue are both closed between 2nd Street and Mast Boulevard.
A temporary evacuation point for people affected by the plane crash has been set up at the Cameron Family YMCA at 10123 Riverwalk Drive, sheriff's officials said.
Santana High School officials tweeted that all students were secure.
Volunteers with the county-contracted Trauma Intervention Program headed to the crash site, and within a few hours of the crash had talked with more than a dozen people who live in the area.
San Diego County Board of Supervisors Chairman Nathan Fletcher issued a statement about the crash, saying the Office of Emergency Services has been activated, is monitoring the situation and is "ready to provide any needed support to the city of Santee."
"A tragedy like this one can have a jarring effect on a community, and I want the people of Santee to know their county government is here to support them," Fletcher said.
The Sheriff's Department asked anyone with photos or video of the crash to call (858) 565-5200 so they can pass along the images.
Monday marked the first time a plane has crashed into a home in San Diego County since December 2017, when two passengers on board a single-engine Beech B36 Bonanza were killed when the aircraft crash-landed in a baseball field at Lafayette Elementary School in Clairemont and skidded into a home on Chandler Drive near Mt. Abernathy Place.
The pilot and one passenger survived. The family that was renting the home was not there at the time, but their two dogs were killed.
In September 2015, a flight instructor and student pilot died after their small plane crashed onto the driveway of a home in Santee.
In December 2008, a Marine Corps F/A-18D Hornet fighter jet crashed into a University City home, burning that house and a neighboring home to the ground. The pilot ejected safely, but inside the Cather Avenue home was a mother, her two young daughters, and her mother visiting from South Korea. All four were killed.
In February 2006, two small planes collided over El Cajon, killing all three people on board the aircraft and sending burning debris raining down on Harry Griffen Park, Grossmont High School and residential neighborhoods in the area. There were no injuries on the ground, but several homes were damaged.
In June 1995, two U.S. Forest Service planes collided as they approached Ramona Airport, killing all three on board and scattering fiery debris over a neighborhood. Several homes in Ramona were damaged and two houses destroyed.
On Sept. 25, 1978, a PSA 727 jetliner on approach to Lindbergh Field collided with a small Cessna aircraft and both crashed into North Park. All 135 people aboard the jet, both occupants of the Cessna and seven people on the ground were killed and 22 homes damaged or destroyed by debris and fire.
Staff researcher Merrie Monteagudo and staff reporters Karen Pearlman and Alex Riggins contributed to this story.
Sign up for Essential California for news, features and recommendations from the L.A. Times and beyond in your inbox six days a week.
You may occasionally receive promotional content from the Los Angeles Times.