'This could be my room for a few days': Garcetti tests positive, isolates in Scotland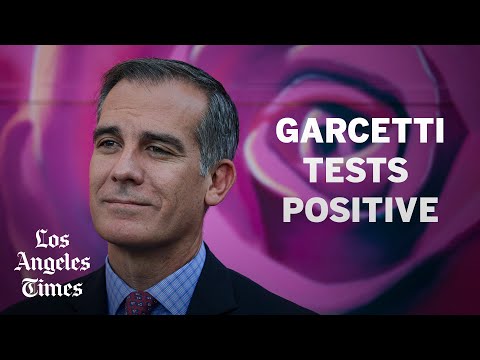 Los Angeles Mayor Eric Garcetti tests positive for COVID-19 while at a climate summit in Scotland. The fully vaccinated mayor is 'feeling good.'
Nearly two years into a pandemic that he has likened to fighting a war, Los Angeles Mayor Eric Garcetti has tested positive for COVID-19.
The mayor, who is fully vaccinated, tested positive Wednesday in Glasgow, Scotland, where he had been attending a United Nations conference on climate change.
The mayor is "currently isolating in his hotel room in Glasgow" and has experienced "very mild symptoms," Garcetti spokesman Alex Comisar said.
Garcetti is tentatively scheduled to return to Los Angeles on Nov. 13, according to a letter sent by his interim chief of staff to Council President Nury Martinez.
Garcetti had been taking rapid antigen tests daily while at the conference, which all came back negative. He took a PCR test Tuesday in preparation for what had been a planned flight home on Thursday; that test came back positive on Wednesday morning, Comisar said.
President Biden also appeared at the conference, but he and Garcetti didn't interact, a White House representative said.
"This could be my room for a few days," Garcetti said Wednesday during a video interview with KABC-TV Channel 7. White curtains and a large window were visible behind him as he spoke.
Garcetti left Los Angeles on Sunday and spoke about local climate action in front of the U.N. World Leaders Summit on Monday, according to schedules released by his office. He was originally set to moderate a panel Wednesday "on international finance to support city climate action" before participating in another discussion regarding solutions and challenges to tackling climate change.
Martinez will continue serving as acting mayor until Garcetti returns, as she does whenever Garcetti is sick or traveling out of the state.
The mayor's extended stay in Scotland comes at a time of broader uncertainty for his administration, with the mayor's planned departure to India still in administrative limbo and a cloud of scandal hanging over City Hall.
Councilman Mark Ridley-Thomas, who has since been suspended from his duties, was indicted on federal bribery, conspiracy and other charges last month, making him the second sitting councilman to be indicted on federal charges in as many years. A third former councilman was handed a prison sentence in January.
The White House officially nominated Garcetti as ambassador to India a little over three months ago, but it remains unclear when the Senate will take up his nomination. No one knows for certain when or whether he will leave, with some wondering whether he will end up serving his entire second term.
The sluggish pace means that Garcetti could still be in Los Angeles in late January, the start date of a court trial involving a former aide, Rick Jacobs, who is accused of sexual harassment by Garcetti's former bodyguard.
There has also been turnover within his office, including the months-long absence of his former chief of staff. Ana Guerrero was put on administrative leave in June after revelations about disparaging comments she made in a private Facebook group surfaced. She returned to City Hall on Monday as a strategic advisor.
Mayor Eric Garcetti has been forced into a waiting game as Senate Republicans slow the confirmation process for President Biden's appointees. Garcetti was nominated in July to be U.S. Ambassador to India, but it's uncertain when his appointment will be heard by the Senate.

Comisar said that while the mayor is away, he will continue to "work a full schedule and he'll be in constant contact with his staff to make sure that everything gets done." Four city staff members had been traveling with him, all of whom received negative results on the PCR test administered Tuesday, according to Comisar.
A Times reporter at the conference described the indoor venue as crammed with people from around the world, noting that physical distancing was often impossible.
Garcetti, 50, received his first dose of the Moderna vaccine in January. At the time, he wasn't in line to receive the vaccine, but medical personnel recommended he get the shot because he was working at Dodger Stadium as part of the city's vaccination effort.
He received his second dose in February and plans to get a booster "as soon as it's recommended he do so," according to Comisar.
Garcetti's young daughter tested positive for COVID-19 in December. Neither she nor Garcetti's wife, Amy Wakeland, is with him on the trip, Comisar said.
Garcetti's positive test comes as many city employees in L.A. fight a new city rule requiring proof of COVID-19 vaccination as a condition of employment.
Although Garcetti is the latest high-profile example of a post-vaccination "breakthrough" case, health officials continue to maintain that being inoculated lessens the chance of infection and significantly reduces the likelihood of severe COVID-19 illness.
Unvaccinated Californians are nearly seven times more likely to get COVID-19, more than nine times more likely to be hospitalized and 18 times more likely to die from the disease than their fully vaccinated counterparts, according to the latest available state health data.
As of Oct. 26, nearly 5.85 million people had been fully vaccinated in L.A. County, health figures show. Of those, 65,718, or 1.12%, later tested positive; 2,211, or 0.038%, became so ill that they had to be hospitalized; and 343, or 0.006%, died.
"All the information we have, including these numbers, signifies that the vaccines continue to offer powerful protection against the most severe outcomes of infection with this virus," L.A. County Public Health Director Barbara Ferrer said last week.
Times staff writers Chris Megerian in Washington and Rong-Gong Lin II in San Francisco contributed to this report.
Sign up for Essential California for news, features and recommendations from the L.A. Times and beyond in your inbox six days a week.
You may occasionally receive promotional content from the Los Angeles Times.