Westside Councilman Mike Bonin says he won't seek reelection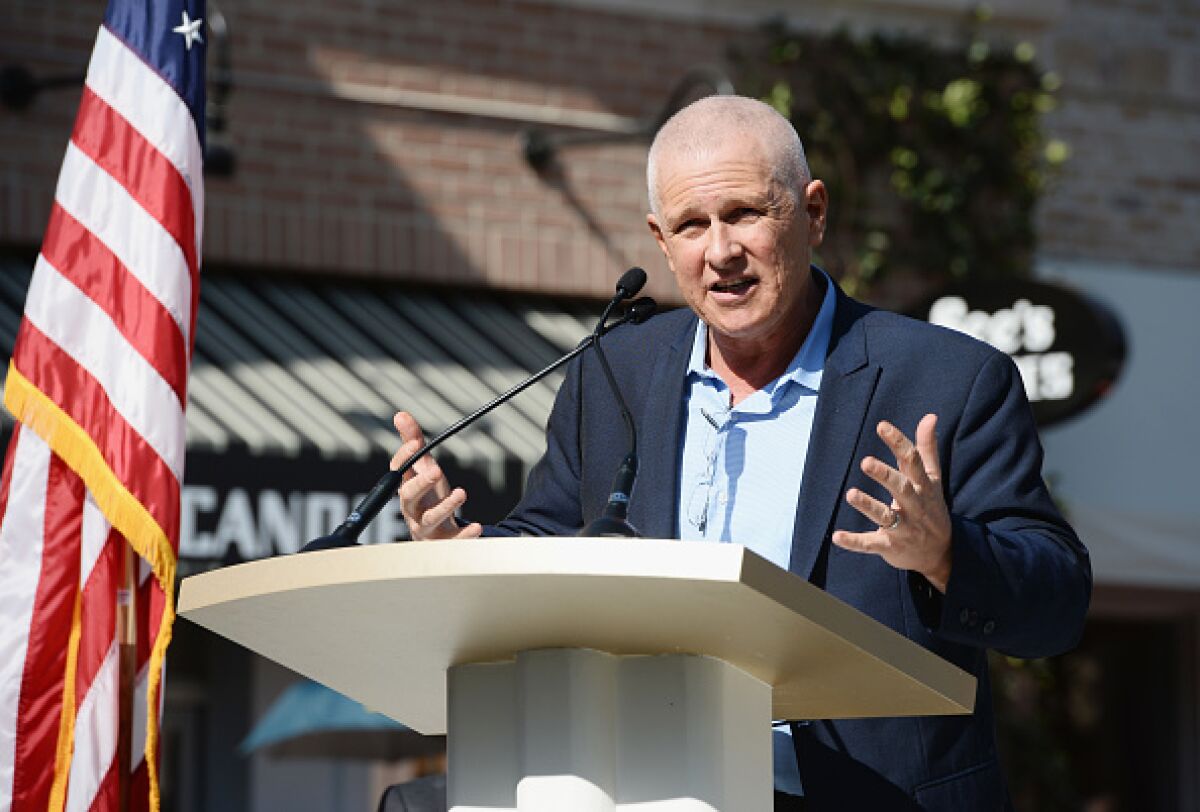 Los Angeles City Councilman Mike Bonin announced Wednesday he will not seek reelection to a third term, just one week after a recall bid targeting him fell short of the required signatures.
Bonin, who had previously announced plans to run in the June municipal election, said in a series of tweets that he has struggled with depression for years and decided that it was time to "focus on health and wellness."
The announcement upends the June 7 election campaign to represent Bonin's district, which takes in much of the Westside. And it will mark the departure of a politician who had carved out left-of-center positions on homelessness, public safety, renter protections and many other issues.
"To those who are disappointed by my decision, I am sorry," said Bonin, whose term ends in December. "It is very difficult to walk away from a third term and the work we have been doing together, but I need to listen to my heart. This is the best decision for me and my family."
The Recall Bonin 2021 campaign has fallen about 1,350 signatures short of the amount needed to trigger a recall election, city officials said.
Bonin, who represents areas stretching from Los Angeles International Airport north to Pacific Palisades, was first elected in 2013, after a lengthy stint as a top aide to former Councilman Bill Rosendahl. He had been facing a major reelection fight — one that likely would have been dominated by the issues of homelessness and public safety.
Already in the race are attorney Traci Park; Allison Holdorff Polhill, a former aide to L.A. school board member Nick Melvoin; and Venice Neighborhood Council President Jim Murez, among others.
Greg Good, a high-level appointee of Los Angeles Mayor Eric Garcetti who is currently president of the Board of Public Works, also has expressed interest in the seat. Good recently took part in an endorsement interview hosted by one of the city's public employee unions for the district's candidates.
One of the council's most progressive members, Bonin has been a champion for organized labor and a major backer of the city's environmental initiatives. Over the past year, he had pushed back against some of his colleagues' efforts to address homelessness, voting repeatedly against proposals for establishing no-encampment zones around public schools, parks and playgrounds in other parts of the city.
Bonin's announcement came as a blow to Va Lecia Adams Kellum, president and chief executive of St. Joseph Center, who worked closely with the councilman last year to find interim and permanent housing for the hundreds of people who had been camping on Ocean Front Walk. She said about 70 people had been housed permanently from that work.
"People will look back and truly see what a great and courageous leader he's been, and really an amazing champion for the unhoused," she said.
Still, as his reelection approached, the issue of homelessness dogged Bonin politically. Proponents of a recall repeatedly criticized him over the presence of encampments in such neighborhoods as Venice, Westchester and Playa Vista. They argued that Bonin, who succeeded in opening a 154-bed shelter near the Venice Boardwalk, had failed to take seriously incidents of theft and violent crime that they said were directly connected to the presence of encampments and homeless facilities.
Bonin, in turn, said the effort to oust him was driven by "right wing" political forces. He described recall proponents as obstacles to his effort to deliver shelter and services to unhoused residents of his district.
Michael Trujillo, the consultant advising Polhill's campaign, said he first saw polling numbers from the district last summer that showed that Bonin was in "deep trouble." That situation did not improve in the months that followed, he said.
"The situation was grim for Mr. Bonin's reelection chances," Trujillo said.
Los Angeles has undertaken a major shift in its approach to homelessness, one that puts a priority on clearing unsightly street encampments.
In the end, recall backers fell about 1,350 signatures shy of qualifying for the ballot, according to the City Clerk. Nevertheless, nearly 26,000 residents signed petitions calling for him to be removed from office ahead of schedule.
"I think the message from voters in the district is unmistakable," said Park, who launched her bid to unseat Bonin last summer. "This district wants change, not more of the same."
Recall proponent Katrina Schmitt, a resident of Venice, said those who had mobilized for a recall election would have continued working to defeat him.
"I'm glad he did what was best for himself — and for all of us in the end," she said. "It feels like we won. Our movement won."
Hours after Bonin announced his decision, his colleagues offered praise for his work at City Hall. Garcetti, who became mayor the same year that Bonin took office, praised Bonin as a "brilliant, compassionate public servant who has always led with his heart."
Councilwoman Nithya Raman, who voted with Bonin on such issues as homelessness and law enforcement, said in a statement that she is "thankful he's taking care of his health, and grateful for his service."
"We are in a moment where every step the city needs to take to address its challenges is a hard one, and Mike has always been uniquely willing to take that challenge head on," she said.
Bonin, for his part, touted his work on efforts to increase L.A.'s minimum wage, enact protections for the city's renters and pursue initiatives to combat climate change and end "an unjust and racist criminal justice system." In a statement, he said he would spend the rest of his term fighting to bring housing and services to the unhoused residents of his district.
"I am not going to sit down, I am not going to mellow out, and I am not going to shut up," he said. "I am going to keep on doing the work."
The stories shaping California
Get up to speed with our Essential California newsletter, sent six days a week.
You may occasionally receive promotional content from the Los Angeles Times.