'He intentionally tried to kill us': Wife's statement to paramedics key to charges against Tesla driver who drove family off cliff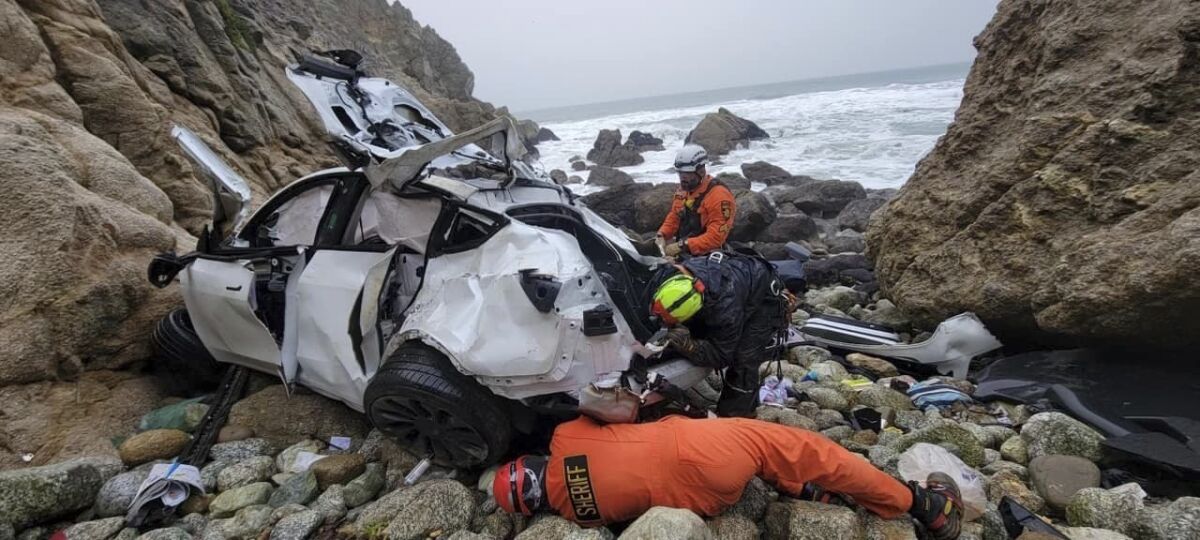 Neha Patel was still conscious when paramedics rescued her from a white Tesla that had gone off Highway 1 over the cliff at Devil's Slide and tumbled hundreds of feet down to the beach.
As they rescued her, Patel made statements to paramedics that helped lead to the three attempted murder charges filed Monday against her husband, Dharmesh Patel, 41, who was driving the Tesla when the crash took place.
"'He intentionally tried to kill us,'" Neha Patel told paramedics, San Mateo County Dist. Atty. Stephen Wagstaffe told The Times on Monday.
"She said very simply this was not an accident," Wagstaffe added.
Patel was charged with attempted murder with enhancements after an investigation by the district attorney's office, according to court records.
Patel was arrested by the California Highway Patrol on suspicion of attempted murder and child endangerment after the Jan. 2 crash, but prosecutors waited until after he was transferred out of the hospital last week to charge him. His wife and two children have also since been released from the hospital.
Wagstaffe clarified that his prosecutors have not interviewed Neha, but that they have enough to file charges without her statement.
Patel drove Neha, their 7-year-old daughter and 4-year-old son off the cliff at Devil's Slide, a notoriously dangerous portion of Highway 1 about 15 miles south of San Francisco. The car tumbled 250 to 300 feet, with authorities describing the family's rescue as an "absolute miracle."
Dharmesh Arvind Patel, 41, of Pasadena was arrested on suspicion of attempted murder and child endangerment after crash, CHP says.
But the miracle quickly turned dark after police arrested Patel while he was still hospitalized, saying investigators had probable cause to believe the crash was intentional.
On top of Neha's statement, prosecutors also secured video from a tunnel just before the crash site that shows Patel "making a sharp right turn over the cliff," Wagstaffe said. Prosecutors have also spoken to two witnesses in cars that were behind the Patels who will testify that they did not see the car attempt to brake before going over the cliff, he said.
The district attorney's office is also hoping to interview the daughter, though the family has declined to make the girl available, Wagstaffe said.
"We have concluded that the evidence supports the fact that he intentionally drove his vehicle over that cliff, thereby obviously endangering not just his wife and two children but his own life," Wagstaffe said at a news conference Monday after Patel's initial appearance in court.
Patel was ordered held without bail.
The arrest shocked the Patels' neighbors on their tree-lined cul-de-sac in Pasadena.
In a class-action lawsuit, customers say they were duped by Tesla's $15,000 Full Self-Driving feature. Company lawyers say failure isn't fraud.
Patel was a radiologist at Providence Holy Cross Medical Center in Mission Hills.
"They're a beautiful, idyllic family, no indication of issues," said Roger Newmark, a neighbor who has lived on the block more than 40 years. "It's so strange because he is a great guy."
The stories shaping California
Get up to speed with our Essential California newsletter, sent six days a week.
You may occasionally receive promotional content from the Los Angeles Times.