Column: Jimmy Carter was good fit for post-Watergate America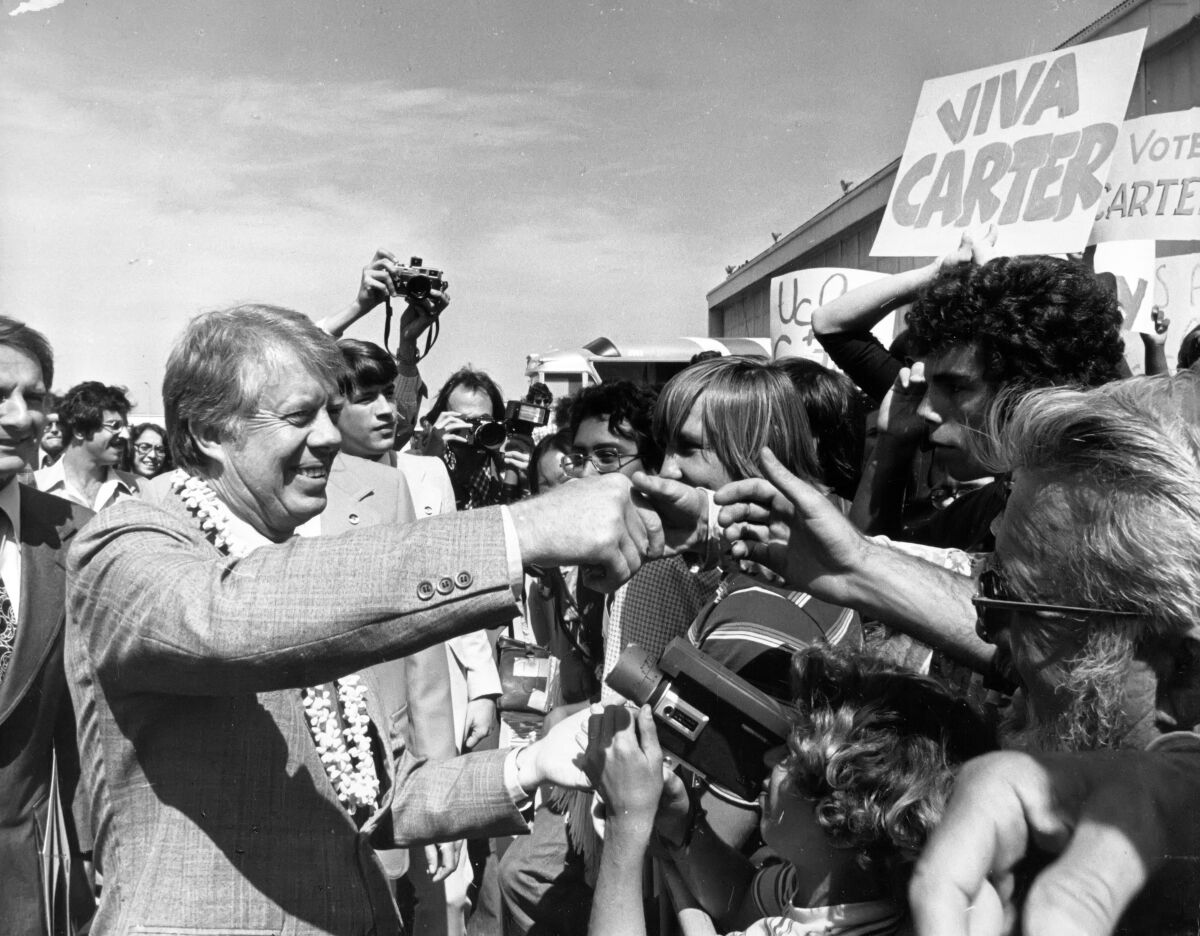 SACRAMENTO —
"My name is Jimmy Carter, and I'm running for president." And he'd grin. Always that friendly, down-home grin.
That's how the Georgia peanut farmer and former governor began every campaign speech I heard during the unique election year of 1976.
And I heard many of them while covering Carter for The Times from early January through the Democratic convention in mid-July. After that, I covered Carter's November opponent, Republican President Gerald Ford, whom the sure-footed Washington outsider narrowly defeated.
I've thought a lot about 1976 since the announcement last weekend that the 98-year-old former president had entered hospice care at home and decided to forgo "additional medical intervention."
Carter was a terrific presidential candidate in 1976 — politically, the right person at the right time. It's not likely we'll find such a candidate or experience such a time in the foreseeable future, if ever.
A Jimmy Carter probably wouldn't be accepted by voters today. They'd see his smile as a sign of weakness.
But he meshed perfectly with the cynical mood in 1976. It was a decidedly anti-Washington time after disgraced President Nixon's Watergate scandal and years of protests against the Vietnam War. The country also was weary from a decade of fighting over civil rights.
People were looking for a calm, straight-shooting, honest leader and thought they'd found him in Carter.
As it turned out, the intense, idealistic, perhaps naive Democrat from tiny Plains, Ga., was not a good fit for the sharp elbows in Washington and was walloped in 1980 by another former governor, California Republican Ronald Reagan.
Afterward, Carter arguably became America's greatest ex-president with his humanitarian and diplomatic contributions. And that's how he'll be remembered by most Americans.
But back in 1976, during the first-in-the-nation Iowa caucuses, Carter needed to identify himself because hardly anyone outside Georgia had heard much about the guy. He began the campaign with only 4% national support in a Gallup poll. But within the next two months, he would outdistance a crowded field — including California Gov. Jerry Brown — and become the party's front-runner.
Even after attaining a high name ID, the grinning Carter kept identifying himself at the start of every speech — including his nomination acceptance speech — because that became his trademark opener. And it reminded people of how swiftly he had climbed the steep political ladder.
Then he would immediately follow with this: "My wife, Rosalynn, and I have been married 29½ years. She is the only woman I have ever" — pause — "loved."
I thought the "my only love" bit was a little weird, frankly. Was it really necessary to tell voters he had loved only one woman? But voters must have eaten it up. He won contest after contest in states against more established rivals.
Another essential part of Carter's stock speech was this solemn declaration: "I want a government as full of compassion and decency and openness and honesty and brotherhood and love as are the American people."
A Sunday school teacher, he might also toss in some biblical quotations.
And he'd always promise, in another trademark line — this one spoken without grinning: "I will never mislead you; I will never tell you a lie."
OK, but truthfully, he left a lot of people confused about where he exactly stood on many issues, including such hot topics as abortion and busing to integrate public schools.
In Des Moines after Carter won the Iowa caucuses, the state Democratic chairman — who was neutral in the race — was asked whether he thought a lot of Iowans misunderstood the Georgian's abortion position.
"Misunderstood it, misunderstood it? Carter has three different positions on it," the party leader replied.
Campaigning in the Wisconsin primary in Milwaukee one morning, I heard Carter outline a stance on school busing that seemed to please a predominately Black church congregation.
Then at noon, speaking to white voters at a bowling alley, he got nods of approval by asserting that busing should be voluntary and locally controlled.
Carter's winning campaign was built on the thesis that voters, especially in 1976, were not real concerned about how specific presidential candidates were on the issues.
"What the voters are looking for," he said in a TV interview, "is someone who can run the government competently, who understands their problems and will tell the truth. … We're not dealing in ideologies this year."
I found Carter easy and exciting to cover. Unlike many politicians then and especially today, he was very accessible and not afraid to banter with reporters. In the early campaign days, he'd travel many miles to be interviewed by a small-town Iowa newspaper reporter. Later, he'd routinely set up news conferences on downtown sidewalks.
He realized that's how a candidate could connect with the public.
Carter was a farm boy at heart, but showed in the Illinois primary he could also deal with machine bosses — namely Chicago Mayor Richard J. Daley. Elsewhere, Carter attacked political pros. But in Chicago, he and Daley developed a strong political alliance.
At the opposite end of the world, there was charming and comfy Plains, population 683. One fascinating day I covered Carter in his hometown.
Town folks gathered around a loading dock to watch reporters sitting in swings and rocking chairs query the future president. A freight train interrupted.
"We'll have to wait until the train goes by. It's not a frequent occurrence," Carter said. "But it's the custom in Plains to watch the train go by."
I'll remember Carter in 1976 for his energy and self-confidence — a small-town peanut farmer who knew he could compete against the big boys.
And I'll always visualize that perpetual, welcoming grin.
The stories shaping California
Get up to speed with our Essential California newsletter, sent six days a week.
You may occasionally receive promotional content from the Los Angeles Times.