Man arrested in connection to 7 bombings in Fresno has links to hate group, authorities say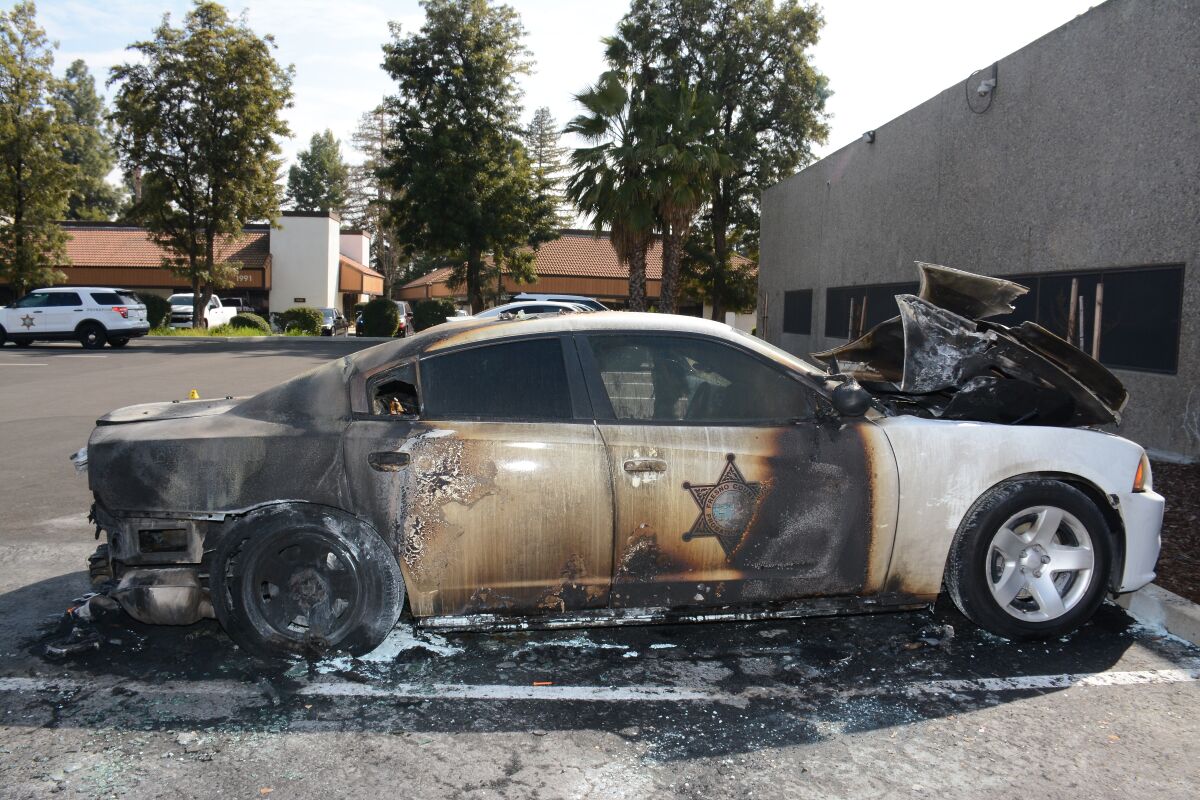 A 44-year-old man with links to a white supremacist group has been arrested in connection with seven bombings in Fresno County, including a county probation department vehicle that was destroyed, authorities said Wednesday.
Scott Anderson of Fresno allegedly made and used pipe bombs on six vehicles since Dec. 13, deploying explosives inside and under the vehicles on six different occasions. The seventh bombing involved a mailbox, according to authorities.
No one was injured in the bombings, but Fresno Police Chief Paco Balderrama said the explosives used were getting more sophisticated and brazen with time.
"It became apparent very quickly that the suspect, or suspects, in this case were progressing in skill level of making bombs, and also their frequency," Balderrama said during a press conference.
Dmitri Mishin is accused of firing blanks inside an orthodox synagogue in San Francisco. The congregants are left to grapple with a shattered sense of safety and a fear that no one cares.
Four people linked to Anderson have also been arrested for various charges. What, if any, connection or involvement they may have had in the bombings was still under investigation, Balderrama said.
A probation vehicle was destroyed Feb. 21 after 44-year-old Scott Anderson allegedly ignited a pipe bomb on Feb. 21, just past 3 a.m., in the parking lot of the Fresno County Probation Department's parking lot.
Authorities said they seized 11 illegal firearms, hundreds of rounds of ammunition and almost 90 grams of methamphetamine that appeared packaged and ready for sale, along with about $50,000 in cash after serving search warrants in three different locations.
Police also encountered flags, signs, clothing, cups, banners and patches with white supremacist and Nazi paraphernalia.
The motive behind the multiple bombings, Balderrama said, is still unclear. Investigators are also looking into whether the suspect's connection to a white supremacist group was a factor in the attacks.
"At this point, we can't say that the motivation was a hate crime, or whether the victims were targeted because of their race," he said. "That's a possibility, and we haven't solidified the connections to white supremacist groups, but is that a possibility? Yes, it is."
Los Angeles Mayor Karen Bass and Police Chief Michel Moore reassured residents in the wake of shootings that targeted Jewish worshipers.
Anderson has been charged with three counts of exploding a destructive device, one count of attempting to explode a destructive device and being in possession of material to make a destructive device, said Fresno County Dist. Atty. Lisa Smittcamp.
Anderson is also facing federal charges in the incidents, including using pipe bombs on vehicles involved in interstate commerce on three occasions and being a felon in possession of a firearm.
Frank Rocha, 56, has been charged with being in possession of bomb making materials. Steven Burkett, 51, was arrested and charged with being a felon in possession of a firearm and being a felon in possession of ammunition.
Paul New, 55, was arrested and charged with being in possession of an explosive device, being a convicted felon in possession of a firearm, being a felon in possession of ammunition and altering a firearm.
Amanda Sanders, 41, was charged with being in possession of methamphetamine for sale.
Before the shootings, Jaime Tran had been charged with carrying a loaded firearm and was investigated after threats were sent to former classmates.
Fresno police first encountered a bombing of a vehicle on Dec. 13, at 5674 East Clinton Ave. The bombing damaged a pickup truck belonging to an auto-related business, said Phillip Talbert, U.S. attorney for the Eastern District of California.
Another vehicle was targeted twice in January. Police responded to 3560 W. San Jose Ave. after a pipe bomb detonated under a car on Jan. 8, Balderrama said. During the investigation, authorities realized that another pipe bomb had detonated inside the car just two days prior.
On Jan. 27, a bomb detonated inside a mailbox at 2763 North Argyle just before 2 a.m. Minutes later, another bomb detonated near a vehicle in the same location.
Anderson is accused of targeting another vehicle on Feb. 19 that was leased to a home healthcare business at 377 West Fallbrook Ave.
Two days later, authorities said, Anderson targeted a probation vehicle in the parking lot of the Fresno County Probation Department at 2048 North Fine Ave. Surveillance video shows a sedan in the parking lot just after 3 a.m. stopping near the probation vehicle. Someone is seen exiting the car and tossing something underneath the vehicle.
The video shows a small fire under the vehicle, seconds before the entire vehicle is engulfed in flames.
"You can see it was completely a loss of the vehicle," Balderrama said. "It's completely incinerated."
Times columnists Erika D. Smith and Anita Chabria take a look ahead after a year that brought multicultural extremism and hate into the public eye.
Police first planned an operation to arrest Anderson on Feb. 23, but he unexpectedly headed to Southern California as weather began to worsen in the state, Balderrama said.
Fresno police and federal authorities instead notified local authorities to keep tabs on Anderson as he headed to a casino in Temecula.
On Feb. 24, he was pulled over, with Rocha, by Riverside County sheriff's deputies on suspicion of a traffic violation and was taken into custody. Authorities had to evacuate the immediate area for at least three hours as officials searched the vehicle, looking for possible explosives inside.
Balderrama said he was still unclear what was found in the vehicle, which is still being processed by the Riverside County Sheriff's Department.
Although charges have been filed, Balderrama said, the investigation is still ongoing — including looking into whether there were any other targets.
"Frankly, they were getting better, they were becoming more frequent," he said. "There's nothing to lead us to believe they were going to stop. We didn't want to wait until somebody was killed."
The stories shaping California
Get up to speed with our Essential California newsletter, sent six days a week.
You may occasionally receive promotional content from the Los Angeles Times.