The Manufactory: A new culinary anchor in the Arts District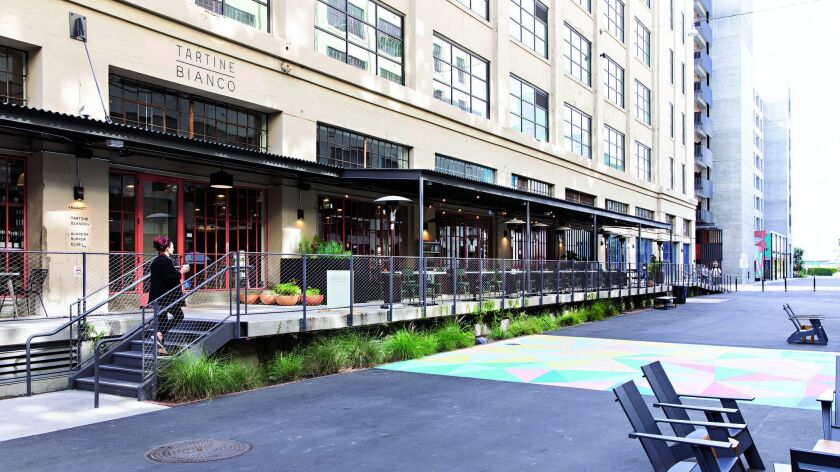 Maximum functional and aesthetic coherence is crucial at the Manufactory, which opened this spring at the Row DTLA. That's because a first visit to the long-awaited partnership of San Francisco's Tartine Bakery founders Elisabeth Prueitt and Chad Robertson, Phoenix chef and master pizzaiolo Chris Bianco, and Los Angeles power restaurateur Bill Chait can be overwhelming.
"This was a passion project between food people who were interested in collaborating with each other in efficient ways," says Anand Sheth, lead design architect and associate at Studio BBA. The San Francisco-based architecture firm, founded by principal Bonnie Bridges in 1992, was selected to transform a sprawling, approximately 40,000-square-foot industrial space into this culinary mecca.
"Once I was able to shift perspective to scale, the opportunity to create something unique started to take shape," Robertson says, noting that the Manufactory is 10 times the size of Tartine's previous endeavors. "Building a showcase for artisanal food manufacturing in an urban park in downtown L.A. was a compelling prospect."
Sheth took that brief to heart. "The program was really our biggest inspiration," he says.
The ground floor showcases the gleaming market — filled with high-end pantry staples and lifestyle goods from the Prueitt/Robertson/Bianco crew's various maker friends — along with pastries and breads (naturally), wine, cheese and various treats to-go. The market leads into a Carrara-marble-topped salumi bar area that flows into Tartine Bianco, the Manufactory's all-day casual restaurant.
Outside, on the canopied loading dock next to the market and Tartine Bianco entrances, a walk-up window is dedicated to serving coffee and ice cream. An intimate dinner-only venue called the Alameda Supper Club is tucked into the complex east of the Manufactory, along with the Alameda Cocktail Club outdoor bar, run by mixologists Julian Cox, Nick Meyer and CJ Catalano.
In 2016 Sheth and his colleagues first toured the raw building, which is one of three with a similar massing and size that made up the historic L.A. Terminal Market, now Row DTLA. Then came the task of deciding how best to honor the consumption and production of delicious things in equal measure. "The Manufactory is about creating a variety of spaces that have continuity within them so that users and patrons understand the languages," explains Sheth, himself a Los Angeles-area native who moved to the Bay Area to study architecture at the California College of Arts and Crafts (now California College of the Arts).
Plans required kitchen consultants and engineering expertise to smoothly facilitate what happens both in public view and behind the scenes. In the basement areas, elaborate preparations take place. Flour is milled, coffee is roasted and raw foods are prepped for their beautiful presentation upstairs. It's part of what Sheth calls an "entire ecosystem" devised to support this scale of collaboration. So how best to orchestrate joy in the work à la the exuberant chefs in Maurice Sendak's "In the Night Kitchen," but without the surreal chaos?
"We have a saying for all our hospitality projects," Sheth says. "The back of house is as important as the front of house." This philosophy informs Studio BBA's approach to hospitality and raises important questions. "How do we create big places that have sustainability and longevity, that don't diminish the quality of the product?" the architect posits. The care that goes into designing what diners don't see also makes for a much better workplace for those putting in long hours of physically demanding labor.
The bakery itself is a radical departure from what is often a hidden and purely utilitarian facility. Storefront windows that are painted cobalt blue differentiate these areas from their dusty-rose-colored counterparts in the restaurants and market, where customers can enter. ("It's a little bit of a color-story navigation, kind of like a hidden tip," Sheth notes.) The facility has the capacity to bake approximately 4,250 loaves of bread and well over 6,000 pastry items daily, both for sale on-site and distribution to other locations. (Tartine already has L.A. expansion plans underway.) Customers peek through the windows at the formidable nine-deck thermal-oil oven manufactured by Kornfeil in the Czech Republic, the custom proofer and retarder tunnels from Swedish company Revent, and the bakery professionals at work.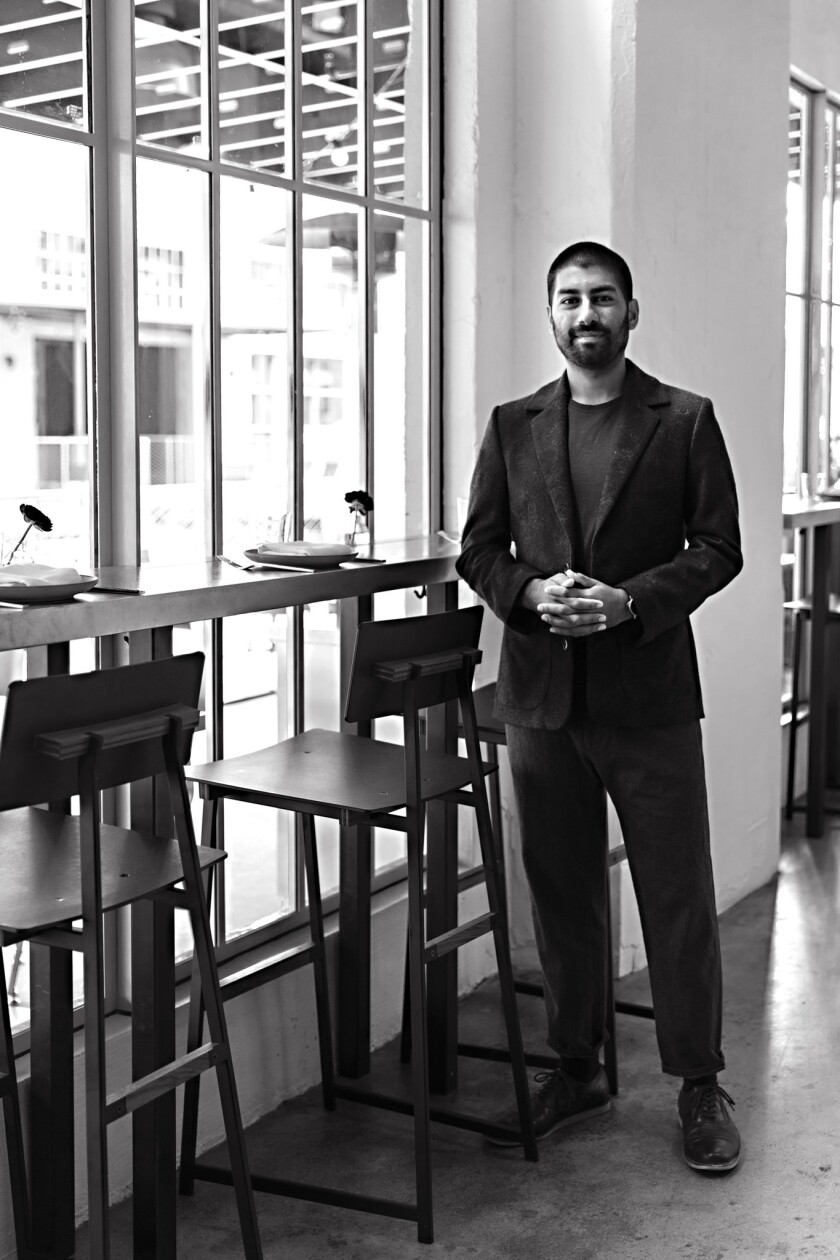 As for creating a destination that's essentially the anchor of the Row DTLA development, "We really took it to heart to honor what this building was," Sheth says, noting that his team, including designer Megan McGuinn, worked closely with House & Robertson, the architects of record.
The site's past led to choices such as using Heath Ceramics tile and white farmhouse brick from Clé Tile that slyly alludes to the cinder block and hollow-clay tile infill that previously chopped up the structure. The triangular Fireclay Tile shape, also in white, is "one of our more continuous swaths" that connects the market on the north all the way through the bakery facilities at the southern end, Sheth says. Torrance Steel fabricated the storefront scheme he created after finding inspiration when visiting the 1909 AEG turbine factory in Berlin, designed by architect Peter Behrens. Other local makers include AFM, which crafted many of the furniture pieces based on Studio BBA's designs.
"Once I was able to shift perspective to scale, the opportunity to create something unique started to take shape."
Chad Robertson
In the Alameda Supper Club, which has its own scaled-down, foyer-like entrance, Sheth took a different tack compared to the public, humming energy of the Manufactory. A tour of Bianco's restaurants in Phoenix helped set the tone. "Chris is an eclectic vintage furniture collector," Sheth says, which in part accounts for the mix-and-match method of seating and tables (mostly custom), as well as contrasting tiles, such as the matte gray hexagonal floor tiles that are juxtaposed with a glossy Heath Ceramics caramel-colored tile behind the bar. The supper club's private dining room houses a collection of oil paintings by Bianco's father, a long vintage dining table and wainscoting that together evoke a personal refuge more than a slick restaurant helmed by James Beard Award-winning chefs. "We built the framework, and this was a bit of a playground for him," Sheth says about Bianco's involvement. Pendants from Vancouver-based ANDlight complement mellow lavender walls.
On the pedestrian street between two of the Row DTLA buildings dubbed the Narrows, a trellis and landscaping elements selected by Mia Lehrer's Studio MLA screen in a semi-discrete alfresco dining zone next to the outdoor Alameda Cocktail Club. Other Studio MLA landscape features on the property tie into the overall site planning at Row DTLA by Rios Clementi Hale Studios.
In addition to the satisfaction of seeing the Manufactory completed — and, more important, used and enjoyed — Sheth gleans broader lessons from this design challenge. (Tartine will open additional locations in L.A., too.) This was yet another hospitality project that didn't easily hew to building codes and public-approval rubrics. "Bureaucrats aren't as quick as we creatives are developing these ideas," Sheth observes, "but they're catching up and they're learning. It takes everyone being on board and not losing steam. In the end we were supported, and it's kind of an amazing feat of will."
The Manufactory, 757 S. Alameda St., Los Angeles; themanufactoryla.com
---