AFI Fest is here. What's its niche?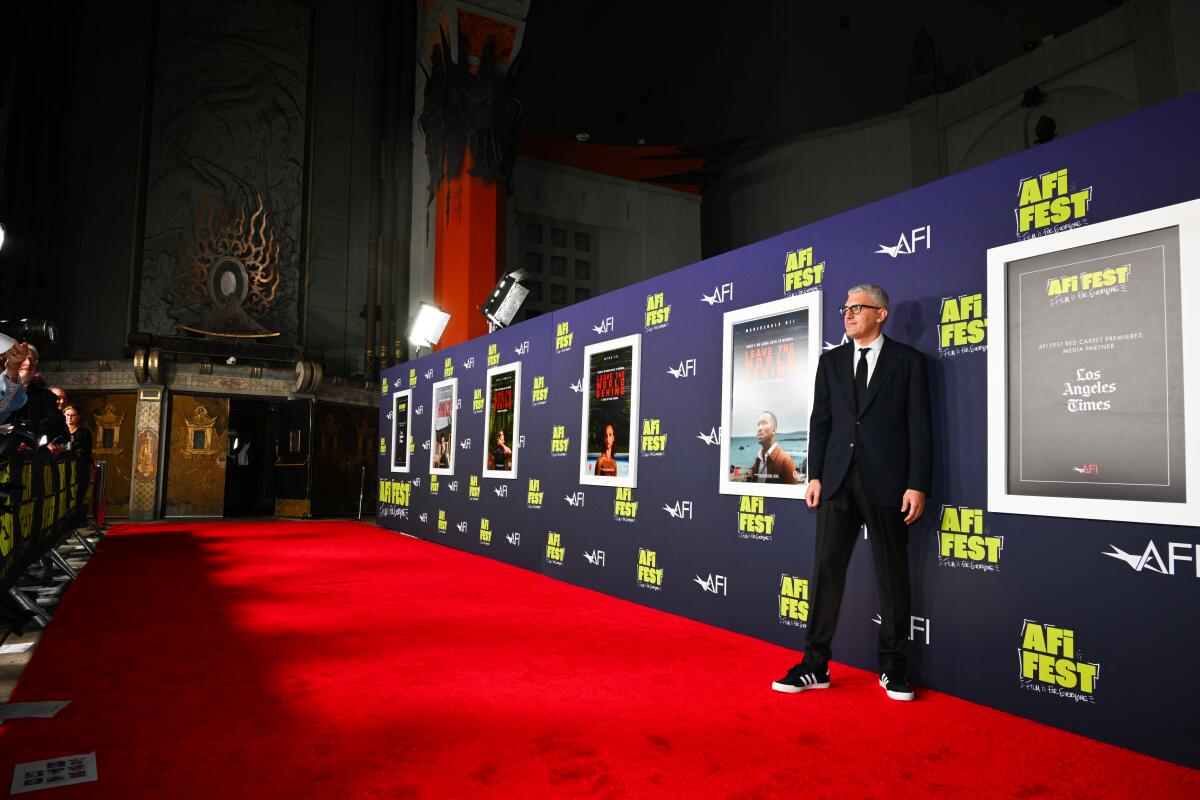 Frankie Valli got married last summer and I finally found out why I wasn't invited. It's OK, I'm "un-electronic" too.
From the Oscars to the Emmys.
Get the Envelope newsletter for exclusive awards season coverage, behind-the-scenes stories from the Envelope podcast and columnist Glenn Whipp's must-read analysis.
You may occasionally receive promotional content from the Los Angeles Times.
I'm Glenn Whipp, columnist for the Los Angeles Times and host of The Envelope's Friday newsletter. Happy Fry-day!
Can AFI Fest find a new identity?
AFI Fest is underway in Hollywood and my pal, Times film writer Mark Olsen, went to its opening night Wednesday at the TCL Chinese Theatre, a world premiere of the apocalyptic thriller "Leave the World Behind." The film's writer-director, Sam Esmail, was there. Its stars — Julia Roberts, Ethan Hawke, Myha'la and Mahershala Ali — were not, thanks to the ongoing SAG-AFTRA strike.
Esmail graduated from AFI's directing program, but never managed to pick up his diploma. So before the film began, Bob Gazzale, president and chief executive of the American Film Institute, presented it to him. The moment, Mark writes, "didn't quite land with either the comedic lilt or emotional heft that it could have, and, much like the evening itself, it just kind of was."
The AFI Fest brought in some heavy hitters Friday night.
"AFI Fest has long made a benefit of coming at the end of the fall festival season, grabbing films that had premiered elsewhere while getting a boost from a few late-breaking new titles," Mark notes. "Yet for the last few years, the festival has struggled to capture the right balance. It's been feeling less and less essential to the filmgoing life of Los Angeles, even as there are still plenty of worthwhile titles to see."
Can the festival forge a new identity? Mark spoke with new AFI Fest director Todd Hitchcock and first-year director of programming Abbie Algar and also explored the need for a dominant flagship festival for L.A. It's a good read.
David Fincher's psycho 'Killer' (qu'est-ce que c'est)
I'm a member of the Los Angeles Film Critics Assn. and we're about six weeks away from our annual vote, meaning that I'm burrowing in on movies I need to see before bestowing my best-of ballots. And, this time of year, there are a lot of films to see.
So what does it signify that I've now taken the time to watch David Fincher's "The Killer" not once, but twice in the past week? Am I going to vote for this bloody, unrelenting, caustically funny film about a very angry assassin in all categories? Probably not, though I'd like to live in a world in which superbly rendered pulp could in fact be rewarded for its meticulous craftsmanship — in this case, Kirk Baxter's intuitive editing, Erik Messerschmidt's superb cinematography and Ren Kylce's detailed sound design. Their perfectionism and attention to detail is one reason I came back to "The Killer," and a reason why I'll probably revisit it again soon. It may well be Fincher's most rewatchable movie.
It opened yesterday in a limited theatrical release and will land on Netflix on Nov. 10, where you can watch it over and over again — or at least until your family comes into the room and asks, "What the hell? Again?" It follows a world-class hit man (Michael Fassbender) who never misses — until he does. This sends him into new territory. "WWJWBD? What would John Wilkes Booth do?" he asks in a flat voiceover. And if you find that line as funny, too, you might have a new favorite movie. (And if you don't find that line funny at all, particularly in light of current events, I completely get that, too.)
One thing I think everyone can agree on is that choosing to have Fassbender's killer listen to the Smiths throughout the movie as a "focus tool to keep the mind from wandering" is an absolutely brilliant choice.
Writes Fincher: "We needed something that fit the nature of our lead character and the Smiths were the requisite mix of sardonic, harmonic and nihilist. What songwriters have as much fun with sinister concepts as Johnny Marr and Morrissey?"
Unconvinced? Take a journey through the superficial depression in the following playlist and get back to me.
Enjoying this newsletter? Consider subscribing to the Los Angeles Times
Your support helps us deliver the news that matters most. Become a subscriber.
Siskel and Ebert couldn't stand each other — that's what made their show great
One other thing I think we can agree on: Gene Siskel and Roger Ebert were the best. Just about every film critic I know of a certain generation — old-ish — can trace their origin story back to watching "Sneak Previews" on PBS or, later, the syndicated "At the Movies." For a lot of us, those programs were like the Beatles on "Ed Sullivan." They were windows into a way of thinking about film, as well as weekly marching orders to the local multiplex.
Now there's a book about their partnership, "Opposable Thumbs," written by Matt Singer. Chris Vognar talked to Singer for The Times in a story in which he also relates his own formative experiences watching Siskel and Ebert.
Initially, the two Chicago critics, who worked for rival Chicago newspapers, didn't like each other, an animosity that lasted for years until they — and their thumbs — became brands.
"The tension was definitely real, and it absolutely made the show better," Singer says. "There was drama and excitement. You didn't know what they were going to say, and they genuinely didn't know what each other was going to say. You're watching their genuine reactions to each other, and sometimes they are horrified that they're being blindsided."
As a kid, I enjoyed their bickering, but, mostly, I loved their passion for movies. These were the guys who turned me on to Scorsese and Kubrick and convinced me to go see "My Dinner with Andre" — a movie in which André Gregory and Wallace Shawn talk about the human experience for two hours over a three-course meal. An odd choice for a teenager, right? But here I am, talking to you about the movies.
From the Oscars to the Emmys.
Get the Envelope newsletter for exclusive awards season coverage, behind-the-scenes stories from the Envelope podcast and columnist Glenn Whipp's must-read analysis.
You may occasionally receive promotional content from the Los Angeles Times.