Inside the indie bookstore boom sweeping L.A.
Check out L.A.'s new bookstores and Feb. 23 book club night with Brendan Slocumb and 'The Violin Conspiracy.'
Good morning, and welcome to the L.A. Times Book Club newsletter.
When poet Jhoanna Belfer decided to open her bookstore, she had to resist the advice of well-meaning friends who begged her to reconsider.
"It's funny that when I first started looking into a bookstore business back in 2017, people said 'Oh, independent bookstores are dying. Nobody reads anymore, especially in California. The rents are too high. You'll never be able to make it.'"
Undeterred, Belfer connected with other women creating small enterprises on Long Beach's Retro Row and joined them in 2019 to open Bel Canto Books, inspired by bestselling author and bookstore maven Ann Patchett.
She has no regrets. Now Belfer is part of a growing collective, sharing space in an airy 1920s brick building with a plant shop, handmade and vintage goods, a cafe and a garden event space known as the Hangout.
This month Belfer expanded to open a second Bel Canto outpost in Bixby Knolls, warmly welcomed in a North Long Beach neighborhood hungry for a local bookshop. Part of SoCal's indie bookstore resurgence, the new shop is at KUBO LB, another creative collective run by Filipinx and other diverse business owners.
"We've been able to pool our funds together, pool our resources and really find inspiration and strength," Belfer says.
The new collective hosts events and pop-up vendors just starting out. "We've all found it's so hard to break into the retail space and event space if you don't have the kind of money and the kind of experience," Belfer says. "But maybe you have a really great idea … People are giving space to them so they can realize their dream and start testing it out, to see to if there's an audience for what they're doing."
Belfer says her own manuscript is on hold for now while she's running two bookstores — as well as organizing a boozy book fair, community festivals at two Long Beach libraries and new expeditions for fellow readers to other bookstores across the area. "We go between L.A., Long Beach and Orange County. There's a core group of people who keep coming, and we always get a few new people every time."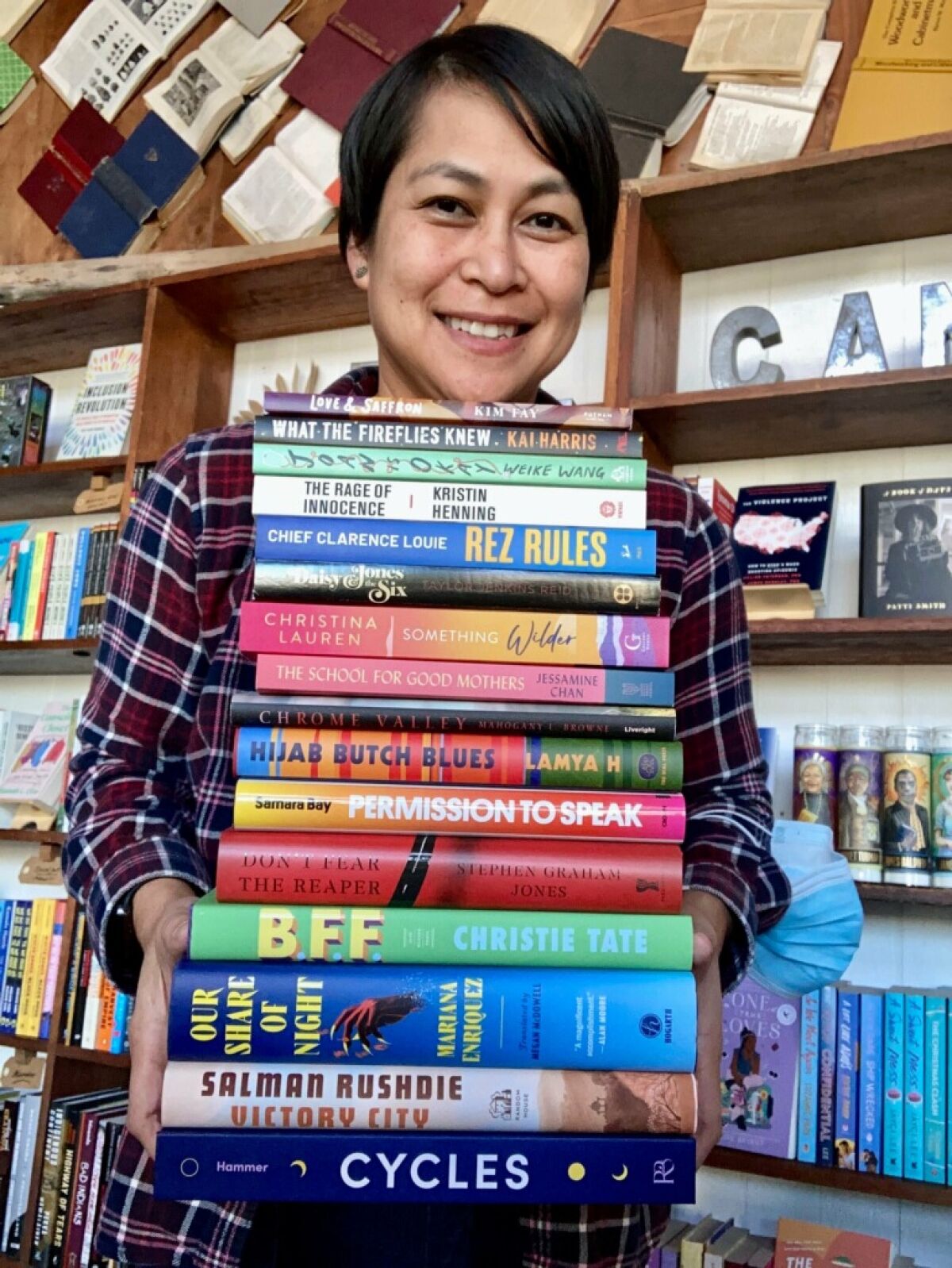 New Bookstores
This month two more booksellers are opening their doors at near-opposite ends of Los Angeles County.
In Pasadena, Nikki High is launching Octavia's Bookshelf. She says the offerings will replicate what she believes beloved local sci-fi author Octavia E. Butler might have had in her home library.
In Santa Monica Zibby Owen, a Manhattan publishing influencer and podcaster, debuts Zibby's Bookshop.
Book lovers also will want to check out indie press-owned North Figueroa Bookshop, which is ramping up events after launching in November in Highland Park. Times editor Lisa Horowitz also shared Annabelle's Book Club LA, a new independent YA bookstore in Studio City curated by 16-year-old Annabelle Chang.
ICYMI: Browse The Times' 2022 guide to 65 L.A. bookstores.
Tell us: What local bookstores do you enjoy most? What new shops have you discovered? Send your comments in an email to bookclub@latimes.com
Next book club
In his senior year of high school, Brendan Slocumb's violin was stolen from his home while his family was at an amusement park. "It was the worst feeling in the world," he says in a new interview.
The experience is one of many Slocumb drew upon to write his bestselling mystery novel, "The Violin Conspiracy."
On Feb. 23, Slocumb joins L.A. Times Book Club readers for a conversation with Times classical music critic Mark Swed about "The Violin Conspiracy" and his second book, "Symphony of Secrets," which will be published in April.
Book club night will be livestreaming starting at 6 p.m. PT. It's free. Sign up and get autographed books on Eventbrite.
Slocumb's debut mystery has been praised for its vivid descriptions of music. He tells writer Makeda Easter he tried to hone in on the imagery classical music can conjure.
"It takes me to a different place. I envision birds and a babbling brook, and Cupid zipping from cloud to cloud," he says. "I wanted to make sure that nonmusicians would be able to enjoy the experience that a working musician has when they perform."
Keep reading
Reading is a civil right: "We talk a lot today about diversity and inclusion, but inequality and exclusion is baked into the DNA of this country," says literacy champion and "Picard" actor LeVar Burton. "And we have done precious little to address it." Burton and director Jenny Mackenzie discuss their new documentary "The Right to Read," which premiered at the Santa Barbara International Film Festival.
Revisiting Huckleberry Finn: Novelist Percival Everett wasn't ready to talk about his next project at November's book club night. But now it's official: Lithub says Everett is writing "James," a novel described as "a harrowing and ferociously funny retelling of The Adventures of Huckleberry Finn from the enslaved Jim's point of view." "James" was sold at auction to Doubleday in a major deal and is set to be published in 2024.
How can global leaders combat climate change? Eco activist Greta Thunberg has ideas. She shares an essay with The Times adapted from her new release, "The Climate Book."
California writer: "From the beginning of his publishing life, nearly 25 years ago, Andrew Sean Greer has been an immensely charming storyteller. He writes like someone who enjoys it, and his books have always tilted hopefully toward love." That's John Freeman talking about the Pulitzer Prize-winning San Francisco author of "Less" for the California Book Club.
What's ahead
Everyone seems to be talking about "Tomorrow and Tomorrow and Tomorrow," a deep dive into friendship, belonging and gaming by Los Angeles writer Gabrielle Zevin. Her page-turning novel was one of the most-reviewed books of 2022 and is parked atop the L.A. Times Bestseller List.
"This is a story about brilliant young game designers hitting it big and slowly growing apart — and Zevin burns precisely zero calories arguing that game designers are creative artists of the highest order," writes Tom Bissell in the New York Times. "Instead, she accepts that as a given, and wisely so, for the best of them plainly are. 'There is no artist,' one of her characters says, "more empathetic than the game designer.'"
We're reading "Tomorrow and Tomorrow and Tomorrow" too, and delighted to share that Zevin will join L.A. Times Book Club readers at the Festival of Books on April 22-23. Stay tuned for details when the complete festival lineup is announced March 15.
Get the latest news, events and more from the Los Angeles Times Book Club, and help us get L.A. reading and talking.
You may occasionally receive promotional content from the Los Angeles Times.