How a real-life stolen violin inspired Brendan Slocumb's bestselling mystery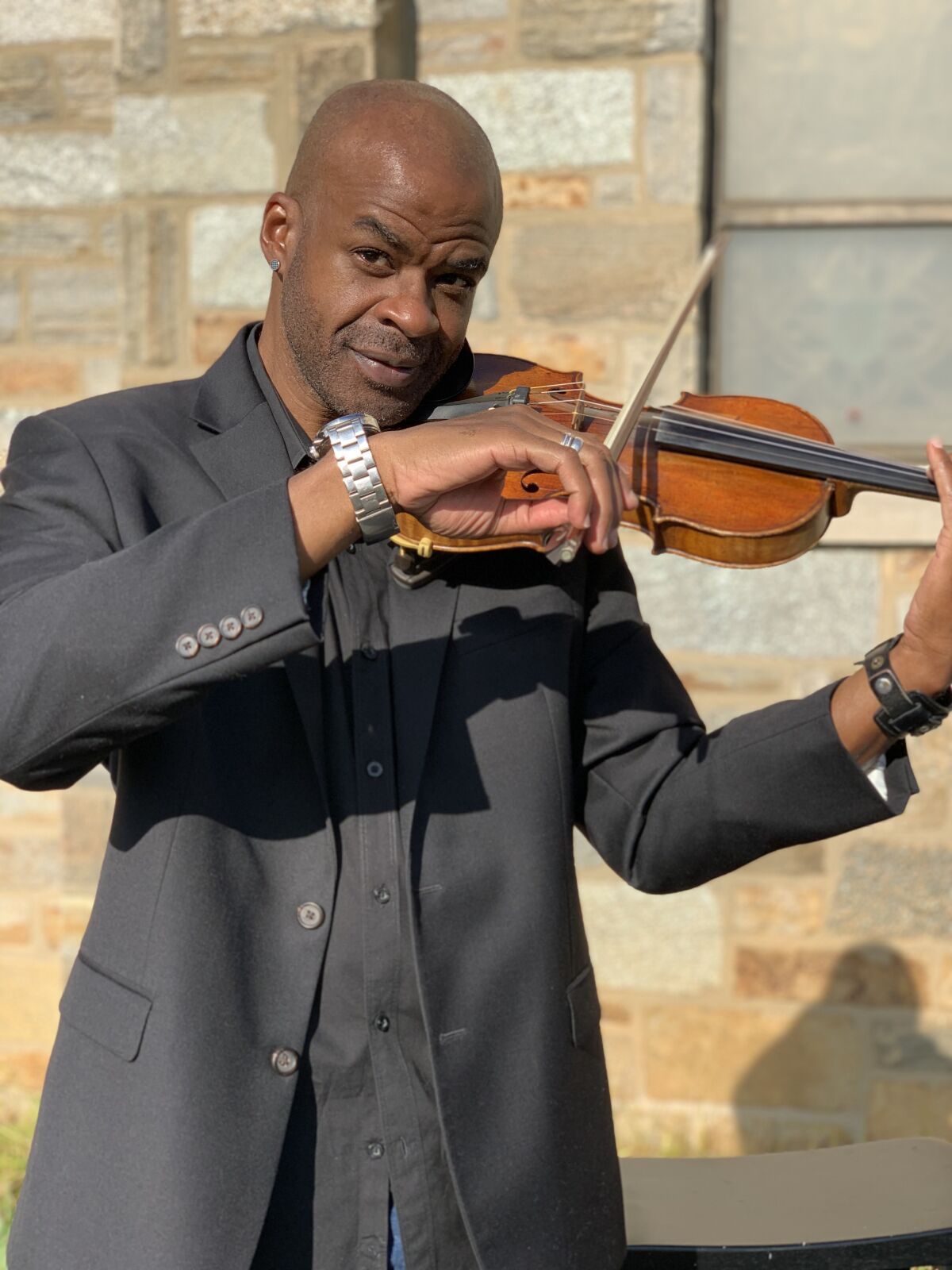 Even though it's been more than 30 years, author Brendan Slocumb still feels the heartbreak of his stolen violin.
In his senior year of high school, Slocumb's family found their home ransacked after a trip to an amusement park. Slocumb, who had been playing violin since he was 9, went immediately to the hiding spot under his bed. "I looked. My instrument was gone. I looked again. It was gone," he says. "I looked for a third time and it wasn't there."
Slocumb had the 1953 Eugene Lehman violin for less than a year and hoped it would take him through college and into his professional playing career. "It was supposed to be my ticket to success and it was gone. It was the worst feeling in the world."
The stolen violin is one of many life experiences Slocumb drew upon to write his debut novel, "The Violin Conspiracy." He joins the L.A. Times Book Club Feb. 23 to discuss his bestselling mystery, which tells the story of Ray McMillian, a gifted violinist whose family violin — a rare Stradivarius — is stolen just before one of the world's most prestigious classical music competitions.
The mystery begins with the violin heist. Then it takes a step back to Ray's upbringing as a Black teenager in North Carolina and his struggles to play the violin with unsupportive family members, a beat-up school rental instrument and a lack of private lessons.
Much of the story mirrors Slocumb's life.
Born in California, Slocumb was raised in Fayetteville, N.C., and began playing violin through a public school music program. For both Slocumb and his character Ray, the violin was a means to escape a challenging childhood and a ticket to college and a professional playing career. After graduating from college with a degree in music education and concentrations in violin and viola, Slocumb played in orchestras throughout northern Virginia, Maryland and Washington, D.C. He has taught music to students from elementary through high school for more than 20 years. He also plays in a rock band called Geppetto's Wüd.
Slocumb grew up reading Sherlock Holmes mysteries and had always been interested in writing, but being a performer and teacher took priority. "I'm a songwriter for my band, and that's about the extent of my writing aside from a horrible manuscript I wrote 20 years ago that I hope no one ever sees," he says.
He felt compelled to write "The Violin Conspiracy" during the upheaval of 2020.
In March of that year, when schools and businesses closed and the U.S. banned travel from Europe, the seriousness of the COVID-19 pandemic set in. "As a working musician, it really struck me because no concerts, no rehearsals, no weddings, no receptions, no recitals," he says. "Everything literally stopped."
Slocumb began writing about his painful experiences as a Black musician — the racism and discrimination he constantly endured from teachers, other musicians and audience members — through his character Ray.
A Black classical music caper, the creepiest Arctic mystery in decades and LGBT pioneers new and old have made it a chilling season in crime fiction.
Months later, George Floyd's murder at the hands of white officers in Minneapolis sparked global protests against police brutality and racism against Black people. "It really dawned on me that with the world seeing what happened, stories like this one would probably be better received," Slocumb says.
Classical music can be a difficult environment for musicians of color to thrive. As Slocumb explains in his author's note, fewer than 2% of musicians in U.S. orchestras are Black. The statistics come from the League of American Orchestras.
Several scenes from the novel are plucked directly from Slocumb's life, including the day high schooler Ray plays his first paying gig at a wedding but is barred from entering the venue by a racist family member.
Writing "The Violin Conspiracy" also was an opportunity to celebrate Slocumb's victories and honor the people who helped him along the way. In the novel, Ray's Grandma Nora — his first avid supporter — is named after Slocumb's grandmother. And Ray's mentor Janice is based on Dr. Rachel Vetter Huang, Slocumb's college teacher, whom he calls "a life-saving force."
The biggest difference between Slocumb and his protagonist is Ray's technical prowess. "I've got a little bit of talent, but I live vicariously through Ray," Slocumb says. "I'm a little bit jealous of him."
Slocumb re-created other moments from his life throughout the book. In one scene, Ray plays "Czardas," a work by Italian composer Vittorio Monti. Ray struggles with the technicalities of the piece, specifically its harmonics — or whistle-like tones produced by softly touching the strings — before working with his mentor to nail it later during a college convocation.
Tracy Kidder joins the L.A. Times Book Club to discuss "Rough Sleepers," about a doctor's mission to bring healing to homeless people.
For Slocumb, "Czardas" was also a redemption piece in college after he bombed a performance in front of his fellow music students. "I was about to quit," he recalls. "I came back a month later, my teacher gave me 'Czardas' to play. When I say I killed it, I absolutely destroyed it. And that was the piece that gave me every bit of confidence back that I needed."
"The Violin Conspiracy" has been praised for its vivid descriptions of music. This is how Slocumb describes Ray's performance of "Czardas": "The mournful opening notes gave way to sunlight on a park bench, to the glitter of water pouring endlessly from a waterfall on a very hot summer day."
In the first drafts, Slocumb says some of his writing was too technical. "It would make perfect sense to me and perfect sense to my musical colleagues, but when I let a nonmusician read it they were like, 'This is a foreign language to me. I have no idea what this means.'"
Slocumb realized he needed to get more creative and hone in on the imagery music can conjure. "It takes me to a different place. I envision birds and a babbling brook, and Cupid zipping from cloud to cloud," he says. "I wanted to make sure that nonmusicians would be able to enjoy the experience that a working musician has when they perform."
After "The Violin Conspiracy's" 2022 release, thank-yous poured in. Slocumb heard from many Black musicians who said, "This is a story that I've been carrying along as well. I experienced the exact same things Ray has gone through in the story, and no one would believe me. Now it's out there in the world to see and I am being validated."
Slocumb says it has been gratifying to learn that the book is changing perspectives. Some readers, especially older white men, expressed shock at the figures and personal experiences detailed in his author's note. "They would say, 'I just didn't believe it until I read this. And now I look at people and look at situations differently. I understand now that I can't view everyone through the exact same lens, not everyone's experience is the same as mine.'"
"Little Fires Everywhere" author Celeste Ng joins the L.A. Times Book Club Dec. 8 to discuss her latest bestseller, "Our Missing Hearts."
While the process of writing "The Violin Conspiracy" was "relatively easy," Slocumb says tackling his second novel, "Symphony of Secrets," proved to be much more challenging. Out in April, "Symphony of Secrets" is a thriller about a professor who discovers that a famous American composer stole music from a young Black artist.
"The entire story, I had to make it up from start to finish, from every character to every situation," he says. He struggled to find time to write while also performing, teaching and promoting "The Violin Conspiracy."
Initially, he was disappointed by his draft. So he put the story away for about six months, and when he read his "Symphony of Secrets" manuscript again he thought, " 'Whoa, I'm actually digging this and this is a good story. Did I write this?' I just had to step away from it."
Now, Slocumb feels comfortable in his new identity as a musical thriller writer. He's currently developing a concept for his third novel.
Finding a balance between performing, teaching and writing is still a work in progress, though. In February, Slocumb was trying to eke out some time, in half-hour chunks, to practice "Czardas" again, a piece he hadn't played in years. During these busy times, he's grateful for the discipline he's honed in his decades as a musician.
"It's really, really tough," he says. "But you do it because you love it, and what else are you gonna do?"
If you go
What: Author Brendan Slocumb joins the L.A. Times Book Club to discuss "The Violin Conspiracy" with Times classical music critic Mark Swed.
When: Feb. 23 at 6 p.m. Pacific.
Where: Live streaming online. Sign up on Eventbrite for watch links.
Join us the book club: Sign up for the book club newsletter for latest books, news and live events.
Get the latest news, events and more from the Los Angeles Times Book Club, and help us get L.A. reading and talking.
You may occasionally receive promotional content from the Los Angeles Times.