Bob Iger steps down at Disney, Bob Chapek named new CEO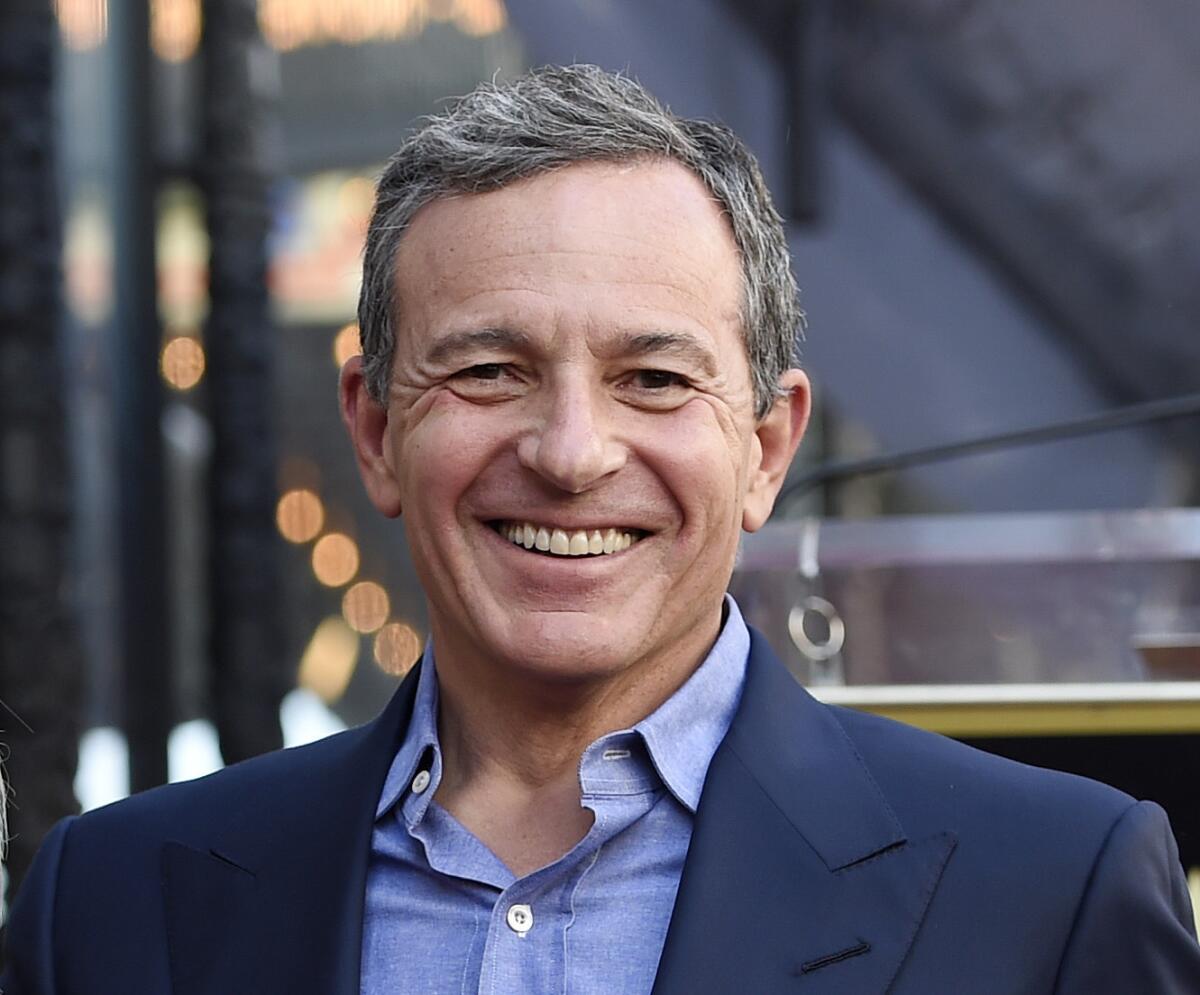 In a stunning move that marks the end of an era for one of the entertainment industry's great corporate success stories, Bob Iger on Tuesday stepped down as chief executive of Walt Disney Co. after 15 years in the job.
Bob Chapek, a 27-year Disney veteran who most recently led the company's massively important parks and consumer products business, was named Iger's successor, effective immediately.
Iger, 69, has assumed the role of executive chairman, the company said. In that role, he will direct the Burbank entertainment giant's creative endeavors and help guide the company's board through the leadership transition until the end of his contract on Dec. 31, 2021, Disney said in a statement.
Disney's CEO succession plan was the subject of speculation for years as Iger delayed plans to leave the company. Disney's board last extended Iger's contract in December 2017, when Disney announced that it was buying much of 21st Century Fox from Rupert Murdoch. As part of those negotiations, Murdoch requested that Iger stay on to run the company rather than leave when he'd planned.
Chapek, 60, was one of several top Disney executives who were potential successors, including Disney direct-to-consumer chairman Kevin Mayer, who recently oversaw the successful launch of streaming service Disney+. Former Fox TV executive Peter Rice, who is now chairman of Disney Television and co-chair of Disney Media Networks, was also thought to be a possible contender for the top job.
Nonetheless, the timing of the announcement surprised many in the industry because Iger still has 22 months left on his contract and he has relished his role as one of America's most successful CEOs. Iger last year published a book detailing his rise through the entertainment industry and his time building Disney through key acquisitions, including those of Pixar, Marvel and, most recently, 21st Century Fox.
In a conference call with analysts, Iger explained the sudden move by saying he wanted to allow Chapek time to get a handle on all aspects of the company before he steps away for good. In the last 12 months, Disney has become an even bigger behemoth with the $71.3-billion purchase of the Fox assets, as well as the high-profile debut of Disney+, which is Disney's all-in bet on subscription video services.
The Fox deal gave Disney additional weapons for its streaming arsenal, including a majority stake in Hulu, "The Simpsons," FX Networks and a library of films including "Avatar" and "The Sound of Music."
Iger said he wanted to free himself up to focus on creative aspects of the business.
"I felt that with the asset base in place and with the strategy essentially deployed, that I should be spending as much time as possible on the creative side of our businesses," Iger said. "I could not do that if I were running the company on a day-to-day basis."
By naming Chapek to the CEO role immediately, Disney's board avoids a repeat of the messy situation that unfolded four years ago when Iger's apparent successor, Thomas Staggs, exited after serving as chief operating officer. The question of corporate succession had dogged Iger's predecessor, Michael Eisner, who resigned in 2005 after a fierce battle with with former director Roy E. Disney.
Iger, who was Eisner's hand-picked successor, was praised by his old boss in a tweet Tuesday. "Fantastic job protecting the #Disney brand, expanding the breadth of the overall company, and orchestrating super growth."
Iger told investors that the board had identified Chapek as a likely candidate to succeed him "some time ago" and his goal was to create "the smoothest possible transition."
But some company insiders and industry analysts were taken aback by the news.
"Why is the CEO changing today?" asked Laura Martin, a media industry analyst at Needham & Co. "What is the urgency?"
Some on Wall Street had anticipated Mayer would get the coveted job, given the importance of streaming to Disney's future.
"The market had no warning," said Richard Greenfield, partner of Lightshed Partners. "The big question remains: What happens with Kevin Mayer? ... It was Kevin Mayer's job to lose."
Disney's stock dropped about 3% in after-hours trading on Wall Street after Chapek's appointment was announced. In regular trading on Tuesday, Disney shares fell $4.82, or 3.6%, to $128.19.
Iger, who cut his teeth in TV as a weatherman and reporter, joined ABC in 1974. He arrived at Disney when the company swallowed Capital Cities/ABC Inc. in 1996, and was promoted to Eisner's second in command in 2000.
He is leaving on a high note. Disney's movie studio is coming off its biggest box office year ever, with megahits including Marvel's "Avengers: Endgame," Pixar's "Toy Story 4" and live-action remakes of "The Lion King" and "Aladdin."
After taking over from Eisner, Iger made his mark on the company with several key gambles. In 2006, Iger led Disney to buy Pixar Animation Studios from Steve Jobs in order to rescue Disney's flagging animation business. That was followed by the 2009 deal to purchase Marvel Entertainment, which has resulted in a virtually unbroken streak of box office winners produced by Kevin Feige. In 2012, Disney bought Lucasfilm from George Lucas and relaunched the "Star Wars" film franchise with a new trilogy.
He was rewarded handsomely for his efforts. In fiscal 2019, Iger's compensation was $48 million.
Chapek, who grew up in Indiana, received a degree in microbiology from Indiana University Bloomington and an MBA from Michigan State.
After stints in marketing and advertising, he joined Disney in 1993, working his way up through the ranks to become president of Disney's home entertainment division, where he spearheaded the company's "vault" strategy for classic animated titles.
Chapek got a big promotion in 2015, when was tapped to run Disney's parks and resorts business, which was later combined with the company's consumer products group. It's the company's largest business segment, with operations around the globe and more than 170,000 employees.
Chapek has overseen a major expansion of Disney's parks business, including the recent addition of the two ambitious Star Wars: Galaxy's Edge attractions at Disney's parks in Anaheim and Orlando, Fla.
Both Star Wars expansions were met with mostly positive reviews, but Disney also faced early criticisms for the way it handled crowding at the parks after opening.
In 2016, Disney opened a $5.5-billion, nearly 1,000-acre Shanghai Disney Resort in the burgeoning China market.
Disney's parks have recently taken a hit from the spread of the coronavirus in China, which has effectively shut down the tourism and entertainment businesses there. Disney in a recent earnings call estimated the closure of its Shanghai and Hong Kong parks would result in a $175-million reduction in second-quarter operating income.
Among Disney fans, Chapek has taken the heat for annual price increases of as much as 18% for annual passes, 9% for daily tickets and 25% for parking.
As the company's new CEO, Chapek will directly oversee all of the company's business segments and corporate functions. Chapek will report to Iger and the board of directors and will be appointed to the board at a later date.
"I have the utmost confidence in Bob and look forward to working closely with him over the next 22 months as he assumes this new role and delves deeper into Disney's multifaceted global businesses and operations, while I continue to focus on the company's creative endeavors," Iger said in the statement.
Disney's revenue surged in fiscal 2019, but earnings were crimped by big spending on streaming initiatives, including Disney+. Net income totaled $10.4 billion for the year, down 17% from fiscal 2018. Sales increased 17% to $69.57 billion.
The company's streaming business has enjoyed a strong start, with 28.6 million paying subscribers for Disney+ since the Netflix rival launched in November.
Another big part of Disney's direct-to-consumer strategy is Hulu, which the company took operational control of last year. Disney recently integrated Hulu more closely into its business, leading to the exit of Hulu's CEO Randy Freer.
Times staff writers Anousha Sakoui, Meg James and Hugo Martin contributed to this report.
Inside the business of entertainment
The Wide Shot brings you news, analysis and insights on everything from streaming wars to production — and what it all means for the future.
You may occasionally receive promotional content from the Los Angeles Times.