UTA drops lawsuit, signs deal with WGA as agency fight thaws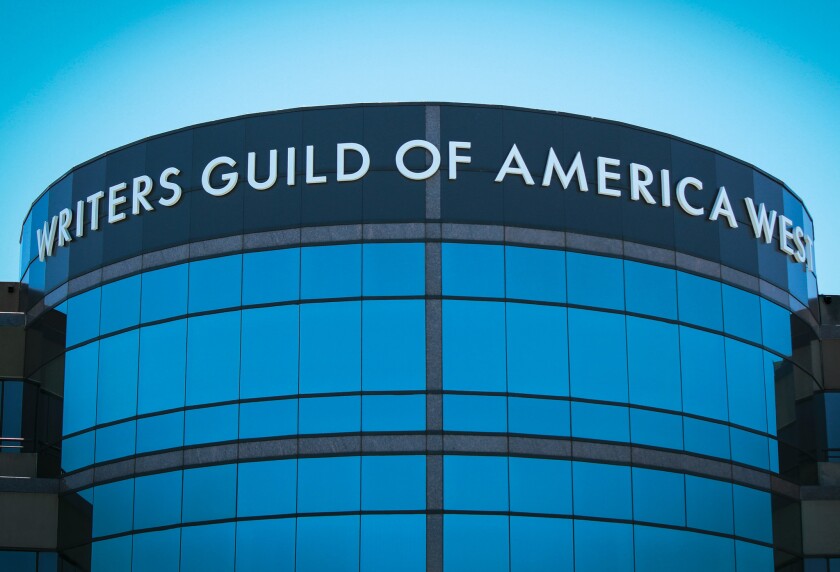 The long-running battle between Hollywood agencies and the Writers Guild of America reached a tipping point Wednesday as the union reached a deal with a major talent agency.
Beverly Hills-based United Talent Agency sent a letter to writers Wednesday notifying them of the new agreement.
Under the deal, the agency will be allowed to continue packaging for at least two years and agreed to cap its ownership in an affiliated production company, Civic Center Media.
"As the world continues to face down a pandemic and our industry remains under unprecedented pressures, we believed our highest priority was to bring writers and agents back together in joint focus on building and enhancing your careers," Jay Sures, UTA's copresident, wrote in the letter.
The agreement marks a significant victory for the WGA in its yearlong fight with agencies over industry practices deemed harmful to its members.
A judge denied a motion by the Writers Guild of America to dismiss a lawsuit brought on by large talent agencies CAA, UTA and WME. The lawsuit alleges that the WGA violated antitrust rules when it asked writers to not work with agencies the violated the guild's code of conduct.
The union has signed deals with more than 80 talent agencies, but until now none have included the big four — William Morris Endeavor, Creative Artists Agency, United Talent Agency and ICM Partners.
The fight erupted in April 2019 when the union instructed its members to fire their agents in protest over such practices as charging packaging fees for assembling talent on shows and investing in production companies.
The guild maintained that such practices create conflicts of interest between the financial interests of agents and their obligation to represent their writer clients. Agencies argued they could manage such conflicts.
The two sides took their dispute to court. Last year, the WGA sued CAA, UTA and WME, alleging that the practice of collecting packaging fees was illegal. In April, a judge dismissed many of the claims, including that the agencies took part in an illegal group boycott and unlawful racketeering.
The agencies also have sued the WGA, contending that the union organized an illegal group boycott that violated antitrust laws. A trial in that case could begin in March 2021.
As part of their agreement, UTA and the WGA agreed to drop their lawsuits against each other.
"Our goal remains to move the negotiation process forward with the remaining unsigned agencies," the WGA said in a letter to members Wednesday.
The novel coronavirus crisis has put more pressure on agencies, forcing them to cut costs as Hollywood productions and live events came to a halt.
The United Talent Agency said it is cutting salaries of its employees, as the entertainment industry continues to grapple with the effects of the coronavirus outbreak. Numerous film and TV productions and concerts have been canceled due to the pandemic, leaving many people out of work.
UTA recently furloughed workers, and its staff has taken pay cuts.
Over time, the WGA has offered more flexibility to talent agencies that have signed franchise agreements. Some businesses such as Paradigm Talent Agency have been able to continue packaging until the end of 2021 and can invest up to 10% in affiliated production companies.
Under its deal, the UTA agreed to limit its ownership in Civic Center Media to the current level of 20%. The agency also said it would end packaging in two years if another major agency signed a similar agreement. That stipulation does not include Paradigm's deal with WGA.
Nonetheless, UTA said in its letter that it did not sign the union's code of conduct, which in addition to barring packaging and affiliated production also requires agencies to share contract information with the guild. UTA said it would share such information only with the consent of its writer clients.
"Our commitments were squarely aimed at delivering what's needed most right now: returning writers and agents to their natural role as partners, so we can together face a business stirring with historic levels of uncertainty," Sures wrote. "This is a time to get people back to work and some sense of normalcy. You deserve that."
A deal with UTA would likely put more pressure on other major agencies to secure agreements with the guild, which recently signed a deal with major studios, with included higher residuals for shows distributed on streaming platforms.
On Tuesday, the WGA told its captains at a meeting that it was close to signing a deal with another major agency, which many writers believe is ICM Partners.
ICM, CAA and WME declined to comment.
---
Inside the business of entertainment
The Wide Shot brings you news, analysis and insights on everything from streaming wars to production — and what it all means for the future.
You may occasionally receive promotional content from the Los Angeles Times.