Alec Baldwin shooting lawsuit: 'Rust' gaffer nearly hit by a bullet claims negligence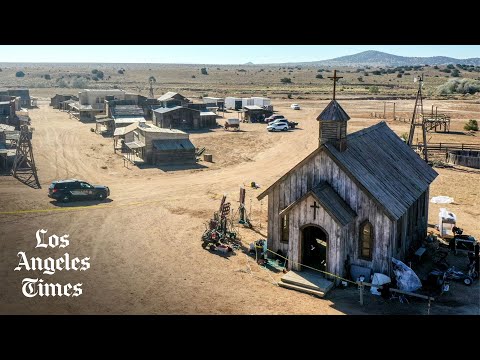 Lighting director Serge Svetnoy filed the first negligence lawsuit in the Alec Baldwin shooting in New Mexico. Svetnoy said the bullet barely missed him.
The chief lighting technician on "Rust," who held cinematographer Halyna Hutchins in his arms as she lay dying on the movie set, filed a civil lawsuit in Los Angeles that alleges the film's producers — including Alec Baldwin — were negligent in Hutchins' death.
Serge Svetnoy, who was the chief electrician or gaffer, is the first member of the "Rust" film crew to take legal action against the film's production company, Rust Movie Productions LLC, for the Oct. 21 tragedy in New Mexico.
Svetnoy and Hutchins had been friends for more than five years and worked together on nine film productions. Both were immigrants from Ukraine, and they spent holidays together with their families. Svetnoy, 63, had given Hutchins the Ukrainian nickname "Galla."
"I still cannot believe that she is no longer with us," Svetnoy said Wednesday afternoon during a news conference at a Beverly Hills hotel. "What a tragedy and injustice when a person loses her life on film set while making art."
Svetnoy's general-negligence complaint, filed Wednesday in Los Angeles Superior Court, names the producers, armorer Hannah Gutierrez Reed, first assistant director Dave Halls, property master Sarah Zachry and weapons provider Seth Kenney as defendants. The suit was filed in Los Angeles because Svetnoy and at least one of the producers live in L.A.
The bullet fired by Baldwin from a .45 Colt revolver "narrowly missed him," according to Svetnoy's suit.
He was "no more than six to seven feet" from Baldwin when the gun went off "suddenly and completely unexpectedly," the suit said, adding that Svetnoy "felt a strange and terrifying whoosh of what felt like pressurized air." He was struck by "discharge materials from the blast," the complaint said.
Santa Fe County Sheriff's detectives are still investigating key details of the shooting, including who brought live ammunition onto the movie set — a violation of film production safety protocols — and who loaded at least one lead bullet into the revolver used by Baldwin.
Deputies seized more than 500 rounds of ammunition from the set of "Rust," a low-budget period film set in 1880s Kansas. Additional rounds were found inside the revolver that Baldwin fired, Sheriff Adan Mendoza said last month. The rounds have been sent to the FBI crime laboratory in Quantico, Va., for analysis.
During his news conference, Svetnoy said that two to three days before the shooting, he saw guns left "unattended in the sand" between film takes. The gaffer also recalled seeing Gutierrez Reed with guns under her belt.
Gutierrez Reed's attorney in Albuquerque, Jason Bowles, released a statement Wednesday, reiterating his suggestion of foul play.
"We are convinced that this was sabotage and Hannah is being framed. We believe that the scene was tampered with as well before the police arrived," Bowles said in his statement. "This morning we offered to share additional, critical information with the Sheriff's Office and are awaiting their response."
Gary Dordick, Svetnoy's attorney, expressed skepticism over Bowles' allegations.
"It seems very far-fetched," Dordick said during his client's news conference. "Somebody sabotaged [her] to commit a murder? To me, that sounds unbelievable. ... Where was she when they had the gun? Where was she when they put the bullet in the gun? ... She failed at her job miserably."
Svetnoy's lawsuit alleged that Baldwin shared responsibility for the shooting at the Bonanza Creek Ranch movie set, 13 miles south of Santa Fe. Hutchins died and director Joel Souza was injured as Baldwin rehearsed an upcoming scene — a shootout in the weathered wooden church on the edge of the old Western town.
The shooting occurred 12 days into a 21-day production schedule.
That afternoon, Baldwin was supposed to reach across his chest and pull a revolver from his shoulder holster before pointing it at the camera, Svetnoy's suit said.
"The scene did not call for Defendant Baldwin to shoot the Colt Revolver, which should not have contained any live ammunition," the lawsuit said, adding that Baldwin should have known to "double-check" the gun after assistant director Halls. In an Oct. 22 affidavit for a search warrant, Sheriff's Det. Joel Cano wrote that Halls handed the gun to Baldwin and yelled "cold gun," indicating the prop did not have any live rounds.
"You know, this was just rehearsal. He cannot shoot on rehearsal. I'd not expect it," Svetnoy said during the news conference. "Nobody expected that at all, that there will be an actual shot."
Following the discharge, Svetnoy said he was struck by "what he believed was gunpowder and other residual materials from the gun" on his face and eyeglasses. Sound in both of his ears was "muffled."
That's when he realized that Hutchins, 42, had been hit, along with Souza.
At least one of the camera operators complained last weekend to production managers about gun safety on the set.
Matthew Hutchins, husband of the late "Rust" cinematographer, has enlisted the law firm of Panish Shea Boyle Ravipudi, but a spokesperson for the firm declined to comment on any plans to file suit. Santa Fe-based script supervisor Mamie Mitchell, who placed the initial 911 call in the moments after the shooting, has retained lawyer Gloria Allred.
On Oct. 26, Allred issued a statement saying her team would be "conducting our own investigation of what happened because there are many unanswered questions."
As Hutchins lay bleeding on the floor of the church, the gaffer "cradled her head and spoke to her, trying to keep her calm, alert and conscious," according to Svetnoy's suit. But eventually she became unresponsive, he recalled, "her face becoming grey, and her lips beginning to turn black."
Prop master Zachry, armorer Gutierrez Reed and first assistant director Halls all "failed to thoroughly inspect" the gun before handing it to Baldwin, the suit said. The legal filing also alleged that ammunition used on set "was never stored securely and simply left unattended in the prop truck."
Gutierrez Reed's attorneys, Jason Bowles and Robert Gorence, had previously issued a statement that said safety was their client's No. 1 priority on set, and that she had no idea where the live rounds came from. "Hannah was hired for two positions on this film, which made it extremely difficult to focus on her job as an armorer," they added. "She fought for training, days to maintain weapons and proper time to prepare for gunfire but ultimately was overruled by production and her department."
But Svetnoy's suit said the production "failed to hire a competent and experienced armorer" in Gutierrez-Reed, 24, claiming that she did not train Baldwin how to use or handle the revolver properly. Svetnoy alleged that Gutierrez Reed should not have accepted the job "when the needs of this production would have required multiple assistant armorers."
Svetnoy also blamed multiple producers for declining "requests for weapons training days" and for not correcting "obvious firearm safety protocol violations," including two previous on-set incidents involving guns misfiring. The Times has previously reported that there were two accidental weapon discharges on Oct. 16 — just days before the fatal shooting.
"This incident was caused by the negligent acts and omissions of the defendants," according to the lawsuit. "Simply put, there was no reason for a live bullet to be placed in that Colt .45 revolver or to be present anywhere on the 'Rust' set."
Cinematographer Halyna Hutchins, one of American Cinematographer's Rising Stars, was killed on the set of 'Rust.' Here's everything we know so far.
"The producers of 'Rust' had a duty to hire persons who were trained and experienced in carefully overseeing the use of firearms and ammunition in the filming of the motion picture," the suit continued, noting that responsibility included having "a sufficient number of trained and experienced armorers to meet the needs of the production."
The suit also names Thomasville Pictures LLC and its principal, Allen Cheney, as defendants. Other producers named as defendants include Ryan Donnell Smith, Nathan Klingher, Ryan Winterstern, Anjul Nigam, Matthew DelPiano, Emily Salveson, Chris M.B. Sharp, Jennifer Lamb and the unit production firm, 3rd Shift Media, and its employees Gabrielle Pickle and Katherine "Row" Walters. Pickle was the film's line producer; Walters was the unit production manager.
A representative for 3rd Shift Media declined to comment on the lawsuit or Bowles' allegations.
As a result of the tragedy, Svetnoy said he has suffered from "severe emotional distress" and fears he will lose income from being unable to work in the future.
Three days after the tragedy, Svetnoy wrote in a Facebook post that the film's armorer and producers were negligent in Hutchins' death.
In a long message on his personal Facebook page, Svetnoy made clear that he felt the "Rust" armorer held much of the responsibility for his friend's death, though he did not mention Gutierrez Reed by name.
On Wednesday, Svetnoy said that he didn't mean to single out anyone — and that multiple people had failed their duties.
"There are many people involved in the filmmaking process. Every person should do their job and take full responsibility for it," Svetnoy said during the news conference. "I think it's important to give younger and less qualified people an opportunity to work on film sets, but there must always be more experienced people behind them to teach, avoid mistakes, and prevent tragedy."
Inside the business of entertainment
The Wide Shot brings you news, analysis and insights on everything from streaming wars to production — and what it all means for the future.
You may occasionally receive promotional content from the Los Angeles Times.