Randall Emmett, Ambyr Childers settle domestic violence restraining order dispute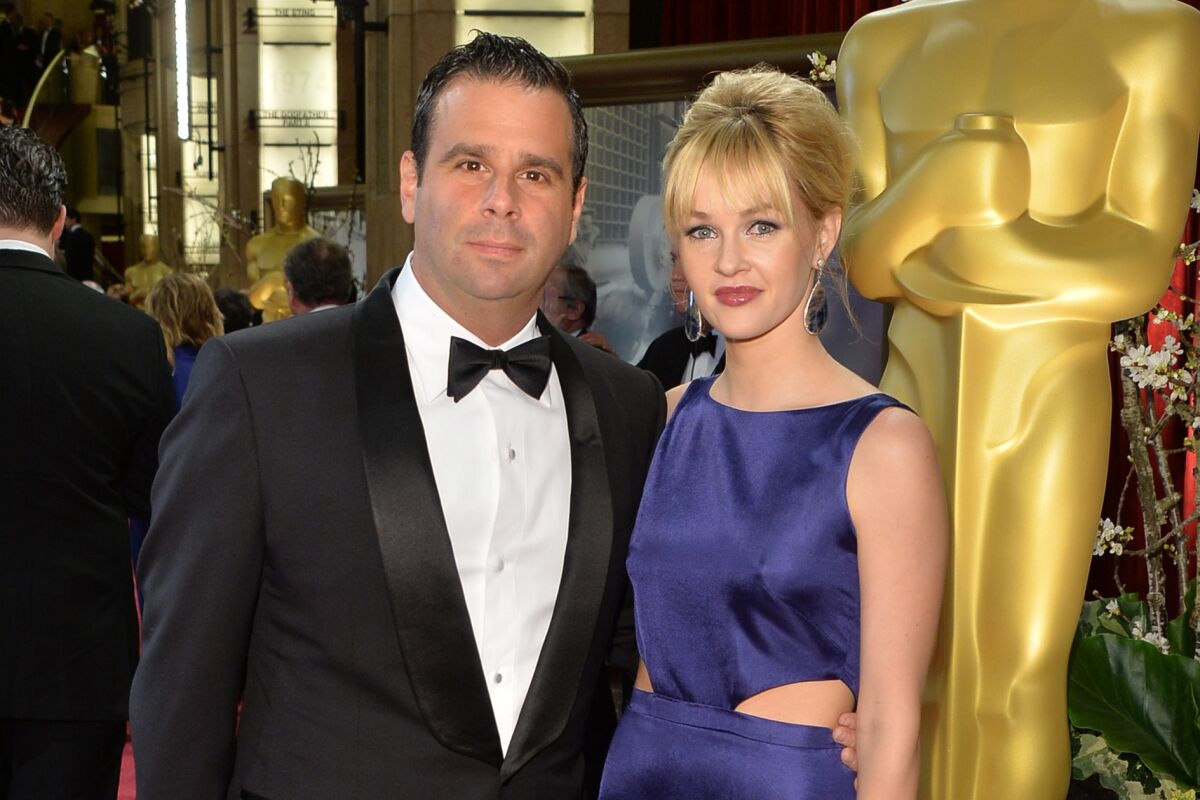 Controversial low-budget action film producer Randall Emmett has resolved a legal dispute with his ex-wife, Ambyr Childers.
On Thursday, the two sides notified Los Angeles County Superior Court Judge Wendy L. Wilcox that they had reached a confidential settlement agreement. Financial terms were not disclosed.
"Ambyr and Randall have settled their differences, and Ambyr's request for a restraining order has been dismissed," a representative of Emmett's family law attorney Heather Patrick said in a statement. "Randall is glad this matter is resolved and behind him."
Childers' lawyer was not immediately available for comment.
The case heated up late last month after Childers filed a petition seeking protection from her ex-husband, alleging that she had been contacted by an FBI special agent who asked her about Emmett's "suspected activities with child exploitation and pedophilia," according to her request for a domestic violence restraining order.
Emmett and his representatives have denied that the producer has drawn scrutiny from the FBI. In a previous statement Emmett dismissed the suggestion, saying that his ex-wife's court filings were "designed to hurt my career without any evidence whatsoever."
Judge Wilcox in late December granted the domestic violence restraining order that required the 51-year-old filmmaker to stay 100 yards away from Childers, his wife of nearly eight years. Emmett was allowed to make "brief and peaceful" contact with Childers to discuss visitation arrangements for their two daughters. The two share custody of their daughters.
Childers, an actor who has appeared in "You," "Ray Donovan" and "All My Children," had been asking for protection from Emmett since October. Her initial request for a domestic violence restraining order was denied by a judge who cited lack of proof that she was in danger. She then filed the second petition with the court, which said she had been contacted by the FBI agent.
After months of claiming she was fearful for her safety, actress Ambyr Childers has been granted a temporary restraining order against her ex-husband.
The 34-year-old mother said in her declaration that the FBI visit caused her "extreme destruction and disturbance of [her] emotional calm and peace of mind" because the former couple's daughters, ages 12 and 9, "are often alone" with their father. She said did not want to "run the risk" of the children being with Emmett if "federal law enforcement serve either an arrest or search warrant on him or on his premises."
Since Childers filed her petition, The Times has spoken with three other individuals who said they were contacted by FBI agents inquiring about Emmett's activities, and that they provided information to federal investigators.
A spokeswoman for the FBI declined comment.
The ex-fiance of reality star Lala Kent faces the collapse of his company amid a trail of lawsuits, civil fraud charges and allegations of abusive behavior.
Emmett, who is best known for making action films featuring Bruce Willis, Mel Gibson, Sylvester Stallone and other aging stars, was the subject of a Times investigation published last June.
That story highlighted allegations that Emmett offered acting work to women in exchange for sexual favors, owed millions of dollars to investors and forced his assistants to engage in illegal activity on his behalf. Emmett adamantly denied all of these allegations.
He separately had a high-profile breakup with reality TV star Lala Kent, the mother of his third daughter. Kent, Emmett's former fiancée from Bravo's "Vanderpump Rules," moved out of his home on Mulholland Drive in October 2021 after photos emerged online of Emmett hanging out with other young women in Nashville.
Childers has alleged that Emmett was "physically and emotionally abusive" to her during their marriage, which began in 2009, according to her October and December court filings. She claimed that after she declined to sign a postnuptial financial agreement around 2015, Emmett became upset and placed his left hand around her neck, "squeezing with such force that [Childers] had difficulty breathing." A year later, during a 2016 discussion about the same potential agreement, she alleged in the filing that he "again attempted to strangle" her.
In her requests for the restraining order, Childers also said she had received threatening correspondence that came from one of Emmett's family law attorneys.
Childers alleged that while she and Emmett were discussing their daughters over email, Emmett intentionally sent a message that included a copy of an exchange between him and his lawyer, Ben Valencia. In the email, Valencia and Emmett were apparently discussing the situation with Childers when the lawyer asked Emmett if he'd be able to "get some real money together so we can take this c— out once and for all," Childers alleged in her court filings.
Childers claimed it was Valencia who, in 2017, directed Emmett to "hire a private investigator who then placed [a] tracking device on my car," according to the court documents.
Emmett's litigation attorney, Suann C. MacIsaac, has said that "Mr. Emmett adamantly denies all of the allegations in Ms. Childer's recent declaration."
Staff writer Amy Kaufman contributed to this report.

Inside the business of entertainment
The Wide Shot brings you news, analysis and insights on everything from streaming wars to production — and what it all means for the future.
You may occasionally receive promotional content from the Los Angeles Times.