As Hollywood invades Culver City, some residents push back against gentrification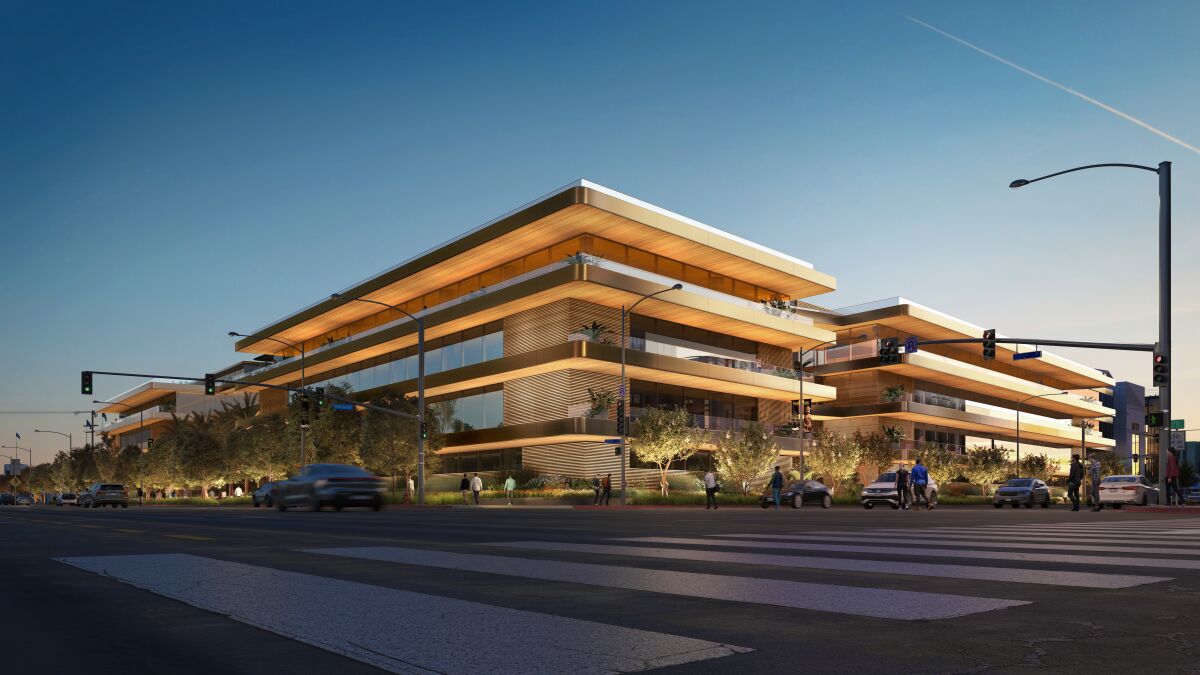 Long known as "the heart of screenland" because of its role in Hollywood history, Culver City has lately taken on a different nickname thanks to an influx of digital video giants — "the heart of streamland."
But the city's transformation into a hub for tech giants and streaming studios — including Amazon, HBO and TikTok — has created a classic case of neighborhood tension, between the big companies and local business leaders promising jobs on one side and longtime residents who fear the ongoing march of gentrification on the other.
The latest example in that tug-of-war: a proposed 4.5-acre campus for Apple Inc. and its growing streaming TV and music operations.
The Cupertino, Calif.-based tech giant is poised to break ground later this year on the headquarters for its Los Angeles operations, on a former lot that once housed furniture and clothing businesses.
The space, which straddles L.A. and Culver City and features a 7,120-square-foot parklet, is expected to house up to 2,400 employees. The project has won the support of city officials and business leaders.
Subscribers get exclusive access to this story
We're offering L.A. Times subscribers special access to our best journalism. Thank you for your support.

Explore more Subscriber Exclusive content.
However, the rapid growth has some locals worried that the swarm of tech employees will push up rents and exacerbate the area's housing shortage and traffic problems.
"It's going to be another headache," said Gaylene Tomlinson, 65, who has lived in Culver City for more than a decade.
Tomlinson, a bartender and food server at LAX, says she has seen her rent rise 64% to $2,300 a month since 2010. Nearly half of her paycheck goes toward rent on her two-bedroom apartment. Now she's worried that she'll have to move when she retires.
"I'm going to be priced out," Tomlinson said. "I love it here and I understand the growth, but don't forget about the people who sustained Culver City before the big industry with money coming in."
Members of the Unite Here Local 11 union, which represents workers such as Tomlinson at airports, hotels and other venues, aired their concerns at a December Culver City Council meeting. Among them was Amparo Ramirez, 50, a food preparation worker who shares a one-bedroom apartment in Culver City with her two daughters, about a mile from Apple's campus.
"I have lived in this neighborhood for years and have watched how the rising housing costs have made my neighborhood unaffordable for working people like me," said Ramirez, who says the vast majority of her earnings go to paying her $1,900 monthly rent.
But leaders including Alex Fisch, a former city councilman and mayor in Culver City, believe the Apple campus is a plus.
Apple first moved to Culver City when it acquired headphone maker Beats Electronics and streaming music service Beats Music in 2014. As Apple expanded its business into subscription video streaming service Apple TV+, it sought more real estate in Culver City. The company plans to expand its Culver City team to more than 3,000 employees by 2026. In 2021, the company said it had more than 1,500 employees in Culver City and Los Angeles. The new campus, located on Washington, National and Venice boulevards, will create more than 400 construction jobs.
"This is a wonderful thing — having this many creative, smart, skilled people in one place and for a company like Apple to come and provide the jobs they are going to provide is a great benefit," Fisch said at the same city council meeting in December, just before his term on the council ended following an unsuccessful reelection campaign. "It's really admirable."
Culver City, home to nearly 40,000 residents, is facing a crossroads.
Prior to the pandemic, Culver City was bustling with activity, helped by its central location to Silicon Beach and Hollywood, as well as streaming companies increasing their staffs.
Since 2017, when Amazon Studios announced its move to the historic Culver Studios lot, the city has experienced enormous growth. Amazon greatly expanded its footprint and investment, recently unveiling a massive virtual production stage. Over the years, Culver City became home to TikTok's U.S. headquarters, HBO's West Coast office (the Warner Bros. Discovery-owned company moved from Santa Monica to the $350-million Ivy Station mixed-use development) and Technicolor's new campus on Washington Boulevard .
"I really see Culver City as a content capital," said Jesse Nuñez, CEO of the Culver City Chamber of Commerce.
Apple's growth could provide a much-needed boost to the city's downtown, which has been hurt by the pandemic. Restaurants adjusted their hours to account for more people working remotely; some shut down. An increase in high-paying jobs would bring customers to eateries in the area and also help fill the city's coffers with additional tax dollars.
"We've been waiting for things to turn around," said Darrel Menthe, executive director of the Culver City Downtown Business Assn.
Amazon's Stage 15 is Southern California's largest virtual production stage, with a wall of more than 3,000 LED panels and motion capture cameras.
But while Culver City has been blessed with robust job growth, its housing inventory has not kept pace. From 2007 to 2017, Culver City added roughly 12,100 jobs but issued permits to fewer than 200 new housing units, according to a 2019 report by the Southern California Assn. of Governments.
"When you do have this many quality jobs being put in one area, it certainly raises the profile of the market [and] raises the rents," said Ryan Patap, senior director of market analytics at CoStar Group, which tracks real estate data.
It's a textbook case of how to make housing expensive, said Paavo Monkkonen, a professor of urban planning and public policy at the UCLA Luskin School of Public Affairs.
"You have this kind of collective action problem where every small neighborhood or every municipality wants the jobs but not the new housing," Monkkonen said. "So that pushes people out [with] farther commutes or gentrifying formerly lower-income neighborhoods nearby."
The denser homebuilding and increased public support for low-income tenants needed to fix L.A.'s housing crisis are also needed to solve overcrowding, experts say.
Similar concerns have been raised in Silicon Valley's Mountain View, where Google is headquartered and employs about 25,000 people. Residents in 2018 passed changes to the business license tax, which charged Google $3.8 million last year based on its headcount. The money goes toward the city's general fund, with a focus on transit infrastructure.
In November, Culver City voters also approved changes to the business license tax, which is expected to generate up to $10 million annually for the city, despite opposition from some businesses.
Apartment rents in Culver City were higher than in neighboring communities, according to Culver City's Housing Element report. The median rent of a two-bedroom apartment in Culver City was $2,119 a month in 2019, which was higher than comparable housing for Los Angeles County ($1,605) and West Hollywood ($2,080), while coming up just shy of affluent Santa Monica ($2,122).
The median annual household income for Culver City in 2019 was $95,044, up 32% since 2010, and significantly higher than the Los Angeles County median income of $68,044.
Culver City officials said they are addressing the housing issue, with plans to zone for 3,341 additional housing units by 2029. The city's rent control ordinance, which went into effect in 2020, currently caps annual rent increases on certain residential buildings to 5%.
Culver City has become one of the fastest-growing digital media hubs in Southern California as Amazon, Apple, China-owned TikTok and other firms have expanded into the area. The influx has brought thousands of new jobs into this once sleepy suburb, but also caused some growing pains. Now Culver City officials are considering a tactic that Silicon Valley cities have pursued: raising business taxes to help manage the costs of growth.
"Housing is a top priority," said John Nachbar, Culver City's city manager. "It doesn't make sense to place housing everywhere, but we're aggressively pursuing the addition of more housing in the community. ... We're sensitive to the concerns."
The question is whether those measures will be enough. Some community members have proposed that companies like Apple should include housing units on their campuses, rather than just business facilities, in order to relieve some of the strain on the market. The Apple campus was not zoned for housing in Culver City, Nachbar said.
Subscriber Exclusive Alert
If you're an L.A. Times subscriber, you can sign up to get alerts about early or entirely exclusive content.
You may occasionally receive promotional content from the Los Angeles Times.
The practice of providing apartments on a tech company's campus is not unheard of in Silicon Valley. In Mountain View, there are plans to incorporate housing on two Google projects, and in Menlo Park, Facebook's parent company, Meta, plans to add multifamily residential units near its offices.
But such efforts have not come to Culver City, home to companies like Sony with roughly 3,000 employees and Amazon with an estimated 2,700 staffers. City leaders said other large employers in the area have not been required to build housing, so it would be inconsistent to ask Apple to do so.
"We don't really ask them to build housing on their site," Daniel Lee, the outgoing mayor, said at the December city council meeting. "I think it would be sort of ludicrous."
Nonetheless, Apple said it is making an effort to support additional housing in the area and alleviate traffic concerns. The company has committed $2.5 billion toward addressing the housing crisis in California and said part of that money will benefit pending housing projects in Culver City and Los Angeles. Apple declined to reveal further details on the projects. The iPhone maker also has invested in the United Way of Greater Los Angeles' affordable housing initiative.
The campus' parklet will be available to the public and the headquarters is set to feature 25,000 plants and nearly 90 trees. The building is designed to be LEED Gold-certified and have 1,216 vehicle parking spaces — less than one space for every two occupants of the building — which supporters hope will encourage employees to bike to work, carpool or take public transit.
Inside the business of entertainment
The Wide Shot brings you news, analysis and insights on everything from streaming wars to production — and what it all means for the future.
You may occasionally receive promotional content from the Los Angeles Times.