An exquisite portrait of everyday life in 'One Fine Morning'
Hello! I'm Mark Olsen. Welcome to another edition of your regular field guide to a world of Only Good Movies.
Get the Indie Focus newsletter, Mark Olsen's weekly guide to the world of cinema.
You may occasionally receive promotional content from the Los Angeles Times.
Sundance wraps up. The Sundance Film Festival announced its awards on Friday morning, giving top prizes to "A Thousand and One" for the U.S. dramatic competition and Joe Brewster and Michèle Stephenson's "Going to Mars: The Nikki Giovanni Project" for U.S. documentary.
We at The Times announced our year-long project following a handful of filmmakers from this year's festival as a way of tracking what it means to premiere at Sundance. Those profiled include Nida Manzoor for "Polite Society," Thembi Banks for "Young. Wild. Free.," Raven Jackson for "All Dirt Roads Taste of Salt" and Erica Tremblay for "Fancy Dance." Keep an eye out for more from these filmmakers and this ongoing project as the year progresses.
Justin Chang checked in on a number of titles from the festival, including "Cat Person" and "Eileen" along with "Fair Play" and "Magazine Dreams."
I spoke to Chloe Domont, writer-director of "Fair Play," which sold to Netflix for $20 million. Domont spoke about how she came to set her exploration of the dynamics between men and women in the high-stakes world of New York City's financial industry. As she said, "No matter how much progress we've made, we still can't figure each other out. I don't think men and women can. There's a lot getting in the way of that. … Also, this film for me was about reckoning with a lot of unresolved feelings I had in my own personal experiences with these kinds of dynamics."
My colleague Tracy Brown and I were also at the premiere of Doug Liman's documentary "Justice," about Supreme Court Justice Brett Kavanaugh and the allegations of sexual assault against him. The festival announced the film just one day before it premiered.
And we had a photo studio running again this year, with Mariah Tauger taking beautiful black-and-white portraits of many of the top stars at the festival, including Anne Hathaway, Cynthia Erivo, Greta Lee, Ben Whishaw and many more.
Oscar noms explained. Just to keep things interesting, this was one of those years when the Oscar nominations overlapped with Sundance. Glenn Whipp took a look at the snubs and surprises, of which there were many. Glenn also dug into the grassroots campaign to make Andrea Riseborough's nomination in the little-seen "To Leslie" happen.
Jen Yamato interviewed the team behind "Everything Everywhere All at Once," who lead the field with 11 nominations, including best picture, director, screenplay and four acting noms. Jen also spoke specifically to the "Everything Everywhere" team about how they were feeling in the aftermath of the recent shooting in Monterey Park. They had a dinner planned at one of the neighborhood's Chinese restaurants for the night before the nominations.
I spoke to Austin Butler about his nomination for playing Elvis Presley in "Elvis." On the ongoing meaning of Presley's life and career, Butler said, "It's this deep ability to just follow what his heart was telling him he wanted to do. And I think that for all those people out there who are being inspired by him, by how true he was to himself, I think that's been really cool to see in young people."
Robert Daniels wrote about how not just the Oscars but the entire awards ecosystem has repeatedly failed Black women, overlooking films such as "The Woman King," "Saint Omer" and "Till."
Enjoying this newsletter? Consider subscribing to the Los Angeles Times
Your support helps us deliver the news that matters most. Become a subscriber.
'One Fine Morning'
Written and directed by Mia Hansen-Løve, "One Fine Morning" is a subtle, tender film about lives in transition. Sandra (Léa Seydoux) is a single mother raising her daughter while also caring for her father Georg (Pascal Gregory), who is in failing health. As she begins a tentative affair with an old acquaintance, Clement (Melvil Poupaud), Sandra tries to balance the different sides of her life. The film is in theaters now.
For The Times, Justin Chang wrote, "Walking down the street in a sweater and a short-cropped Jean Seberg haircut, Seydoux dissolves into Sandra's world beautifully. What holds you, as much as the actor's natural magnetism, is her ability to hold things back, her talent for emotional reserve. Like a lot of people in real life, Sandra is in no hurry to announce who she is, partly because she's still figuring that out. And 'One Fine Morning,' with its gently staccato rhythms and slyly unpredictable structure, is in no hurry to clue us in, either. You could call this a movie about a woman learning to say goodbye to her father while embracing the possibility of new love, and you'd be right, though at the risk of making it sound more diagrammatic than it plays. You might just as well call it a movie about the pleasures of strolling around Montmartre, sharing an ice cream cone or hiding Christmas presents under the tree."
Tim Grierson spoke to Seydoux and Hansen-Løve about their collaboration. On casting Seydoux, Hansen-Løve said, ""A lot of [her] characters are very sophisticated, very glamorous. In the past, it felt she was seen by male directors [as] a bit of a fantasy. I wanted her to be more down-to-earth, closer to us, closer to me. And I had the feeling there was a rawness about her that my film could maybe emphasize."
Seydoux said, "I think it's the first time that I really played a normal woman, the girl next door. I know that people have this image of me — 'French glamour' — and it's really not [me]. I think that, in my life, I'm someone who's very simple."
For the New York Times, Manohla Dargis wrote, "Sandra is an appealing, sympathetic character, a rich mix of complexity and familiarity that the director Mia Hansen-Løve — and her star, the great Léa Seydoux — subtly reveal in fragments. Much happens in the story, often quietly. Yet while the movie occasionally surprises, what distinguishes it, giving it unexpected force, are less the kind of life-altering events that are generally regarded as milestones. Instead what matters here is the delicacy with which Hansen-Løve puts those events into play with modest moments, how she reveals the sublime in the in-between spaces of ordinary existence."
For Variety, Guy Lodge wrote, "Hansen-Løve is at pains to avoid tidy, swelling arcs and grand narrative collisions. Instead, 'One Fine Morning' accrues subtle power through repetition, as characters put themselves through the same banal ordeals again and again hoping for different outcomes. … Hansen-Løve's filmmaking, meanwhile, here feels as comfortingly lived-in as a hand-me-down cardigan, from the soft ecru textures of Denis Lenoir's 35mm lensing to Marion Monnier's relaxed, sociable editing to the director's usual musical patchwork of favorites spanning Schubert, Dinah Washington and the plaintive folk balladry of Bill Fay. Few would accuse the director of pushing herself in 'One Fine Morning,' but there's much to be said for cinema that feels this at ease — at home, even — with itself."
Enjoying this newsletter? Consider subscribing to the Los Angeles Times
Your support helps us deliver the news that matters most. Become a subscriber.
'Infinity Pool'
Written and directed by Brandon Cronenberg, "Infinity Pool" is a disturbing examination of wealth, decadence and the fragility of male identity. When James (Alexander Skarsgård) goes on vacation to a remote resort, he meets Gabi (Mia Goth), who draws him into a world without accountability, in which the consequences of any transgression can be paid off, sending him into a downward spiral. The film is in theaters now.
For Tribune News Service, Katie Walsh wrote, "This feels like a quintessential follow-up to a breakthrough film — a project about writer's block, horrible rich people and losing one's identity over and over again, only finding peace in submitting to powerful forces beyond one's control. Whether James is a good writer doesn't seem to matter, and if he finds himself again is unclear, but Cronenberg sure has fun pouring blood and bodily fluids on the problem and seeing how far he can push boundaries. If you're willing to surf on the wonderfully weird and wild wavelength of 'Infinity Pool' it is indeed a singular, and unforgettable, ride."
I spoke to Cronenberg, Goth and Skarsgård ahead of the film's premiere at Sundance. Asked to describe the tone of the film, Cronenberg responded, "I don't really describe the tone of the movie, is the answer. And I sort of don't want to, because I feel to a certain degree you want the audience to explore. Certain kinds of filmmaking end up working as laboratories for the mind to explore these difficult emotions and feelings. And to me, that's why I like this kind of filmmaking. I like being put in a position where you are destabilized when you're watching a film. I think that kind of art is more transformative, taking you to places that might be difficult but also that allow you to engage with aspects of your brain that you might not in a day-to-day way. I think that's really healthy. "
For the New York Times, Jeanette Catsoulis wrote, "Cronenberg has so far been less curious about external threats than whatever danger lurks inside us. So when a car accident leaves one islander dead and James in police custody, and he is offered a horrifying choice — accept execution or pay for a double to die in his stead — his decision will either transform him or simply activate a rot that was festering all along. … Like the gloriously viscous process of creating the replicants, much of 'Infinity Pool' might be funny if it weren't so disturbing."
For Rolling Stone, David Fear wrote, "So often, you can feel filmmakers straining themselves to come up with more extreme ways of shocking and awing you. With this writer-director, you get the sensation that such hallucinogenic, nerve-scrambling sensationalism comes naturally. You wouldn't say that his agent provocateur touch is subtle. But it is expert. … It's a movie that doubles (and triples, and quadruples) down on its ugliness. Yet it has picked its targets well. The rich may get away with murder, and worse. But they can end up luxury-furnishing their own permanent lost-weekend in hell. To paraphrase a wise man regarding another plush vacation spot, you can check out any time you like. But cross that line, and you can never, ever leave."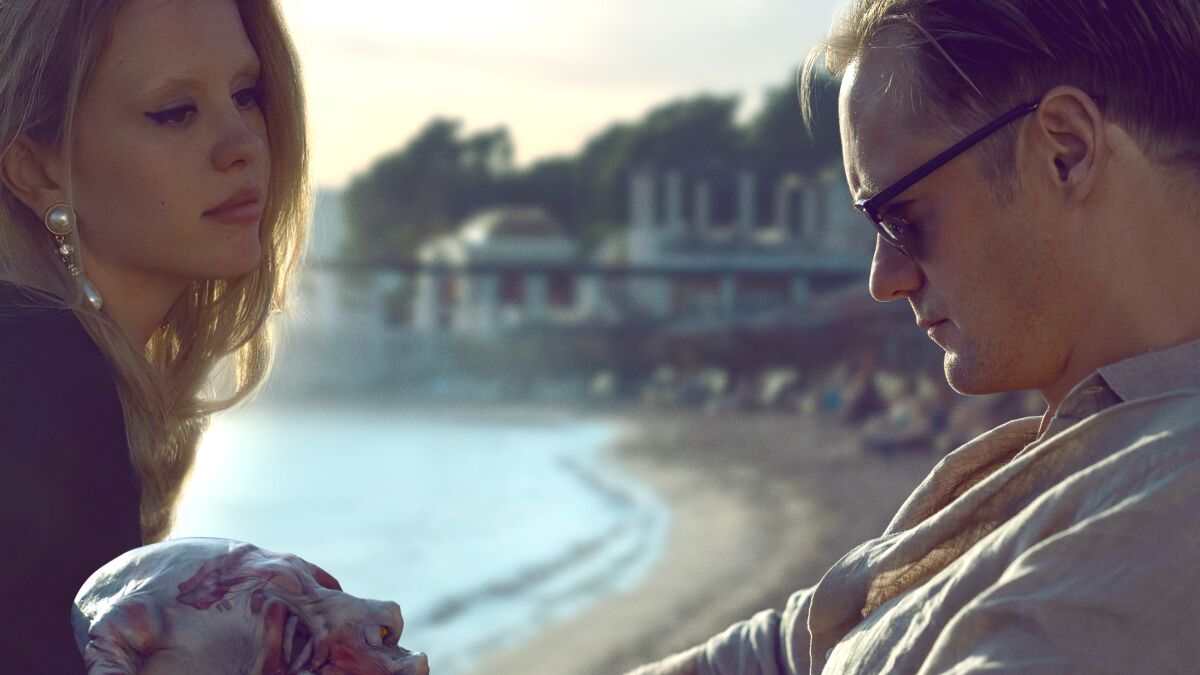 'Close'
Directed and co-written by Lukas Dhont, the Belgian film "Close" is nominated for the Oscar for international feature. Thirteen-year-olds Léo and Rémi (Eden Dambrine and Gustav De Waele) share a remarkable friendship and emotional intimacy. As others begin to question their relationship, the pressure pushes them apart. The film is in theaters now.
For The Times, Justin Chang wrote, "For much of 'Close,' Dhont's restraint dovetails artfully with his characters' repression, though as it progresses, the movie increasingly seems to make a fetish of its own subtlety. At roughly the midway point, Dhont unleashes a narrative development that, while believable enough on its own terms, feels more like an evasion than an exploration of the story's true emotional potential. That coyness persists through the second half, with a series of suspended conversations and delayed reckonings that strain for honesty, only to bog down in the familiar language of art-house mannerism. Dhont, a filmmaker of considerable and undeniable talent, has a weakness for telegraphing his own boundless sensitivity. He's also still learning to braid his competing instincts toward realism and melodrama, as if he were both determined to go for the jugular and a bit embarrassed by his own determination."
For the New York Times, A.O. Scott wrote, "The roteness of the film's second half — reinforced by Valentin Hadjadj's over-insistent score — can't dispel the exquisite insight of its earlier scenes or the heart-rending precision of the performances. Dambrine and De Waele are wonderfully natural, conveying the complexities of youthful experience with impressive directness and poise. Dambrine, who carries a heavier burden, never falters, and is well supported by [Émilie] Dequenne and Léa Drucker (who plays Leo's mother). The world they inhabit is fleshed out with unassuming, sensitive realism, even when the story falters."
Get the Indie Focus newsletter, Mark Olsen's weekly guide to the world of cinema.
You may occasionally receive promotional content from the Los Angeles Times.