Film academy reaches 2020 diversity goals established after #OscarsSoWhite
The movie industry may be almost entirely shut down because of the coronavirus pandemic but the film academy is continuing to open up.
On Tuesday, in the latest step toward diversifying its historically white-male-dominated ranks, the Academy of Motion Picture Arts and Sciences opened its doors to 819 new members. It also announced that it has surpassed the goal, set in early 2016 in the wake of the #OscarsSoWhite controversy, of doubling the number of women and people from underrepresented ethnic/racial communities in the group by 2020.
Representing 68 countries, the list of invitees includes such boldface names as Awkwafina, Olivia Wilde, Lakeith Stanfield and Constance Wu as well as many performers, filmmakers and below-the-line professionals whose names would be unfamiliar to even the most hardcore cinephiles. There are 75 past Academy Award nominees in the group, such as "Roma" star Yalitza Aparicio and "Harriet" star Cynthia Erivo, and 15 past Oscar winners.
According to the academy, the list of invitees, slightly smaller than last year's class of 842, is 45% female (down from 50% last year) and 36% people from what it terms "underrepresented ethnic and racial communities" (up from 29% last year). In recent years, the academy referred to "people of color" in announcing its new members, but the group acknowledges that tallies of such self-identifications, voluntarily disclosed by members, are not always exact. "The academy has used a very broad definition for 'people of color' over the years," said one member who has served on branch committees that invite members.
Actress Niecy Nash told The Times she learned yesterday that she was among this year's invitees. "You know what I did? Yesterday I went out and bought some expensive champagne. And today I put on a T-shirt that says 'Phenomenal woman' because that's how I feel," said the three-time Emmy nominee whose film credits include "Selma."
Nash says the academy's recent emphasis on inclusion is important, noting that it can be "challenging when you can look at a slate of films and you don't identify with any of them and don't see yourself."
Filmmaker Lulu Wang, another member of this year's invitee class, agreed, noting she was repeatedly asked why her well regarded 2019 indie drama, "The Farewell," didn't earn any Oscar nominations, even though it picked up awards from many other groups.
"Awards are chosen by your peers, and when, in some ways, the academy does not represent a committee of my peers, there's a disconnect," Wang told The Times in a phone call. "Why should I expect to be rewarded by those people? So changing the landscape of the academy so that it actually better represents the audience, the people, the different kinds of experiences, the different demographics of people coming into the industry, that's really exciting."
In decades past, annual invitations to join the academy were sent out with little or no fanfare, and quotas limited the number closer to 100 invitees. But all of that changed after the academy was spurred to take dramatic action to diversify its ranks following two consecutive years of #OscarsSoWhite firestorm that badly damaged the group's public image.
"Parasite" won the Oscar for best picture, becoming the first non-English language movie to do so. How did it win?
This year's group of invitees is the third largest in the organization's history (the record of 928 was set in 2018), and as in recent years, the academy has drawn heavily from outside the United States, with nearly half of the new class coming from foreign countries. Among the invitees are five stars of this year's best picture winner, South Korean director Bong Joon Ho's class satire "Parasite": Choi Woo Shik, Chang Hyae Jin, Cho Yeo Jeong, Lee Jung Eun and Park So Dam. Since 2015, the academy has nearly tripled its number of foreign members overall.
"The academy is delighted to welcome these distinguished fellow travelers in the motion picture arts and sciences," academy president David Rubin said in a statement. "We have always embraced extraordinary talent that reflects the rich variety of our global film community, and never more so than now."
The academy actually reached its goal to double the number of people of color in its ranks last year but, perhaps owing to deep and intractable gender disparities in the industry, only achieved that benchmark with women this year. Seven of the academy's branches invited more women than men this year, including both the organization's largest branch, actors, and arguably its most powerful, executives. In the executive branch, whose invitees include Warner Bros. chief Ann Sarnoff and Amazon Studios head Jennifer Salke, nearly a third of the new class is from underrepresented communities. Both the documentary and the marketing and public relations branches also invited unusually large groups this year, with women outnumbering men.
Although the directors branch invited a handful of familiar Hollywood filmmakers including Ari Aster ("Midsommar") and Matt Reeves ("Dawn of the Planet of the Apes"), the majority of this year's class — including Mati Diop ("Atlantics"), Ljubo Stefanov ("Honeyland") and Ali Abassi ("Border") — hails from overseas.
Meanwhile, the music branch, which also skewed towards foreign invitees, included such familiar names from the pop world as Chad Hugo of the Neptunes, singer Blood Orange, U2 drummer Larry Mullen Jr., jazz trumpeter Arturo Sandoval and Elton John collaborator Bernie Taupin.
As the academy has worked to give itself a makeover, its voting membership has soared by more than 60% from 5,765 in 2012 to more than 9,400 today, assuming, as is historically the case, the vast majority this year's new class accept their invitations. Further boosting the number of voting members, the academy announced on Monday that it was extending voting privileges to agents, who had previously been non-voting associates.
In a landmark 2012 analysis, the Times reported that Oscar voters were then 94% white and 77% male. With its steps toward greater diversity, the group is now, by its own accounting, 81% white and 67% male. But with the nation's attention intently focused on issues of racial inequality in the weeks since the police killing of George Floyd, the group has pledged to continue its drive toward inclusion.
The Oscars' two-month delay will set off a domino effect, affecting film festivals and every other awards show.
Earlier this month, the organization announced the next phase of that campaign, which it is calling Academy Aperture 2025, geared toward further increasing representation in its governance, membership and workplace culture as well as in the films nominated for Oscars. To that end, the academy has created a task force of industry leaders to develop new representation and inclusion standards for Oscars eligibility by the end of July.
It is difficult to pinpoint what affect the shifting makeup of the academy may be having on the types of films that go on to be nominated for and win Oscars. Many pointed to this year's victory for "Parasite" — the first foreign-language film ever to claim the best picture trophy — as a sign of the organization's increased openness to diverse voices. But just one year earlier, a far more traditional Oscar pick, "Green Book," took home the top prize.
As the academy's membership has ballooned, some awards season veterans fear that it is actually becoming more difficult for smaller-scale films, which often have more diverse casts and crews, to break through. Without the attention Oscar nominations bring, one awards consultant said, movies made by women and people of color could end up being disproportionately hurt, as they tend to be indie films that have more modest commercial returns.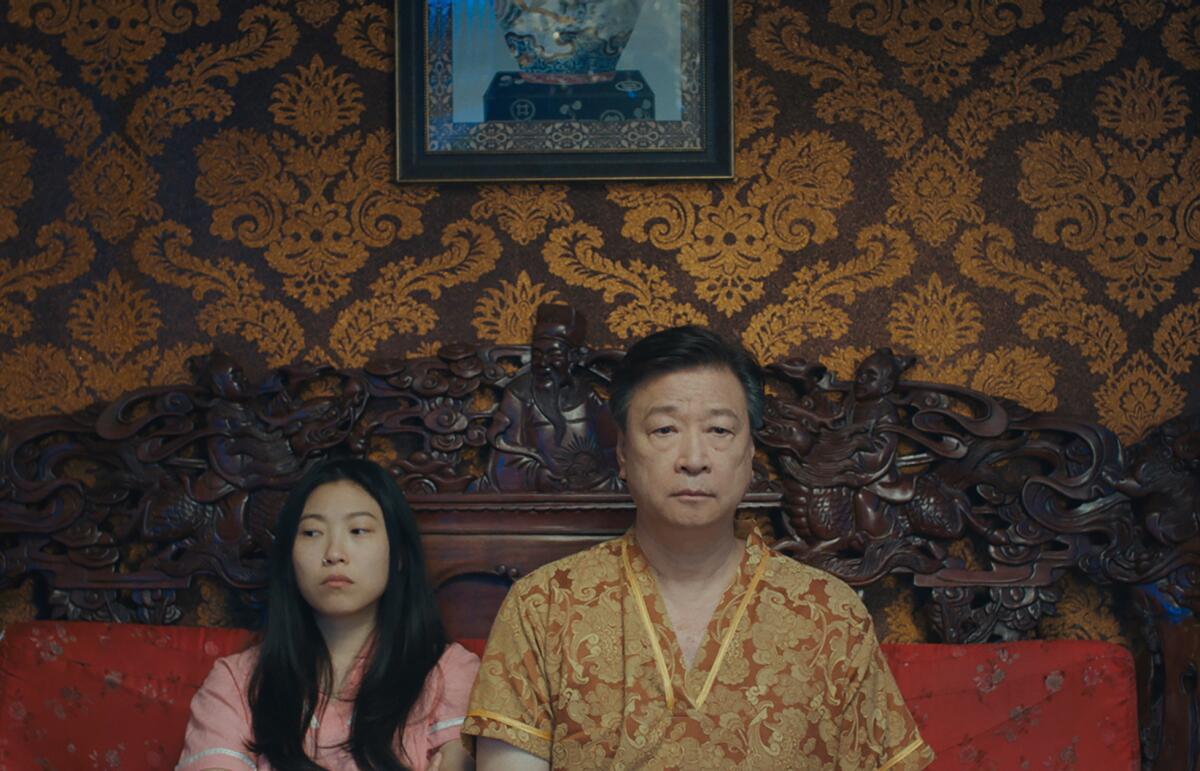 "Making it broader has made it harder for smaller films to get attention," said this consultant, a longtime academy member, who spoke on background to avoid client conflicts. "Years ago, I think 'The Farewell' would have earned at least a screenplay nomination," the consultant said of Wang's drama. "It was completely shut out, likely because not enough members saw it."
Another awards season campaigner though had a different take, saying the wider net of invitees will benefit smaller titles: "Check the sheer volume of documentary filmmakers. You think they're voting for 'Joker'?"
With issues of inclusion remaining at the center of the Hollywood conversation, the academy is showing no signs of letting up in its push toward greater diversity. Although the group has to date not tracked sexual orientation, gender self-identification or the number of members who are differently abled, insiders say the organization is working toward gathering such metrics, though personal privacy will always be paramount. (One of this year's invitees to the actors branch, "Peanut Butter Falcon" star Zack Gottsagen, is believed to be the first person with Down syndrome ever to be extended an invitation to join the film academy.)
The academy's chief executive, Dawn Hudson, acknowledged that although the academy has reached the diversity goals it set for itself four years ago, its work is far from finished.
"We take great pride in the strides we have made in exceeding our initial inclusion goals set back in 2016, but acknowledge the road ahead is a long one," Hudson said in a statement. "We look forward to continuing to foster an academy that reflects the world around us in our membership, our programs, our new Museum, and in our awards."
The full list of academy invitees can be found here.
Get the Indie Focus newsletter, Mark Olsen's weekly guide to the world of cinema.
You may occasionally receive promotional content from the Los Angeles Times.