This year, we didn't go to the Toronto International Film Festival — the Toronto International Film Festival came to us. In the midst of the COVID-19 global pandemic, TIFF has gone largely virtual. There have been some events and screenings occurring in Canada for those locals able to attend, but the vast majority of its programming also has been available online for press, industry and — in some cases — the general public. It ends Saturday.
TIFF isn't the first festival to wade into the brave new world of virtual events, but it is arguably the biggest to do so to date. This is a festival that has positioned itself as an essential stop for fall films destined for awards season, and typically The Times is on the ground covering the action in as much detail as possible, photographing stars and handicapping Oscar odds.
We went lighter on coverage for the festival's slimmed down 2020 edition, but were pleased to discover there were still great films to see — this time from the comfort and safety of our own homes. And the good news for movie lovers is that those films are also destined to make their way into the world soon enough.
The following is a selection of our staff's TIFF 2020 favorites. Whatever way you may see these films in the future (at a theater or a drive-in, on a streaming service, a pop-up screen in a friend's backyard ...) they've earned our endorsement.
'76 Days'
We're sure to see many films about the horrors of the COVID-19 pandemic over the years to come, but as one of the first to emerge, the documentary "76 Days" feels like essential viewing in beginning to process and reflect on how humanity has faced one of its greatest challenges yet. The scope here is limited to a handful of hospitals in the epicenter of Wuhan, China, and the team of directors adopt a cinema vérité style devoid of much in the way of context, analysis and politics. Instead viewers are thrust head-first into the chaotic daily existence of medical personnel trying to manage the unmanageable, and a select few patients who illuminate the humanity — the lives — we don't see just by looking at the staggering numbers of those infected with, and those who have died of, this novel coronavirus. — Geoff Berkshire
'Ammonite'
Kate Winslet and Saoirse Ronan give powerfully understated performances in filmmaker Francis Lee's second feature, "Ammonite." While not a biopic, the story is nevertheless a fictionalized tale about real people, as noted paleontologist Mary Anning (Winslet) spends her time working alone on the English seaside of the mid-1800s, her solitude pierced when the grieving Charlotte Murchison (Ronan) is left in Anning's care. The flame of attraction that ignites between them burns slow and hot. Like the enigmatic, windswept drama of a song by Kate Bush or PJ Harvey, "Ammonite" is a romance for the ages. — Mark Olsen
'Beans'
A skillful blend of socially-conscious drama and coming-of-age story, "Beans" draws from the experiences of writer-director Tracey Deer as she was growing up and as a witness to the 1990 Oka Crisis, a three-month standoff over Mohawk land in Quebec, Canada. Deer combines the intimately personal with a broader sense of political vision, while as the lead character — a 12-year-old known as Beans — young actress Kiawentiio depicts a transformation from buoyant innocence to hard-learned wisdom. — Mark Olsen
'David Byrne's American Utopia'
At last, a movie to silence anyone who thinks every documentary has too many talking heads. Spike Lee's thrilling film of Byrne's 2019-premiered Broadway concert spectacular is a blast of pure joy, so overflowing with sheer, improbable hope that I wouldn't mind watching it every day between now and November. It launched this year's festival on a high note and will be available Oct. 17 on HBO Max. — Justin Chang
'The Disciple'
The Indian director Chaitanya Tamhane follows his remarkable 2014 debut feature, "Court," with this enveloping, beautifully composed drama about a young Hindustani singer (Aditya Modak) who longs to join the ranks of the greats — an aspiration that requires intense technical and spiritual commitment. Quite apart from its welcome immersion in a rigorous musical form, this is a deeply stirring, bruisingly honest movie about devotion, mentorship, jealousy, failure and what it takes to pursue an artistic calling in an indifferent world. — Justin Chang
'Enemies of the State'
Somewhere at the confluence of conspiracy theories and political activism lies the strange case of Matt DeHart, a young man with connections to Anonymous and Wikileaks who became a cause célèbre when he was sent to prison in the U.S. nominally on charges involving child pornography. Was he set up by the government, afraid of — or angered by — the classified information he allegedly possessed and might release? Was he a victim of the political agendas of his own parents — both former U.S. military personnel? Or was he a savvy manipulator of the media and the dark web who went too far? What makes Sonia Kennebeck's gripping, endlessly slippery documentary so hard to shake are the answers we do and don't get, and the questions that linger about our own abilities to trust what we see, what we read and what we hear in an era of weaponized disinformation. — Geoff Berkshire
'I Am Greta'
For the generation of teenagers growing up with TikTok, gaining worldwide recognition at 15 might seem like the ultimate payoff. But "I Am Greta," a documentary about climate activist Greta Thunberg, paints a different picture of life in the global spotlight. The film, directed by Nathan Grossman, trails Thunberg from the moment she began striking on behalf of the environment, skipping school to sit outside the Swedish parliament with a handmade poster. As news outlets take notice, she's invited to hobnob with top government officials and speak in front of crowds of thousands. The film, set to hit Hulu in November, depicts how difficult these moments actually were for Thunberg — from managing her Asperger's syndrome while fielding selfie requests to weathering a choppy boat journey from Europe to the U.S. in an effort to remain true to her morals. — Amy Kaufman
'I Care a Lot'
Written and directed by J Blakeson, the playfully wicked "I Care A Lot" follows a woman (Rosamund Pike) who unscrupulously profits from taking advantage of the elderly, until a woman she thought was an easy target (Dianne Wiest) puts her afoul of a vicious crime lord (Peter Dinklage). There are moments in this darkly comedic thriller when you'll be surprised by who you find yourself rooting for, as the story is full of terrible people behaving in appalling ways who still somehow remain tenderly human. — Mark Olsen
'MLK/FBI'
Those who oppose #BlackLivesMatter and other anti-racist protest movements are often fond of using Dr. Martin Luther King Jr. as a rhetorical cudgel, perpetuating the myth that he was universally beloved in his day for his commitment to nonviolent resistance. Sam Pollard's troubling, beautifully assembled archival documentary (which was acquired during the festival by IFC Films) offers a vital rebuke to this line of non-thinking: It reminds us just how far the J. Edgar Hoover-led FBI was willing to go to shame a civil rights icon and discredit his great work, a work that has never ceased and never will. — Justin Chang
'Nomadland'
Chloé Zhao says she doesn't make political movies. Fair enough. But her latest, "Nomadland," feels like an intimate, empathetic excavation of modern-day America and its crumbling social structures. That makes it sound bleak, but that's hardly the case. Following a widow (a sublime Frances McDormand) who takes to the road after her factory town is erased from the map, Zhao's gorgeously shot movie takes us on a spiritual journey centered on community and compassion. "Nomadland" just won the Golden Lion, the Venice Film Festival's top prize, the first of what will be an array of honors for this profound film. — Glenn Whipp
'One Night in Miami'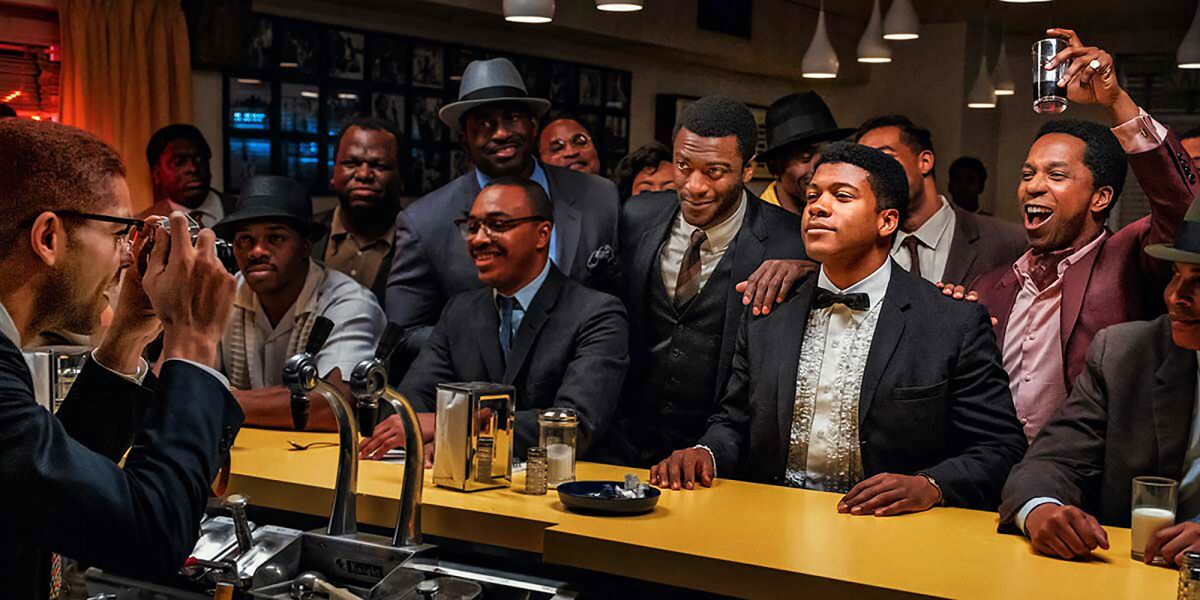 It's a tall order for any movie to bring a historical icon back down to human scale, let alone four giants in one film. But that's the challenge Oscar- and Emmy-winning actress Regina King tackles in her feature directorial debut, based on the play by Kemp Powers. The Amazon release vividly imagines what happened when Cassius Clay (soon to become Muhammad Ali), Jim Brown, Sam Cooke and Malcolm X spent a night in 1964 hanging out in and around a Miami hotel room. They joke, they bicker, they debate, they ponder the future — and King lovingly soaks up every moment of her four ace actors (Eli Goree as Clay, Aldis Hodge as Brown, Kingsley Ben-Adir as X and a standout Leslie Odom Jr. as Cooke) embodying the men who would leave lasting marks on the world. — Geoff Berkshire
'Pieces of a Woman'
First things first: "Pieces of a Woman," Hungarian director Kórnel Mundruczó's English-language debut, opens with some character introductions and then quickly moves to a 23-minute, single-take childbirth scene that will be analyzed at film schools for years to come. But that startling sequence isn't why you should see "Pieces of a Woman," which Netflix just bought at the Venice Film Festival. The film belongs to Vanessa Kirby ("The Crown"), delivering a finely detailed performance as a woman forced to confront conflicting feelings toward her immeasurable grief. The rest of the cast — Ellen Burstyn, Shia LaBeouf, Molly Parker, Sarah Snook and Benny Safdie — is superb too, all of them lending support to a film that understands that there's no right way to process the unspeakable. — Glenn Whipp
'Quo Vadis, Aida?'
Giving one of the great pressure-cooker performances in recent memory, actress Jasna Đuričić anchors the harrowing "Quo Vadis, Aida?" as a translator trying desperately to save her family as the Army of Republika Srpska descends upon 30,000 refugees sheltering on a U.N. base during the Bosnian War. In her fifth feature, "Grbavica" filmmaker Jasmila Žbanić weaves compelling fiction into the threads of a difficult and tragic history, situating her protagonist adjacent to the mass murders of more than 8,000 Bosniak men and boys that would later become known as the Srebrenica genocide. Đuričić masterfully carries the weight of Aida's impossible choices into every spare moment, in a finely-tuned turn that becomes absolutely wrenching by film's end. — Jen Yamato
'Wolfwalkers'
This family-friendly riff on lycanthropy legend from the endlessly imaginative Irish animator Tomm Moore ("The Secret of Kells," "Song of the Sea"), teaming this time with co-director Ross Stewart, is his most captivating and visually unbridled work. It's also a sharp 17th century political parable, a tender story of father-daughter (and mother-daughter) love and a mosaic that feels both ancient and modern, assembled from images that positively revel in their hand-drawn majesty. — Justin Chang
---