Robert Downey Sr., actor, filmmaker and father of Robert Downey Jr., dies at 85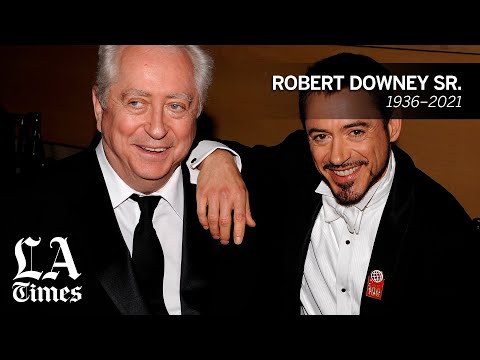 Robert Downey Jr. confirmed the death of his father, actor and director Robert Downey Sr., with a heartfelt Instagram tribute.
Robert Downey Sr., a director and actor known for subversive comedies and roles in "To Live and Die in L.A." and "Boogie Nights," died Tuesday evening at age 85.
His son, "Iron Man" star Robert Downey Jr., confirmed his death Wednesday morning with a heartfelt Instagram tribute to the "maverick filmmaker," who helmed several projects. Among them were his 1964 feature directorial debut, "Babo 73," as well as "Putney Swope," "Too Much Sun" and a few episodes of the mid-1980s "Twilight Zone" revival.
"Last night, dad passed peacefully in his sleep after years of enduring the ravages of Parkinson's [disease]," Downey Jr. wrote on social media.
"He ... remained remarkably optimistic throughout [his illness]. According to my stepmoms calculations, they were happily married for just over 2000 years."
As its annual fundraiser this year, the Cinefamily has organized a series of events under the banner "Truth and Soul, Inc.: The films of Robert Downey, Sr.
Downey Jr.'s statement also included condolences to his stepmother Rosemary Rogers, whom he hailed as a "saint."
"Our thoughts and prayers are with you," he said.
Born in 1936 in Manhattan, Downey Sr. launched his directing career with three experimental comedy films — "Babo 73," followed by 1966's "Chafed Elbows" and 1968's "No More Excuses" — all of which clocked in at about an hour long.
Film critic Andy Klein once described Downey Sr.'s early career entries as consisting of "Groucho Marx-style dialogue, Richard Lester visual humor and a little too much sexual content" that provided "a welcome relief" to the mainstream.
"I've always talked about Robert Downey Sr., and I've made it no secret that I just … idolize him," said director Paul Thomas Anderson at a 2014 event honoring the film veteran.
"He just never seemed to give a [damn]. And quite simply, that is really cool."
Back in the late '60s when Robert Downey Jr.was a toddler, his filmmaker father could get away with signing his movies "Robert Downey (a prince)."
Downey Sr.'s breakthrough came in 1969 with "Putney Swope," which he also wrote and produced. The avant-garde satire — starring Arnold Johnson as the only Black man on the board of a Madison Avenue advertising agency who, to his condescending white colleagues' astonishment, is suddenly elected chairman — remains his most beloved title.
He followed the boundary-pushing success of "Putney Swope" with 1970's "Pound" and 1972's "Greaser's Palace," a cult-favorite acid western starring Allan Arbus as a proxy for Jesus Christ navigating New Mexico.
"He was always making you laugh, and that was really his concern," Anderson said in 2014.
"That's the beauty of those things. Or to make a film that feels as political as 'Putney Swope' but really have it be a flat-out comedy. And that's everybody's dream, isn't it? To be able to operate at that level."
Robert Downey Sr., who made "Putney Swope," the irreverent cult comedy about Madison Avenue in 1969, is up to old tricks in CineTel's "Too Much Sun," a black comedy about sex, greed and religion he wrote with Laura Ernst and Al Schwartz.
Less warmly received were some of his later works, such as 1990's "Too Much Sun," which starred Downey Jr. and drew scorn from Times film reviewer Kevin Thomas, who argued that the family romp "dips into such ugly, and old-fashioned, stereotypes as gay men as pedophiles."
Downey Sr.'s final feature was 2005's "Rittenhouse Square," a documentary centering on a public park in Philadelphia.
In the acting realm, the elder Downey made his big-screen debut in his own "No More Excuses" as a Civil War soldier who time-travels to 1968 New York City.
He later appeared in a smattering of movies and TV series, including "To Live and Die in L.A." and "Boogie Nights," as well as "Tower Heist" and "Magnolia."
With the family film "Dolittle," Robert Downey Jr. and his producing partner and wife, Susan, enter a new post-Marvel chapter.
Downey Jr. got his start acting in a number of his father's films, such as "Pound," "Greaser's Palace" and "Up the Academy."
Downey Sr.'s daughter, Allyson Downey, also acted alongside Downey Jr. in a couple of their father's productions.
The filmmaker welcomed both of his children during his first marriage to fellow actor Elsie Ford. He later wed screenwriter Laura Ernst before his third and final marriage to Rogers in 1998.
"You're not just trying to fit the storytelling on the screen, you're trying to do something a little bit different," Downey Jr. said in 2014 of Downey Sr.'s approach to filmmaking.
"Dad definitely always had a vision for what he was doing, but he was always seeking those weird little forays into other things, which ended up being what people remember from the movie."
Get our L.A. Goes Out newsletter, with the week's best events, to help you explore and experience our city.
You may occasionally receive promotional content from the Los Angeles Times.