Ballet at the Broad, St. Patrick's Day festivities and movie music will make your week complete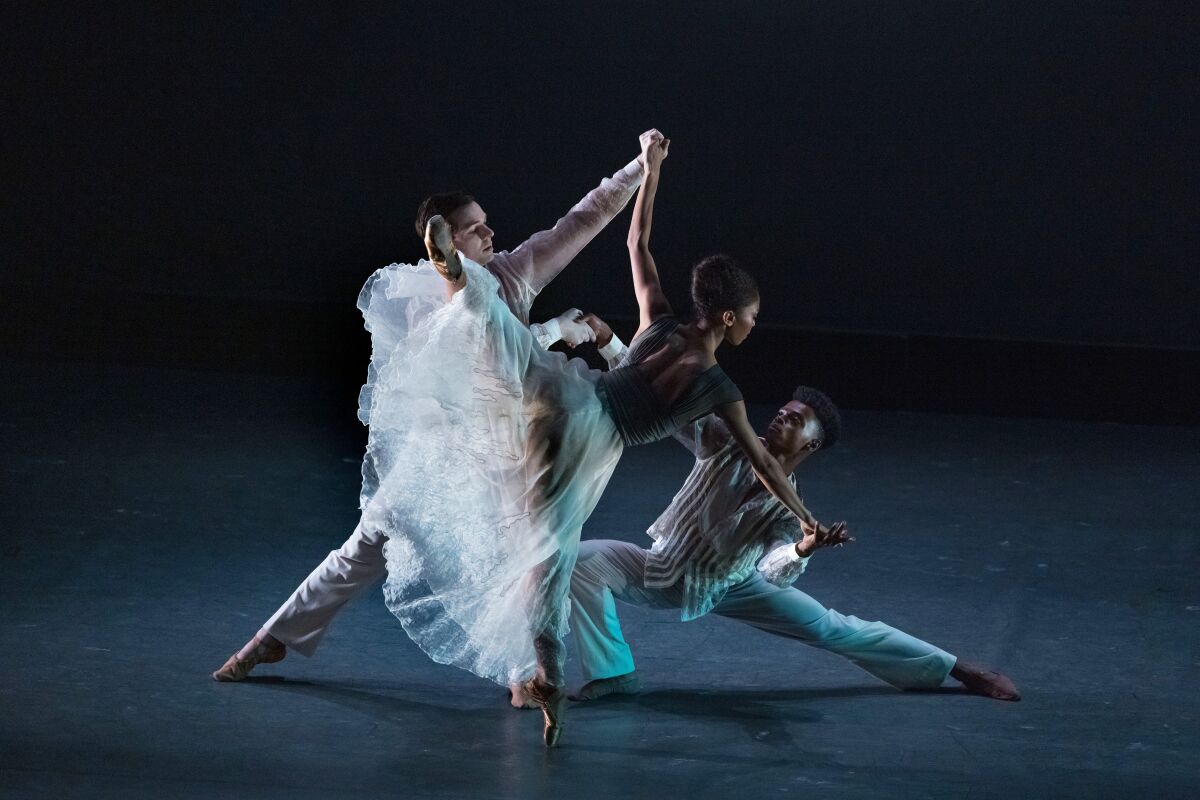 ICYMI "Everything Everywhere All at Once" triumphed at the Oscars this weekend. I experienced a roller coaster of emotions between Ke Huy Quan and Michelle Yeoh's heart-wrenching acceptance speeches. For a full rundown of the night's big wins, check out our coverage. I'm Steven Vargas, your L.A. Goes Out host, and here are the top events for this upcoming weekend recommended by the crew (sign up here for the newsletter):
Weekly Countdown
1. 'An Evening of Christopher Wheeldon'
Christopher Wheeldon's work is making its way to the Broad Stage in Santa Monica. The renowned New York City Ballet choreographer is presenting three of his pieces with the Los Angeles Ballet: "Ghosts," which shares the story of passengers of a ship lost at sea; "Fool's Paradise," a work inspired by William Shakespeare's "A Midsummer Night's Dream"; and "Morphoses," an athletic feat of movement. Wheeldon was named NYCB's first resident choreographer in 2001 and won Tony Awards for choreographing "An American in Paris" and "MJ The Musical." Performances are at 7:30 p.m. Thursday and Friday and tickets are $76 to $137. More details on LAB's website.
Get our L.A. Goes Out newsletter, with the week's best events, to help you explore and experience our city.
You may occasionally receive promotional content from the Los Angeles Times.
2. 'Robert Russell: Porzellan Manufaktur Allach'
Anat Ebgi gallery in East Hollywood has a new exhibit filled with paintings of porcelain tchotchkes, ranging from bunnies to puppies. However, there is more to these innocent and vibrant large-scale paintings. Robert Russell's latest exhibit, "Porzellan Manufaktur Allach," documents the porcelain figurines produced by forced labor in Nazi concentration camps and factories like Allach Porcelain Manufacturing Co. The Times' Deborah Vankin recommends this show: "Robert Russell's gigantic, haunting but still beautiful paintings illuminate a dark, little-known historical narrative." For more from the artist and exhibition, read Vankin's recent coverage. The gallery is free and open from 10 a.m. to 5 p.m. Tuesday through Saturday; details on the exhibition can be found on Anat Egbi's website.
3. 'Twilight: Los Angeles, 1992'
A reimagined look at "Twilight: Los Angeles, 1992" takes the Mark Taper Forum stage in downtown L.A. The piece follows the five days of uprisings after the Rodney King verdict. The show itself is a culmination of over 300 interviews that investigate the impacts of police brutality. And while the show began as a way to bring light to the issue decades ago, police brutality continues today. The Times' Erika D. Smith writes about the repeated history in her column and Lisa Fung shares more about the show in her interview with playwright Anna Deavere Smith and director Gregg Daniel. This recommendation from Times theater critic Charles McNulty runs through April 9. Tickets are $35 to $120 and can be found on Center Theatre Group's website.
4. Charles Lloyd 85th Birthday Celebration
The tenor saxophonist and flutist is turning 85 and the Soraya has big celebration plans. The theater at Cal State Northridge will feature performances by Lloyd and his two trios, one with Gerald Clayton and Anthony Wilson, and the other with Bill Frisell and Larry Grenadier. This recommendation comes from Times classical music critic Mark Swed. Lloyd has apprenticed with legends including Phineas Newborn and Howlin' Wolf. More recently, he released a series of albums in 2022 as part of his "Trio of Trios" project in which he performs in various trio settings. The event at the Soraya is at 8 p.m. Saturday and tickets are $36 to $86. Further details can be found on the theater's website.
5. 'The Hilton Als Series: Njideka Akunyili Crosby'
The Huntington Library, Art Museum, and Botanical Gardens in San Marino has been home to an ongoing series of exhibitions organized by Pulitzer Prize-winning author and critic Hilton Als since 2019. The series is coming to an end with its third and final exhibition at the Huntington Art Gallery, "The Hilton Als Series: Njideka Akunyili Crosby." The exhibit features large-scale collage portraits of Nigerian children inspired by Ayi Kwei Armah's 1968 novel, "The Beautyful Ones Are Not Yet Born." This recommendation comes from Times art and design columnist Carolina Miranda, who explains, "The portrait is just the beginning since her paintings contain layer upon layer of imagery harvested from photographs and mass media, placing the figures of children within much larger currents of political, social and aesthetic history." Tickets to the Huntington are $13 to $29; entry is free for members and children. The venue is open 10 a.m. to 5 p.m. daily except Tuesday, and you can view the exhibition through June 12. More details can be found on the Huntington's website.
Bonus round: 'Speaking in Gabrielino + Patrisse Cullors'
The Broad's "William Kentridge: In Praise of Shadows" continues its special programming this month with "Speaking in Gabrielino + Patrisse Cullors." The performances spotlight the effects of colonialism on Black, Indigenous and other communities of color. The evening of performances at the downtown L.A. gallery begins with a show by Tongva artists Lazaro Arvizu Jr. and Virginia Carmelo, plus additional guests. In this portion of the evening, performers share the original native tongue of the Indigenous Angelenos in a dialogue that brings awareness to the loss of languages due to colonialism. Cullors follows with a commissioned performance titled "Don't Disappear Us / Keep us Leaping / Low Riders and Bonnets that Heal" about how right-wing media has affected Black people and leaders through misinformation. The double feature is from 7:30 to 9 p.m. Saturday and tickets are $20. Details and more information can be found on the Broad's website.
Your L.A. weekend, all mapped out
For a more comprehensive roundup of exhibitions, concerts, screenings, festivals and other events, check out Matt Cooper's Culture Guide. The mapped list is a go-to for those who make plans based on the commute, and it also can be filtered by event type and price.
On my mind
On Friday, I went to see Douglas Tausik Ryder's "Your Myth Here" exhibition at PRJCTLA in downtown L.A. Upon entering the space, I was greeted by five massive wood pieces. First up is "Ryder Venus," a circular sculpture that represents innocence. Inspired by his wife's pregnancy, Ryder created a hollow, acoustic space in the middle of a wooden form. Inside, the sound is sharp and strong to the ear. When you step out, the remaining pieces are sectioned off with AI-created distortions of mass media. Traversing the gallery space and landing on the final piece, "A Window Gone in the Subconscious," I started to fully understand how Ryder's interpretation of mass media revolved around a female figure. In the piece, a wooden sculpture of a woman is seen walking into a concave enclosure filled with AI-developed images of mass media. The faces are distorted and uncanny. There is something off, even if it is subtle.
Ryder's exhibition is a thought-provoking examination of the social myths created by mass media, focusing especially on the body image of women. Pieces like "Masterpiece of Sentimental Vulgarity" are directly inspired by advertisements directed at women, portraying an ideal or aspiration of the "perfect image." Ryder told me he noticed how starkly different the environment was after moving to the English countryside. He wasn't bombarded by advertisements and media the way he was in the U.S. It made me think about the weight we give to social media, advertisements and a false sense of glamour in America. We drive down Sunset Boulevard and see billboards of models and the idea of the "perfect body"; we are consuming these images everywhere we go. As the years pass, those images distort — like in the AI-generated images in the exhibit — and soon the concept of beauty feels unattainable. So much so, AI could barely make out a face.
Insights: The arts happenings of St. Patrick's Day
Friday is St. Patrick's Day! While the primary way to celebrate is with a pint of beer, there are quite a few arts happenings in the city to add an extra layer of fun to the Irish holiday. Here are a few places to start:

The Penmar Golf Course is hosting a big St. Patrick's Day party, "Festival on the Green." The party takes place from 2 to 11 p.m. Friday and includes a green beer garden, live music, food and drinks, costume contests, face painting and even a special bagpipe performance by the City of Angels Pipe Band. Tickets are $20 to $55 and can be purchased on Eventbrite.
Big Bag Entertainment presents "A Trip to Garden Grove," a music festival at Garden Amp to celebrate St. Paddy's Day. Performers include Long Beach Dub All-Stars, Capitol Eye, Jakob Nowell, DJ Product and more! Tickets are $35 and the show starts at 5:30 p.m. Friday. More details can be found on the event's website.
The Original Farmers Market in Fairfax will be embracing the holiday with authentic Irish food, green beer and live music, including a strolling bagpiper from 12:30 to 3:30 p.m. Friday. Learn more about all the festivities happening until 7 p.m. on the market's website.
Go out speed round
Go out before it closes: Carrie Mae Smith's exhibition "Four Plates and Four Forks" is nearing the end of its time at Lowell Ryan Projects in Mid-City. The exhibit features a series of small-scale oil paintings of cutlery, china, cuts of meat, pastries and domestic interiors that investigate the social and historical implications of the items displayed. The show ends Saturday and the free gallery is open 11 a.m. to 6 p.m. Tuesday through Saturday. For more details, check out the gallery's website.
Go out and learn: Do you know who Raven Wilkinson is? Wilkinson is credited as the first African American woman to dance for a major classical ballet company, joining Ballet Russe de Monte Carlo in 1955 as a full-time dancer. If you want to learn more about Wilkinson and her accomplishments, City Ballet of Los Angeles founder and artistic director Robyn Gardenhire and UC Irvine dance historian Ariyan Johnson are leading a talk and performance program at the Ebell of Los Angeles. The Sunday event is from 4 to 7:30 p.m. and tickets cost up to $25. Details can be found on Eventbrite.
Go out with the kids: In honor of Women's History Month, the California African American Museum in Exposition Park will be hosting a zine and collage workshop for kids, dedicated to celebrating Black women artists. The free event led by educators from Able ARTS Work is from 2 to 3 p.m. Saturday. Make sure to RSVP beforehand and bring collage materials to create the zine of your dreams.
Go out on a date: For all my cinephiles who love to cozy up with their significant other and watch a flick, this event makes for the perfect date night on the town. L.A. Phil presents "The Movie Music of Spike Lee & Terence Blanchard" at 8 p.m. Saturday. Blanchard's quintet and guest vocalists bring the music of Lee's movies to life right in front of you. Tickets to the event at Walt Disney Concert Hall in downtown L.A. are $49 to $140 and can be found on L.A. Phil's website.
Go out and wander: Get lost in this dreamy, immersive world at 333 Gallery in downtown L.A. "Subterranean Forest" features a sensorium of play with sound bowls, games and watercolors. It's the perfect place to wander, meditate and destress. Tickets are $18 and the exhibit is open 10 a.m. to 8 p.m. daily. For more information, check out the event on Fever.
Go out all day: Grab your besties and your tote bags and head over to the Industry Loft Hollywood for the Alphabet Market, where you'll find a curated selection of local LGBTQ vendors. There will be food, drinks, photo ops, performances, giveaways and more. Details can be found on No Better Events' website.
Go out for free: Subliminal Projects' latest exhibition, "Visual Language: The Art of Protest," is a powerful group show that explores the relationship between art and activism. Artists with work on display include Andrea Bowers, Emory Douglas and Awanle Ayiboro Hawa Ali. The show at the free Echo Park gallery runs through March 25, and is open noon to 6 p.m. Thursday through Saturday. More details can be found on Subliminal Projects' website.
Go out all night: Knitting Factory in North Hollywood presents Femcore Fest at 8 p.m. Saturday. The all-night event features performances from up-and-coming female musicians, including Cloe Wilder, EMM, Phenix Red and Casey Tutton. Tickets are $15 and details can be found on Knitting Factory's website.
Go out for an artsy flick: REDCAT and Art21 present new film "Charles Gaines: Systems & Structures," which chronicles the creative process of the L.A.-based artist. And FYI, Gaines was just honored at the Gala in the Garden at the Hammer Museum in October. This free event will take you into Gaines' mind to get an intimate understanding of the influential artist. The event is at 7 p.m. Saturday at REDCAT in downtown L.A. Details and RSVP information can be found on the theater's website
More from the crew here
If you're a tennis fan or just want to try something new, try out these 15 L.A. tennis courts.
It's spring break season for students! Here are 11 perfect California road trips to take for the week off.
"Everything Everywhere All at Once" ... more like everything bagels everywhere all at once. Check out these top bagel spots.
I don't know about y'all but it's been a ROUGH month so far. If you need to let out a good scream like me, stop by these shout-worthy L.A. spots.
I'm all ears!
That's all I've got for this week. Follow our feed of recommendations and itineraries on Instagram and Twitter, and if you have recs of your own, send them to steven.vargas@latimes.com.
Get our L.A. Goes Out newsletter, with the week's best events, to help you explore and experience our city.
You may occasionally receive promotional content from the Los Angeles Times.