To venture out in Southern California during the COVID-19 pandemic is to encounter a landscape dressed in an unfamiliar coat. Freeways bear unimaginably light traffic. Playgrounds are wrapped in caution tape. The simple act of picking up a loaf of bread at the supermarket is now a dystopic obstacle course of Plexiglas shields, social distancing markers and masked shoppers circling one another like repellent magnets.
Public space is not a place in which to gather, but something to be surmounted instead.
However, in Los Angeles, a city where public space can often be an elusive proposition, there are bubbles of normalcy. And some of that normalcy can be found at the drive-through.
On a recent Friday morning, most of the businesses along Olympic Boulevard in East L.A. remained shuttered due to the governor's safer-at-home order. But the drive-through at McDonald's at Eastern Avenue had a line more than half a dozen cars deep.
The following Saturday, a trip to the In-N-Out on Lankershim Boulevard in North Hollywood revealed a drive-through line that not only went down the block but that also wrapped around it. The pandemic may have reduced drive times, but not the wait for a Double-Double (which seems to have doubled).
And on an especially sleepy Sunday, there was a steady stream of customers at the Donut Hole in La Puente, the historic shop where you drive through a pair of architectural doughnuts to pick up crullers and hot coffee.
Before the coronavirus crisis, the drive-through had been fast losing status, often deployed as a symbol of obesity and the worst of car-dependent urban design. In many cities, it had been subject to outright bans. The drive-in, meanwhile, is nearly extinct, with just a few still operating in Southern California.
But during the pandemic, drive-throughs have become a weird sort of societal glue. And the drive-in has been reconsidered. Cities that have shut down bars, dine-in restaurants and indoor movie theaters have allowed drive-throughs and some drive-ins to continue to operate.
Their architectural standoffish-ness, in which vendor and client interact largely via speaker and remain in their own environments during an entire transaction, is designed to prioritize efficiency and minimize human exchange. They are the socially distant design we've been living with all along.
And right now, says Adam Chandler, author of the 2019 book "Drive-Thru Dreams: A Journey Through the Heart of America's Fast-Food Kingdom," they represent "a sense of normalcy."
"Going through the Jack In The Box drive-through and getting the tacos or going to In-N-Out and getting a burger animal-style — that's the most normal thing you can do in America," he adds. "So to be able to do that at a time in which everything else has changed, it's incredibly meaningful."
It's also incredibly practical.
Businesses that once would have never dreamed of serving customers in their cars — be it labs testing for the presence of the virus or fine dining establishments plying high-grade sushi and heirloom beans — are now taking a cue from curbside service long offered by Langer's Deli and improvising drive-in and drive-through models. Earlier this month, I pulled up to a side street in downtown L.A.'s Fashion District, where I dialed a number, popped open my trunk and waited for a masked worker from Rossoblu to deposit a lasagna and a bottle of Barbera in my trunk. In less than two minutes, I was gone.
But many of these latter situations still evoke the surreal, disorienting nature of the pandemic.
It's been the workaday drive-throughs — the ones in which you shout at a menu board and pray that you'll receive something resembling your order at the other end — that have provided a respite from the grind of the pandemic, moments of banal ordinariness that feel especially meaningful at a time in which ordinariness has been completely upended.
They are also meaningful to small businesses (not all drive-throughs are operated by chains) that are surviving thanks to their drive-through.
Bill Addison talks through his decision to continue covering L.A. restaurants for takeout and delivery
G.E. Chano's in Lincoln Heights, which sells tacos, burritos and burgers, has been owned and operated by the Escamilla family since 2007. (They are the purveyors of my favorite machaca con huevo burrito in L.A.)
Chano's is an old-timey shack with a drive-through that looks like an afterthought: a menu board with questionable acoustics stands at one end of a bright, mural-clad parking lot; a delivery window that's been carved out from the kitchen stands at the other.
"The drive-through is maintaining us at the moment," says owner Guadalupe Escamilla. "Thank God we are doing OK."
It also gives a bit of solace to the regulars. In the current climate, hitting the drive-through at Chano's feels like visiting an old friend.
Drive-throughs feel familiar because they are, part of the Southern California design landscape for three quarters of a century (a whole century, if you count drive-ins, in which a server brings your order to your parked car).
Chandler says "it's under extreme debate" where exactly the first drive-through restaurant emerged. Two restaurants from the 1940s generally vie for the title: Red's Giant Hamburg, a roadside diner in Springfield, Mo., that catered to motorists on Route 66, and a Los Angeles-area branch of Kirby's Pig Stand, a chain that had been doing drive-in dining for more than two decades in Texas, where it originated, before going full drive-through in SoCal.
Whether or not the drive-through was born in Southern California, it was here that it rose to ubiquity — along with car culture and the freeway system. And it is here that the drive-through has been polished and refined.
Hospitals built in two weeks. Freeways with few cars. Which innovations and changes could, or should, stick with us in a post-coronavirus world?
"Two of the biggest innovators were Jack In The Box and In-N-Out," says Chandler. "Jack In The Box had this speaker board menu with a microphone attached to it. In-N-Out had the first two-way speaker, which is the experience we have now."
Denny Warnick, vice president of operations at In-N-Out (established in Baldwin Park in 1948), says that the early restaurants offered walk-up service but that much of the business revolved around the drive-through. "We did not open our first location with a dining room until 1979."
Fast food technology has now advanced to the point where many restaurants feature menu boards powered by artificial intelligence and screens that confirm your order. It's a critical part of the business, says Chandler: "About 70% of sales at most fast food restaurants usually come through the drive-through."
Over time, the drive-through has been adopted by other businesses too: banks, pharmacies, dry cleaners, dairies and florists. States like California and Colorado now boast drive-through cannabis dispensaries. Others have long had drive-through liquor stores. In Compton, you can find a funeral parlor with drive-through casket viewings.
The drive-in has been just as important.
In "Reyner Banham Loves Los Angeles," the documentary film that accompanied the architecture critic's 1971 book, "Los Angeles: The Architecture of the Four Ecologies," Banham hung out at Tiny Naylor's, a branch of the popular drive-in on Sunset Boulevard.
With him were artist Ed Ruscha and art director Mike Salisbury of West magazine. Together, they sat in a giant Ford convertible eating pineapple sundaes and BLT sandwiches and talking about the architectural monuments that represent L.A. "Any kind of edifice that has to do with the car," says Ruscha.
In 1961, one of California's more unusual drive-ins materialized in Garden Grove: architect Richard Neutra's "walk-in-drive-in" church, designed for televangelist Robert H. Schuller, founder of the Crystal Cathedral. Neutra's innovative building (which you can catch glimpses of in this video) allowed parishioners to listen to Schuller's sermons without leaving their cars.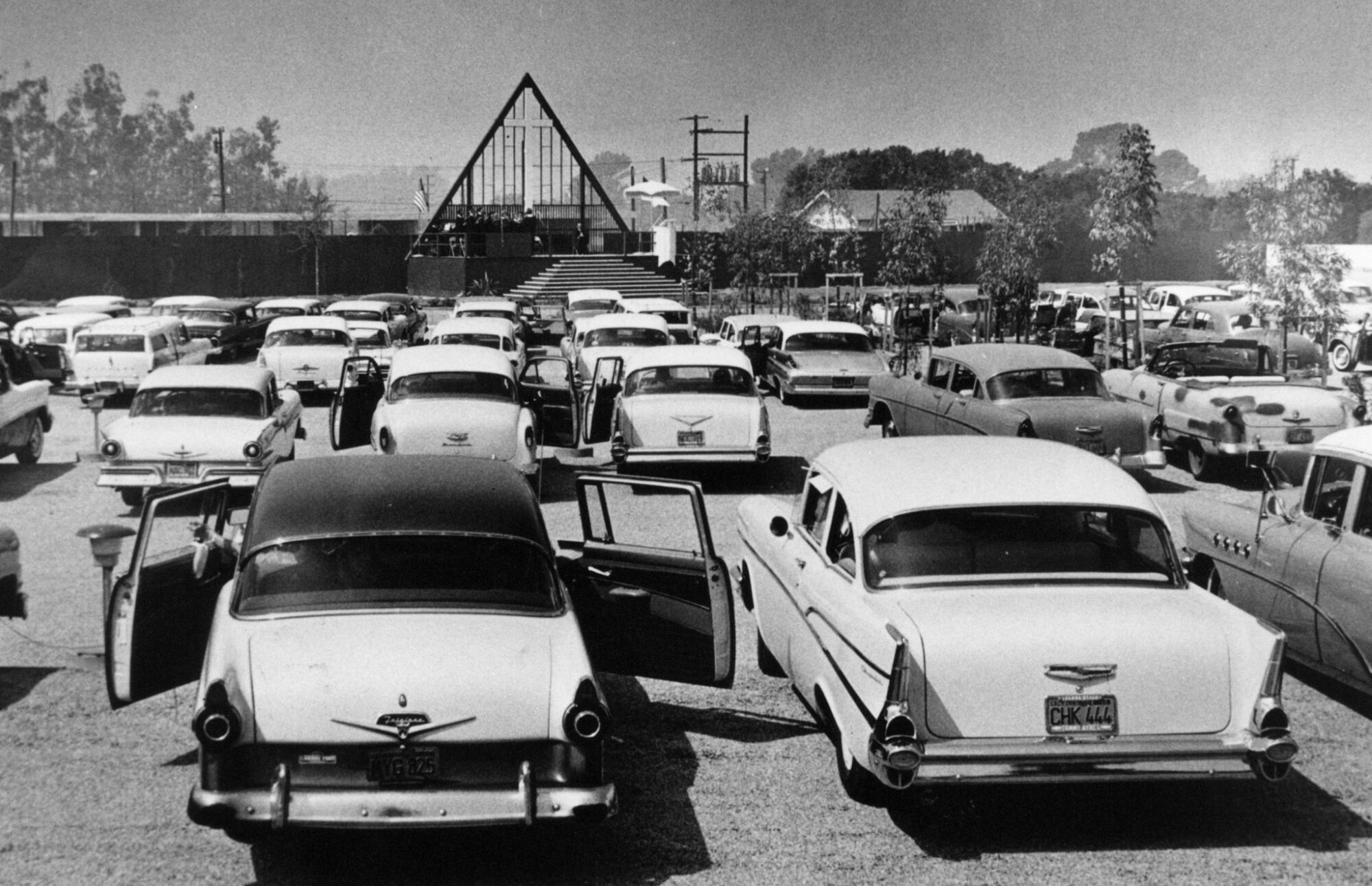 It was a prescient idea: Since the pandemic began, churches around the country have improvised their own drive-in services.
Whether the Roman Catholic Diocese of Orange, which now owns Schuller's complex, will resuscitate the Neutra building for the purpose of drive-in Masses when Southern California emerges from lockdown remains to be seen. (The diocese did not return a request for comment on this story.) But the Rev. Robert A. Schuller, son of the Crystal Cathedral founder, has revived the drive-in ministry that his father pioneered, preaching every Sunday to worshipers in the parking lot of a Santa Ana office complex.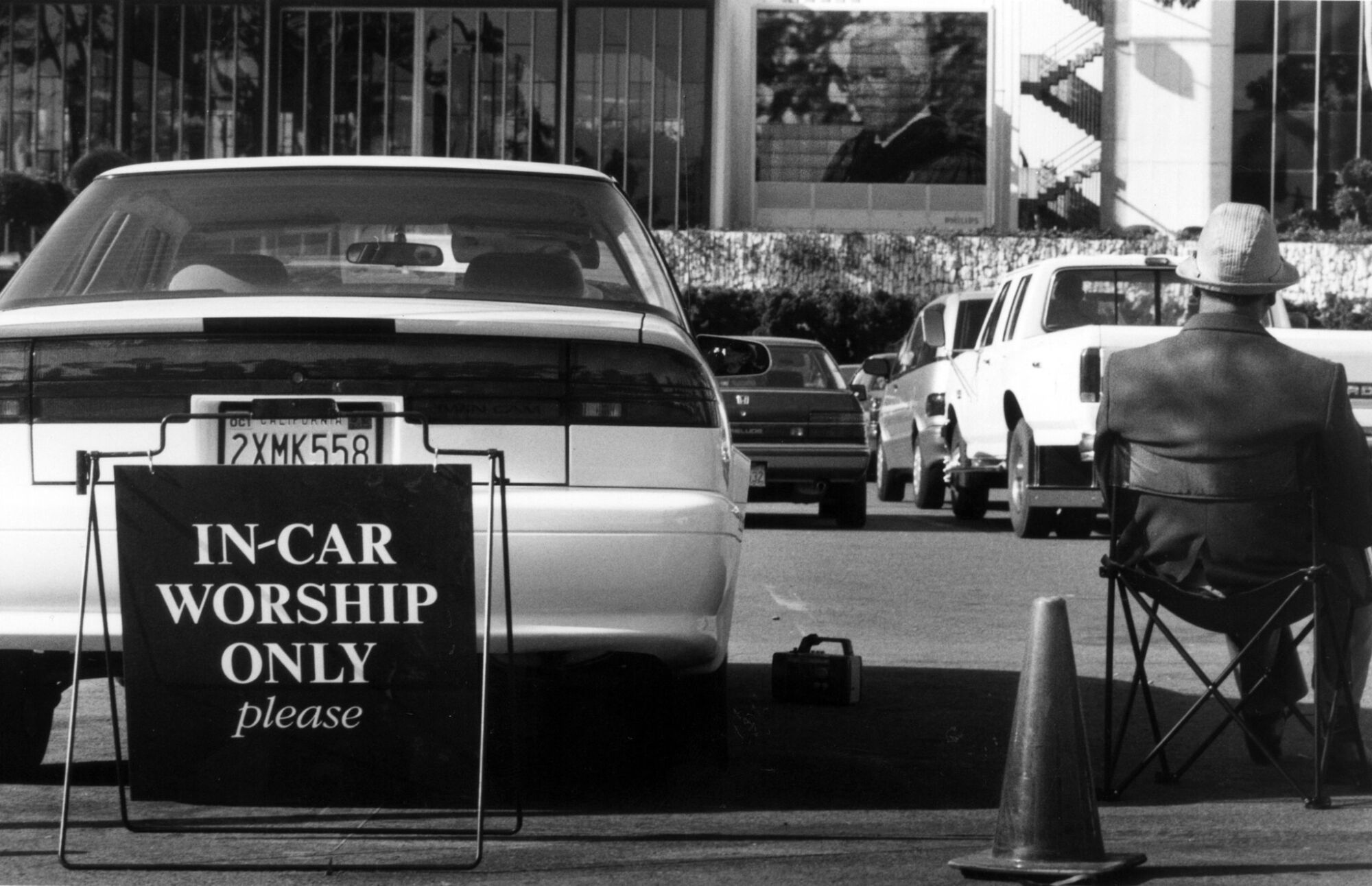 What is certain is that the drive-in concept is making a comeback — at least for the short-term.
IFC Films isn't waiting for movie theaters to reopen to premiere its horror flick "The Wretched." The picture will premiere at select drive-ins (and on streaming services) instead.
In Denmark, pop singer Mads Langer, unable to stage a concert at a traditional music venue, held one at a drive-in instead. Likewise, one of Denmark's soccer teams plans on turning live sporting events into drive-in entertainment by placing large monitors in the stadium's parking lot, where fans can watch the game from the safety of their cars.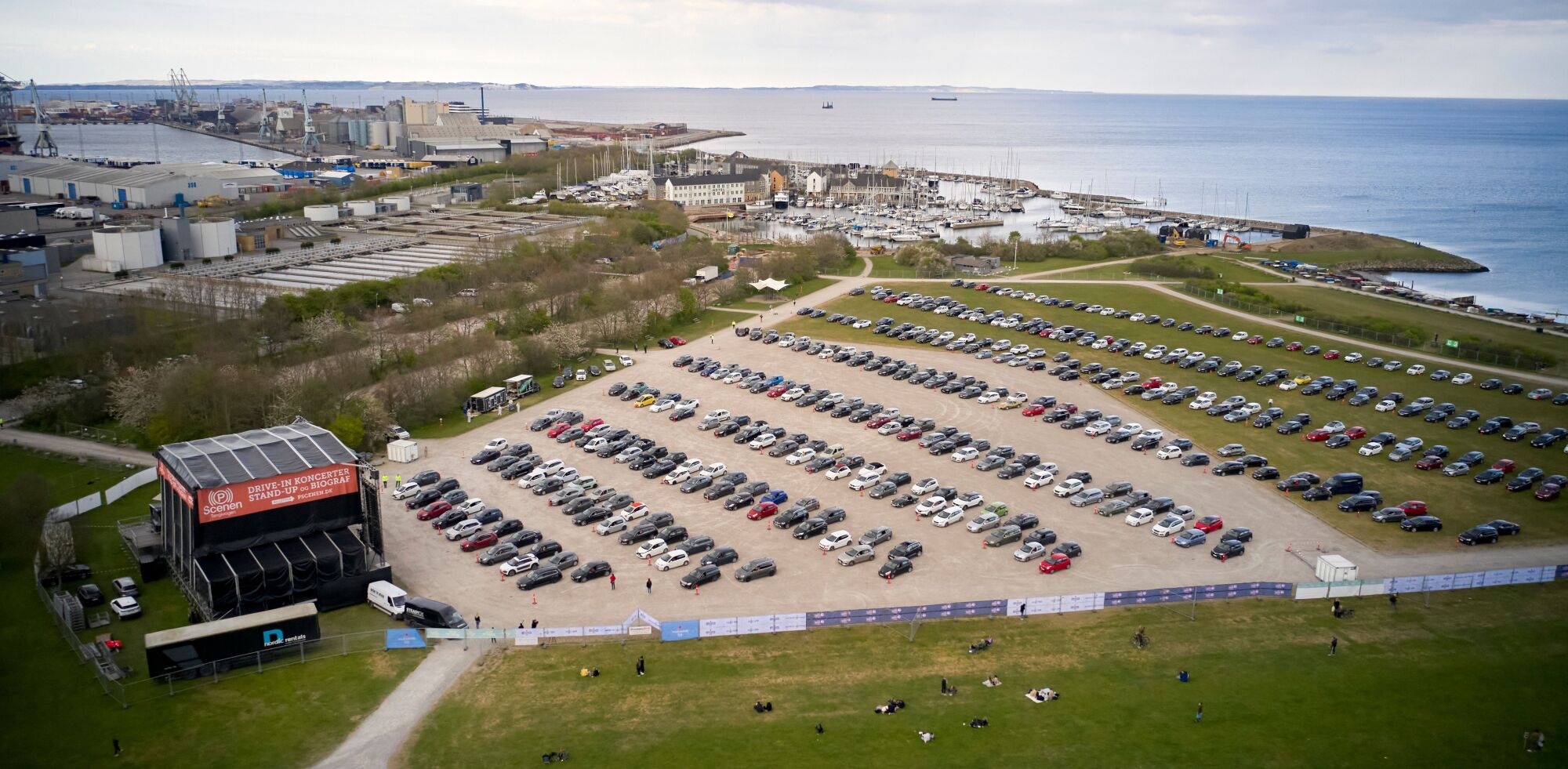 Yuval Sharon, of the experimental opera company the Industry, staged his 2015 opera "Hopscotch" in a fleet of moving cars, placing viewer and singer in close proximity. That would be unthinkable now. But he says the pandemic does have him thinking a lot about the possibility of parking lots.
"There are some beautiful parking lots in L.A.," he says. "And I do think the car, in a way, is an amazing tool — one that has conditioned our view of the city. And it could be a tool to help us try to navigate our re-engagement with live performing arts."
If he were to do an opera in a parking lot, it wouldn't be the first: In 2008, Long Beach Opera staged "The Diary of Anne Frank" in parking garages.
A city in Denmark held a drive-in concert, with a musician playing onstage outdoors and concertgoers listening in their cars. Could this happen in California?
While this journey through the past may be appealing, it's important not to overlook the other, darker phenomena associated with this aspect of our car-centric culture.
Fast food drive-throughs are often powered by poorly remunerated workers who now find themselves attempting to stitch together a living while trying to avoid contagion. Social distancing regulations reveal that our urban design could be more generous with people, in the form of wider sidewalks for pedestrians and narrower streets for cars. And, of course, there are the environmental consequences of all the driving. One of the positive effects of the quarantines have been that cities around the globe now have cleaner air, including Los Angeles.
Over the last several decades, some of these issues have led health advocates and urban planners to subject drive-throughs to increased regulation. San Luis Obispo outlawed them in the early 1980s. In 2019, Minneapolis became the largest city in the United States to ban the construction of new ones. Last summer, Long Beach passed a six-month moratorium on new drive-through construction; in the fall, the city followed up with a new set of guidelines on how and where drive-throughs should and could be built.
"They are not a great use of land," says Christopher Koontz, a planning bureau manager at the Long Beach Department of Development Services. "On a 5,000-square-foot piece of land, you are getting 800 to 900 square feet of building and the rest is taken up by parking and drive aisle. That's fine in some locations, but we are also facing a housing shortage, and can this be a spot where there is another type of construction?"
Plus, they can be a site of accidents. A 2016 story on the urbanism website Citylab, headlined "The Case Against Drive-Throughs," examined how their access points that spill out onto busy thoroughfares can represent a locus for collisions between cars and more vulnerable pedestrians and cyclists.
"If you have a distracted driver or they don't have a clear line of sight, it has the potential to be deadly," Koontz says. "Designed incorrectly, drive-through restaurants can be a hot spot."
There is no herd immunity from the damage caused by millions of personal automobiles roaming city streets at all hours.
Long Beach now recommends placing drive-throughs at freeway-adjacent sites or within larger commercial shopping centers where they can use pre-existing driveways. In addition, site planning guidelines recommend placing the building portion of the business adjacent to a sidewalk for easy pedestrian access.
The point isn't to eliminate them completely, says Koontz. "What we are focused on is how can we design them better?"
As a result of the pandemic, Southern California is rife with improvised drive-ins and drive-throughs. (As I write this, a drive-by birthday salute for an 8-year-old that lives on my block is honking through.) And these may shape urban design for years to come.
"We may see more of this going to store for pick-up, where someone brings things to you," says Koontz. "I think we'll see some of that remain even when the virus recedes."
In the middle of April, I did something I hadn't done since high school: I went to a drive-in movie theater. Specifically, the Mission Tiki in Montclair, where I caught a sunset showing of "Birds of Prey." (The DC Comics franchise is the perfect vehicle for channeling middle-age lady rage.)
The theater is still operational, though it demands that customers park at a distance of 10 feet and watch films from inside their cars.
The drive-in had been scheduled to shut down at the end of this summer, since the 27-acre site was recently acquired by a company that intended to redevelop it as a tech-focused industrial park. (Though the economic crater created by the pandemic could extend the theater's lease on life.)
For now, the Mission Tiki is open for socially distant business. And I for one couldn't be more grateful.
As the sky turned the color of a James Turrell installation, a couple dozen vehicles pulled in to watch Harley Quinn and her lady posse face off against some of Gotham's most entitled bad boys.
It was a communal act for the age of coronavirus — that very strange time in which we climb into our cars to be among other people.
Previous pandemics — smallpox in the Americas, the plague in Europe — reshaped the ways artists worked. How artists are adapting to coronavirus.
Get our L.A. Goes Out newsletter, with the week's best events, to help you explore and experience our city.
You may occasionally receive promotional content from the Los Angeles Times.