Inside a wood paneled room, Chris Hunter sits upright, his hands hovering over a keyboard. About 25 students from the opera company at Los Angeles County High School for the Arts, known as LACHSA, pay heed as the co-director leads them through a typical class warm-up: they stand, inhale deep and let their voices fill the air.
Typical, except they've tuned in via Zoom. Like schools all over the country LACHSA is closed to slow the spread of COVID-19, so instruction is taking place online in students' living rooms, bedrooms or at their dining room tables.
"Anyone want to try that scale?" Hunter asks, leaning into the camera with a smile. Silence.
"I'll do it," volunteers one student in this pre-rehearsal warm-up for an opera that can no longer happen as it was planned, with a full cast of students onstage before a live audience.
Talent shows, art exhibitions, dance competitions, concerts and theater productions that students nationwide had been tirelessly preparing before the pandemic have now been canceled for the school year. As a result, social media has been flooded with students sharing performances with virtual audiences. More than 1.3 million YouTube viewers and 1 million Facebook users watched Chino Hills High chamber singers perform "Over the Rainbow" after their school district's choral festival was called off. Varsity mariachi musicians from Texas' Roma High School individually recorded themselves playing their part of "El Relampago," synchronized the footage and shared it on social media. And young musicians from Alliance Charter Academy in Oregon City, Ore., took their stringed instruments to a mostly empty Times Square after their scheduled performance in Carnegie Hall was canceled.
Yet for the students of LACHSA and other schools that specialize in dance, theater, music, cinematic and visual arts, their lost performances go beyond the disappointment of not being able to share their work with family and friends. The arts, after all, are not electives for them but potential careers.
Estefani Lopez is a junior at the Los Angeles County High School for the Arts. Before the pandemic, she commuted more than three hours from Riverside to East L.A. on a typical day.
ALSO: The life of an aspiring singer at LACHSA on the day coronavirus canceled everything
Performing arts high schools such as LACHSA on the campus of Cal State Los Angeles and Ramón C. Cortines School of Visual and Performing Arts (unofficially called Grand Arts High School) in downtown L.A. have become a pipeline for many to the arts and entertainment world. They provide rigorous, comprehensive training where young creatives develop their talents for a chance to attend elite conservatories, land gigs in Hollywood or realize their dreams of performing on Broadway.
Some 30 shows and performances were thrown into limbo after LACHSA closed in March because of the pandemic, says principal John Lawler. Among them was a "21st century version" of "West Side Story," a production with a budget of more than $80,000 that involved more than 80 people, including 50 cast members, 30 orchestra students, plus a stage manager and backstage crew.
Even if the school had been allowed to reopen in May, Lawler says in a phone interview, "there's no way we're going to get those performances in. It's just not possible."
Even so, Lawler says, "peopleare rising to the occasion, both students and teachers, and in a funny way, this has sort of tapped into their creative spirit because they're coming up with ways to perform and rehearse, and to collaborate, even from these remote locations,"
Students in the visual arts plan to showcase their art on social media and an online gallery. There's talk in the cinematic arts department of kids putting together a documentary of individual footage detailing their lives while they're home. The Opera Company's live "Romeo and Juliet"-inspired show was replaced with a video-recorded performance of "Everybody's Free."
And the musical theater department is currently rehearsing for a virtual version of its big "West Side Story" production. A shortened montage of the musical, prerecorded with green screens from the safety of everyone's homes, will happen May 22.
When LACHSA senior Alondra Santos first found out that she and her peers might have to perform "West Side Story" without an audience, she was heartbroken.
"It not only hit me, but it hit the entire musical theater production hard, just because there were very rigorous auditions for this show," says Santos, who plays the lead role of Maria in the musical romance. "Every single person in this production, the dancers, the vocalists, the leads, the Sharks, we all put so much blood, sweat and tears into this rehearsal time."
Erica Robson, LACHSA's chair of musical theater, affirms the students' hard work and dedication. They began rehearsing a few weekends in October, she says, and by January, they were rehearsing in class three days a week, four hours a day, not counting the extra hours they put in at home.
"We do have quite a few seniors in our show," Robson says, "so we do want some type of performance." For seniors, she adds, it's "very bittersweet. I think it's the hardest time for them, finally getting certain roles that they wanted to play and not getting to do that. I'm sure there's a true sadness for them."
"At the end of the day, you work toward something, and that is your final performance. That is performing in a front of an audience and feeding off their reaction, feeding off their faces. There are scenes and certain punchlines that the audience needs to react to, and that's what you feed off of as an actor and as a performer. It kind of just sucked," she says, "knowing that that wasn't going to be the case."
Cinematic arts student and U.S. Presidential Scholar in the Arts semifinalist Dusan Brown, 18, has struggled to keep the sadness at bay. The LACHSA senior was preparing to shoot his 35-minute film thesis — a period piece he'd been working on since freshman year — when school was shut down.
"I won't get the chance to shoot that," he says over the phone. His senior trip to the 2020 South by Southwest film festival was also canceled, which hurts because he's already made inroads into Hollywood as an actor — he's been getting TV parts since he was in elementary school and had a role in the Jackie Robinson biopic "42" as a young Ed Charles, who would go on to be one of the World Series-winning "Miracle Mets" of 1969 — but he'd like to be known as a filmmaker as well. In addition, he wonders about a release delay of "Ma Rainey's Black Bottom," a film produced by Denzel Washington in which Brown was cast alongside Viola Davis and Chadwick Boseman.
At Bravo Medical Magnet High School in Boyle Heights, Shahana Ahmed was grappling with similar feelings.
The 18-year-old senior was rehearsing for upcoming pep rally and play productions before the Los Angeles Unified School District, which serves more than half a million students, announced school closures.
"We were focusing on a play about the high school experience," rehearsing up to eight hours a week beginning almost two months ago, says Ahmed, the play's director and cowriter.
"The environment in theater is nice because you have a lot of voices together, and everyone was working on this cool project and it felt really great, and I felt that we were all in sync with the vision," Ahmed says. "Without that to look forward to working on every day, it makes the days very glum."
But she's feeling optimistic about the new assignment that's replaced it: They're reading Virginia Grise's "blu" and are tasked with writing how they'd bring to life two elements of play production, be it sound or light, with samples.
Still, some Bravo students got to perform before the closures, albeit in a different setting and to a much smaller audience. When administrators confirmed that the annual talent show was called off, music teacher Mario Leal transformed his classroom into a rock concert.
Before schools were shuttered, design students at Maywood Center for Enriched Studies Magnet (MaCES) were creating artwork that addressed social issues, a project in partnership with the Autry Museum of the American West. With the help of their art teacher Sonia Hanson, the plan was to curate an exhibit called Art and Activism and display it at school in mid-April.
But all of it was canceled.
"The kids are asking when we are going to display the art, and there were students who said they took my design class specifically for this unit, so there was a lot of disappointment," says Hanson, who is also chair of the visual and performing arts department. "But I'm just telling them, 'Your art will be shown. It's a matter of time, but we're going to find some way.'"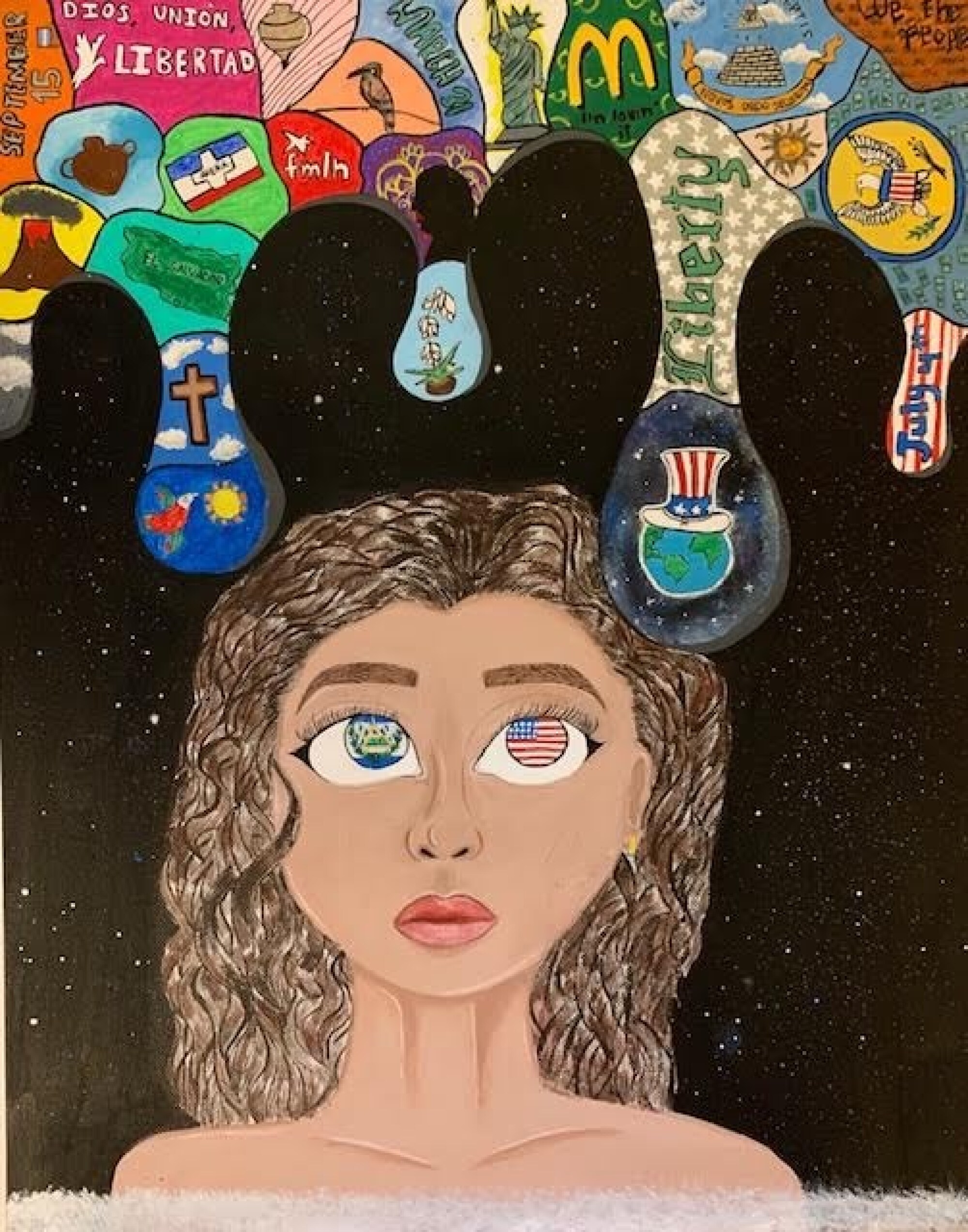 Estefania Ovalle, a junior at MaCES, was devoting up to eight hours a week on her art project during class, after school and sometimes on the weekends.
"When I heard [the art exhibit] was going to be postponed I was bothered because all of us spent so much time on our art and we were all looking forward to it," she said in an email. But she's still working on it at home, she said, "because I feel committed to finishing it."
When Tony-winning actress Laura Benanti heard from her mother, a voice teacher, about canceled shows due to the pandemic, she felt for the young artists. "If I, as a grown adult, am struggling through this, I can only image what it feels like to a young person," says Benanti, who has also had various concerts postponed because of the coronavirus.
A look at the high school sport standouts whose seasons were cut short by the coronavirus outbreak.
So she decided to do something about it. On March 13, she invited high schoolers to post videos of themselves on Twitter singing numbers from their canceled musicals and shows.
"If you're looking forward to something all year long, and putting all of your love and time and passion into it, and then it's taken away from you and you're scared, that's just a lot to deal with," she says in an email. The response was overwhelming, with thousands sharing videos and footage of shows that were canceled, postponed or only happened once.
But in these uncertain times, the passion and heart of these young, talented artists inspires her. And they give her hope.
"[T]o see how much joy it's bringing to people at a very dark time. Well, it makes me feel like we're going to get through this," Benanti says.
"I do feel that we've been living in this virtual world and it's interesting that now that we have to stay away from each other, we realize how much we actually want to be together. We are seeking community and these kids are providing that."
Pre-pandemic, aspiring pro singer Estefani Lopez commuted three hours to attend her performing arts high. The day prom was canceled everything changed
Yet even with students connecting with their classes and finding ways to share their talent online, many are missing in-person interaction with their teachers. LACHSA senior and trombone player Gael Sanchez Tizo, for instance, was rehearsing for several shows, including the annual spring orchestra concert in which he and about 60 others in his class were preparing to perform Antonín Dvorák's Symphony No. 8.
They're still rehearsing virtually, but Tizo feels he's losing out on vital guidance from his music teacher. "Since I practice at home, sometimes I can't tell what I need to improve on. … Zoom is good, but because there's a lot of reverb, the music sounds different. It's hard to tell if you're doing it right or wrong. It's hard to get feedback."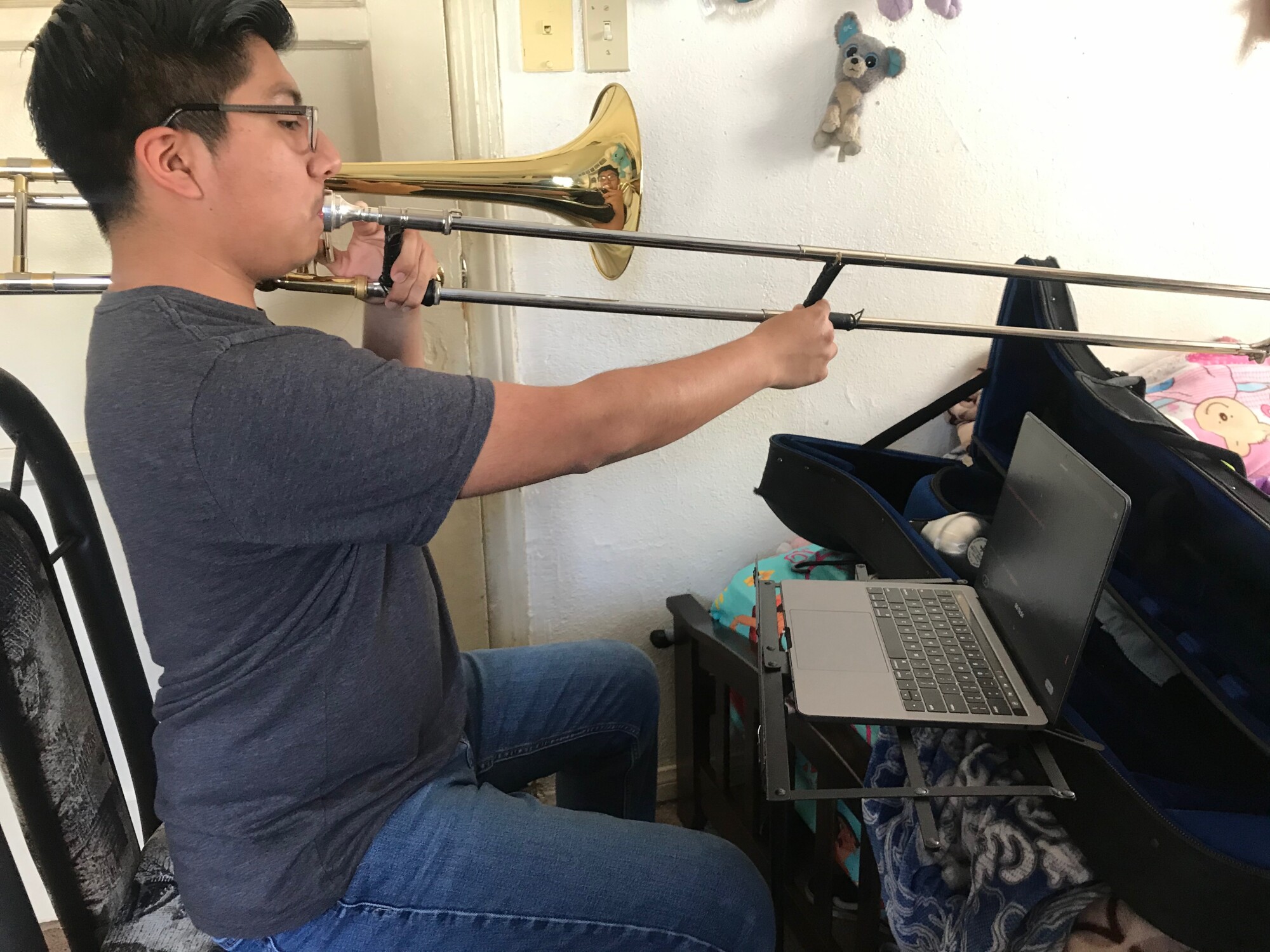 Though the 17-year-old plans to study nursing, he'll still pursue a music minor, and he feels that not performing in front of an audience is an opportunity lost. "The shows we were doing, I've never done them," he says. "I'm not going to have that to look back to when I'm older."
At Ramón C. Cortines, senior Emmanuel Yoque was preparing for the biggest role of his high school musical career when school was closed: The 17-year-old from South L.A. landed a lead in the musical play "Rent" as Tom Collins, a part he was rehearsing for up to 15 hours a week. On top of that, trips to Monterey Bay and San Francisco with his high school's chamber and vocal jazz choirs were canceled. And a show he was preparing for with the downtown performing arts Colburn School, where he's also a student, never happened.
"All of a sudden, we were stripped from these performances we'd been working tirelessly on," he says. "It was kind of really fast. The time to process it was very short."
High school student Emmanuel Yoque performs Élégie from Les Érinnyes by Jules Massenet.
But the canceled "Rent" show was the biggest disappointment. "As an opera major in college, I believe I needed acting experience; that's why I joined the musical," he says. "It just felt like all of my hard work was going down the drain."
More rehearsals and performances would've enhanced his acting experience, "which would then help me in college," says Yoque, who will be studying classical voice and opera at USC this fall.
Music is also at the forefront of Santos' future.
Ever since she watched "West Side Story" in middle school, she's wanted to play Maria. So when she got the part, she was elated. "Maria has been my biggest role at LACHSA," she says. "It's a role that I could be considered for in the professional world."
Santos dreams of attending a prestigious music college (she's already been accepted to San Francisco Conservatory of Music), earning her master's in vocal performance and becoming a professional singer.
So she's been preparing an aria for several opera department auditions. It's a piece she was slated to perform with her school's opera company several weeks ago. "We were doing a lot of Shakespeare dialogue, and we had to be very specific with it," says Santos, who plays one of several Juliets in the Romeo-and-Juliet inspired piece "Star-Crossed Love."
"It was awesome to have that practice and focus on those minor details" at a time when she really needed the practice.
But all is not lost. Robson wants students to remember that there will always be another show.
"No matter what we're given in life, we have to make the most beautiful art out of it. And so that's how we're going to proceed."
---
From the Oscars to the Emmys.
Get the Envelope newsletter for exclusive awards season coverage, behind-the-scenes stories from the Envelope podcast and columnist Glenn Whipp's must-read analysis.
You may occasionally receive promotional content from the Los Angeles Times.