SXSW festival is canceled over coronavirus concerns, leaving organizers 'devastated'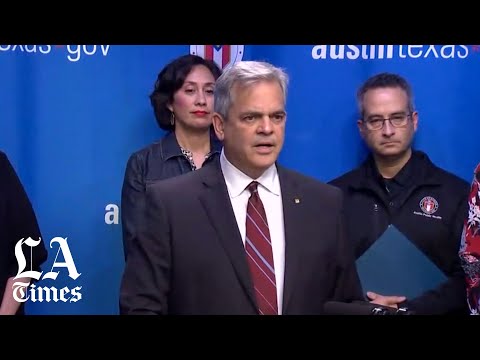 The 2020 South by Southwest festival has been canceled due to the continuing spread of the coronavirus, city and county officials in Austin, Texas, announced Friday.
SXSW organizers say they are "devastated" by the news, noting that it's the first time in 34 years that the event won't happen. The festival, which encompasses film, music, interactive media and television, was to have been held March 13-22.
Austin Mayor Steve Adler said at a news conference that he had declared a local disaster and together with that had "issued an order that effectively cancels South by Southwest this year."
Get the latest coronavirus updates from our staff in California and around the world.
Festival organizers tweeted out a statement while the news conference was taking place.
"SXSW will faithfully follow the City's directions," they said. "We are devastated to share this news with you. 'The show must go on' is in our DNA, and this is the first time in 34 years that the March event will not take place. We are now working through the ramifications of this unprecedented situation."
"We tried to make a decision in the interest of public safety," Adler said later by phone on Friday, noting that he consulted with the city's public health officials, local hospitals, epidemiologists and the mayors of other cities, including Miami and San Antonio, who have had to consider canceling upcoming events due to the coronavirus. He said officials were particularly concerned about those expected to attend SXSW from West Coast cities already affected by the coronavirus, such as Seattle.
Adler said SXSW brings more than 250,000 people to the area annually and $350 million in revenue. "The economic impact is big and it's going to hurt. Fortunately, Austin's economy doesn't rise and fall on one event."
On the SXSW website, organizers said they were exploring options to reschedule the event as well as working on a virtual experience for 2020 participants in events like SXSW EDU, which focuses on teaching and learning.
The situation evolved rapidly, the organizers said, with the city saying Thursday that there was "no evidence" that canceling gatherings would make the community safer. On Monday, Hillary Clinton, Adam Schiff and Beto O'Rourke had been announced as participants in a SXSW event titled "Conversations About America's Future."
However, major SXSW participants including the Concord record label group, Facebook, Twitter, TikTok, Apple, Netflix and Amazon had indicated before Friday's cancellation that they would no longer be attending. Last year, nearly 160,000 people attended the weeklong music festival.
On Friday, the Austin and Travis County officials emphasized that their decisions had been "data-driven and health decision-driven." A panel of health experts has been consulting with the city and county.
"Panic will weaken us," Travis County Judge Sarah Eckhardt said at the news conference. "This is not a panic decision."
Coachella, SXSW, "Hamilton," the next "Fast and Furious" movie and even Disneyland have been affected by the coronavirus. But wait — there's more.
This year's South by Southwest Film Festival was scheduled to open with the world premiere of Universal's "The King of Staten Island," a Judd Apatow film based loosely on the life of its star, Pete Davidson. Apatow has premiered a number of projects at SXSW in the past as both director and producer, including "Trainwreck" and "Bridesmaids," and his loose, sincere style has become something of a standard-bearer for the festival.
Other high-profile films that had been scheduled to premiere at the festival this year included Spike Jonze's "Beastie Boys Story" from Apple, Michael Showalter's "The Lovebirds" from Paramount, David Lowery's "The Green Knight" from A24 and RZA's "Cut Throat City" from Well Go.
Paramount had already announced that talent, including stars Kumail Nanjiani and Issa Rae, would not attend the "Lovebirds" premiere, though the screening itself had not been canceled at that point.
SXSW's film festival, which last year drew 73,000 people over nine days, has grown to become an important stop on the spring circuit, providing a home for both small-scale independent films and more commercial, studio-backed productions.
Among the films to premiere at the Austin event in the last few years were "Us," "Booksmart," "A Quiet Place," "Long Shot," "Atomic Blonde," "The Disaster Artist," "Blockers," "The Beach Bum," "Ready Player One" and "The Peanut Butter Falcon."
The interconnected ecosystem of film festivals around the globe could see a potential domino effect if one festival after another is forced to shut down, removing vital industry showcases for new work.
"I think the dramatic thing actually, and this is speculation, is that I actually think that this is an indication of what the entire spring festival season is going to look like," said Eric Sloss, head of sales at Cinetic Media. "And that to me is what most dramatically affects what the market will look like and what the upcoming festivals will look like.
"There's a real risk, I think, that Tribeca and Cannes both get canceled, and that's already being talked about by everybody," Sloss added. "So I think maybe this is a litmus test, and I don't actually know what that's going to mean for how people are selling films in the next six months."
In addition to film, music showcases and comedy, SXSW was set to feature a handful of well-known figures this year, including Kim Kardashian West, who was planning to discuss an Oxygen documentary centered around her criminal justice work.
Chris Evans was supposed to talk to an audience about his new civics engagement project, while model Karlie Kloss was on a session about her coding camp for young girls. Also on tap: Kim Gordon, Roger Waters, 50 Cent, Benny Blanco, T Bone Burnett and more.
Sign up for our free Coronavirus Today newsletter
We'll bring you the latest news, our best stories and what they mean for you — plus answer your burning COVID-19 questions.
Keynote speakers slated for the Austin conference included Janelle Monáe, Damon Lindelof, Diplo and Laurene Powell Jobs.
Carlos Ramirez, an L.A.-based musician who performs as the synthpop act Auragraph, was scheduled to play his first official SXSW showcase on March 18, in support of his forthcoming album "Memory Tracer." Ramirez says he learned about the cancellation through texts from friends and family while at work on Friday afternoon.
"I planned my month around this, and now I need to make new plans or try to pick up some work in the meantime to keep an income coming in.
"I was looking forward to networking with people I wouldn't have met on a day-to-day basis, like music publishers and booking agents, and showing what my music is about."
Closer to home, the annual Coachella Valley Music and Arts Festival scheduled for April 10-12 and April 17-19 in Indio is currently proceeding as scheduled.
Riverside County Supervisor V. Manuel Perez said at a news briefing Friday that "residents and travelers to our region should know that the situation is safe." He went on to acknowledge that since "the Coachella Valley is a resort destination for the world, the situation could be very fluid."
The Coachella festival has been sold out for months, with 125,000 fans expected to attend each weekend. Headliners include R&B artist Frank Ocean and hip-hop star Travis Scott.
Times staff writers Mark Olsen and Molly Hennessy-Fiske contributed to this report. Andrea Domanick also contributed.
Get our L.A. Goes Out newsletter, with the week's best events, to help you explore and experience our city.
You may occasionally receive promotional content from the Los Angeles Times.