Artist Mister Cartoon and King Foo, the secretive social media impresario of Foos Gone Wild with 1.3 million Instagram followers, talk Chicano art NFTs and the future of art shows.
The digital file shows a character known as Little Mr. E strutting in place inside a rotating doll box, wearing his signature hockey mask and clown nose, hoodie up.
In the 20-second clip, the action figure, speaking in a somehow cartoonish barrio-tinged idiom, unleashes a profanity-laced rap concerning matters that are not safe for work.
It's the kind of glossy digital art one might have found in years past while casually drifting through Tumblr. But this particular file — a .mov, to be precise — is linked to an NFT, nonfungible token, and as of Tuesday morning it was worth more than $53,000, part of the sprawling and chaotic new blockchain market that is rattling the bones of the contemporary art world.
The clip was created by the strangely addictive Foos Gone Wild social media brand, which boasts 1.3 million followers on Instagram. "Foo," short for fool, is the slang term, rarely written but often uttered, for a certain kind of harmless West Coast vato archetype. Picture shaved heads, white tees, knee-high white socks and a love for "kicking it."
The first NFT by Foos Gone Wild, titled "NFT FOO," is among the earliest wave by Chicano-bred creators charging into the metaverse of artistic NFTs.
"It feels amazing, man, kind of showing the youth the new hustle," says King Foo, a pseudonym for the secretive impresario who created the Foos Gone Wild brand in Los Angeles in 2018. Think of him as a cholo Banksy. "I'm all about cutting-edge stuff and trying to stay ahead of the curve."
I've seen the power. I feel like it's the future of currency, man, the crypto game.
— King Foo
A nonfungible token is basically a certificate of authenticity minted in blockchain that can be linked forever to a digital file. Nonfungible means it cannot be duplicated; there is only one. NFTs tied to digital files are bought and sold through cryptocurrency such as Ethereum. And while digital files can be easily reproduced, infinitely, the NFT creative market is built largely on the principle that a true original has a fixed value for a large enough group of people so that a market emerges.
Disruption is partly the draw, says Mister Cartoon, the legendary L.A. tattoo and visual artist. Cartoon has made an international name for himself taking the "low-brow" culture of tattoo art and lowrider cars in Southern California to the white cube of the gallery and the museum. This year he entered the NFT circuit.
Mister Cartoon's 1964 Chevy Impala
In a sense this is the future of art fairs and things that we want to congregate around.
— Designer Ryan Colditz, co-curator of META_VS
Cartoon, born Mark Machado, is auctioning an NFT asset of his real-life 1964 Chevrolet Impala — that is, a digital lowrider built virtually with crypto-voxels (similar to Minecraft or digital Legos).
For brown artists and creators, Cartoon says, the NFT market is a boom space and should not be ignored.
"All these young art students, high school students interested in graffiti, that kid scribbling their name in the bathroom, grab that kid," he says. "He needs to streamline his thoughts and start pushing toward this type of technology."
In formal terms, an art historian might argue that these vatos minting NFTs are among the first Chicano artists to get into the space. A cursory search of NFT marketplaces shows there are still few Latina- or Chicana-themed assets for sale. However, The Times found a Selena Lotería card NFT asset offered on Open Sea.
The breakneck speed of the NFT art market is rankling skeptics who fear a potential bubble or see it as a threat to old hierarchies. Recently, questions about authorship and intellectual property — as well as profits — have embroiled the world of comic book artists who sell NFTs of drawings depicting characters owned by major houses like Marvel or DC Comics.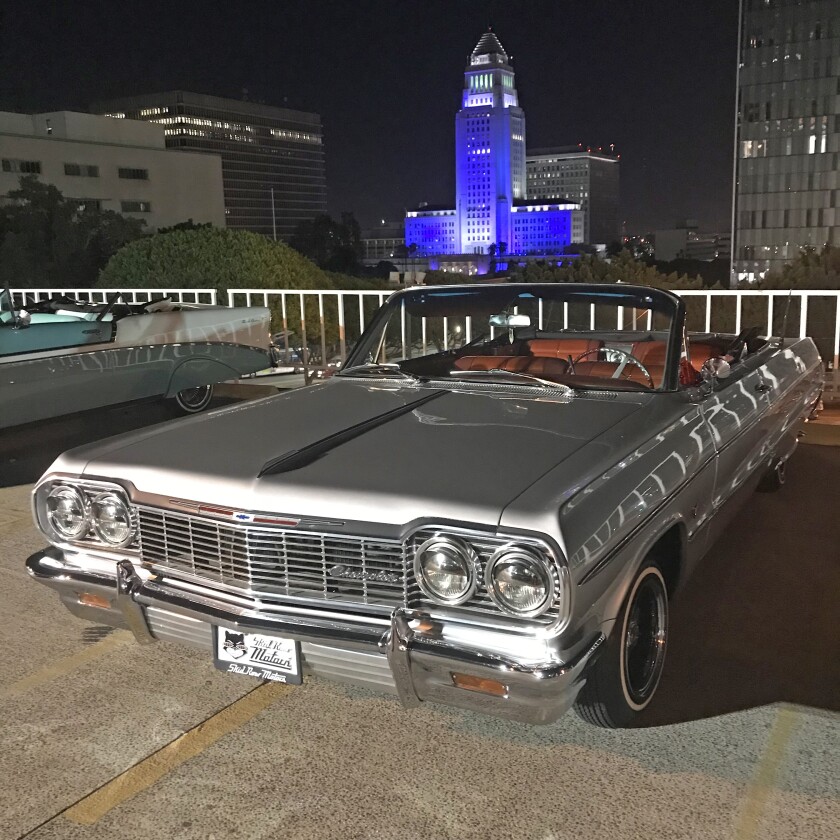 Mister Cartoon's digital '64 Impala is a part of a virtual group art show titled META_VS, which has been extended through the end of May. Launched by new outfit Universe Contemporary, META_VS features more than 50 artists and 30 galleries, with many pieces linked to NFTs for auction.
Mister Cartoon's NFT offering includes the virtual car and the mural on the car's hood. It's selling on the digital art marketplace Rarible and as of Tuesday afternoon stood at 0.6 Ethereum (about $1,600).
"My 16-year-old kid [is] way in touch with this kind of thinking, because they're on Minecraft, buying stuff," Cartoon says in a Zoom call. As he approached this new world, he says he asked himself: "How do I stand out? How can I be unique? For me it's sticking with what I know, which is my love of automotive, and making a car an actual canvas."
Proof of purchase
Established NFT digital artist Alotta Money built the digital version of the Impala for Mister Cartoon, and designer Ryan Colditz, known in the crypto art community as Coldie, who co-curated META_VS with writer-editor Shelley Leopold, and "installed" the piece, so to speak, inside a massive virtual gallery space.
"It's probably the first lowrider NFT and certainly the first by Cartoon," Leopold says. "He 'got' it right away."
Anyone with an internet connection can drop by the exhibition space, whip up a visitor avatar and check out the show. Visitors can also buy "wearables" inside the space so their avatars are not "naked." There's even a digital velvet rope surrounding the digital vehicle. (Click here to drop into the virtual gallery directly in front of Cartoon's display.)
The pandemic has likely helped in the growing interest in art NFTs. Digital art goes hand in hand with virtual viewing consumption, which became the norm for art lovers during the global tragedy of the coronavirus.
"During the [opening of the] show, there were people scooting all around, people flying, people just going for it," Colditz says. "And I think in a sense this is the future of art fairs and things that we want to congregate around, that we might not geographically be able to go to. This is the start of all that."
Creators rely on digital artists to see their concepts materialize. The guy behind Foos Gone Wild teamed up with L.A. digital artist and designer Eddie Perez, better known as Eddie Visual, for the NFT asset. Eddie Visual, in an interview, says he was investigating NFT art for about a year before Foos Gone Wild hit him up to collaborate.
"This Foos Gone Wild toy is kind of like all of my expertise in one package," he says.
NFT art on blockchain, he says, "is a way to legitimize artwork. It's a proof of purchase that's intamperable. Every transaction that's ever been made is recorded and is viewable to everyone. As soon as I understood that, I understood why it could be valuable to artists."
Next came the sale, on the platform Foundation.
"Honestly, I expected a couple thousand dollars, maybe five gees, max," says King Foo.
But in a 24-hour auction that started on April Fools' Day (get it?), the first Foos Gone Wild NFT asset sold for 20 Ethereum, or around $42,000. Since then, the value of 20 Ethereum has risen and dipped, and risen again, to more than $53,000 at last check. That's money in King Foo's pocket.
The buyer, an active NFT art collector known as @3fmusic and based in Dubai, did not respond to a request for comment on the acquisition. The elusive collector also bought the jpeg of a New York Times column about NFTs, wowing observers.
"After that, I've seen the power," King Foo says. "I feel like it's the future of currency, man, the crypto game."
His creation, with its hidden face and which he sometimes mimics in real life, is appealing to fans because Little Mr. E, he says, "represents every foo' in the game — 'cause every foo' is in a mask, whether they admit it or not."
For a second NFT, the brain behind Foos Gone Wild is teaming up again with Visual for a true-to-the-streets theme. "The art is Little Mr. E with a cowboy hat, some botas and he's a paletero man, walking his cart," the creator says.
The piece is expected to drop this week. Proceeds from the next auction will go to Inclusive Action, an emergency fund to benefit street vendors. "We could use this for some good," King Foo says. "It's opening the minds of young Chicanos to take it to the next level."
Bidding will begin at 1 Ethereum.
Leopold, Cartoon's co-curator, says naysayers worried about an NFT art bubble should take a longer view of the metaverse's future.
"It's definitely a tool for artists that's not going to go away anytime soon," she says. "This is the beginning of it all. It's very early, and the potential hasn't been reached."
---