Omicron surge: The latest cancellations and changes for L.A. cultural events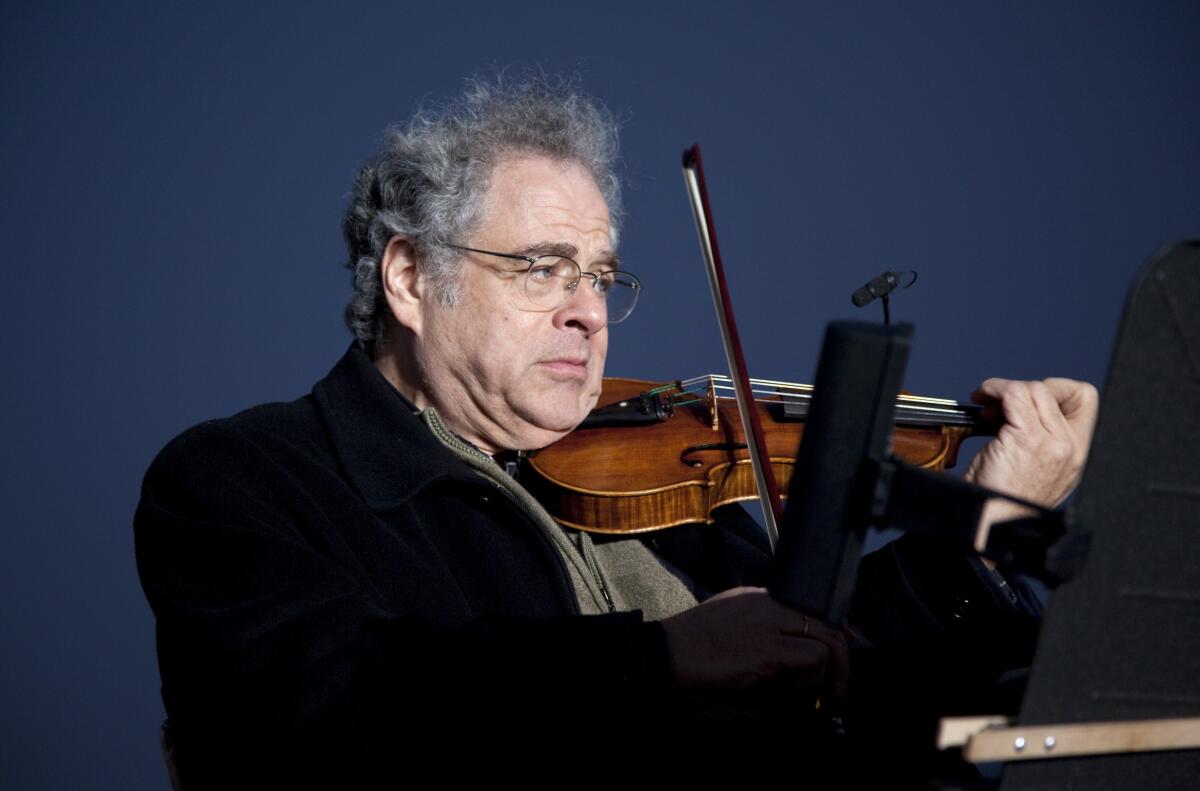 Thanks to the Omicron variant and its older sibling, Delta, events in Southern California— including the Grammy Awards, the Producers Guild Awards, and "Hamilton" at the Hollywood Pantages Theatre — are being canceled, postponed or otherwise altered due to the number of new COVID-19 cases.
Amid the surge, here are some events that have changed plans in recent days. This list is being updated regularly.
Arts
Itzhak Perlman has postponed his West Coast tour, including a Jan. 26 Walt Disney Concert Hall Colburn Celebrity Recital featuring him on violin and Rohan De Silva on piano. The recital has been rescheduled to April 24.
Performances of the hit musical "Hamilton" at the Pantages have been canceled through Feb. 9. All tickets will be refunded at the point of purchase.
Sacred Fools Theater Company at the Broadwater is postponing the opening of Idris Goodwin's "How We Got On" until Feb. 4. Proof of up-to-date vaccination will be required for admission, and a mask must be worn.
Pasadena Playhouse will stream its upcoming co-production of Mike Lew's "Teenage Dick" at pasadenaplayhouse.org in place of an in-person run that had been planned for Feb. 1-27. The playhouse plans to return to live performances with "Ann," written and performed by Taylor Holland, premiering March 22.
Negotiating concertgoing during the Omicron surge requires weighing unknown factors and understanding priorities.
Knot Free Productions, Greenway Arts Alliance and Theatre Planners have postponed the opening of "A Little Night Music" at the Greenway Court Theatre in L.A. to Feb. 4. The limited engagement will run through March 13.
Theatre Palisades in Pacific Palisades has rescheduled Neil Simon's "The Prisoner of Second Avenue" until March 25. The play will run weekends through May 1.
Chamber Music Palisades, which canceled the concert it had scheduled for Jan. 19, said it hopes to return with a show Feb. 16. CMP also directed supporters to a video of a performance featuring Susan Greenberg on flute, Judith Farmer on bassoon and Cristina Montes Mateo on harp.
The L.A. Phil, Center Theatre Group, the Los Angeles Master Chorale and the Music Center are requiring booster-eligible patrons to provide proof of a third jab to gain admission to indoor events and performances.
The REDCAT Theater postponed last weekend's performances of "Kaneza Schaal: KLI" until June 23-25. The February events "Thank You for Coming: Space" by Faye Driscoll and 2022 Eyeworks Festival of Experimental Animation are also being postponed, with new dates to be announced soon.
The Advanced Imaging Society's 12th annual Lumiere Awards event has been moved to March 4. The revised ceremony will be in the form of a luncheon at the Beverly Hills Hotel, where director Adam McKay will receive the society's inaugural Voices for the Earth Award.
Friends of the South Pasadena Public Library canceled a Feb. 6 performance featuring Rafael Rishik on violin, Giovanna Moraga Clayton on cello and Robert Thies on piano, part of its Restoration Concerts Series.
Piano Spheres at the Colburn School has moved its three-hour marathon performance of "Frederic Rzewski: A Musical Appreciation," previously set for Feb. 5, to the afternoon of April 16. An evening concert of works by other composers will follow.
Theatre West is rescheduling two productions. "The Joint Is Jumpin' will now run Feb 26-27 and March 5-6. The comedy "Classic Couples Counseling," originally set to open March 4, will run Fridays, Saturdays and Sunday matinees from April 1 through May 8.
The performance of Shade Théret's "Throwaway Line," part of Odyssey Theatre Ensemble's Dance at the Odyssey series, has been rescheduled to Saturday.
Actors Co-op Theatre Company's production of "Marvin's Room" at the David Schall Theatre in Hollywood, originally set to run Jan. 21-Feb. 27, has been rescheduled. The new schedule is Fridays, Saturdays and Sunday matinees running Feb. 18-March 27.
Skylight Theatre Company and Playwrights' Arena have canceled the run of "Fluff" by Sigrid Gilmer, which was to be the second show of their collaborative season. "Apartment Living" by Boni Alvarez, the following show of the season, will start previews March 5 and open March 12.
The winter spread of coronavirus cases is worsening. Here's the latest advice on protecting yourself and those around you.
Awards
The Producers Guild of America announced the postponement of the group's 33rd awards ceremony, originally scheduled for Feb. 26. The ceremony has been rescheduled for March 19 at the Century Plaza Hotel.
The 64th Grammy Awards show, which was set for Sunday at Crypto.com Arena, has been rescheduled and relocated. The ceremony will happen April 3 at the MGM Grand Garden Arena in Las Vegas.
The Critics Choice Assn. has rescheduled the 27th Critics Choice Awards. Originally set for the second week of January, the ceremony will now happen March 13. It will be broadcast on the CW and TBS.
The Academy of Motion Picture Arts and Sciences, which presents the Academy Awards, postponed its Governors Awards. Information about a rescheduled event will come at a later date.
The Hollywood Critics Assn. has pushed its fifth HCA Film Awards to Feb. 28 "with the hope of having an in-person ceremony, but only if the current situation improves," founder Scott Menzel said in a statement.
A 'flurona' case was detected at a testing site in Brentwood in a teenager who had just returned from a family vacation in Mexico.
The American Film Institute's AFI Awards luncheon, originally set for Jan. 7, has been rescheduled to March 11.
Movies and film festivals
The 30th anniversary Pan African Film Festival, originally set for Feb. 8-21, is being rescheduled as two events. A special PAFF 30 Retrospective virtual festival will be held Feb. 15-28 for Black History Month, highlighting PAFF's most popular films over the last 30 years, and an in-person festival will happen April 19-May 1 at the Directors Guild of America and Cinemark Baldwin Hills Crenshaw Plaza 15 and XD.
The UCLA Film & Television Archive has changed or postponed some in-person screenings planned for January and March at the Billy Wilder Theater. "The Docks of New York" has been moved to March 26, pending confirmation. Saturday's "Jerovi" / "Testament" / "Confessions" / "My Hustler" will happen March 18, and Sunday's "Blackstar" / "Choosing Children" screening is set for March 20. The five-program series "Women's Work: How Gender Shaped Cinema," set for March 11-26, has been postponed, with new dates to be announced.
The 20th Dance Camera West Film Festival has been moved to March 26-April 2.
El Segundo's Old Town Music Hall has canceled this weekend's Three Stooges Film Festival and "The Dawn of Hollywood Musicals, Part 1," which was set for Feb. 5.
Are vaccines safe? When can I get a booster dose? Do I have to wear a mask? We've answered hundreds of newsletter readers' questions. Here's an archive.
Music
Pacific Symphony postponed its "Mozart and Mahler" and "Mahler's Symphony No. 4" concerts until June. Ticketholders will be able to attend concerts featuring the same repertoire June 23-26 at the Renée and Henry Segerstrom Concert Hall at Segerstrom Center for the Arts in Costa Mesa. Call (714) 755-5799 for more information.
The Soraya in Northridge has moved "Broadway Celebrates the Soraya," which was set for Jan. 29, to April 30.
Soka Performing Arts Center in Aliso Viejo has postponed all concerts through late February. The center will reopen Feb. 26 with Los Lobos. Check www.soka.edu/PAC for the most current information.
Get our L.A. Goes Out newsletter, with the week's best events, to help you explore and experience our city.
You may occasionally receive promotional content from the Los Angeles Times.