Review: 'The Notebooks of Leonardo da Vinci' is more impressively acrobatic than it is exciting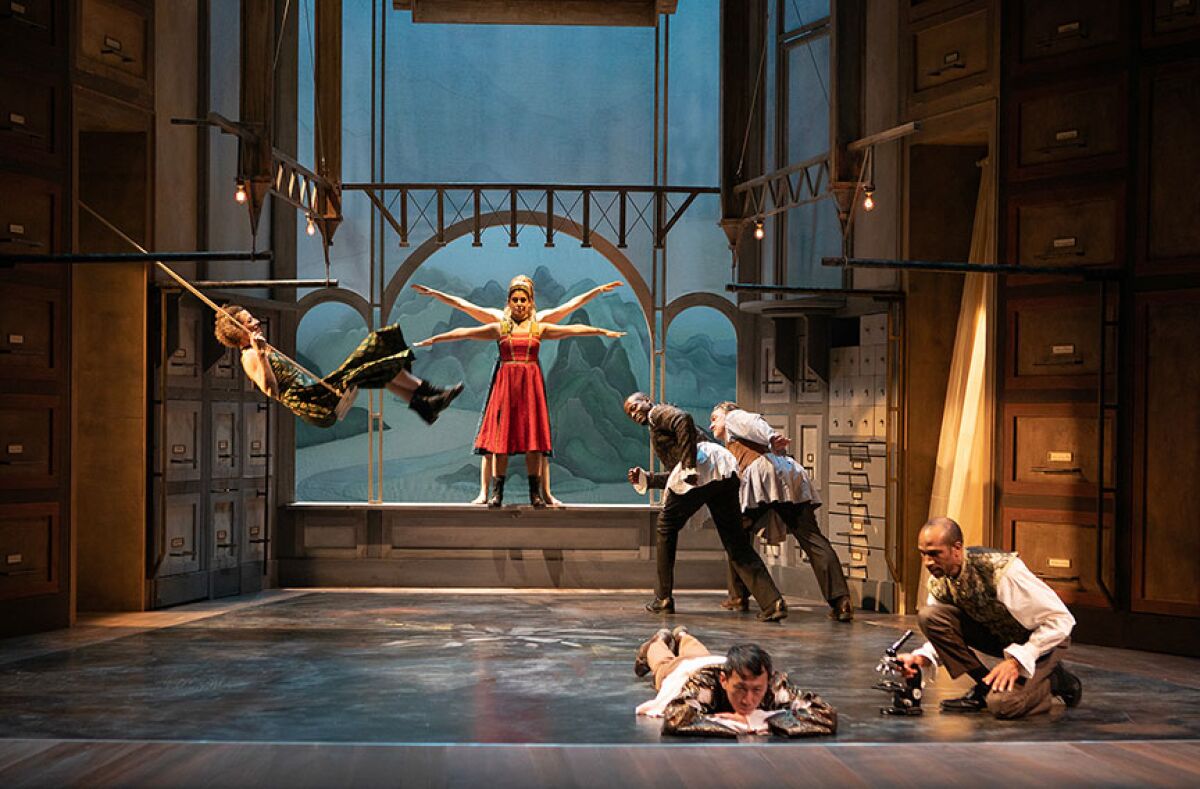 SAN DIEGO — If "The Notebooks of Leonardo da Vinci," the performance collage written and directed by Mary Zimmerman, no longer seems as revelatory as it did when it burst into existence at Chicago's Goodman Theatre in the mid '90s, it's partly because Zimmerman's trailblazing work has steadily raised theatrical expectations over the ensuing decades.
Her 2002 Broadway production of "Metamorphoses," a reimagining of Ovid's classic that earned Zimmerman a Tony Award for her direction, had a marvelous simplicity that found transformative magic in an onstage pool of water. More recently, her 2015 production of "The White Snake" at San Diego's Old Globe Theatre turned an ancient Chinese fable into entrancing, if evanescent, theatrical entertainment.
At her best, Zimmerman sets in motion spectacle that dazzles the eye and tickles the mind. Her return to "The Notebooks of Leonardo da Vinci," an Old Globe presentation of last year's Goodman Theatre revival, unfortunately has the muffled vitality of a retrospective exercise. Try as I might to recapture the excitement of first seeing the work in New York in 2003, I was unseduced, visually and dramatically.
Inspired by Leonardo's voluminous record of his insatiable curiosity, the play dips in and out of the roughly 5,000 pages of surviving material the Italian polymath left behind from his excursions into anatomy, astronomy, architecture, botany, physics and, of course, painting. His masterpieces include "Mona Lisa" and "The Last Supper," but his notebooks reveal the full panorama of his genius.
Zimmerman pays homage to an artist who exemplifies the high Renaissance ideal of the universal man. Leonardo's mind, obsessed with the engineering of flying, was always in flight, alighting on higher and higher branches of knowledge and forever challenging the limits of how far he could soar.
The play is composed in subject matter fragments. Instead of following a clear narrative plan, Zimmerman attempts to create the workshop of Leonardo's mind.
The words spoken by the eight-person ensemble are taken from his writings. The topics covered include "the eight positions of man," exhibited as a kind of circus ballet, and "the four powers of nature," all of which are also demonstrated by strong, limber bodies.
The feats of strength and flexibility are impressively acrobatic. But Zimmerman doesn't aim for spectacular effects. A modest human scale is maintained. Awe is reserved for the way careful scrutiny, combined with imagination, can shine a light into the unknown.
The study of anatomy alternates with observations on the solar system and the less distant natural world. There are asides on psychology and some discussion of the geometry of bodily forms, the effects of shadow and light in perception and the superiority of painting over sculpture. (Leonardo's rivalry with Michelangelo gives rise to this latter subject.)
Scott Bradley's scenic design features a kind of giant apothecary desk with large drawers that seem to be spilling over with new discoveries and hypotheses. The text, however, evokes a stack of index cards with jottings from an indefatigable researcher unbound by historical limits. The lack of dramatic organization creates challenges. Interest flags as it might at a lecture by a professor shuffling a stack of notes more or less at random.
But there is an underlying theme. For Leonardo, to appreciate the world, one must first examine it ardently, like a devoted lover.
"Great love springs from great knowledge of the beloved object, and if you little know it, you will be able to love it only little, or not at all." These words of his pertain not just to our intimate human relationships but to our connection to the Earth that created us.
The tableaux that Zimmerman arranges to accompany Leonardo's wide-ranging wisdom have a handcrafted quality. A skein of ropes is systematically assembled by the ensemble as scrolls are unrolled to illustrate the science of perspective. Birds, Leonardo's lifelong obsession, figure prominently in the theatrical tapestry.
The integrative staging, which includes Renaissance costumes by Mara Blumenfeld, dusky lighting by T.J. Gerckens and original music by Miriam Sturm and Michael Bodeen, has subdued charm. But superficial enticements are kept at bay. Committed to abstraction, "The Notebooks of Leonardo da Vinci" deconstructs its own stage magic.
The production, a key work in the development of Zimmerman's aesthetic, proceeds according to its own high-minded rhythm, like a steadfast traveler ambling along an endless horizon line.
Circle X Theatre Co. presents the West Coast premiere of Mara Nelson-Greenberg's comedy at the Atwater Village Theatre in a production directed by Halena Kays.
'The Notebooks of Leonardo da Vinci'
Where: Old Globe Theatre, 1363 Old Globe Way, Balboa Park, San Diego
When: 7 p.m. Tuesdays and Wednesdays, 8 p.m. Thursdays and Fridays, 2 and 8 p.m. Saturdays, 2 and 7 p.m. Sundays. (Check for exceptions.) Ends Feb. 26.
Tickets: Start at $33
Info: TheOldGlobe.org or (619) 234-5623
Running time: 1 hour, 30 minutes
Get our L.A. Goes Out newsletter, with the week's best events, to help you explore and experience our city.
You may occasionally receive promotional content from the Los Angeles Times.