Drake is fighting an order to appear for deposition tied to XXXTentacion murder trial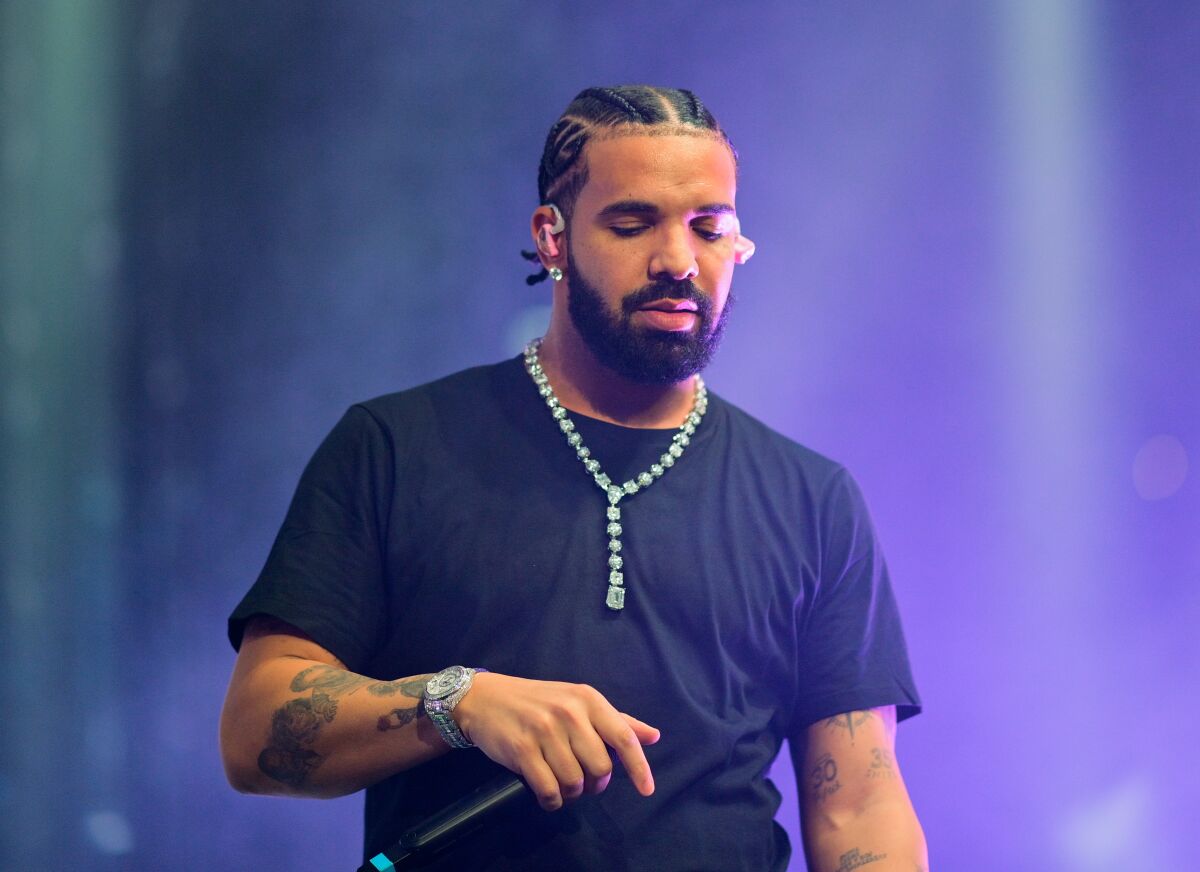 Drake and his attorneys are opposing a court order for him to appear for a deposition as a part of the ongoing jury trial for the murder of Florida rapper XXXTentacion.
XXXTentacion, born Jahseh Onfroy, was shot and killed in 2018 during an armed robbery outside of Riva Motorsports in Pompano Beach, Fla., just north of Miami. The controversial yet rising star in hip-hop, whose SoundCloud presence catapulted him to success, was 20.
Mauricio Padilla, a defense attorney for Dedrick Williams, one of the men accused in the killing, has been trying since December to get Drake to appear at a deposition prior to the trial, which started last week. He is claiming the Toronto rapper avoided his scheduled deposition.
The court agreed and is now ordering Drake to appear for the deposition later this month. However, the "Nice for What" performer and his attorneys are fighting the order, saying it places an "unreasonable and oppressive" burden on Drake.
XXXTentacion's rise was as quick as it was controversial.
As three men are standing trial in Florida's Broward County for the 2018 killing, court filings obtained by The Times show how and why the A-list rapper was pulled into the murder case in the first place.
How is Drake related to the case?
Months before XXXTentacion's death, a post mentioning Drake appeared on the Florida rapper's Instagram. "If anyone tries to kill me it was @champagnepapi [Drake]. I'm snitching RN," the post said. However, the post was quickly deleted, and XXXTentacion said he had been hacked.
XXXTentacion had been engaged in a largely one-sided beef with Drake in 2017, accusing the "Hotline Bling" performer of stealing his rapping style. Drake denied the allegation.
LAPD officers arrested a man who allegedly broke into a Beverly Hills mansion reportedly belonging to rapper Drake on Thursday night.
During the trial's opening statements, Padilla, the defense attorney, invoked the online beef and the Instagram post, criticizing law enforcement for not including Drake in their investigation.
"Do you think sitting here today, years later, any detective has ever asked Drake? No, they never did that," Padilla said to the jury last week. "They didn't do it because it didn't comport with their version and their narrative."
Efforts to get Drake to testify
In December, the defense subpoenaed Drake, whose full name is Aubrey Drake Graham, for a virtual deposition through Zoom, according to court records. However, the meeting fell apart because Drake's attorneys were concerned about the cybersecurity of the Zoom link, which was available to the public on court documents.
On the second of his two nights at the Apollo Theater in New York's Harlem, Drake halted the show after he was informed that a concertgoer fell.
It was rescheduled for Jan. 27. But when the day came, Drake and his attorneys were a no-show, Padilla and defense attorneys said in court filings.
Last week, Padilla and the defense filed a motion to the court, asking that it require Drake to appear for a deposition. Judge Michael Usan, who is presiding over the murder trial, ordered Friday that "as a result of Aubrey Drake Graham's failure to appear for the deposition set on January 27th, 2023, Aubrey Drake Graham shall appear for deposition" on Feb. 24 or Feb 27.
Some legal observers have called the attempts to involve Drake in the case a "Hail Mary" attempt to create reasonable doubt among the jury.
"It's a very tough case to defend," former prosecutor Neama Rahmani told Rolling Stone, referring to mounting evidence against the three defendants. "So maybe you find a juror that believes in these types of conspiracy theories. They need a unanimous jury. Maybe a couple of jurors buy into this and you can hang the jury."
As XXXTentacion lay slumped over in his car -- mortally wounded by an unidentified gunman after an apparent robbery Monday in South Florida -- witnesses had their cellphones aimed at his lifeless body, one person getting inches away and zooming in.
Since defense attorneys have the right to shape their case however they see fit, Rahmani said the judge has no choice but to let the theory play out in court, "even though there's no basis in fact."
Rebuttal from Drake's attorneys
Drake and his Florida-based attorney, Bradford Cohen, bit back, filing their own motion over the weekend. In it, they said that Drake was never properly served a subpoena, which would have required him to attend the deposition. They said the subpoena they received had errors on it and was incomplete, casting blame on the agents the defense had hired to serve the paperwork to Drake in California.
Cohen also said Padilla didn't include adequate instructions ahead of the Jan. 27 deposition meeting, leaving too much burden on Drake. He also questioned why Drake was involved in the case at all.
An impromptu memorial for the slain rapper XXXTentacion turned rowdy Tuesday night as hundreds of people gathered in the street in the Fairfax area, with some climbing onto rooftops and swarming moving cars as police ordered them to disperse.
"In a case such as this, it is both unreasonable and oppressive to subpoena an out of state party who has not been mentioned in any reports, any investigation, or referenced to have any involvement in this matter," Cohen wrote in the court filing, referring to Drake as the "Non-Party."
"No evidence has been provided to substantiate the assertion that the Non-Party in any way contributed to, had knowledge of, or participated in the alleged incident," he continued, "and to mandate that he appear for deposition for something that he very clearly has no relevant knowledge of is unreasonable."
Padilla, who was in court for trial on Monday, did not immediately respond to requests for comment.
Along with the news of XXXTentacion's death that tore across social media Monday came the grim visual proof: shaky camera-phone footage of the 20-year-old rapper slumped lifelessly behind the wheel of a black BMW on a sun-drenched street in Broward County, Florida.
Who is standing trial?
Trayvon Newsome, 24, Dedrick Williams, 26, Robert Allen, 26, and Michael Boatwright, 28, were all charged in the murder of XXXTentacion. Law enforcement accused the group of ambushing and robbing the rapper before killing him.
Allen admitted to his involvement, pleaded guilty to second-degree murder and agreed to testify against the other suspects, according to court records.
The others, who also face armed-robbery charges, have pleaded not guilty. If convicted of first-degree murder, they face the possibility of life sentences.
The trial began last Tuesday. So far, the jury has been shown surveillance video of the incident and has heard testimony from the prosecution's star witness, Allen, according to Miami TV news station WPLG.

Get our L.A. Goes Out newsletter, with the week's best events, to help you explore and experience our city.
You may occasionally receive promotional content from the Los Angeles Times.