XXXTentacion lived in public. He died that way too
Pop Music Critic
Along with the news of XXXTentacion's death that tore across social media Monday came the grim visual proof: shaky camera-phone footage of the 20-year-old rapper slumped lifelessly behind the wheel of a black BMW on a sun-drenched street in Broward County, Florida.
The images, and our easy access to them, were an outrage — one more sign, in the unlikely event that you needed one, that the internet has turned some kind of corner.
Yet there's no denying that XXXTentacion's grotesque public death — police say he was shot and killed in what appeared to be an armed robbery — was in keeping with his turbulent life, which he documented online in disturbing videos and messages and, of course, in the songs that attracted millions of listeners to his SoundCloud and YouTube channels.
XXXTentacion rapped about pain — about experiencing it and about inflicting it on others. His alleged abuse of a former girlfriend, who accused him of beating her while she was pregnant, among other horrific acts, was a well-established part of his story. (He pleaded not guilty to various charges and was awaiting trial at the time of his death.)
But that didn't prevent the rapper from quickly becoming one of hip-hop's most successful new stars; indeed, it may have accelerated his ascent.
Last year, his aptly titled "Look at Me!" crashed into the top 40 of Billboard's Hot 100. Then, he topped the trade magazine's album chart in March with his second full-length album, "?."
"Sad!," a single from the album in which XXXTentacion contemplates suicide, has been streamed more than 270 million times on Spotify — despite the streaming service's recent removal of his music from its closely followed playlists in response to what Spotify described as the rapper's "hateful" behavior. (After a backlash from many in the music industry, the service reversed its decision.)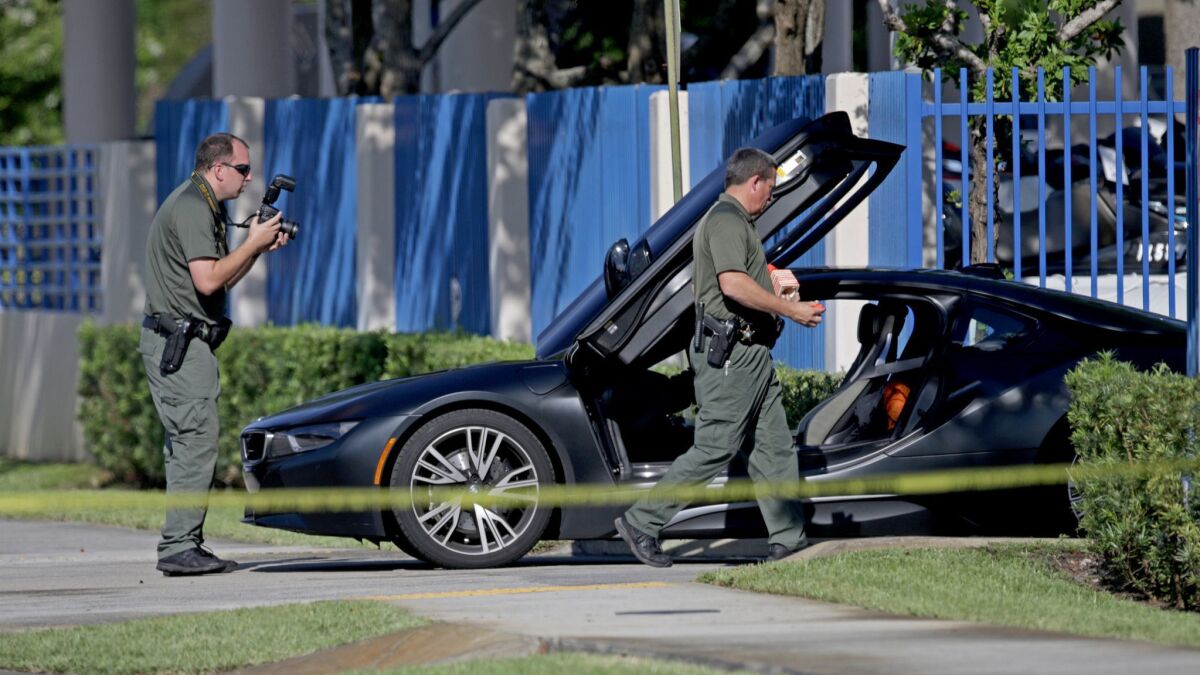 XXXTentacion's young fans were no doubt drawn to the raw desperation in his work — and to an expressive ability that could remind older listeners of talented but agonized musicians from previous generations, such as Kurt Cobain.
But what they also responded to was the life-in-real-time quality that XXXTentacion put across in the unmediated digital space they (and he) were born into.
Like the ghastly video clip that showed his body in that sports car, the rapper's online communication — whether a filmed provocation or a written threat or the Instagram dispatch in which he talked about his legacy if he were to die — delivered an awful too-much-ness that stood in stark contrast to the carefully strategized image maintenance practiced by hip-hop veterans such as Jay-Z.
Even Kanye West, whose conduct over the past few months has been described countless times as "chaotic," seems cocooned in comparison — as protected by celebrity as he is guided by the desire to hold onto it.
XXXTentacion depicted a world free of protection; he saw none for himself and took it from those he's said to have brutalized.
That his bleak vision resonated so widely makes you wonder what we'll watch next.
ALSO
The rise of XXXTentacion underscores rap's fraught battle with the law
XXXTentacion, controversial rapper who broke out amid legal troubles, dead at 20
The Age of Hip-Hop: From the streets to cultural dominance
The moment N.W.A changed the music world
Twitter: @mikaelwood
Get our L.A. Goes Out newsletter, with the week's best events, to help you explore and experience our city.
You may occasionally receive promotional content from the Los Angeles Times.