Boisterous crowd blocks roadway in Fairfax area during memorial for slain rapper XXXTentacion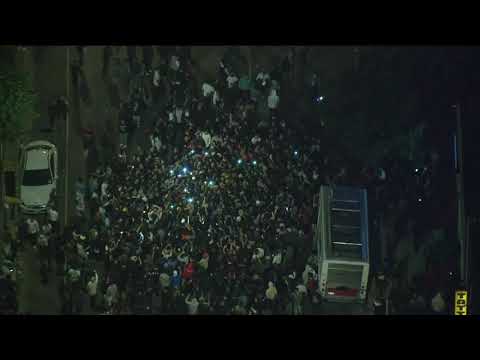 Hundreds gathered in the Fairfax area for a memorial for rapper XXXTentacion, who was killed in South Florida on Monday. (KTLA)
An impromptu memorial for the slain rapper XXXTentacion turned rowdy Tuesday night as hundreds of people gathered in the street in the Fairfax area, with some climbing onto rooftops and swarming moving cars as police ordered them to disperse.
At its peak, the event drew up to 1,000 people to Melrose and Spaulding avenues, where many blocked traffic in the roadway, said Los Angeles Police Officer Tony Im. Dozens in the middle of the crowd formed a mosh pit, jumping up and down. Standing on rooftops, others pumped their fists into the air as a television news helicopter hovered above.
At least one person climbed on top of a news van and jumped on the windshield. At one point, a convertible drove past the crowd. When it stopped in the roadway, people swarmed the car on both sides.
The gathering was most likely publicized on social media, because the group did not obtain a permit to convene, Im said.
Shortly after 9 p.m., about two hours after they were first called to the scene, police officers in tactical gear formed a line along a crosswalk and were authorized to use tear gas to disperse the crowd, Im said.
"They did shoot something into the crowd, probably bean bags," Im said. One officer was struck by a rock.
Several times, the crowd began running. People were setting off fireworks, Im said, which startled the crowd and prompted them to take off.
An ambulance was called to treat a 20-year-old person with cuts on the head. It's unclear how the person sustained the injuries.
As the crowd thinned, a boisterous group moved down the street and continued to stifle traffic, swarming and weaving between cars stopped in the road. At one point, multiple people climbed on top of a car as it drove through the street, with people running next to it on both sides. Police followed at a distance.
"We're going to try to have them safely leave and try to get the street back in order," Im said.
By 10:15 p.m., most of the crowd had dispersed. No one was arrested.
XXXTentacion, born Jahseh Onfroy, was shot and killed in South Florida on Monday, just three months after he hit the top of the charts with his latest album.
He was shot outside Riva Motorsports in Pompano Beach by a gunman who fled the scene after an apparent robbery, according to the Broward County Sheriff's Office. Onfroy was taken to a hospital, where he was pronounced dead. He was 20.
alene.tchekmedyian@latimes.com
Twitter: @AleneTchek
---
UPDATES:
11 p.m.: This article was updated to indicate the crowd dispersed.
10:05 p.m.: This article was updated with more information about the crowd.
This article was originally published at 9:10 p.m.
Sign up for Essential California for news, features and recommendations from the L.A. Times and beyond in your inbox six days a week.
You may occasionally receive promotional content from the Los Angeles Times.