Commentary: Slain rapper XXXTentacion's violent life stood in stark contrast to sensitive music that reached out to those on the edge
As XXXTentacion lay slumped over in his car -- mortally wounded by an unidentified gunman after an apparent robbery Monday in South Florida -- witnesses had their cellphones aimed at his lifeless body, one person getting inches away and zooming in.
The footage was disseminated in real-time on Twitter and Snapchat, with tributes to the 20-year-old slain rapper, born Jahseh Onfroy, pouring out before he was even pronounced dead.
It was a sad, violent ending to a troubled rapper struggling to get his life back on track while awaiting trial for the brutally violent crimes he had been accused of by his ex-girlfriend.
There's something equally troubling about the instant viral-ness of his final moments – which have now been widely shared on YouTube, embedded on blogs and retweeted endlessly.
Though we've all got a bit of morbid curiosity in us — particularly with celebrities who are often seen as larger than life — it's hard to fathom the thought of a group of bystanders going for their phones as someone lies dying.
And it's even tougher to reconcile the online celebrations that came with news of Onfroy's death.
While fans and peers posted emotional tributes, others toasted the demise of the young man whose fame was so largely intertwined with the violence of his past that it was impossible to separate the art from the man behind it.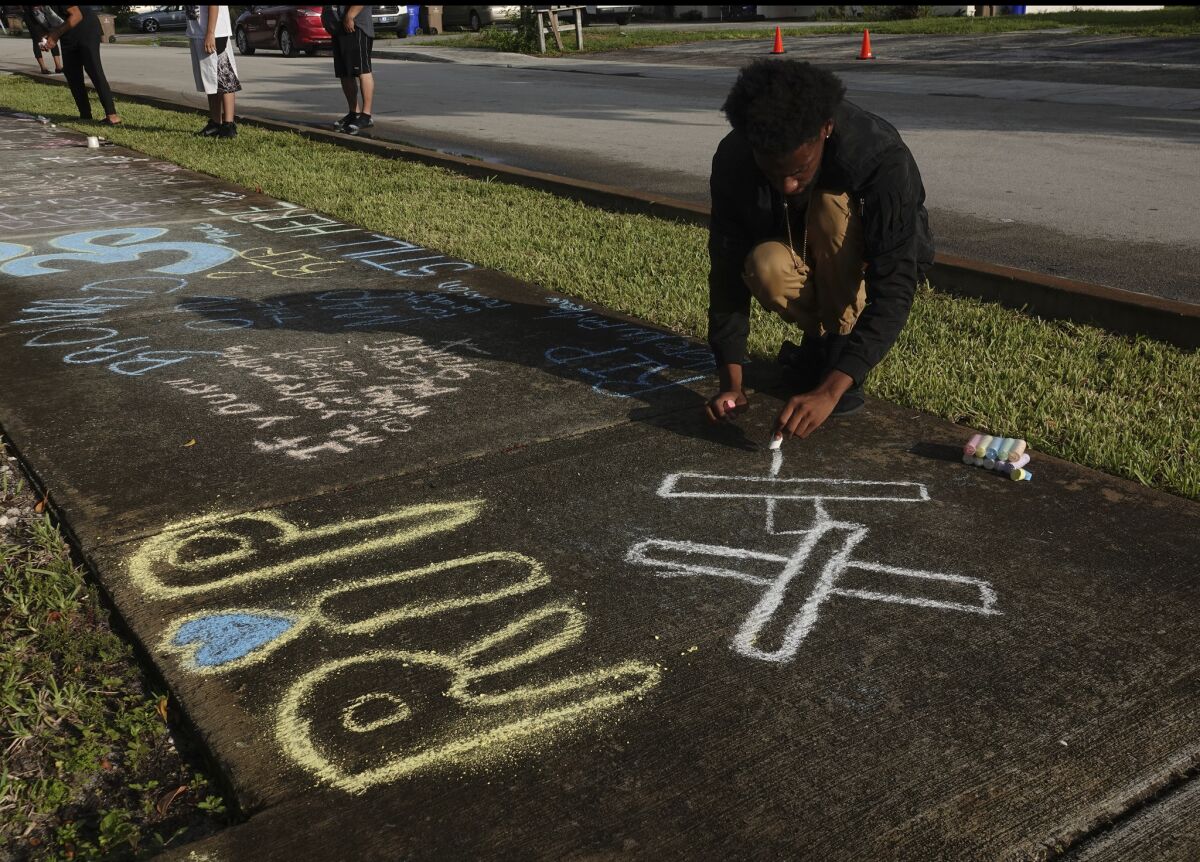 It was that art that resonated with millions of fans. It was raw and unpolished and it spoke to troubled young people in ways that few hip-hop artists could.
For anyone who has been kept up at night by crippling thoughts of despair or struggled with suicidal ideation or gone through a wave of depression, it was easy to connect with Onfroy's music.
He was part of a generation of young emcees — the late Lil Peep, 6ix9ine, Lil Pump, Trippie Redd, among others — who cultivated online followings and sold out shows without traditional promotion or radio.
I was late catching on to Onfroy. Before the arrival of his debut album, "17," last summer, he had completely evaded my radar.
I had heard his wickedly catchy single "Look At Me" but never looked into the music the performer had been uploading to Soundcloud, which along with a surging presence on Spotify led him to over a billion streams.
"17" was undeniable on first listen. He was beguiling and evocative on the album that opened with a literal explanation of its mission: "By listening to this album, you are literally, and I cannot stress this enough, literally entering my mind. And if you are not willing to accept my emotion and hear my words fully, do not listen. I do not value your money. I value your acceptance and loyalty."
I was gripped by his sullen music that melded nu-metal, indie rock and emo with melodic rap cadences (which have most certainly been pilfered by more than one rapper).
Onfroy wasn't concerned with aspirational posturing or waxing about societal ills. He was a young man grappling with mental illness and the dark thoughts in his head, the trauma of his past and the violence that has connected both.
"Voices in my head telling me I'm gonna end up dead, so save me before I fall … save me, I don't wanna be alone … save me, before I fall … so save me, I don't wanna be alone," he sings on the album.
That his fans were largely his age spoke directly to the isolation that comes with youth, and the rapper sought solace in their company — and vice versa — by endlessly engaging with them and offering to call any one of them who needed an ear.
I was moved by the music and the man. But then I googled him.
It didn't take much digging to see the life of nihilism he led, and still was living.
There were videos of fistfights — one clip, streamed to Periscope, showed him ambushing a man with punches, elbows and kicks — and in one in-depth interview he bragged, in disgusting detail, about beating and strangling his gay cellmate because the man was staring (he laughed about smearing his victim's blood on his face like warpaint).
There was the arrest over allegedly punching and kicking his girlfriend to the point where "both eyes became shut and victim could not see," according to the police report.
Photos of her black-and-blue face and bloody eye were plastered on web forums and Twitter and his fans viciously harassed the young woman to the point that she deactivated social media accounts.
And this was before her deposition was leaked to Pitchfork late last year. In it she delivered a stomach-churning account of extensive abuse she said she endured at his hands.
A month later he landed a distribution agreement reportedly worth $6 million between his own imprint and Caroline Records, which is part of Capitol Music Group — the same month that allegations of sexual harassment were made public against Harvey Weinstein, breaking open the #MeToo movement and launching a long overdue cultural reckoning across Hollywood and the media that largely continues to evade music.
During this time, I was working on a profile of Onfroy. As impressed as I was by his music, I couldn't ignore the transgressions of his personal life.
I spoke to his team, to his ex-girlfriend and one of her friend's, to rap bloggers who wrestled with how to cover an extremely talented individual accused of heinous crimes and to sources — who wanted to remain anonymous — that found particular offense in Capitol's involvement.
Before his death, he was facing up to 30 years in prison for the crimes he stood accused of. Onfroy and his team maintained his innocence, but his behavior and his comments showed a man who lacked remorse. Regardless, the case needed to play out in court and not tried via social media. Sadly for Onfroy and his accuser, that day won't happen now.
In Onfroy I saw a man who struggled with his own demons but desperately wanted to do good for himself, and for others. He was planning charity events to raise awareness for suicide prevention, a cause that was dear to him.
Onfroy certainly isn't the first artist accused of heinous crimes – and sadly won't be the last — and whatever legacy his music may have will forever be cemented alongside the horrible accusations lobbied against him.
As much as any artist in recent memory, Onfroy offered stark contradictions between the sensitive and the sadistic, the talented and the tormented. And his violent death, viewed by millions online, seemed both unbearably sad and somehow appropriate.
Get our L.A. Goes Out newsletter, with the week's best events, to help you explore and experience our city.
You may occasionally receive promotional content from the Los Angeles Times.