Review: A graceful 'Much Ado About Nothing' — in all its madcap zeal — shines at A Noise Within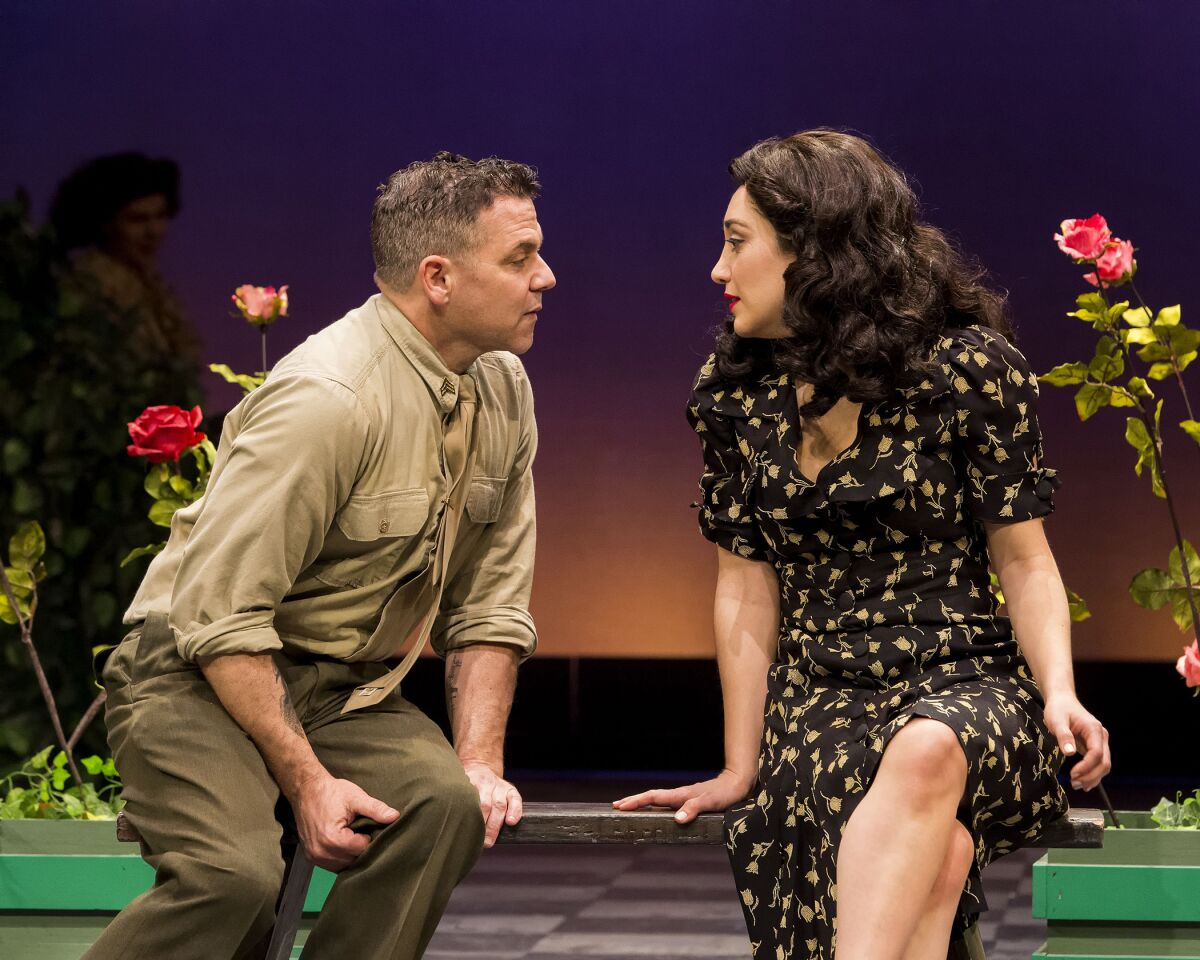 Before remounting "Much Ado About Nothing," William Shakespeare's classic battle of the sexes, it's important to remember that there's more to the comedy than Beatrice and Benedick's skirmish of wits.
How often I've sat through revivals with a cleverly commanding Beatrice and a handsomely roguish Benedick gamely firing their repartee only to sink glumly in my seat as the rest of the play is treated as a cumbersome afterthought.
In his graceful production at A Noise Within, Guillermo Cienfuegos avoids this common trap by taking a holistic approach to Shakespeare's tricky romantic comedy. The story — in all its madcap, reckless zeal — comes first.
If the poetry is sometimes neglected, the comic contrivances are pulled off with aplomb. This is no easy task. "Much Ado" has some of the most gullible characters in all of Shakespeare.
Charades are foolproof: No sooner does a character overhear some false information than they are instantly bamboozled. One lover (Claudio) denounces his beloved (Hero) after being deceived about her purity. Two supposed enemies of romance (Beatrice and Benedick) fall helplessly into amorous captivity after being tricked into thinking the other is head over heels.
Cienfuegos' production succeeds in choreographing the giddy high jinks by traveling light. The setting is still Sicily but the story has been fast-forwarded to World War II in the jubilant period when the Allied forces overtook the island and drove the Fascists from power in 1943. (The soldiers now talk like Yanks and Brits.)
The ambiance of an Old World villa prevails with strategic Mediterranean touches by scenic designer Angela Balogh Calin. Ken Booth's lighting establishes the romantic mood of Shakespeare's comedy with a palette of pastel hues. The uncluttered staging exerts an irresistible allure.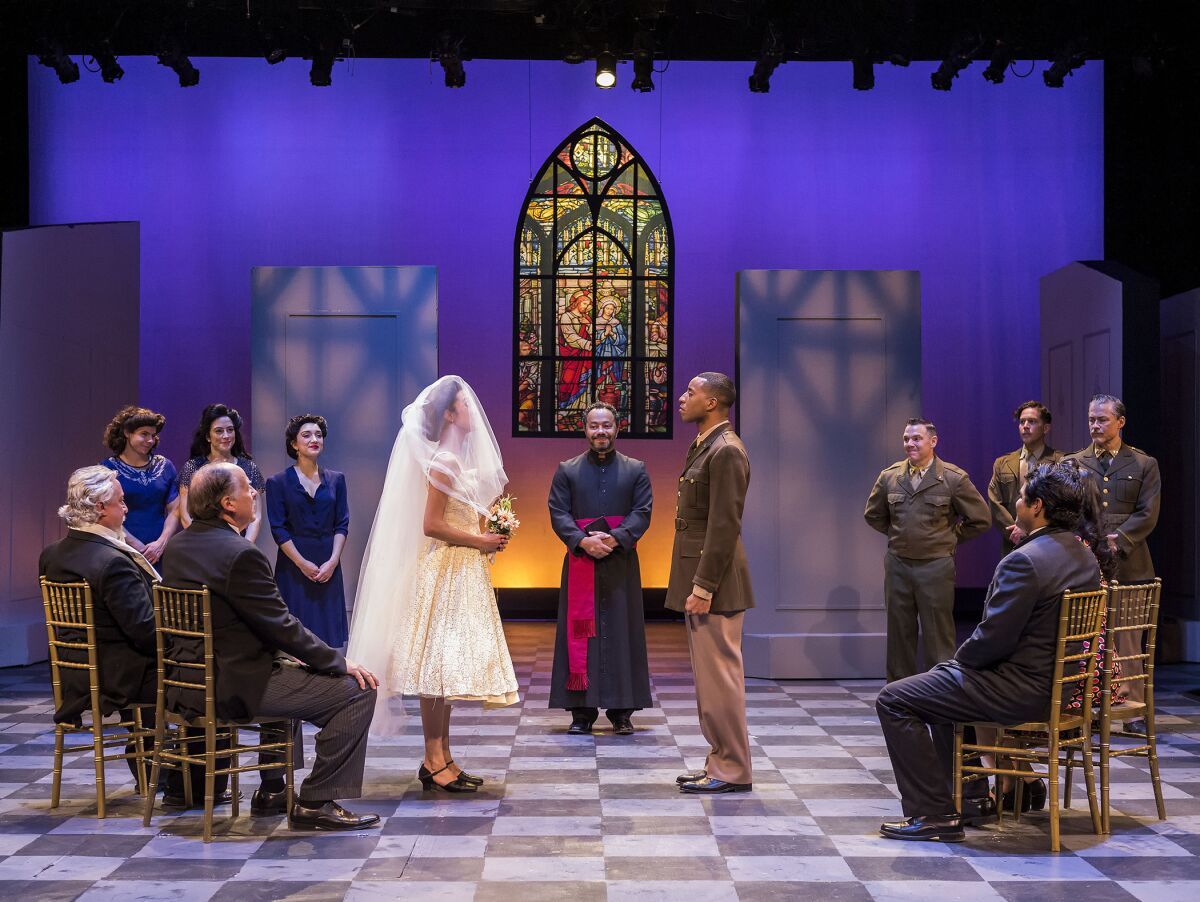 A scattering of chairs sets the scene for a party. A parked jeep allows a military man to hide in plain sight. All that's needed for a church is a stained-glass window. Villains take cover behind an easily transportable panel of greenery.
The freedom from heavy set pieces gives this "Much Ado" room to dance. The music that occasionally breaks outs encourages jitterbugging. Italian hand gestures and accents as thick as Sunday gravy are interspersed among the older gentry, but there's a distinct GI ring to this theatrical milieu.
Beatrice and Benedick aren't cut from the classic mold. Erika Soto's Beatrice has the glamour of a silver screen screwball heroine. Joshua Bitton's Benedick has the blue-collar humor of one of Stanley Kowalski's poker buddies from "A Streetcar Named Desire." But novelty reignites the reluctant romance.
If Soto sometimes trounces over the lyricism of her lines, she's always true to Beatrice's immediate circumstances and never falls into recitation for recitation's sake. There may be nothing princely about Bitton's portrayal, but he's so much more lovable than the posh cads of swankier Benedicks.
Stanley Andrew Jackson brings tender sympathy to the shy, impressionable, headstrong Claudio, whose emotions are easily swayed but never false. Alexandra Hellquist gives Hero both delicacy and backbone. The character is as impish and sturdily resilient here as she is traditionally docile and vulnerable.
As Don Pedro, reconceived here as a British-born American movie star (known as the "Prince") whose chief job is to buck up Allied troop morale, Frederick Stuart mixes eloquent suavity and decisiveness with an unmistakable hint of loneliness. Rafael Goldstein makes John, Don Pedro's nefarious bastard brother, seethe with credible resentment. Tony Pasqualini draws out the passion and volatility of Leonato, Hero's big-hearted, if tempestuous, father.
Resurrecting the tomfoolery of Dogberry (Wesley Mann), the doddering, malaprop-ridden constable of the town, and his bungling associates, is a herculean challenge. Cienfuegos recognizes that the language of this crew can at points be unintelligible for modern audiences, but he doesn't give up.
His actors adopt indecipherable accents and speech patterns that convey the kindly mission of this determined if clumsy ragtag patrol. No one has to parse the antique wordplay to be in on the gag. This Shakespeare for Dummies approach, smartly circumscribed, rescues the laughter by vividly mapping out the importance of this zany subplot.
Usually halfway into "Much Ado" I'm ready to bid my seat adieu, but not this time. I was too worried about the fate of Claudio and Hero and too emotionally invested in Beatrice and Benedick's future. The happy ending mattered to me.
How did Cienfuegos accomplish what some starrier productions have failed to do? His direction helped me appreciate the deeper Shakespearean meaning of the play's merry ruses.
Love, an act of faith, is sustained by belief, not proof. Second guess the gift, and you'll lose it — unless a generous playwright gives you another chance.
'Much Ado About Nothing'
Where: A Noise Within, 3352 E. Foothill Blvd., Pasadena

When: 8 p.m. Fridays, 2 and 8 p.m. Saturdays, 2 p.m. Sundays. Ends March 12.

Tickets: Start at $25

Info: (626) 356-3100, anoisewithin.org

Running time: 2 hours, 40 minutes
Get our L.A. Goes Out newsletter, with the week's best events, to help you explore and experience our city.
You may occasionally receive promotional content from the Los Angeles Times.