Raquel Welch was labeled a sex symbol. But she always knew she was much more than that
Raquel Welch was well aware that her work in the 1960s films "One Million Years B.C." and "Fantastic Voyage" made her an international sex symbol. But she was also determined to let Hollywood know there was more to her than her looks.
Also a mother and author, Welch used her early status as cinematic eye candy to promote her talents and ambitions. Over the years, the Golden Globe winner got real with the Los Angeles Times about aging and being a role model for other women, among other topics.
The Chicago-born actor, also known for her work in films such as "The Three Musketeers" and "Legally Blonde," died Wednesday at age 82.
Here are some of her musings from conversations with The Times dating back to 1986.
Raquel Welch, the 1960s legend who starred in 'One Million Years B.C.' and 'Fantastic Voyage,' has died, her family announced Wednesday. She was 82.
The pros and cons of those revealing costumes
When she came onto the scene with roles in "Fantastic Voyage," "One Million Years B.C." and "Bedazzled," Welch caught viewers' attention with her curves — which were accentuated by revealing and body-hugging costumes. (Think of that fur bikini in "One Million.")
"Every time I left the theater, there would be a crowd of women waiting to ask me questions, such as: 'What do you eat?,' 'What kind of exercises do you do?' and 'How do you look like that?,'" Welch told The Times in 1986, 20 years after her "One Million" debut. "Well, I wasn't about to stand there and explain my daily hour-and-a-half exercise routine or what I had for breakfast."
"Being a sex symbol was a tremendous responsibility and a constant battle," she added. "It used to bother me at first, but I now know you can have that and be respected as well. You can have both."
In the following years, Welch looked back on her early work as "my ticket to ride," but she didn't want her roles as pinups "to be my complete legacy."
After working on the 1972 film "Kansas City Bomber," in which she starred as a single mother who becomes a roller-derby star, Welch admitted her first roles weren't so virtuous.
"I felt a rite of passage where I am over that part where I have to run around in a bikini forever," she told The Times in 2010. "It's just so painfully uncomfortable and in a way kind of humiliating."
Here's a look at Raquel Welch's life and career in photos, from 'One Million Years B.C.' to 'The Three Musketeers.'
Reflecting on her status as an international sex symbol, Welch kept it real with The Times.
"I am not a fool," she said. "I realized when I came along, I wasn't Meryl Streep who had been put into a bikini. I was somebody that got rocketed into the spotlight and superstardom overnight. I knew this was going to give me an opportunity and I should make the best of it."
In 2016, Welch told The Times, "There were so many things going for me, but with it came a lot of stereotypical opinions about my abilities and who I was."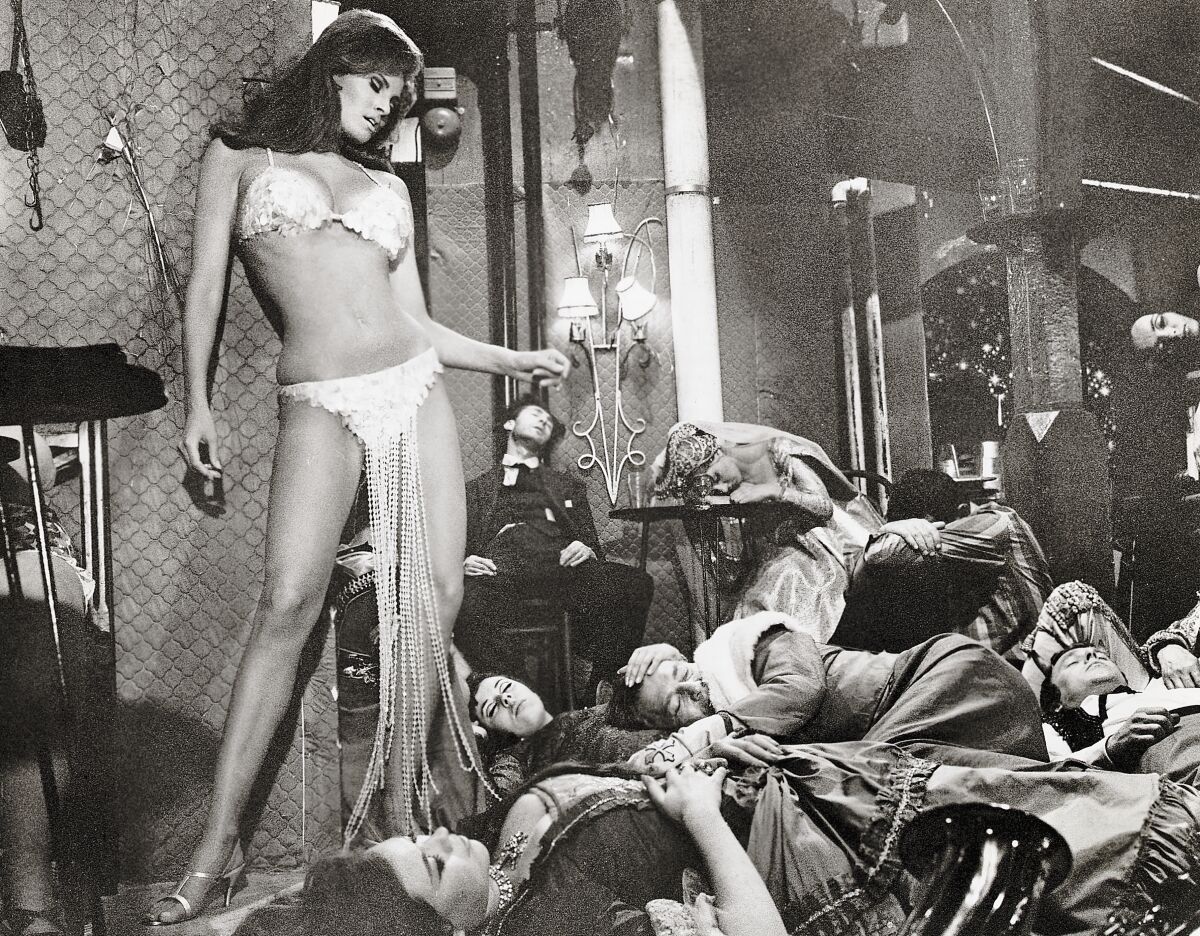 "In the end, I've gotten a lot of opportunities to do various things I am very proud of, including Broadway and the physical comedy in 'The Three Musketeers' [for which she won a Golden Globe]. So I would probably say to [my younger self,] 'Good for you.'"
Accepting her age and finding beauty in it
Welch started her Hollywood career in her 20s and continued acting well into her 70s. As the years went by, the bombshell embraced her age.
"Here I am an actress in my late 40s — I don't look like that, but that's where I am emotionally and personally," she told The Times in 1990.
Reese Witherspoon, Chris Meloni and Sandra Bernhard are among the many honoring Hollywood legend Raquel Welch, who died Wednesday at age 82.
"I am grown up and I don't have any yen to play in 'Splash,' you know?," she added, referring to the 1984 film starring Daryl Hannah.
Decades later, she caught up with The Times to discuss her memoir, "Raquel: Beyond the Cleavage," and mused on the wisdom that came with age.
"As life goes on, you get more valuable as a person. Many women look better," she told The Times in 2010. "Personally, I think I look better because I have lived and I have a different kind of aura about me having lived."
Standing up for herself, and other women, in Hollywood
Welch might have distanced herself from her "One Million Years B.C." looks, but she "liked that there was something very superhero" about her character, she said in 2016.
In addition to being an actor, producer and author, Welch said she wanted to be someone to look up to. Especially for other women.
In June 1986, Welch used her multimillion legal victory against MGM over "Cannery Row" as a moment to speak up for other female actors. A jury decided the studio had breached its contract with Welch when it replaced her with Debra Winger.
Actress Raquel Welch won a $10.8-million verdict against Metro-Goldwyn-Mayer Tuesday when a jury decided that the studio breached her contract by firing her from a starring role in "Cannery Row" and hiring actress Debra Winger to take her place.
"I think what this shows is that it's important to stand up for your rights, and I hope that women in and out of Hollywood stand up for their rights when they feel they've been wronged," Welch said outside the courtroom.
In 2010, as she was approaching 70, Welch told The Times she wanted to share her life knowledge through her memoir.
"I desperately wanted to speak to women of my generation and, being a mother, to younger girls as well. I wanted to speak about my experience being a woman because it might help by knowing that even if you are touted as some big doodah, the trials and tribulations and the beauty of being a woman is something that we all experience in our own way," she said.
She continued: "I wanted to speak about the unspeakable, like menopause. What we really don't need to talk about much has to do with plain old sex. But if we are talking about real life-changing experiences … I thought I would be useful and helpful."
How those sex-symbol roles eventually helped her as a mother
By the time Welch landed her first movie role, as a call girl in 1964's "A House Is Not a Home," she was a mother to two young children. In November 1959, she and ex-husband James Welch welcomed their son, Damon Welch. Two years later, they had a daughter, Latanne "Tahnee" Welch.
In 2016, she told The Times those early roles might have been a blessing in disguise, especially as a young mom.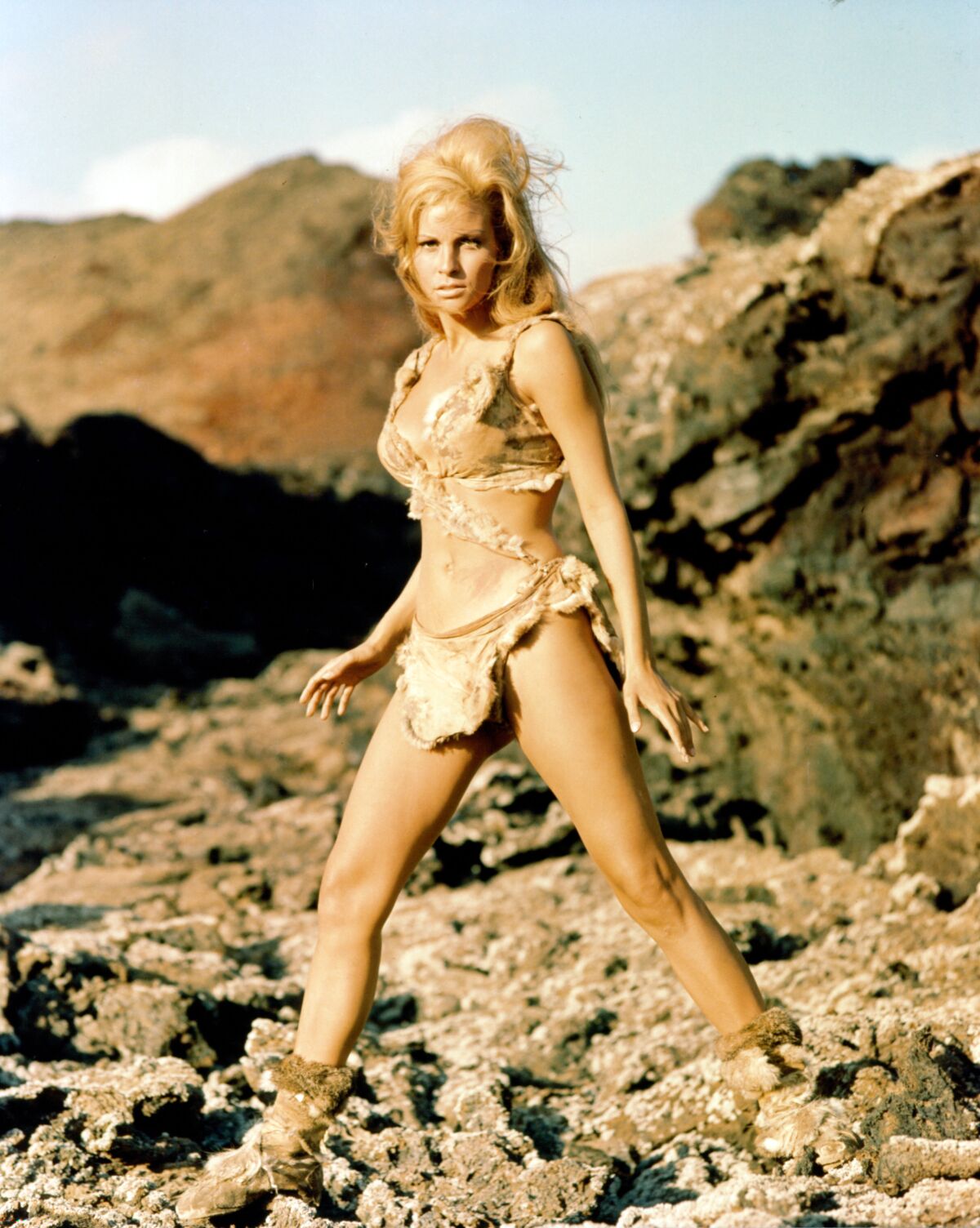 "I thought, 'This is not at all who I am,' but then at the same time, I was thinking, 'Maybe that's the way fate has planned it so I could at least get aboard,'" she said. "Otherwise, I was a young mother, and if I would have had to wait around for a really wonderful role that more established actresses would be more likely to be cast in, I might not have been able to have a career."
In 1986, Welch also spoke out against critics who said she couldn't balance motherhood and her Hollywood fame.
"People kept telling me that combining children with a career at an early age just wasn't done. But I think it helped," she said. "It gave me a kind of stability and determination I might not have had otherwise. If nothing else, I owed it to them not to trash myself."
Get our L.A. Goes Out newsletter, with the week's best events, to help you explore and experience our city.
You may occasionally receive promotional content from the Los Angeles Times.