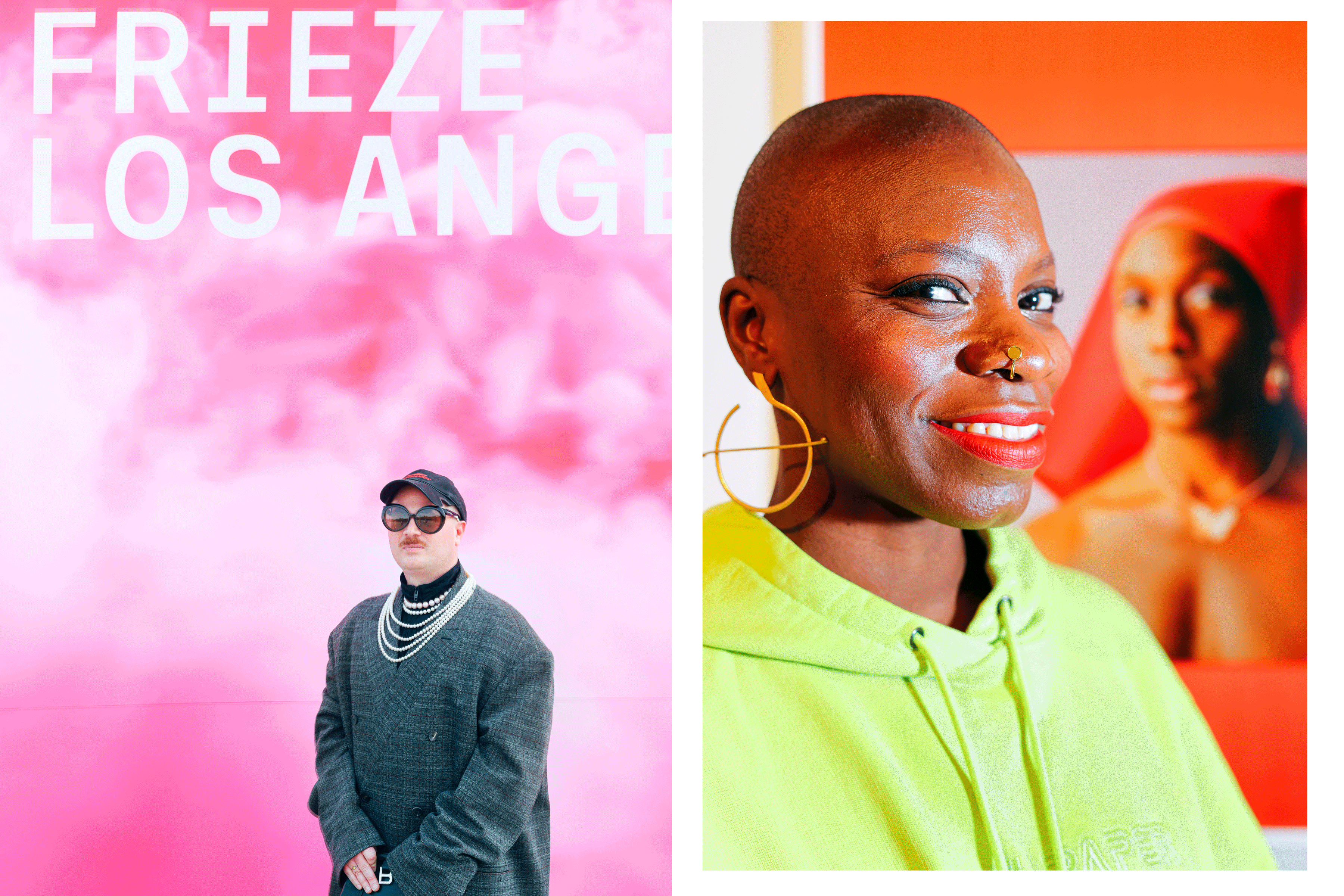 The Frieze Los Angeles art fair kicked off Thursday morning with an early VIP breakfast at the Museum of Flying. The fair takes place at the adjacent Santa Monica Airport this year and is Frieze's biggest L.A. presentation to date, with more than 120 participating galleries representing 22 countries. Thirty-five thousand attendees are expected over four days for a program that also includes Frieze Projects' outdoor, site-specific installations and sculptures as well as an especially robust Focus section, spotlighting emerging artists.
But first: avocado toast with shiitake bacon under a lemon yellow, '50s-era biplane hanging from the ceiling. With its open-air, warehouse-like feel, and vintage aircraft and flying ephemera on view — who knew TWA flight attendants wore Valentino in the 1970s?! — the museum lent a breezy, languorous feel to Frieze's opening morning.
Which quickly morphed into a festive, art fair frenzy. Properly fueled up, fair VIPs made their way to the Kulapat Yantrasast-designed exhibition tent, which opened its doors for an invitation-only preview at 10 a.m. It soon filled up with big-name artists (Charles Gaines, Alex Israel, Doug Aitken), museum leaders (LACMA's Michael Govan, the Broad's Joanne Heyler), longstanding patrons (Lynda Resnick, Edythe Broad), curators (Hans Ulrich Obrist, Joy Simmons) and art-enthused celebrities (such as Gwyneth Paltrow, Owen Wilson, Catherine Keener, Margot Robbie, Lionel Ritchie, Jared Leto and John McEnroe).
If the Santa Monica airfield provided the runway for Frieze's Day One takeoff, then the swarm of colorfully dressed, art-passionate attendees was the wind beneath its wings. Here are some of the Faces of Frieze.
R F Jefferies, a collector from San Diego, is dressed "head to toe in Balenciaga," he says. "The only thing not is the jewelry — that's Tiffany's!" Frieze, for him, is a way to support the Los Angeles arts scene. "I'm here as a collector. I grew up here. So I try to support hometown institutions and then see a lot of people from out of town, out of country."
Paige Haran, left, and Rebecka Jackson, right, co-run the New York and Mexico City-based curatorial collective "Grandma." They curate exhibitions primarily for social justice causes, Jackson explains at Ochi Gallery's booth. Frieze is "an ideal time," she says, to meet artists, collectors and others who might be interested in getting behind the causes they support. "Everyone's here, everyone flies in, so you don't have to chase folks around the country, you can set up a bunch of meetings at once," she says. "And, of course, always seeing new artists and what's hot and happening in the art world is exciting."
Racquel Chevremont, a New York-based curator and art advisor, has planted art works as part of the set design of "Sex and the City" sequel "And Just Like That...," among other TV shows. She's drawn to the Focus section of Frieze, she says, because it's a place to discover new, emerging artists. "New talent. And seeing if there's someone doing something different," she says at the Sperone Westwater booth (not part of the Focus section). "Everyone is influenced by someone, but perhaps there's someone who's really coming out with their own voice. And that's what I'm looking for."
Cristopher Cichocki is the co-founder of Palm Springs-based arts organization the Elemental, which is focused on "the environment, land art and bio art," he says, standing by an enormous, multicolored Olafur Eliasson wall installation at L.A.'s Tanya Bonakdar Gallery. He came to Frieze, in part, because "potentially there's a curatorial relationship and to align synergies with like-minded artists. This is supposed to be the cutting edge. If you get one takeaway, it's worth the day."
Mebrak Tareke — a former New Yorker now living in Mexico City who's never been to Frieze before — spends a lot of time thinking about "the whole global side of things" in the art world, she says, posing in front of a Jeremy Moon work at Luhring Augustine. Meaning: social, art market and aesthetic trends and how they are changing. "Things are shifting," says Tareke, a writer and founder of the storytelling consultancy TiMS Creative. "I think there's a tension between what curators and artists want and what the market wants. And I think the two are managing to sort of converge, somehow. It's probably a good time to be Black and an artist. But there could be more done in terms of Asian artists — more representation."
Today is Nya Serano's very first Frieze fair, the San Francisco-based abstract painter says. What's her first impression? "Oh my gosh, it's insane. It's just a lot. But I feel really inspired. Everywhere you look, it's art!" she says. Including on her face, which she has painted today with tiny, cheetah paw print-like circles on her eyelids. "I kind of try to add something from my paintings onto myself, whenever I possibly can," she says. "I use makeup around my eyes to make prints."
Keiko Sakamoto-Witte, a Laguna Beach-based collector who's on the board of the Orange County Museum of Art, is typically drawn to color. But part of the fun of art fairs, she says, is the element of surprise. Barely an hour into the fair, she and her husband, William Witte, purchased a monochromatic bronze sculpture, by Goro Kakei, from Japan's Taka Ishii Gallery. "Sometimes we get surprised by things we've never seen," she says. "And we just fell in love with the sculpture and we grabbed it."
Longtime Newport Beach-based collector Demetrio Kerrison is a Frieze regular — in New York, in London and in L.A. He's attended every one of Frieze's Los Angeles iterations. This year, he's especially excited about work by Michaela Yearwood-Dan at London's Tiwani Contemporary. The large, vibrant abstract paintings feature ceramic flower petals. Kerrison is as intrigued by the artist as he is the artwork. "She's a queer, U.K. woman of African descent," he says. "And what I love about it, is there's been this big movement around figuration. And she's broken out of that. This is abstract work, brightly colored. And I think that the market is sort of trying to catch up to her type of work."
British artist Ryan Gander, who's from Suffolk, is showing work at Lisson Gallery's booth. His wall sculpture features a found mirror from the 1800s with marble-sculpted sheets draped over it. "It's obviously a tool for vanity and narcissism," he says. "And for reflection and understanding oneself. To cover it is to suggest a sort of negation."
Writer-filmmaker-gallerist Yiwei Lu debuted her Venice-based Yiwei Gallery in 2021 with an eye toward showing "sustainable art." That means art that's kind to the planet, with many artists using recycled materials and nontoxic paints in their works, she explains posing in front of a work by Analia Saban at Tanya Bonakdar Gallery. Along those lines, Lu is dressed in vegan leather with natural dyes. At Frieze, she says, "I'm here to meet people, I'm here to look for inspiration, to see who are the hottest artists now, and also I just enjoy the art fairs. It's fun to meet people."
Richard Parker, a skincare scientist, lives between L.A., Paris and Melbourne with his partner, Peter Jopling — the latter providing Parker's entree into the art world. Last year they traveled to the Venice Biennale. Art is a window into the state of the world, Parker says. "I love to see society reflected in what the cutting-edge artists are doing. It's almost like a pulse check. You can detect how people are thinking and feeling and that's what I'm excited to see here at Frieze — to see if it holds true again."
Husband-wife duo Inna Xu, right, and Chen Dongfan are an art world power couple. Originally from China and now living in New York, Xu runs Inna Art Space gallery and Chen Dongfan is an artist. It's their first time at Frieze in L.A. and they're looking to buy works on paper. Chen Dongfan makes "huge-sized paintings," Xu says, but they're specifically looking for smaller-scale works today. "It's fulfilling," Chen Dongfan says. "A small drawing feels very personal. I want to find something to connect with."
Jessica Nabongo is a writer, photographer and travel expert — she's been to every country in the world, she says. She lives between L.A. and Detroit and started collecting fine art seriously about two years ago — "a lot of Black artists, which is great, some photography, some mixed media, which is probably my favorite," she says. "It just has so much life. For me [coming to Frieze] was an opportunity, in real time, to learn more about a large group of artists at one time. I'm planning to come several days so that I can actually get to every single booth and take it all in." A work by Camila Falquez at Hannah Traore Gallery has caught her eye. "What I love about it is how the artist has tuned her photography into art using the framing."
L.A.-based vintage clothing dealer, Francisco George, was fittingly dressed in a vintage, Dolce & Gabbana custom-altered coat with no sleeves and gold-painted finger nails. Part of the excitement of Frieze, he says, is "the hunt." Posing in front of a Doug Aitken wall sculpture at New York's 303 Gallery, he elaborated: "You never know what you're gonna find or what's gonna surprise you. I follow the artists' careers. To see what they're doing new, or find an historic one from a period I don't know yet — it's exciting."
Admiring work at the Sprüth Magers booth, Venice-based artist Kelly Berg — who works in painting, sculpture and mixed media — explains that art fairs help her gain perspective on the Southern California and wider art world. "It's exciting to see what's going on now," she says. "I always find it super inspiring to see what's happening right now in contemporary art. I find it really energizing. I can't wait to get back to my studio!"
Get our L.A. Goes Out newsletter, with the week's best events, to help you explore and experience our city.
You may occasionally receive promotional content from the Los Angeles Times.