Review: A majestic 'Sunday in the Park With George' revival arrives at Pasadena Playhouse
Great artists don't always receive their due in America. That can't be said about Stephen Sondheim, whose work seems only to grow in esteem and deepen in public affection with the passage of time.
It's worth underscoring that when Sondheim began writing his own original shows, he was accused of killing what audiences loved most about musical theater — its sentimentality. He was clever, ironic and unapologetically experimental. But many questioned whether he had a heart.
In "Sunday in the Park With George," one of Sondheim's indisputable masterworks, he delves into the dilemma of a trailblazing artist who refuses to conform to expectations in his work or in his relationships. The personal costs are enormous, but Georges Seurat, the French Neoimpressionist who is the subject of the musical's imaginative inquiry, leaves behind not only a new way of seeing, but also another register for understanding emotion.
A majestic new production of "Sunday in the Park With George" opened on Sunday as part of Pasadena Playhouse's six-month-long Sondheim Celebration. It's being touted as the first major festival honoring the composer-lyricist's work since his death in 2021, but it feels part of a theater-wide salute that shows no signs of abating.
A look at Stephen Sondheim, the award-winning composer-lyricist with shows such as "Company," "Follies" and "Sweeney Todd."
The divine Broadway revival of "Into the Woods" that closed last month is headed to the Ahmanson Theatre in June. A new "Sweeney Todd," starring Josh Groban and Annaleigh Ashford, opens in March on Broadway under the direction of "Hamilton" Tony-winner Thomas Kail. And New York Theatre Workshop's recent production of "Merrily We Roll Along," starring Jonathan Groff, Daniel Radcliffe and Lindsay Mendez, redeemed one of Sondheim's rare flops and earned itself a prime slot in Broadway's next fall season.
Closer to home, East West Players delivered, post-insurrection, a brave production of "Assassins," another intriguingly recalcitrant Sondheim property. There have also been concerts, books (including D.T. Max's "Finale: Late Conversations With Stephen Sondheim"), recordings and assorted tributes, the most moving of which was the outdoor gathering of Broadway luminaries in Manhattan's Theater District after Sondheim's death for a performance of "Sunday" from "Sunday in the Park With George" in the maestro's honor.
You'd think those of us who are keeping tabs might be surfeited by now, but a true theater lover can never have too much Sondheim. Pasadena Playhouse's festival began in January with "Into the Woods." A collaboration between the theater and high school students and teachers of Pasadena Unified School District, this presentation placed the Sondheim Celebration on a strong communal footing.
Pasadena Playhouse has pulled out all the stops for "Sunday In the Park With George," the first main-stage offering of the festival. Directed by Sarna Lapine, this sumptuous production boasts a full orchestra under the music direction of Broadway veteran Andy Einhorn and an extensive (and no doubt murderously expensive) cast.
Lapine is the niece of James Lapine, who wrote the show's Pulitzer Prize-winning book and directed the original 1983 off-Broadway production at Playwrights Horizons that moved to Broadway the following year. She brings a track record of success with "Sunday in the Park With George," having directed the lauded 2017 Broadway revival with Jake Gyllenhaal in the title role.
Pasadena Playhouse's production stars Graham Phillips as George, a bearded French painter singularly focused on his work, and Krystina Alabado as Dot, his tired model and frustrated paramour. These performers dominate the stage, both in the first act, which imagines the painstaking creation of Seurat's breakthrough masterpiece, "A Sunday Afternoon on the Island of La Grande Jatte," and in the second, which jumps forward a century to imagine a descendant of Seurat, an innovative American artist, caught in the corporate vise of the contemporary art market.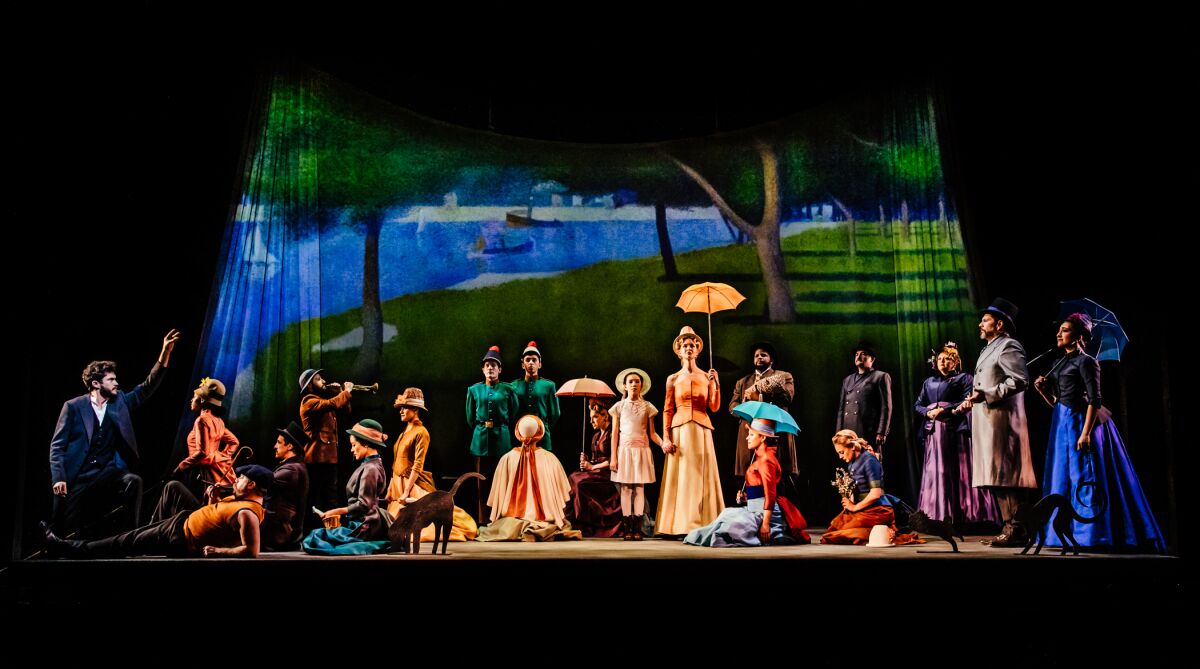 Members of the design team (namely, scenic designer Beowulf Boritt, projection designer Tal Yarden and lighting designer Ken Billington) also deserve top billing. This musical meditation on the mad, miraculous quest of a visionary artist is brought to life with stunning visual ingenuity.
The production beautifully suggests the symmetry between Seurat's story and Sondheim's own. Seurat's in-process painting, a scene of Parisians lollygagging in a park on the banks of the Seine on an ordinary Sunday, is projected onto a scrim behind which the orchestra can be seen playing.
Seurat is known for ushering in Pointillism, a branch of Impressionism that incorporated new scientific understanding of human perception. The technique involves colored dots that are applied in patterns, which are then are blended by the eye of the viewer into a more extensive range of tones.
Figures in Seurat are not as clearly delineated as they would be in the hands of more conventional artists, like Jules (Michael Manuel), George's pompous, power-brokering rival in the musical. Sondheim and James Lapine are similarly not concerned with traditional characterizations. They are working in types, vivid outlines that are flecked with music in such a way that depths of feeling are created almost out of thin air.
A critic's tribute to Broadway composer and lyricist Stephen Sondheim, a master of storytelling in song.
Like Seurat's unorthodox brushwork, Sondheim's post-Rodgers-and-Hammerstein songwriting conjures a mirage effect all its own. The orchestra and the singers communicate a more profound story of love, loss and artistic gain than is accounted for in the libretto alone.
What prevents Lapine's good production from being great? The answer lies in the subtlest of calibrations, but in general the direction leans too heavily on the book. That is not where the genius of this musical resides.
The ensemble would have benefited from a touch more resistance to the show's comic caricatures (the ugly Americans in Act I, the museum vultures in Act II). These personages are broadly sketched, but they needn't be played quite so cartoonishly.
Artistic director Danny Feldman noted in his curtain speech how rare it is to experience a show of this scale in a house as relatively intimate as Pasadena Playhouse. I'm sure I'm not alone in feeling fortunate to have had this opportunity, but the quality of the amplification hinders the alchemy of the songs.
Vocal textures are lost, and with them a not-insignificant part of George and Dot's romantic story. The music provides space for glimpsing in art what cannot be realized in life. (Art isn't easy, as Sondheim's lyric tells us, but it can show us the ideal that messy, boisterous reality denies.) The profound emotional bond between George and Dot, though stymied by an uncooperative plot, has the chance to find chromatic expression in their singing.
Phillips and Alabado have some difficulty connecting on this transcendent level. The problem is in part acoustical. (The choral numbers also have a clouded penumbra.) But George and Dot's subliminal attachment is only vaguely present here.
Phillips, an actor and filmmaker who was an opera soloist in his youth, caught my attention last year in the role of Nick in the Geffen Playhouse revival of Edward Albee's "Who's Afraid of Virginia Woolf?" In "Sunday in the Park With George," he's more poignant when George is alone with his canvas than when having to interact with Dot, his lover who models for him all day under a hot sun and expects some tenderness for her devoted labor.
Two's a crowd for an artist with unlimited ambition and limited time. (Seurat died at 31.) Dot is both drawn to and wounded by George's unswerving commitment to his work. But Alabado can only indicate her character's higher longings. The undersong of Dot's unconscious gets lost in all the quotidian bustle.
When Alabado appears in Act II as Marie, the illegitimate daughter of George and Dot, now the 98-year-old grandmother of a trendy American installation artist also named George, the demands of playing a nonagenarian are more hampering than the sound system. Marie's number "Children and Art," in which she tries to pass down what's she's gleaned from her long life, leaves an impression of play-acting.
But Alabado and Phillips find the hard-earned wisdom of George and Dot's love story in a moving rendition of "Move On." The song showcases the enduring emotion of lost love in a hall of mirrors that defies the laws of time and reason.
Art allows such freedom. And great art like "Sunday in the Park With George" is a blessing, even in a production that can only brush up against its sublimity.
'Sunday in the Park With George'
Where: Pasadena Playhouse, 39 S. El Molino Ave., Pasadena
When: 8 p.m. Tuesdays-Fridays, 2 and 8 p.m. Saturdays, 2 and 7 p.m. Sundays. Ends March 19.
Tickets: Start at $39
Info: (626) 356-7529, PasadenaPlayhouse.org
Running time: 2 hours 20 minutes, including one 15-minute intermission
Get our L.A. Goes Out newsletter, with the week's best events, to help you explore and experience our city.
You may occasionally receive promotional content from the Los Angeles Times.