Comedians take L.A.'s trash-talking Roast Battle League global with tournament in Tokyo
Comedian and writer Pat Barker describes "Roast Battle" as "one of those shows that always ends up entertaining even if it doesn't go well." For example, the veteran performer — who has competed in 45 "Roast Battle" contests and judged hundreds more — still got heavily booed at South by Southwest 2022. "But the camaraderie amongst the battlers is so good," Barker says, "that even when you embarrass yourself, it just means that your friends have something to make fun of you about. And as roasters, that's kind of our love language. It's like trauma bonding."
Celebrating its 10th anniversary this July under host and referee Brian Moses, the weekly competitive insult contest continues drawing late-night audiences on Tuesdays at 10:30 p.m. in the Comedy Store's 100-capacity Belly Room. Combining the classic ribbing of the Friars Roasts and insult game the Dozens, jokes are typically dirty, dark and personal. The format has also proved itself surprisingly universal. So much so that from June 2 to 4, battlers Barker, Sarah Keller, Greg Roque and Paige Wesley will represent Los Angeles in a Roast Battle League tournament against the best battlers in Tokyo.
Last year local champion Wesley encountered Joe Eurell, a battler with cerebral palsy. He'd quipped: "Oh, big surprise, Paige hating on a vegetable." Wesley retorted: "Joe's birth mother had a drinking problem. Well, I mean she was pretty good at it for like nine straight months." She calls the concept a great equalizer. "It's the thing that draws comics of all types, but also wide ranges of audiences," Wesley says. "One of my favorite parts of Roast Battling is radical self-acceptance. To get good at it, you have to be comfortable with the roastable things about you. Watching a good battle feels like admitting we're all human with flaws. And being able to laugh at it makes us all feel better about being flawed."
Even before three Comedy Central seasons of "Jeff Ross Presents Roast Battle" from 2016 to 2018, the live show's influence began spreading across the globe. TV versions with celebrity judges quickly sprang up in the U.K., Canada, Mexico, Spain and South Africa.
Greg Roque appeared on the U.S. original's second season. He once assessed of Wesley: "Paige looks racist. She looks like she would call the cops on a Black BBQ just so she can steal the leftovers." Roque recalls previously roasting a Scotsman in London with ease. "Humanity's addiction to ridicule makes roasting a ubiquitous social event," he explains. "We like to laugh at others' misfortunes. It's cathartic. It's also a love language. Whenever someone takes the time to learn about me and my idiosyncrasies and fashion jokes about my insecurities, it makes me feel seen."
Following the post-quarantine reopening of venues across the country, the show's local hold had taken even deeper root. Regulars have become empowered to run their own competitive-roasting nights. Among them is Nate Welch's "Comic Wars" at the Improv and rap battler Los Digits' "No Llores," currently in transition from the Def Noodles comedy club at Sunset's Mesa Boogie store and now making its debut at the Ice House in Pasadena.
The Roast Battle League was launched for last summer's ninth anniversary, with factions initially from L.A., San Diego, New York, Chicago, Austin, London and Tokyo. In L.A., league-specific battles have found a monthly home at Culver City's Jam in the Van; visiting cities in 2023 have included Austin and Chicago. Weekly Comedy Store battles can still end around 1 a.m., often lasting a full three rounds plus additional overtimes, and still ending in draws, standing ovations and chants. Jam in the Van is a different environment. League battles trade the Sunset Strip for Motor Avenue just south of the I-10. Instead of a DJ, a jazzy three-piece band riffs in a corner. The venue is newer, smaller and brighter, all helpful in filming the monthly battles for YouTube streaming and social media clips.
Today L.A., New York, the Bay Area, Chicago, Austin and Denver make up the U.S. Division of Roast Battle League; the International Division is made up of Tokyo, Toronto, London, Barcelona, Scotland and Australia. It's a total of 12 cities in six countries, over which Commissioner Barker oversees league rankings. There are opening days, London finals and an upcoming Hall of Flame in the works. There's also recognition that a show accidentally born from an open-mic disagreement has morphed into something akin to comedy's version of a global sport.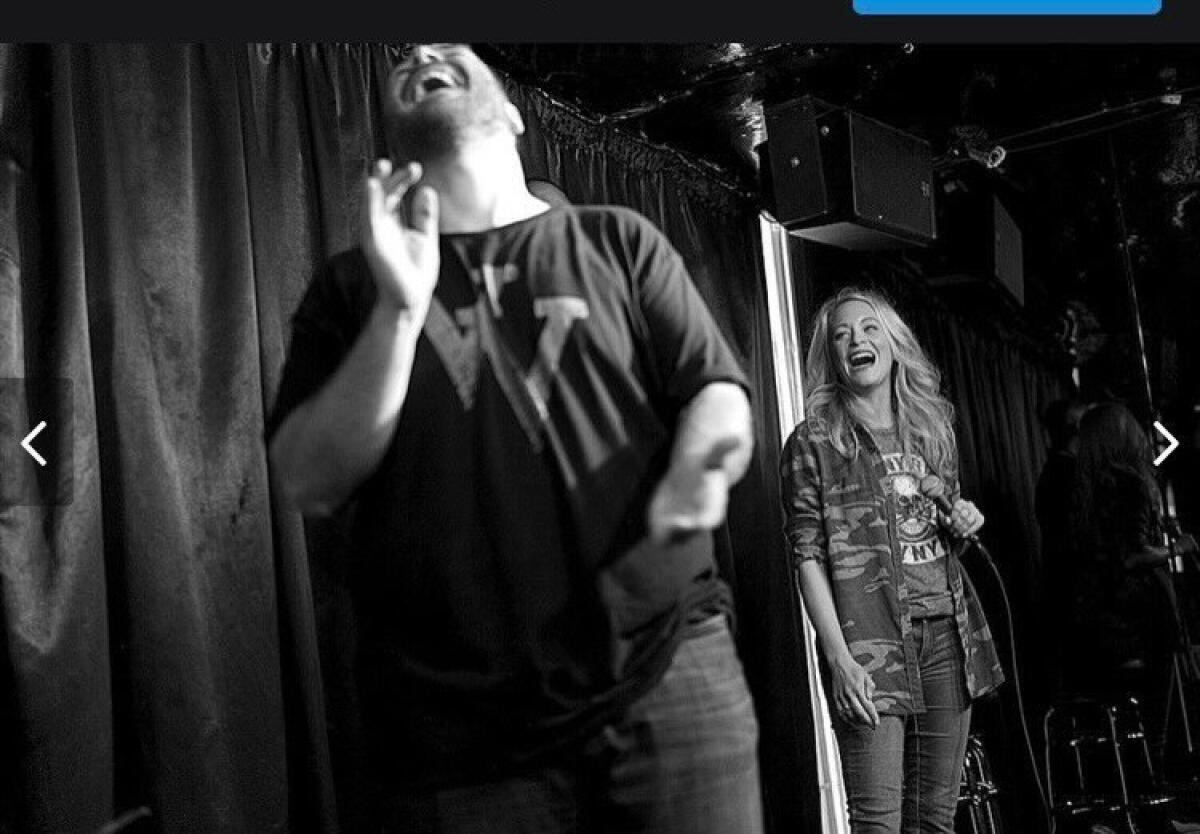 For Barker, battling has led to writing jobs for "Comedy Central Roasts," plus numerous sports series and specials. "I think ball-busting and trash-talking is kind of a universal language," he says, even if some outposts take longer to absorb underlying principles than others. For example, Barker says, Australia "has been crushing it. Nothing feels more Australian than two guys roasting each other over a pint at the bar, so it's just part of the culture even beyond comedy." Tokyo, on the other hand, needed time. "It's such a respectful culture, I think the roasting almost feels counterintuitive. But once everyone realizes that the insults we hurl on stage are actually rooted in a deep love and respect for both joke-writing and our opponents, I think they understand it a little bit more."
In every League location, the three official rules are the same: Original material only. No physical contact. Except once it's over, when every battle ends with a hug.
"Roast Battle" regular and "America's Got Talent" viral contestant Alex Hooper once told Simon Cowell: "Thank you for fixing your British teeth. Those things are so straight and white they were just offered positions in Trump's Cabinet." After fighting Stage 3 Hodgkin's lymphoma, Hooper spent two weeks in Japan this past April. He performed a headlining Saturday set at Tokyo Comedy Bar in the Shibuya entertainment district, followed by judging four English-speaking battles.
"It was very clear they had done their research and spent time writing," Hooper says. "They got very personal. They seemed to all know each other really well."
Like their American counterparts, Hooper said everyone there is having such a good time, including the people that are getting obliterated by each other. "They listened to each other, they retorted, they really celebrated when a good joke was made about them," he said. "And you could see them enjoying that process instead of getting angry or unraveling in some way."
At Tokyo Comedy Bar's Roastfest 2023, Friday includes a 7 p.m. L.A. showcase and 9 p.m. celeb judging of Tokyo's Roast Battle New Faces. Saturday at 8 p.m., Barker takes on Tokyo champion Louis Troye, with Wesley versus Jay Yamaki, Keller versus Bill Miller and Roque versus Evan Musoka. Sunday at 7 p.m., Barker and Keller co-host a live episode of "RBL Weekly," a YouTube podcast uploaded Tuesdays since the league's onset.
Keller once remarked of Suicide Girl Lindsey Jennings, "What can I say about Lindsey that hasn't already been said? Except maybe 'I'm proud of you.'" As co-host of the podcast, Keller claims an upcoming advantage over some of the other L.A. battlers. "Every week I break down the Top 5 battles from around the world, so I have watched a lot of battles out of Tokyo," she says. "Each city has a unique style and vibe to their 'Roast Battle,' so I have more insight into Tokyo's and will tailor my jokes. … A little pandering never hurt, right?"
Wesley's opponent originally hails from the U.K., while Roque's is a Kenyan expat now living in Japan. "Because of his particular life story," Roque says, "I am now allowed to recruit ideas and sentiments associated with both Kenya and Japan and use them as variables for the roast-writing formula."
The four agree that preparation for an international match is generally similar to local ones. It can include exchanging dossiers of personal information, parsing old roast videos for topics other battlers already wrote about, exploring new ground to cover, and FaceTiming to get to know about one another's lives, childhoods, careers, traumas and if anything is off-limits. Winning and losing aside, the goal is ultimately to have the best battle possible. Which for 10 years has meant finding the inner similarities amid the ostensible differences.
As Keller puts it: "Despite its brutal jokes, a roast is about love. If my opponent and I don't come out of the battle better friends, I've done something wrong."
Get our L.A. Goes Out newsletter, with the week's best events, to help you explore and experience our city.
You may occasionally receive promotional content from the Los Angeles Times.