Drew Barrymore left Steven Spielberg 'helpless' when she asked if he would be her dad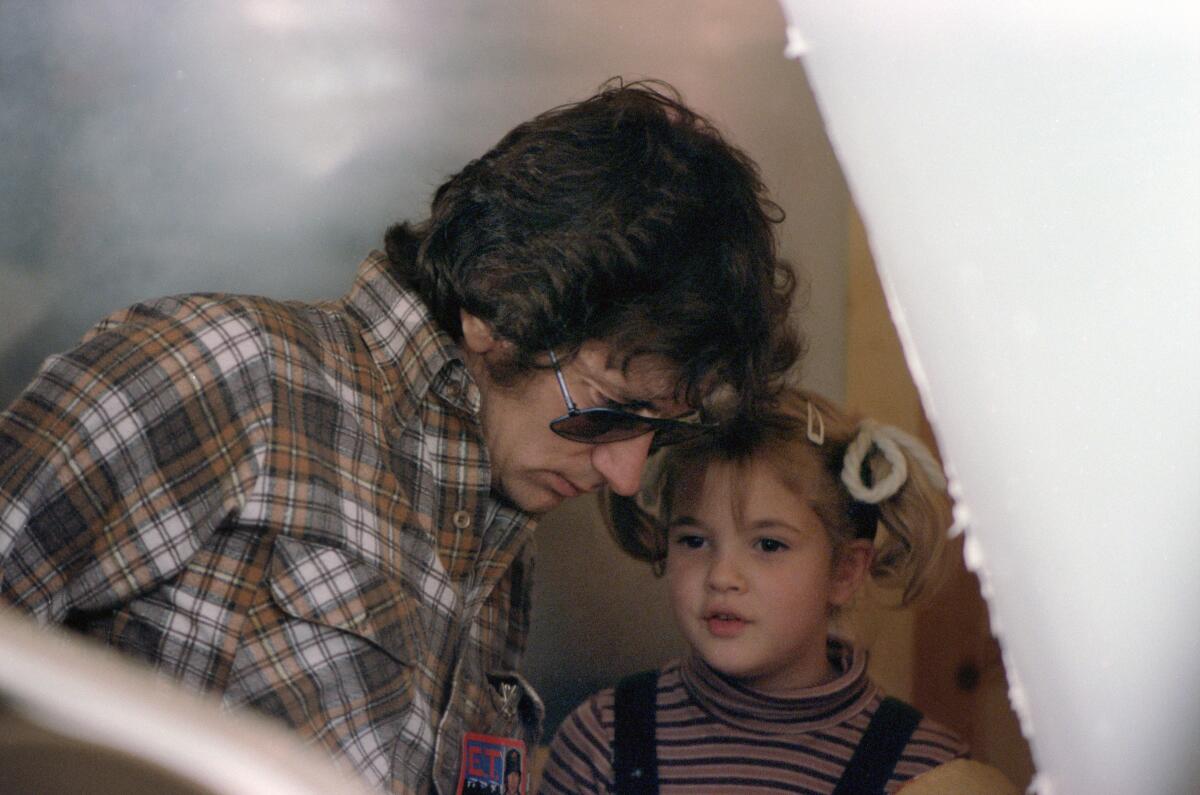 Drew Barrymore's latest revelation about her childhood is heartbreaking, and her Oscar-winning director admits to "feeling helpless" when it happened.
Barrymore was 7 when she caught Steven Spielberg's eye and landed the role in the 1982 blockbuster "E.T. the Extra-Terrestrial."
The young actor thrived on set, where she felt like she was part of a family — her actual family life was rife with abuse and instability. She clung to the caring adults in her life, ones who treated her with value, and according to a new profile published by Vulture on Monday, Barrymore especially clung to Spielberg.
Barrymore described the "E.T." director as "the only person in my life to this day that ever was a parental figure."
In April 2021, Universal Pictures released behind-the-scenes footage of Barrymore and Spielberg on set. The Oscar-winning director is wearing a skirt with a pearl necklace and dangly earrings. After he yells "cut" on a scene, he asks Barrymore, "Isn't this fun, Drew? Making movies?"
"He's a nice director, that's for sure," says a beaming Drew in an interview from the "E.T." set, fidgeting and stumbling over her words like a typical 7-year-old. "It's not funner with other directors, Steven's much more nicer, like a million nicers."
At 48, Drew Barrymore has survived divorce, quitting alcohol and leaving her beloved Los Angeles. Now she's trying to embrace herself as she forges ahead in a new direction — talk show host.
According to Vulture, Drew noticed the men operating E.T. behind a wall and asked Spielberg to make them leave. "I didn't want to burst the bubble," Spielberg told Vulture, adding that Drew would have lunch with E.T. and tell the alien her secrets.
"So I simply said, 'It's OK, E.T. is so special, E.T. has eight assistants. I am the director, I only have one.'"
Also while shooting the iconic film, Barrymore asked Spielberg if he would be her dad. The director told the young actor "no," so she asked if he could be her godfather, to which he agreed.
Spielberg let Barrymore stay with him on weekends, took her on trips to Disneyland and gave her a cat she named Gertie, after her character in "E.T."
Spielberg told Vulture that one day Barrymore arrived on set wearing red lipstick, and he told her to scrub it off.
"She was staying up way past her bedtime, going to places she should have only been hearing about, and living a life at a very tender age that I think robbed her of her childhood," Spielberg said. "Yet I felt very helpless because I wasn't her dad. I could only kind of be a consigliere to her."
Drew Barrymore's therapist has issued a statement after the TV host told the Los Angeles Times he dropped her because of her drinking habits.
Barrymore is considered a nepo-baby, but technically she's more of a nepo-grandbaby. Her grandfather John Barrymore was a stage and film actor celebrated for his Shakespearean portrayals like the 1922 theatrical production of "Hamlet" and the 1936 film "Romeo and Juliet."
But Drew's father, John Drew Barrymore, was only a moderately successful actor. He was an alcoholic and abusive to both Drew's mother (including kicking her in the stomach when she was pregnant) and to Drew. According to Vulture, Drew's earliest memory of her dad was the time he tossed her into a wall; she was 3 years old. He also held her hand over the flame of a candle, telling her that pain is imaginary.
"Talk about someone who was not a careerist," Barrymore told Vulture. "He was like, 'I will burn this f— dynasty to the ground.'"
In March, Barrymore opened up about her traumatic childhood with The Times' Amy Kaufman.
"There's a choice to be had in how you see your circumstances, and I refuse to be stifled as a human being because of what I lived through as a kid," she said. "Don't f— cloak me in this dark s—. I don't want to take on anyone else's perception of what it should have been, because I don't feel that way. I think that I'm incredibly rebellious because of it."
Get our L.A. Goes Out newsletter, with the week's best events, to help you explore and experience our city.
You may occasionally receive promotional content from the Los Angeles Times.